The STIGA STS 185 is a great table tennis table for those just entering into the sport or for families with younger children. It's cheap but is still made of high-quality materials by one of the leading table manufacturers in the world, STIGA. There's a great warranty on the table in-case something were to happen to the table, and sometimes things do happen. To see what we think is the best ping pong table for the money see our post here.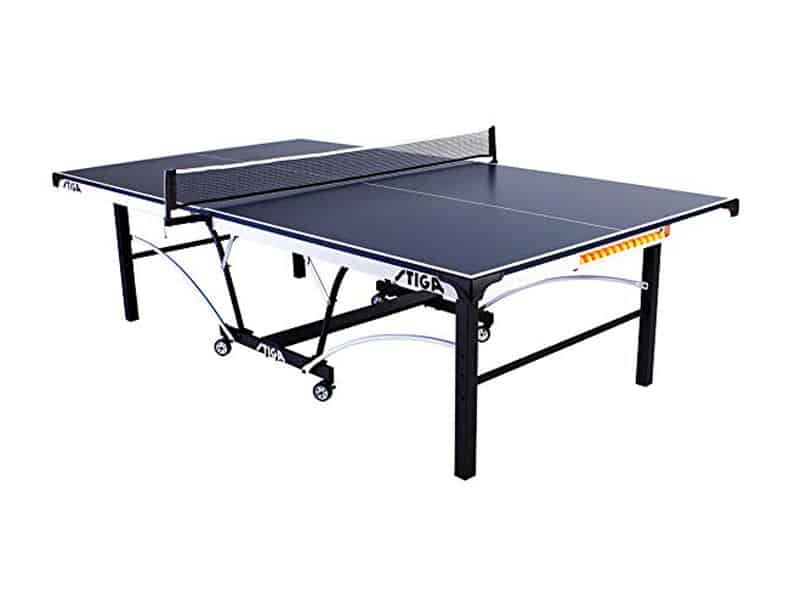 Specifications
Competition-Ready Table with QuickPlay® Chassis for Fast Assembly
3/4″ Thick Table Top with Silk-Screened Striping
2″ Legs with 3″ Mag Wheels
2″ Powder-Coated Steel Apron with Patented Half-Length Ball Storage
72″ Pivoting Net and Post Set Included- Open and Close Without Removing Net
For Indoor Use Only
Overview of the STIGA STS 185
Table tennis tables in this price range, $500-$850 are going to have a thinner playing surface. The playing surface is actually a good representation of the quality of table you are going to receive and this table has a relatively thin (low) surface, however, that is what you would expect from a table of this calibre and price.
The ¾" inch surface this table has is still decent, so don't interpret this review in a negative fashion, the playing surface on this table is exactly what you should expect and want from a table of this price.
Assembly
Other great things about this table include the easy and quick assembly. With other Table tennis tables, especially rather cheap ones such as this, assembly can be a real pain.
We're talking 3-5 hours of assembly due to frustrating instructions and missing parts. However, this table comes competition-ready with Quick-Play® Chassis technology, which means this table, arrives almost completely assembled, a few bolts and screw and you're ready to go!
This Indoor Table tennis table also comes with 2" legs and 3" wheels. While the 2" legs are nothing to fret about the 3" wheels are generally 2", so you get a little bit larger wheels in-case you might feel like taking your Table tennis table outdoors on a sunny afternoon.
This table is sturdy overall, it comes with 2″ Powder-Coated Steel Apron with Patented Half-Length Ball Storage which means it naturally reduces rust as well as increases durability and strength. Not every Table tennis table has ball storage, so this table really has a lot of the perks you wouldn't expect in a cheaper table tennis table such as this. Bringing the table out and in, such as closing and opening the table, is actually quite easy. The Quick-Play Chassis is also to that advantage, causing the table to open and close relatively easy for quick play!
Conclusion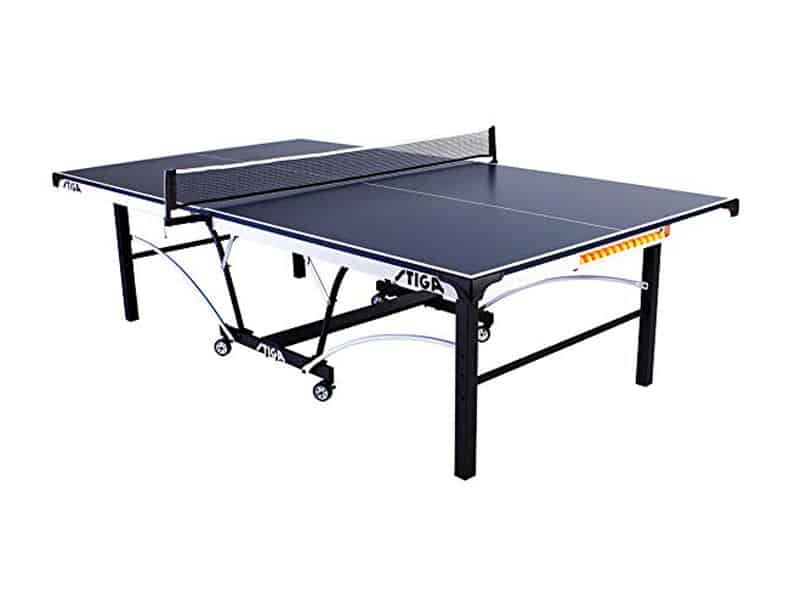 To sum up the STIGA STS 185 we think it's good but there are definitely better options out there for similar or less money. We particularly like the ball storage which will make playing a lot more convenient. This is a great table for those interested in something decent quality but cheap for the family.
Related Product Reviews:

Eugene (Gene) Sandoval has been one of those guys who spent too many hours around ping pong tables in high school. However, soon enough, Gene understood that there is more to ping pong than having fun. That is how he started a journey that made Eugene one of the experienced semi-professional ping pong players in the United States. As the founder of the PingPongRuler, Eugene spends most of his time surrounded by ping pong tables and research. He always has this knack for coming up with new ping pong strategies and telling the good and bad equipment apart.