The STIGA Insta Play table tennis table has been a favorite among the table tennis community for years because of its quality and affordability. While the table is relatively inexpensive, the design and functionality make it worthy of being one of the highest selling tables. Not only that, but the table also boasts an impressive Insta Play feature that allows you to set up the table and play in less than 10 minutes.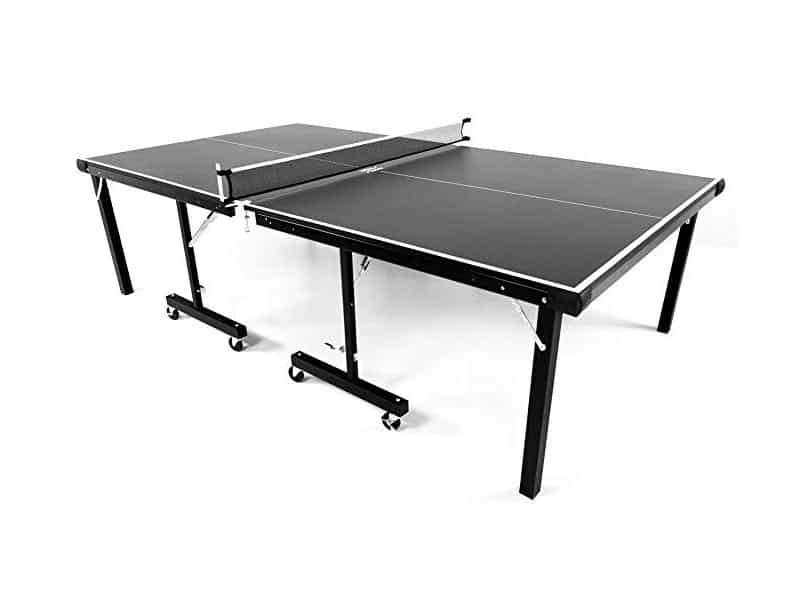 Specifications
No Assembly Required with InstaPlay Technology
3/4″ Thick Black Table Top with Silk Screen Striping
2″ Legs and 3″ Mag Ball Bearing Wheels with Locks
2″ Steel Aprons with Corner Protectors
66″ Net and Post Set Included
For Indoor Use Only
An Overview of the STIGA InstaPlay
Compared to other tables that require hours to assemble, the Insta Play feature can really be a life saver, especially if you plan on moving the Ping-Pong table into and out of storage often. The table itself is also great for storing items as well, it can be divided into two free standing tables, how's that for practicality.
While the Stiga Insta Play is a great table, you might want to check our article on the best ping pong tables in 2019 for a complete guide on the top-selling ping pong tables.
Positives
It arrives almost completely assembled. Only the net and the posts require to be attached.
The legs and the apron are made with two inches of steel and there are 3″ ball bearing wheel casters that provide added support and increase mobility.
The top of the table is made of 3/4 inch quality black wood designed for both indoor and outdoor use.
The table can be easily folded and moved because of the rollers.
The table folds up for single rebound play.
Thick 2″ square steel legs and a 2″ steel support apron for added support.
You can use this table both indoors as well as outdoors.
The table is made with quality materials that will stand the test of time, and children.
There are pads on the corners for extra safety.
Comes with a professional quality 66 inch net and posts.
The edge banding and striping along with the black top give this table a very stylish design.
The table can be divided into two free standing tables, perfect for yard sales or party events.
The price is relatively cheap compared to other tables in the same price bracket.
Negatives
While the Insta Play feature is definitely a positive aspect for most, it could be a hindrance to some. It arrives almost completely set up, therefore the table weighs 263 pounds from the get-go, so it might require some extra help to get it to its final resting place.
After continuous rough play, some reported there may be some sagging in the middle. Adding an extra support beam would fix this, if you feel like it
While it's advertised as an outdoor table, some have reported warping in areas that experience high levels of continuous humidity.
Not ITTF approved
Conclusion: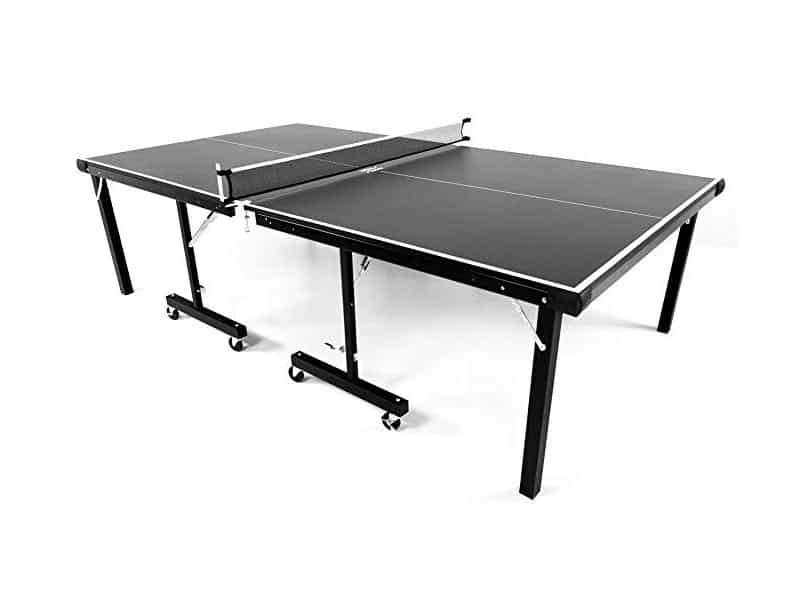 To sum up the STIGA InstaPlay, it plays very well and for a 3/4″ table surface is similarly priced to its competitors. It ticks a lot of boxes being regulation size, easy to set up and store, it won't break the bank, and is safe for children.

Eugene (Gene) Sandoval has been one of those guys who spent too many hours around ping pong tables in high school. However, soon enough, Gene understood that there is more to ping pong than having fun. That is how he started a journey that made Eugene one of the experienced semi-professional ping pong players in the United States. As the founder of the PingPongRuler, Eugene spends most of his time surrounded by ping pong tables and research. He always has this knack for coming up with new ping pong strategies and telling the good and bad equipment apart.