The STIGA Baja is a weather resistant outdoor table tennis table built . It's anti-rust and anti-warp aluminium composite top has been designed specifically to last and is highly durable.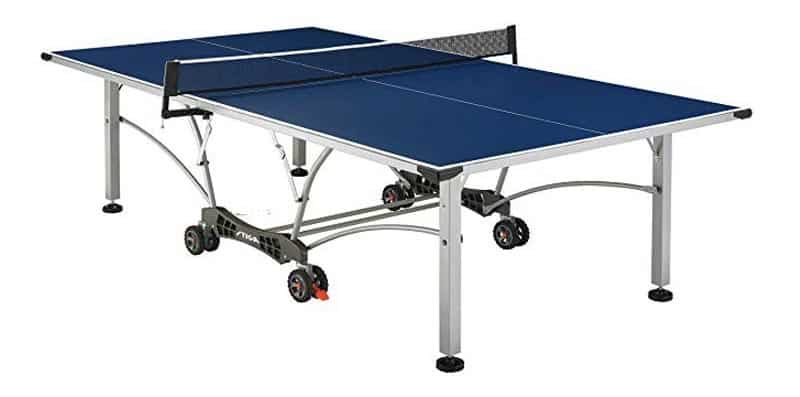 Table Specifications
Weather resistant – great for the outdoors, garages, decks
Aluminum composite competition blue top with silk screen striping
Heavy-duty welded steel apron
2" self-opening steel legs with leg levellers
5" Double wheels with all-terrain tires and locks
Heavy-duty welded steel support frame
Oversized composite caster beam with steel cross beam supports
Corner protectors for extra safety
Hardware with a protective covering of Zinc to prevent deterioration
Translucent graphic on aluminum underside of tops
Patented QuickPlay Chassis for quick and easy assembly
Includes: STIGA 72″ Pivoting All-Weather Net & Post System
An Overview of the STIGA Baja
The aluminum composite consists of two thin aluminum sheets bonded to a non-aluminum core, great weather-resistant material for outdoor table tennis tables. The table is also built with large 5" wheels that are great for playing outside in questionable conditions.
While indoor tables generally have 2"-3" wheels, a table with 5" wheels is perfect for the outdoors and definitely demonstrates the designer's had a purpose in mind when building this table. It's a safe table as well; it's built with a quick play chassis for easy assembly and is built with double locks for extra safety.
It has a STIGA 72" pivoting all-weather net and post system
Built for the outdoors
This table has really been built for the outdoors. Its aluminum top won't rust or warp like a lot of other tables will if left out and so could be a great choice for someone who definitely wants to leave it outside.
The Cons
Very uneven bounce
The largest problem with the STIGA Baja is that the ball does not bounce evenly across the table. I suspect the chassis is touching and reinforcing the table top which is leading to a heavier bounce. While it's noticeable across the entire table, you can feel the difference more so along the back edge of the table. For casual players and kids this shouldn't really be a problem, but, anyone taking their game a little more seriously will get frustrated very quickly.
Long difficult assembly
The assembly instructions are quite bad. Yes, after the table is assembled, it's easy to fold and put away as well as bring back out. But physically putting the table together was a hassle that took a long while (2 – 3 hours). While this assembly time is not bad when compared to some of the other tables, the instructions themselves were pretty hard to read.
Wheels could be better
If you need to move the table around you'll find the wheels will wear out quicker than we'd hope. The plastic wheel brackets are very fragile and can't take much stress. Try to keep the table in place as much as possible to avoid them breaking.
Conclusion: We wouldn't recommend it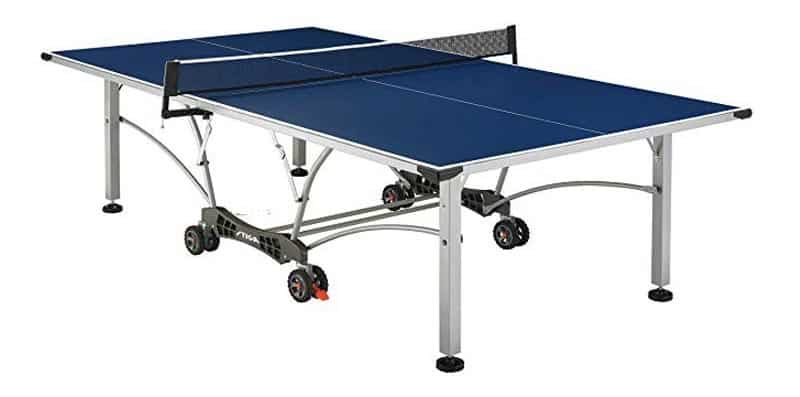 Overall, we think the cons of the STIGA Baja outweigh the benefits and so we wouldn't recommend it very highly. There are a number of other tables designed for the outdoors that get much better reviews and are more consistent.
If you want to see some of the best-rated tables on the market, we've put together a list of all the current tables that we recommend in our best outdoor table tennis table post that you can read here.

Eugene (Gene) Sandoval has been one of those guys who spent too many hours around ping pong tables in high school. However, soon enough, Gene understood that there is more to ping pong than having fun. That is how he started a journey that made Eugene one of the experienced semi-professional ping pong players in the United States. As the founder of the PingPongRuler, Eugene spends most of his time surrounded by ping pong tables and research. He always has this knack for coming up with new ping pong strategies and telling the good and bad equipment apart.