The JOOLA Quattro table tennis table is for individuals who want the cheapest full-size table you can get. This isn't a tournament regulation table and it doesn't have tournament regulation specifications as well.
However, this is a still a decent ping pong table that should not be underestimated if you are looking for a cheap table for children or individuals just looking to have good time.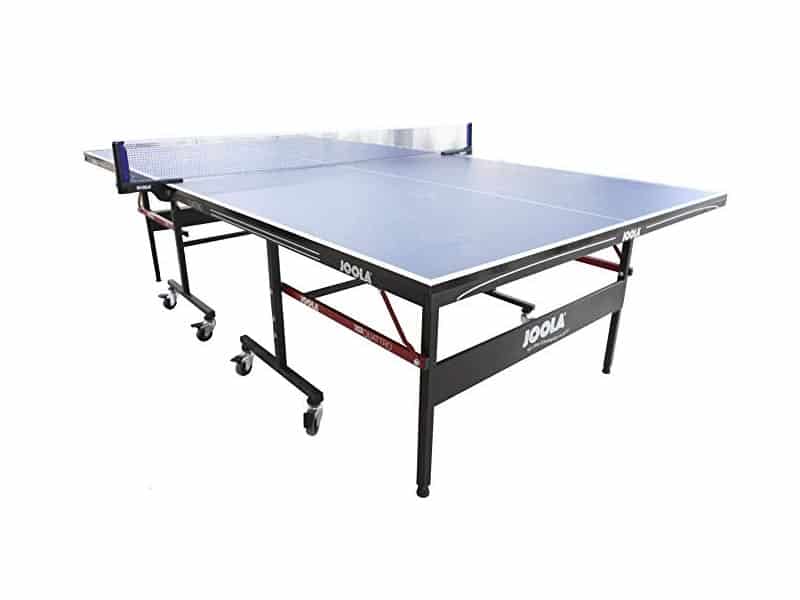 Specifications:
Full-size table tennis table with affordable yet high-quality design
Fast 19 mm (3/4″) playing surface; all-metal frame and trundle system
2″ inch caster wheels
Twin roller undercarriage includes wheeled support system for storage
Built to same workmanship standards as JOOLA's high-priced brethren
Includes net set; stylish blue tabletop; weighs 216 pounds
The main concern when looking at any Table tennis table is the Ping-pong surface, and this table doesn't have a very good surface, it's quite thin. However, that is what you should expect for the price this table is offered. This is an important notion, this table is for individuals that want a full-sized table but doesn't have anywhere near the same qualities as a professional Table tennis table..
Assembly:
With many Table tennis tables, assembly can be difficult. While this table doesn't have the easiest or quickest assembly, it definitely doesn't have the worst, and overall it was quite easy. We do recommend having two people to assemble this table as it can be heavy. That being said, a heavy Table tennis table is generally good thing to keep the table stationary. This table weighs in at only 216 pounds, so this table is great if you are looking for a table children can move but can be a negative if you are looking for a higher quality table and playing experience.
For about $50 more you can get the JOOLA Inside Table tennis table. While both of these tables are generally cheap, the JOOLA Inside is a highly celebrated table that many individuals have found to perform great. The surface is a little thicker and overall the table is built a little better. Both these tables have a classic tournament design that looks almost identical to a professional painted and designed table.
Conclusion: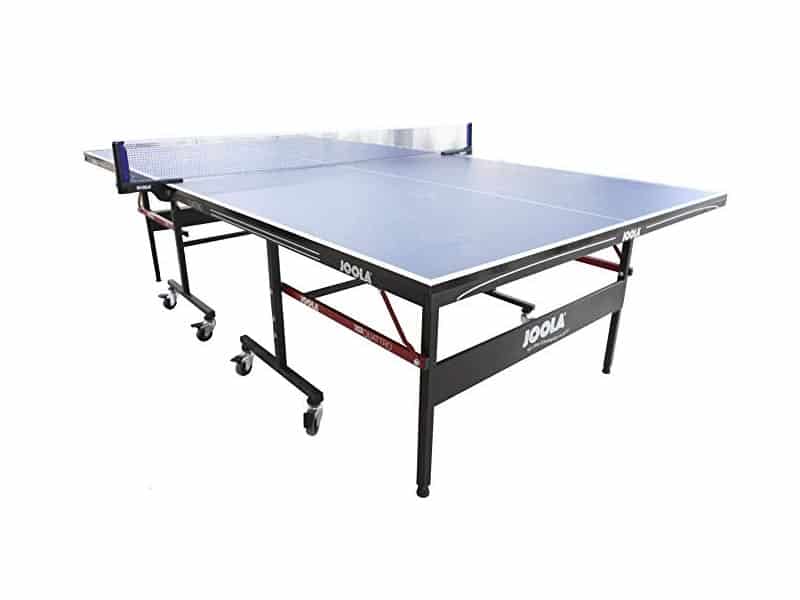 You should purchase this table if you are looking for a cheap Ping-Pong table that is light and easy to store and assemble. This is one of the cheapest Ping-Pong tables you are going to find on the market, that being said, the price resembles the quality of the table in the end. You will not receive the same bounce as a tournament quality table and overall, this table is less durable than a more expensive, higher quality Ping-Pong Table. I recommend checking out the JOOLA Inside Table tennis table or the STIGA Advantage Pro, these tables are little more expensive, but are higher quality and more celebrated. We've also written up a big list of all what we think is the best value ping pong table available in 2020 and STIGA Apex Paddle.

Eugene (Gene) Sandoval has been one of those guys who spent too many hours around ping pong tables in high school. However, soon enough, Gene understood that there is more to ping pong than having fun. That is how he started a journey that made Eugene one of the experienced semi-professional ping pong players in the United States. As the founder of the PingPongRuler, Eugene spends most of his time surrounded by ping pong tables and research. He always has this knack for coming up with new ping pong strategies and telling the good and bad equipment apart.