Cornilleau Competition 740 Indoor Review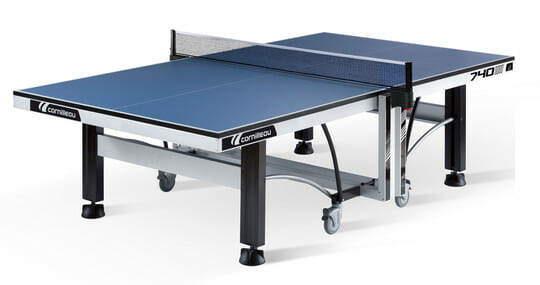 Specifications:
Dimensions

–

 

9ft x 5ft (Regulation size)

Assembly time

– ~90 minutes

Surface Thickness

– 25mm

Weight

– 257lbs

Price

– $$$$$

Our rating

– 9.7
Overview of the Cornilleau Competition 740
Cornilleau Competition 740 Dimensions
The Competition 740 is a full-size ITTF approved table. This means the regulation size of 274cm x 152cm x 76cm when fully assembled.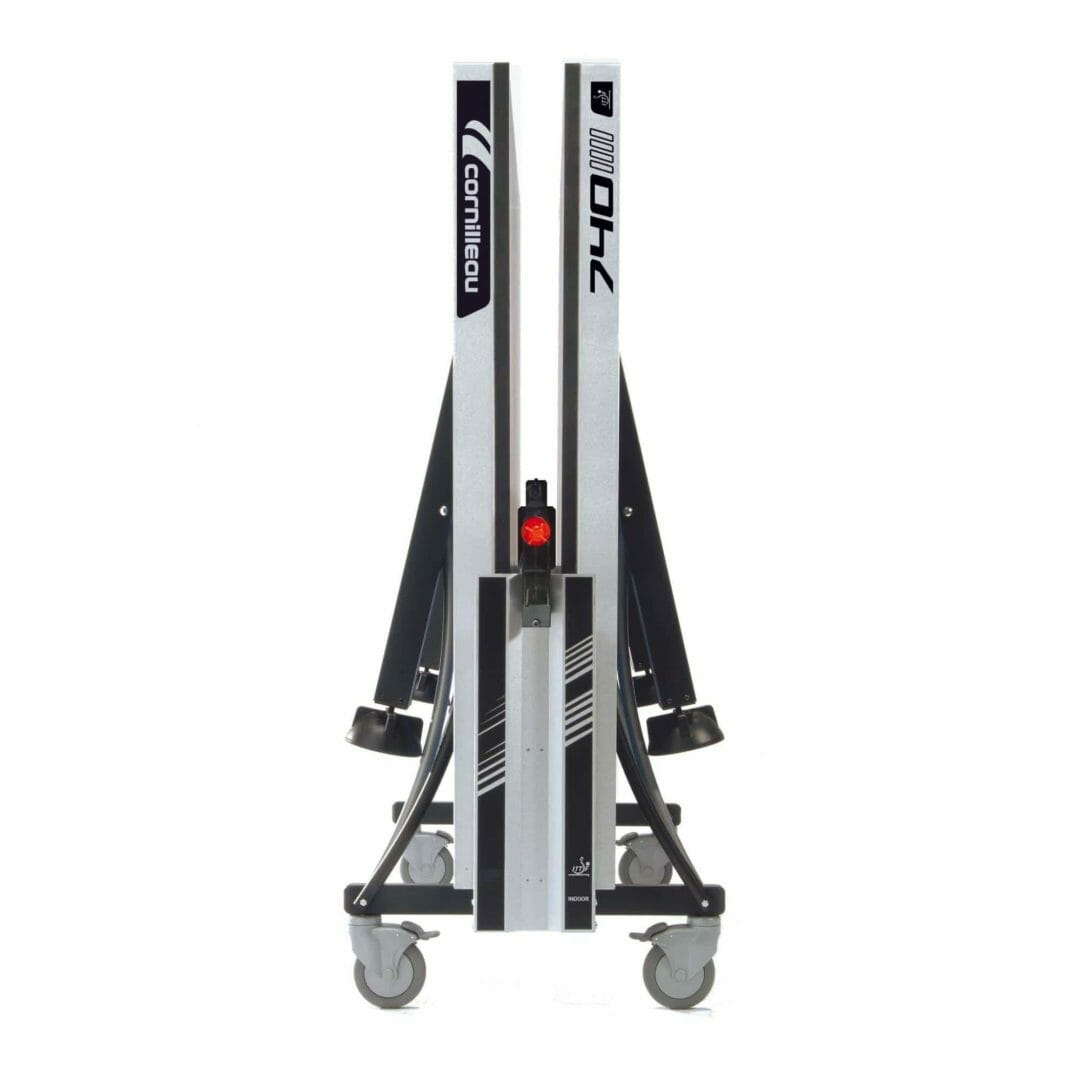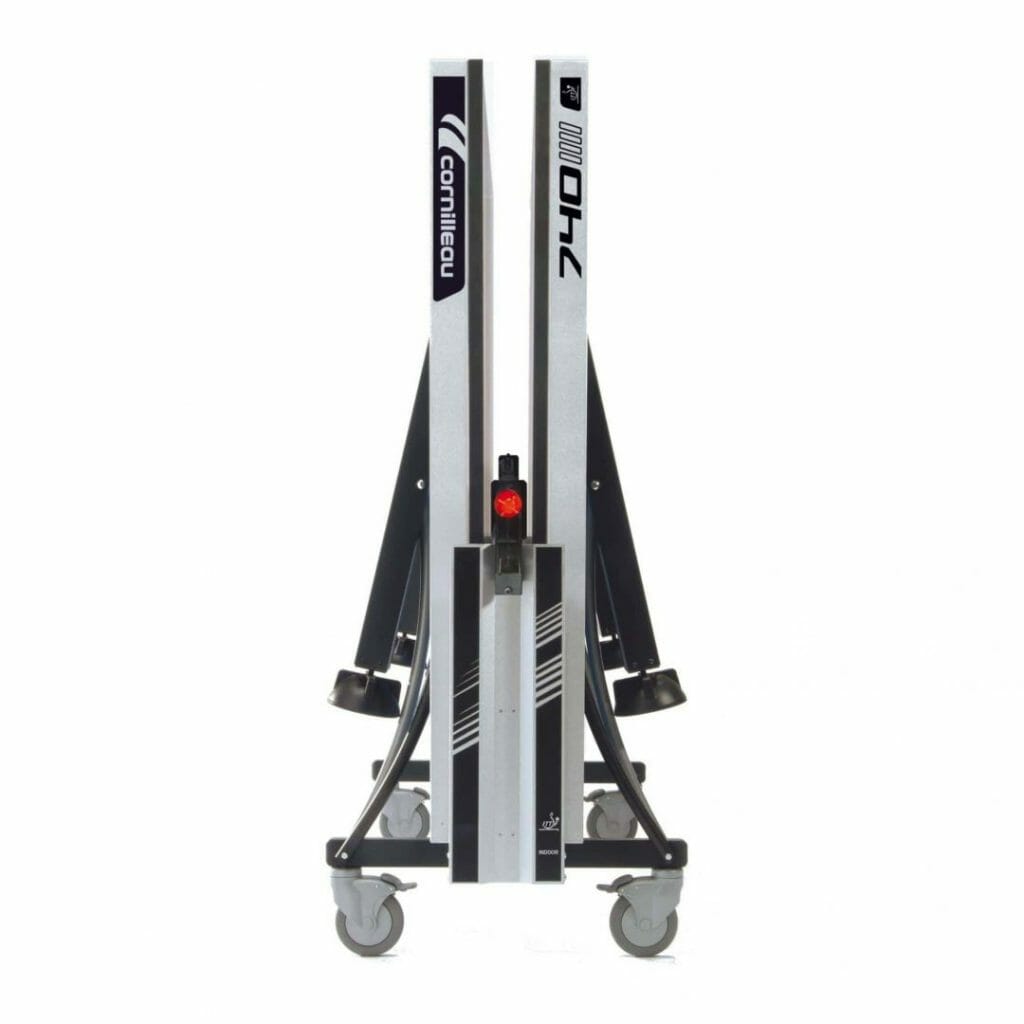 It is also pretty compact when put away for storage as it features Cornilleau's Compact Technology. According to the manual, it measures 183cm x 156cm x 65cm when folded up.
However, it is not as compact as other tables. Notably, models that come in two halves and nest together are smaller — the Competition 740 is one single piece.
25mm High-density Chipboard Playing Surface
If you've read some of our other table tennis reviews, you probably know by now how much we drone on about table thickness. And this won't change any time soon. When shopping around for the perfect ping pong table, the playing surface is the main characteristic you should look for.
The thicker it is, the better the bounce. It is that simple. This is the main reason why the Cornilleau Competition 740 is such a great table. With a thickness of 25mm, you get an elite bounce that any professional would be happy to play with.
The playing surface is also coated in a SKILTOP® finish. This enhances the friction between the table and the ball which increases spin. The speed of play also goes up ever so slightly as the ball kicks off the table quicker.
Thick Galvanized Steel Frame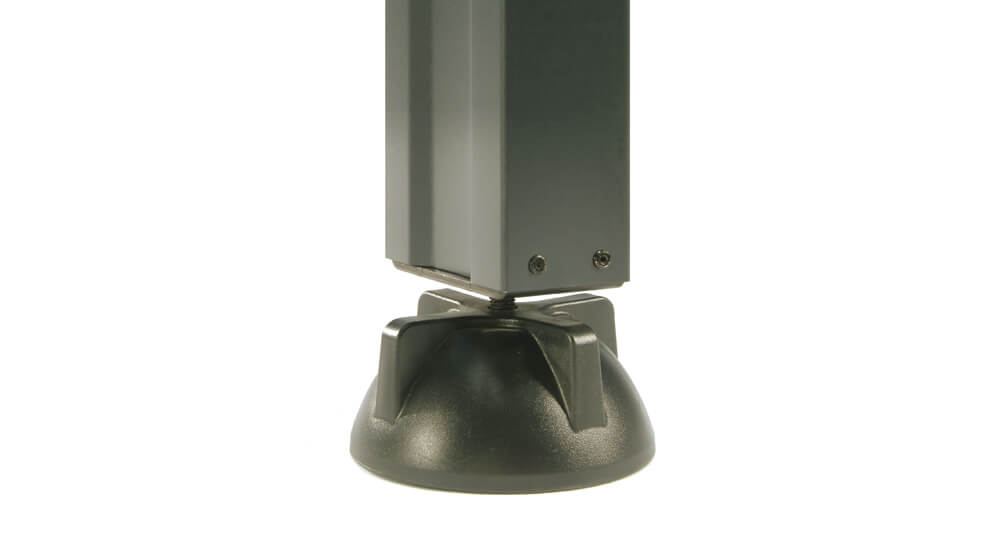 It only takes one look at the Cornilleau 740 Competition to realize how solid it is. The entire frame is galvanized steel for maximum strength, and the area supporting the playing surface is 2 ¾" thick.  
Similarly, the legs are very bulky which adds to its appeal. Legs can sometimes be a weak point if they are too thin. People have a habit of sitting on ping pong tables to the horror of us table tennis fans, but legs as thick as these can set your mind at ease.
DSI Folding Mechanism
Cornilleau produces some of the safest tables on the market thanks to their DSI folding mechanism. The DSI system is included on their higher-end models and surpasses the Push'n Lock system used on their entry-level tables.
The unique DSI folding mechanism features 16 locking points throughout the process of erecting the table. This provides maximum protection as the table's sides cannot fall while they are being opened.
Having used more tables than I can count over the years, DSI tables stand out above the rest in this regard. I have always found them to be the easiest to erect and felt safe while doing so. It might surprise you how often tables can fall when you bring them out or put them away. Especially when they are older and parts have deteriorated.
To quote one reviewer, "It's the best folding mechanism I have ever seen."
Retractable Net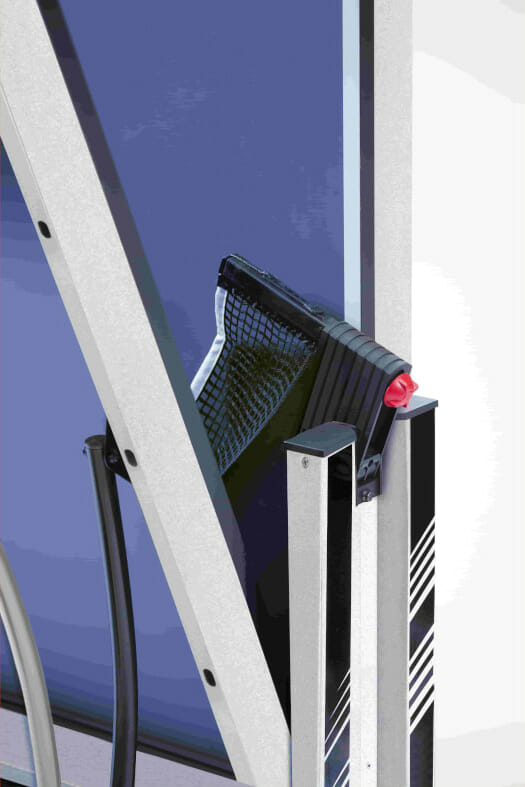 Nets of this kind are always a bit of a double-edged sword. They come with benefits and disadvantages: it's up to you to formulate your own opinion on them.
On one hand, they are convenient. Having a retractable net means you don't have to take it off after every session which is a nice luxury. With this net, in particular, Cornilleau takes it a step further. The net actually folds into the table when put in storage which means it doesn't stick out. As a result, it takes up less space, thereby reducing the likelihood of it getting damaged.
However, the caveat with a retractable fixed net is that you are stuck with it. You don't have the option to use a removable net which tends to be of higher quality. For some people, this is a serious drawback. But in my opinion, it's far from a deal-breaker.
I've used fixed nets on Cornilleau tables for years and I can comfortably say that I've got along pretty well with them. And bear in mind these tables took a lot of punishment as they belonged to a school.
Of course, I preferred to use a high-quality clamp net, but given how great the tables' were, it was only of minor significance.
3-Year Warranty
Tables break from time to time. Even if you lessen your risk by purchasing a premium model, you could still be unlucky and have a broken part. Nobody wants to be stuck with a damaged table that prevents you from playing, so purchasing a table with a lengthy warranty period is a huge bonus.
The Cornilleau Competition 740 ITTF Indoor table tennis table comes with a 3-year warranty, as is standard with all of their indoor tables. This is a good amount of coverage and what we would expect from a premium table.
Pros
25mm high-density chipboard playing surface

Strong frame

DSI folding mechanism

Folds for solo playback

5" lockable wheels

Leg levelers

3-year warranty
Cons
Heavy at 257lbs

Fixed net

Requires significant assembly
About Cornilleau
Cornilleau is a French brand based in Bonneuil-les-Eaux. In addition to being a high-end table tennis manufacturer, they have also demonstrated innovation outside of the sport. Trampolines without springs and outdoor pool tables are just a few of their inspired products.
Cornilleau now has a presence in over 85 countries worldwide and this will likely rise. Their table tennis tables are well-built and are proving very popular, especially outdoors.
Cornilleau Competition 540 vs. 740
When looking at the Competition range, you may notice the 540 model which is a step down from the Cornilleau Competition 740's price. But what contributes to the cost differential? And which is better value for money? Let me explain.
The tables may appear very similar but there are a few key differences. The first is the playing surface. The 540 has a 22mm thick tabletop that is made from the same material as the 740. 22mm equates to an excellent bounce, but clearly, not quite as good as the 740 due to its 25mm thickness.
Another difference is the frame. While it also has an all-galvanized steel build, it is not quite as thick as the 740. The frame supporting the playing surface is 1 ¾" as opposed to 2 ¾". The legs are also notably thinner. As a result, the 540 is a lot lighter than the 740 but it is still a heavy table in its own right at 240lbs.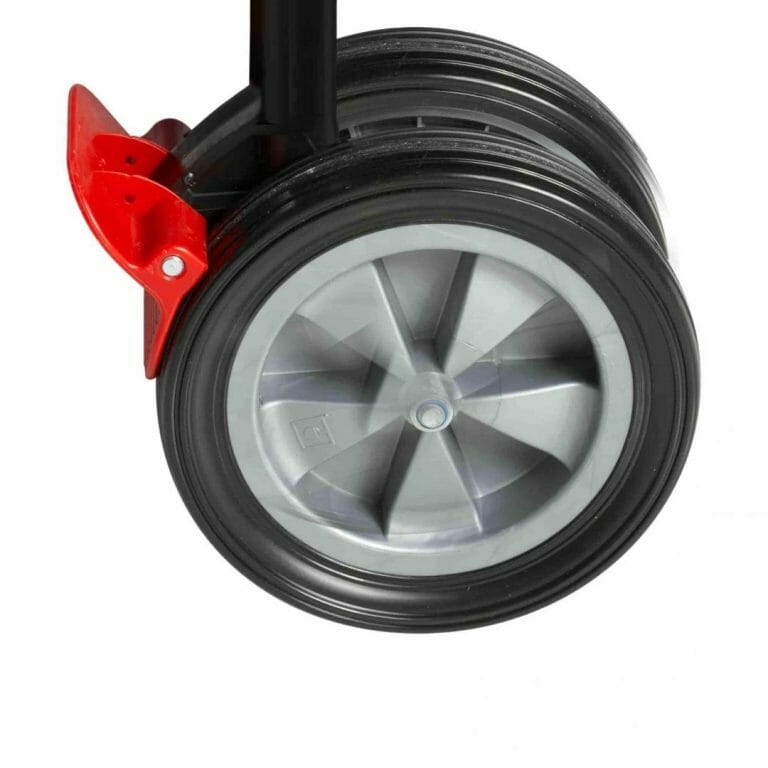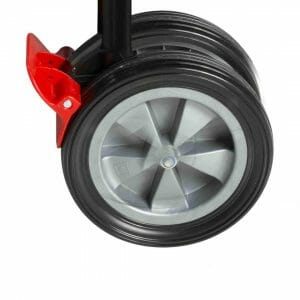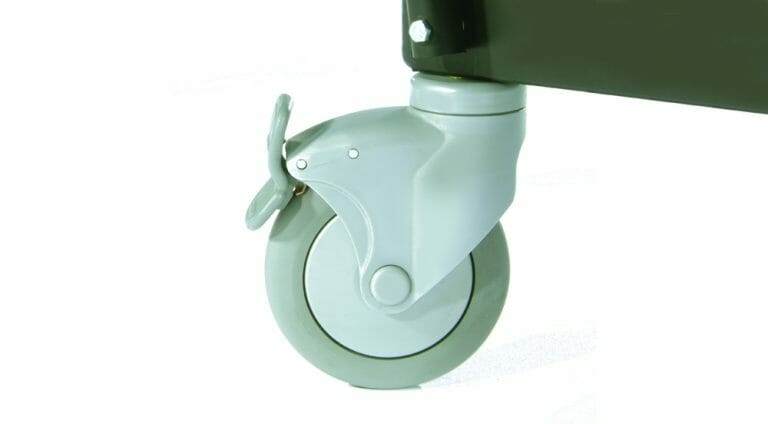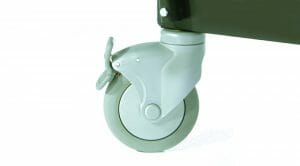 The final key difference is the wheels. This is the only area where the 540 trumps the 740. It has larger 6" double wheels. By comparison, the 740 only has 5" single wheels.
In terms of value for money, the tables are about the same. The extra features you get with the 740 are what you would expect to get, given the hike in price. However, the superior wheels on the 540 are an outstanding characteristic.
We wholeheartedly recommend both tables.
Other Similar Tables
C
o
rnilleau 740 Longlife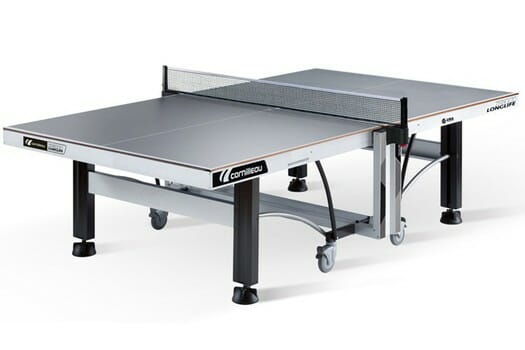 Being another 740 model, the Longlife shares a near-identical build to the Competition 740 except for the grey tabletop. However, the Longlife is an outdoor table, and as such, plays rather differently.
The table's surface is a 9mm thick resin laminate, yet Cornilleau claims it plays like a 22mm indoor table. If this is the case, the 740 Longlife is undoubtedly one of the top outdoor tables on the market.
Butterfly Centrefold 25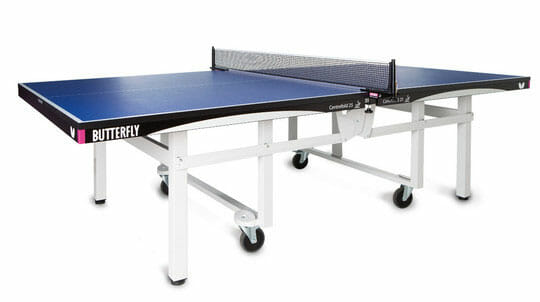 Another top table you might like is the Butterfly Centrefold 25. With a 25mm tabletop, it has an equal bounce quality to the Competition 740. However, some strong advantages in its favor are its 5-year warranty period and the fact it requires no assembly. Very appealing indeed.
The drawbacks are that it costs slightly more and it has no solo playback mode. You can read our full review here.
Conclusion
The Cornilleau Competition 740 ITTF Indoor is a premium table with a justifiably hefty price tag. As such, it is not a good fit for all players. Anyone at an intermediate level or below is likely better off purchasing a cheaper table such as the Butterfly Easifold 19 Indoor Rollaway.  
Yet for a seasoned player, the Competition 740 is a great fit.
With its robust build and superb bounce quality, it is simply a super table. Does it offer the best value for money? No. Many tables out there, such as the new JOOLA United Pro 25 (which topped our JOOLA tables list), offer unbeatable value for money.  
But we highly rate the Competition 740, and we are confident you will too. If you have the money to spend on a table, include it in your considerations.
Alternatively, check out our table buyer's guide for more ideas. Many of the tables there are considerably more affordable.

Freelance writer. Table tennis enthusiast. Lover of all things online. When I'm not working on my loop game I'm probably binge-watching some fantasy show.