The Butterfly Personal Rollaway (formerly the TR21) is everything you need in a table tennis table. It has a thick top and is very easy to fold away when you want to store it. It's a quality and durable indoor table that is a great option for someone looking for a reasonably priced option.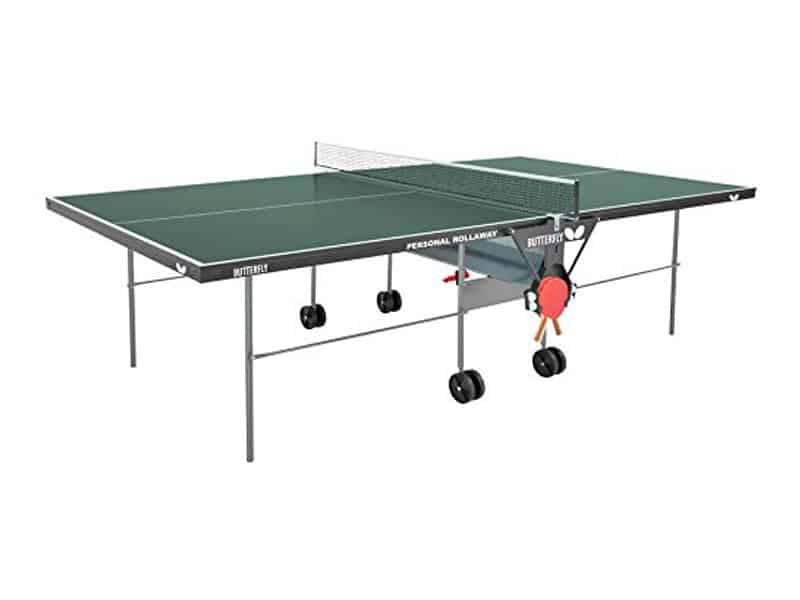 Check the latest price on Amazon
Specifications and Features
3/4-inch wood table top, 1-1/2-inch steel railing rim, and 1-inch steel legs
Folds up to 74 inches high, 27 inches wide
Easy fold-and-roll system with 5-inch ball bearing casters
Backed by a three-year warranty
If you want to see what we think are the best table check out our list of the best ping pong tables in this post.
Pros of the Butterfly Personal Table
¾ Inch Thick Top
You don't find many tables in this price range with such a thick top. More professional tables, starting at $1,000, are just one inch thick, but the personal rollaway has 3/4 inch top and the difference is very minor but with a lot less cost.
Folds Easily for Single Player
One great thing about the personal rollaway is that the net doesn't have to be removed when you fold it up. However, as with all fold-up tables, there is a gap when folded.
Steel Legs and Apron
The personal rollaway is a durable and rugged table. It's heavy with one-inch legs (eight altogether, with four swivels). You can bet it's not going to move when you're playing. The 1 1/2″ wide steel-rim apron provides ample protection from edge damage and makes a sturdier, warp-free table meaning its likely to last a long time.
Pockets for Paddles and Balls
The pockets were a total plus for me. Our basement area is already too cluttered and I didn't want to add to it. There's space for two paddles and two balls in the pockets – it's all nice and neat.
About Butterfly – Respected Manufacturer
Not only have they been making tennis tables forever, they also make professional tables that are the gold standard for serious tournaments. I guess that's why they give a three-year warranty.
Good Cheap Table for Family
We've had many fun nights, with all the kids and young at heart folks. The competitions between generations are so endearing. We bought this Butterfly personal rollaway to have fun and it definitely has been fun.
Cons:
Assembly is not easy
Rolling it can take some effort, especially on carpet
Pros:
Easy to fold for one-person play
Very sturdy and durable
3 year warranty
Good value
Fun!
Conclusion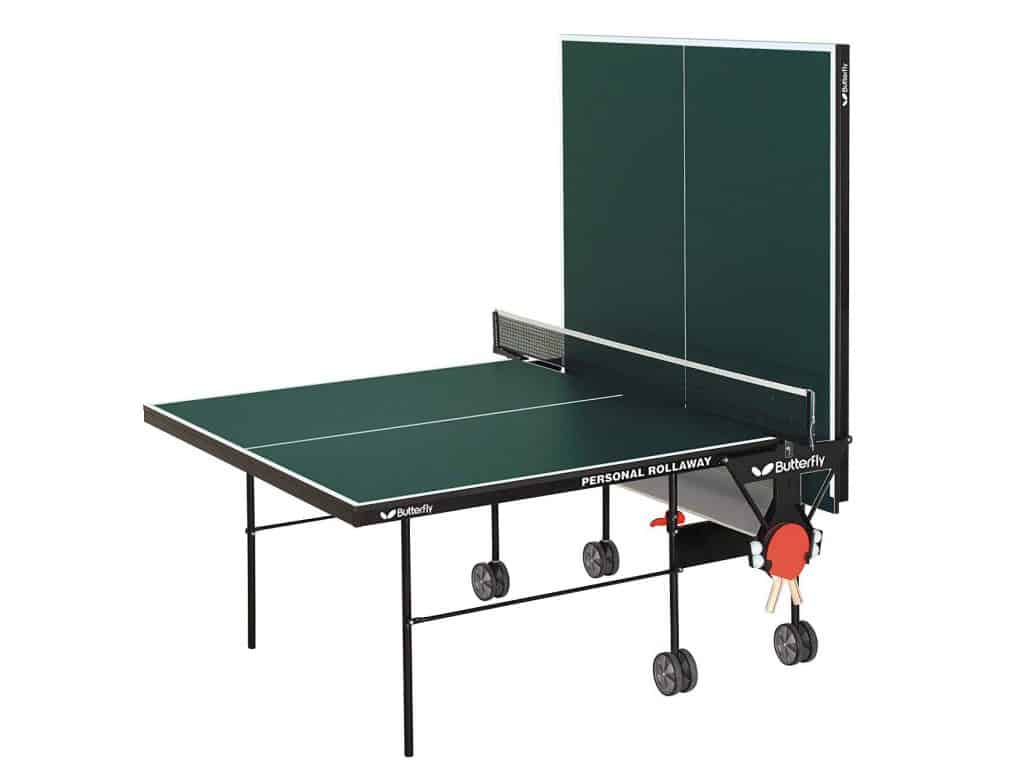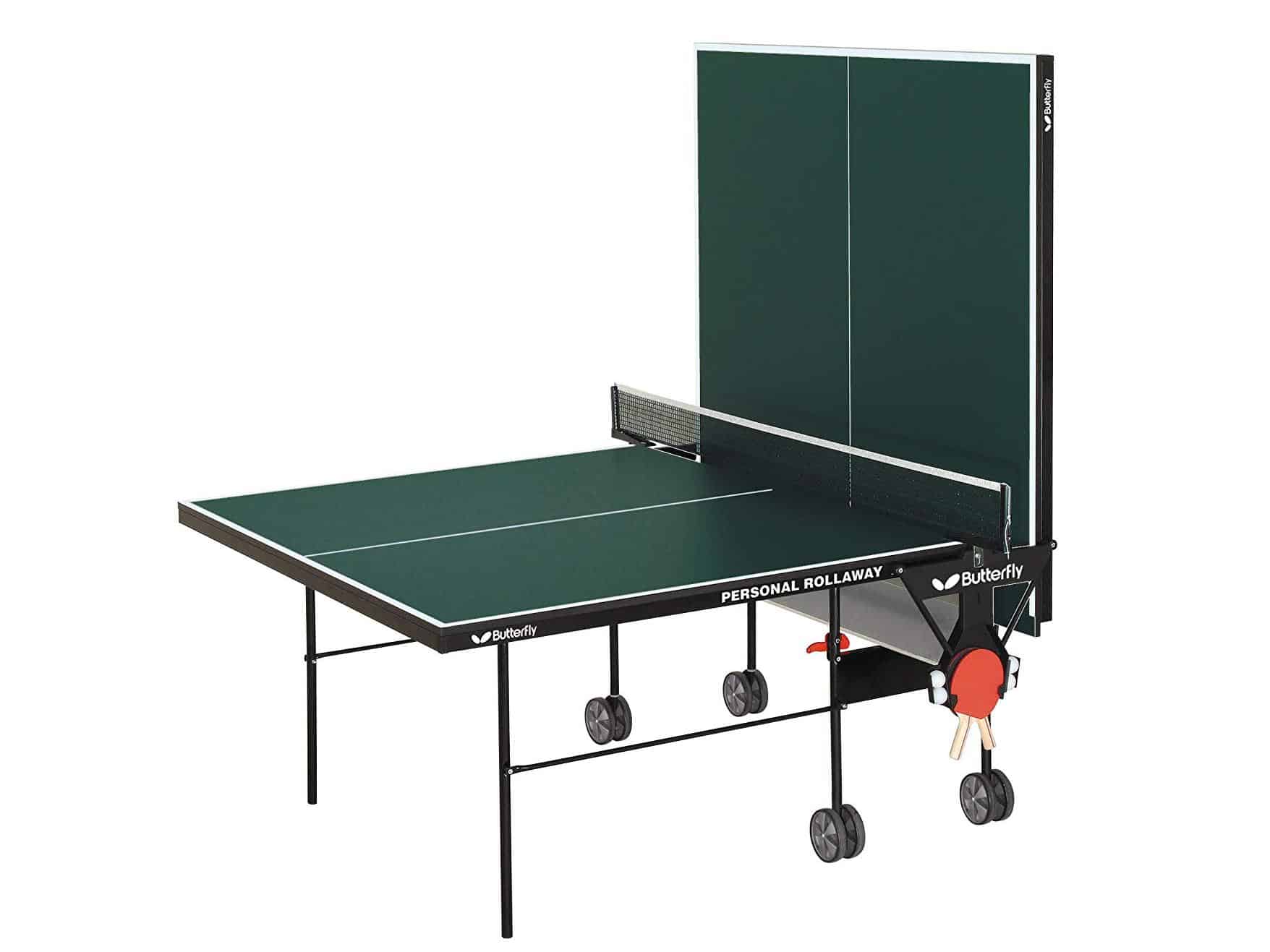 The Butterfly Personal Rollaway has nearly all the features of the more expensive folding tables. I'm convinced that this is the best value of all the tables in the $500 range.
Also, it was impressive to me that the Butterfly Personal Rollaway showed consistently good ratings and reviews. I would recommend this model to anyone wanting an affordable table for casual play. It gets my five stars!