The STIGA Synergy is an above average table for below average price. This table is 5/8th of an inch thick, so it is not a tournament level table, but the surface thickness will still provide a great consistent bounce across the whole table.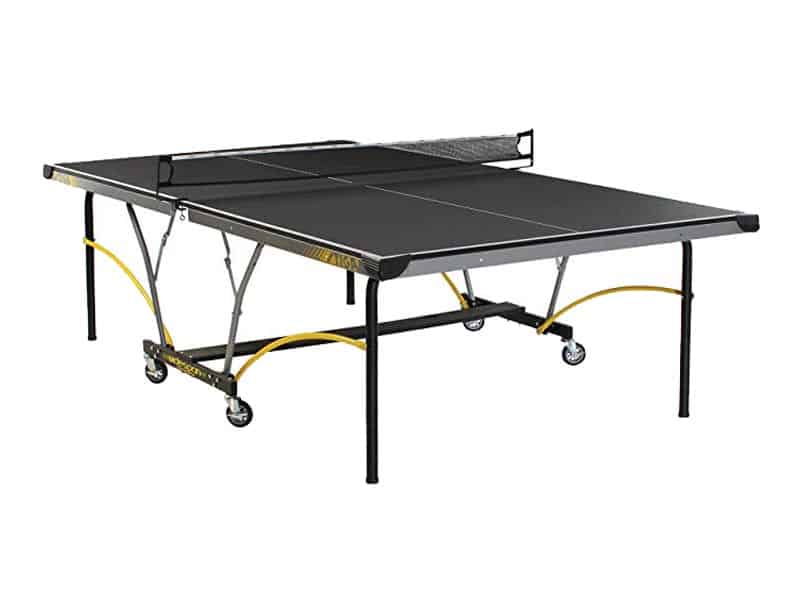 Specifications:
QuickPlay Chassis for Fast Assembly – From box to play in 20 minutes
5/8″ Thick black table top for even bounce
1-3/4″ Self-opening steel legs
3″ Mag Wheels with Locks
2″ Steel Apron with Corner Protectors
Extra-wide wheel base for added stability
66″ Net and Post Set Included
For Indoor Use Only
Easy Assembly
This table includes a QuickPlay chassis making the set-up from box to play time around 20 minutes. This is accomplished by having most parts pre-assembeld in the box when it's shipped to you. This makes it much easier to put together and ensures that you're up and running as quickly as possible.
Table Construction
The STIGA Synergy has a nearly tournament thickness 5/8 inch tabletop that is reinforced by a 2 inch steel apron. This helps solidify the tabletop and makes sure the ping pong ball will bounce evenly and predictably across the table surface.
Additionally the table comes with 3 inch mag wheels making it simple to move across any surface, carpet or hardwood. This simplifies putting the table away if you need the space, or transitioning the table into solo play mode. The STIGA Synergy also includes 1 ¾ inch steel self-opening legs for stability and easy opening – ensuring that the table is supported when opened all the way, no matter who is doing the opening.
To compare the Synergy with some of the other tables available check out our roundup post of where we cover what we think are the best ping pong tables to buy
Review Conclusion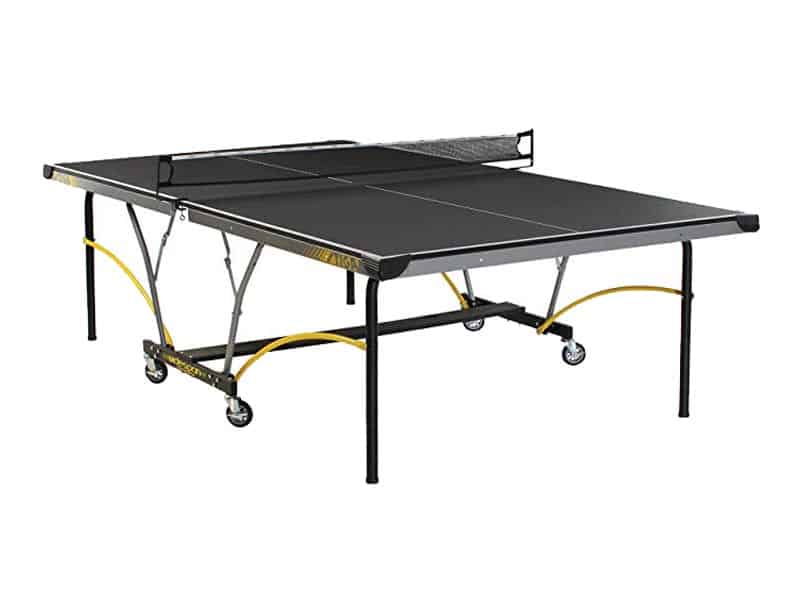 Overall the STIGA Synergy is a fantastic intermediate table that integrates some of the best STIGA features into a table that won't break the bank. It has strong components that will offer a lifetime of high quality play, all backed by STIGA – one of the industry leaders in building table tennis tables.

Eugene (Gene) Sandoval has been one of those guys who spent too many hours around ping pong tables in high school. However, soon enough, Gene understood that there is more to ping pong than having fun. That is how he started a journey that made Eugene one of the experienced semi-professional ping pong players in the United States. As the founder of the PingPongRuler, Eugene spends most of his time surrounded by ping pong tables and research. He always has this knack for coming up with new ping pong strategies and telling the good and bad equipment apart.