Killerspin MyT Street Review
The Killerspin MyT Street outdoor ping pong table is the perfect table for both inside and out. This table is durable enough to withstand the elements, and the handsome finish on the table looks sharp enough to earn the table a place in any game room.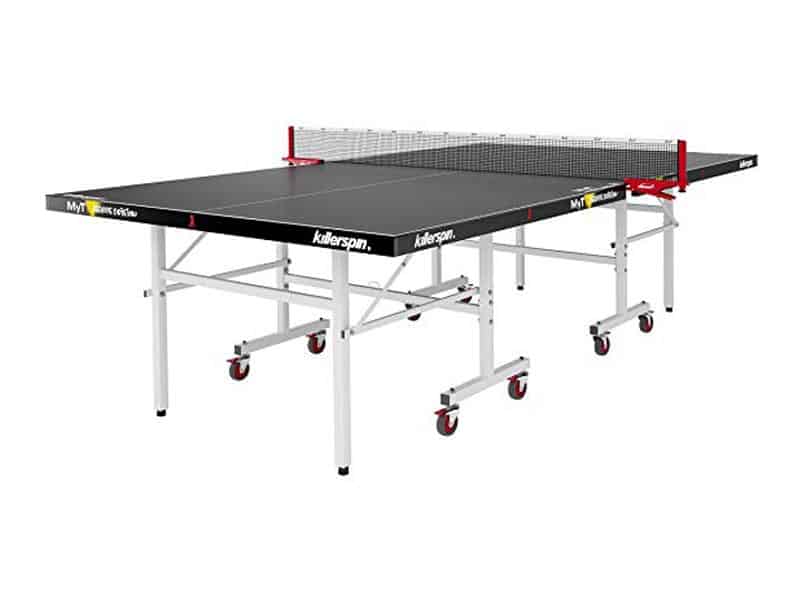 This 20mm by 50mm game table, designed for casual and professional competition, features rugged 1 ½ inch steel support legs and eight three inch locking casters. Both sides of the table are able to fold up separately for quick and easy storage. An added bonus is that you can fold up one side of the table into a playback position and practice ping pong by yourself.
Specifications
Color of Top: Black / Top: 4mm Alu-plastic weatherproof top
Coating: Repeat Roller Coating / Net Post Set: Free Killerspin Outdoor Clip-on Net-post-set included with purchase
Weight: 154 LBS / Folded Dimensions: Height: 64″ Length: 60″ Width: 36″
Frame: 20mm x 50mm Heavy Gauge Metal Edge banding and 35mm Square Metal Frame / Set Up Style: Rollaway
Wheels: 75 mm wheels with casters and individual locks / Color Options: Black/White
Safe For Families
This table features a safety locking system that allows for the secure placement of the table during play, ensuring that the table is safe for use by families and children.
The attractive dark black surface of this tennis table is made of a specialized blend that both creates an eye-pleasing finish and enhances the quality of play. The white frame, comprised of thick steel, adds a sophisticated contrast to the black surface while protecting the table from the elements..
Weatherproof and Durable
This Killerspin outdoor Ping Pong table has a rugged, durable shell designed to withstand the rigors of outdoor play, a weatherproof 1/8 inch aluminum-plastic top, a heavy-gauge metal band around the edge to guard against warping, a safety locking system and a folding frame for solo play or storage.
This table is on the expensive end of the spectrum, but the features and flashy style more than compensate for the high price tag.
Quick and Easy Installation
Easy Installation. One important advantage of the Killerspin MyT Street Edition is that it can go from the box to set-up in just 15 minutes. Most other models take hours to assemble, and the assembly instructions can be surprisingly poor. One reviewer stated that the weatherproof design was great, allowing them to place their table right next to the pool. Overall, you shouldn't worry about assembly, because assembling the Killerspin MyT Street Edition is a breeze.
Rugged, Playable Design. Many tennis tables are either too fragile to be exposed to the elements or are so bulky that they are impractical for playing tennis. This table is the perfect blend of durability and style.
Effortless to Fold and Store
Easy To Fold And To Store. One mark of a good table is the ability to easily store and transport it. Some tables are bulky and hard to move. The Killerspin is a great table in this respect. Both sides of the table are able to fold up. This feature also allows for easy solo play.
Cons:
Customers have complained that the table arrived with missing parts
Frequently, reviews state that the table was damaged during transit
Slightly expensive
Pros
Very high quality
Highly durable
Very portable
Comes with outdoor weatherproof clip-on net and post system
Conclusion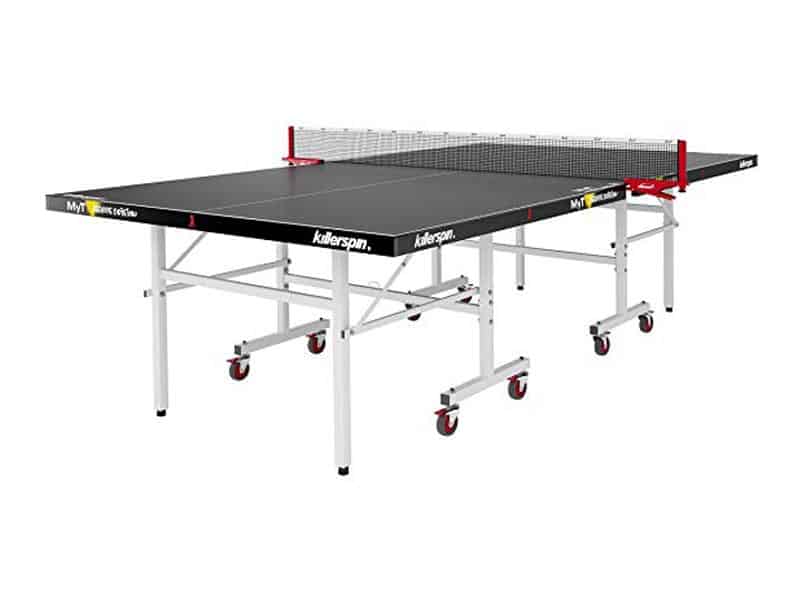 While the weatherproof capabilties may be superb, at this table's price level it's likely that the surface or bounce quality will be negatively affected. However that doesn't mean that you won't be able to enjoy a smooth game of table tennis, it simply means that this table doesn't meet the high standards set forth by the ITTF gaming commission for tournaments.
That being said, it's impossible for outdoor tables to have both a perfect playing surface and weatherproof capabilites, and because most people can not tell the difference between an expensive Ping Pong table and a cheap Ping Pong table, the manufacturers decided that weatherproofing the table is more important.
Overall, this is a mid-tier outdoor table and will provide years of fun. But if you're looking for a tournament level table, or an ITTF approved indoor table, I suggest you look at some of our other reviews.

Eugene (Gene) Sandoval has been one of those guys who spent too many hours around ping pong tables in high school. However, soon enough, Gene understood that there is more to ping pong than having fun. That is how he started a journey that made Eugene one of the experienced semi-professional ping pong players in the United States. As the founder of the PingPongRuler, Eugene spends most of his time surrounded by ping pong tables and research. He always has this knack for coming up with new ping pong strategies and telling the good and bad equipment apart.