STIGA Triumph Review — Strong Budget Table
The STIGA Triumph is a relatively inexpensive table tennis table with solid build quality. Designed for casual players, it has a 16mm (5/8″) thick playing surface and sets up in just 20 minutes.
I think it could be a good choice for very casual players or for a family looking to get in some fun exercise and quality family time. To learn more, read our full STIGA Triumph table tennis table review.
*Update* As best we can tell the STIGA Triumph has now been discontinued. Our top alternatives to the Triumph are the STIGA Advantage and the JOOLA Inside, so we recommend you check those tables out. You can click the links or read more about them in the "alternative options" section.
STIGA Triumph Review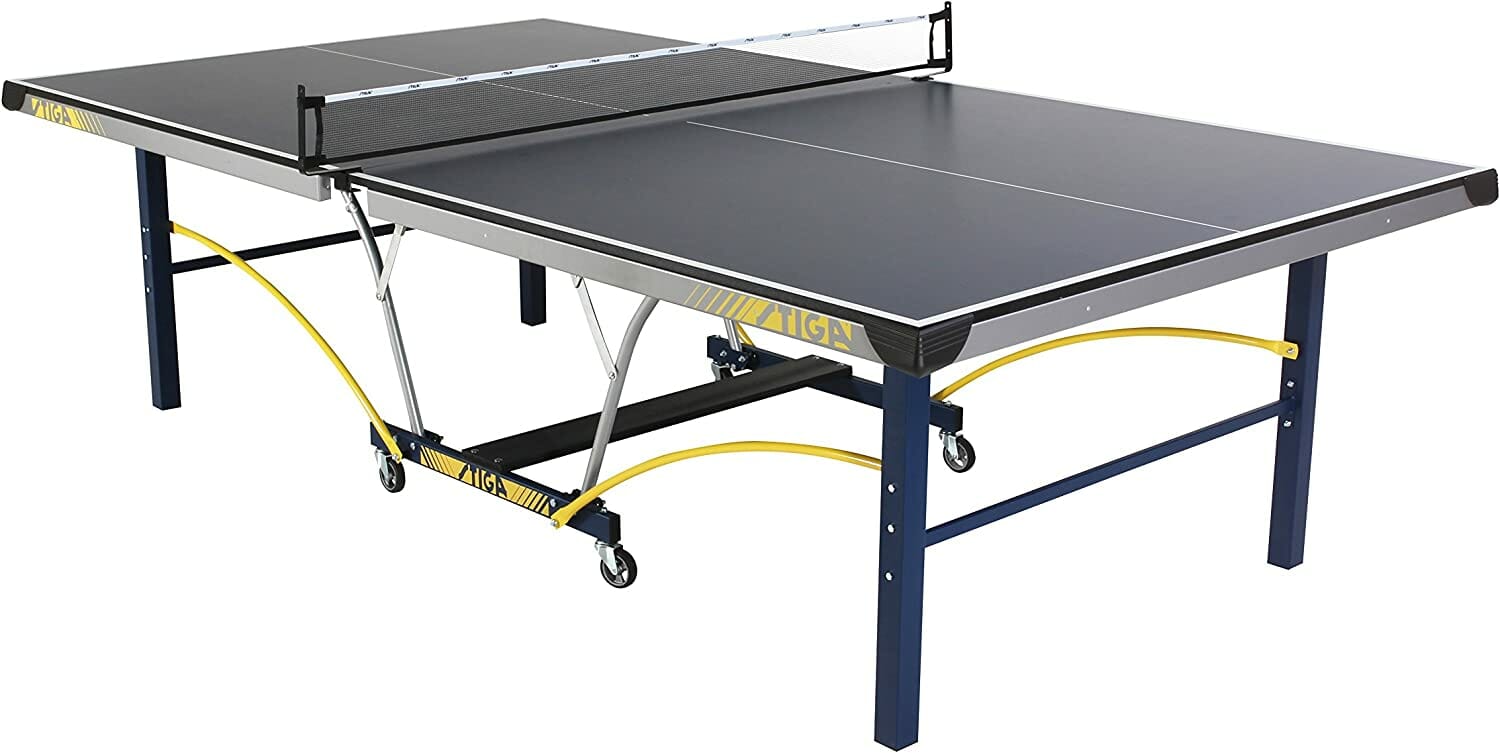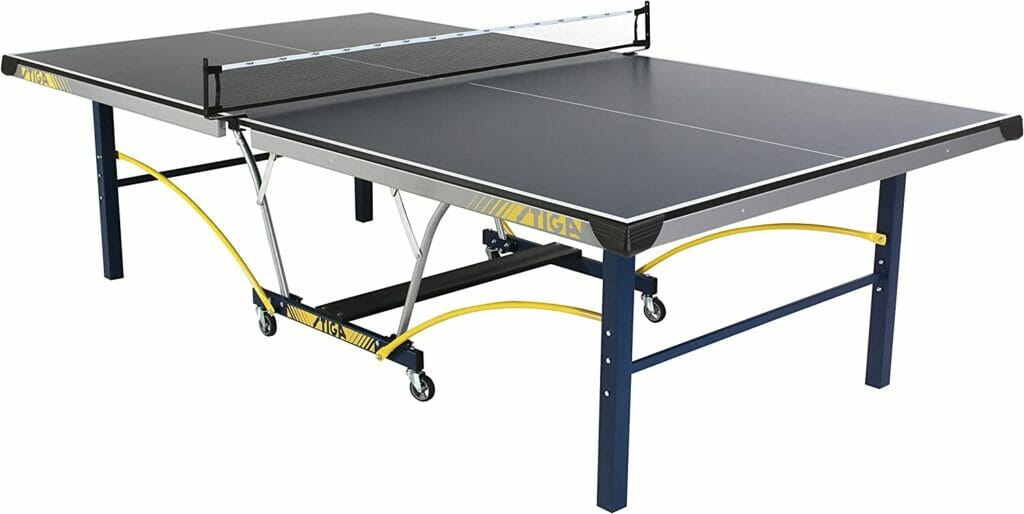 Table Top Quality: ★☆☆☆☆
Build Quality: ★★★★☆
Overall Rating: ★★☆☆☆
Pros
Strong build, inexpensive, quick to assemble.
Cons
Thin table top.
Specifications
QuickPlay chassis for fast assembly — box to play in 20 minutes
16mm (5/8″) thick tournament blue table top
2″ self-opening steel legs with 3″ mag wheels
2″ steel apron with corner protectors
66″ net and post set included
For indoor use only
One-piece design
90-day warranty period
Pros
Inexpensive
Quick setup
Strong frame
Solo playback mode
Cons
Our Rating: 4.8
Advantages
Quick Set Up
The STIGA Triumph table tennis table takes just 20 minutes to assemble, so you can get up and running straight away. This beats some models which can take several hours to put together.
However, I should note that it's not quite the quickest to set up, as there are a lot of models nowadays that only take 10 minutes to put together.
Reasonably Priced
Among indoor models, the STIGA Triumph table tennis table price is fair in our eyes. It provides a low-cost entry point to get started with table tennis. And if in the future you decide you want something of higher quality, you can always choose to upgrade.
Strong Frame
For a 16mm thick table, the STIGA Triumph is surprisingly strong. The apron measures 2″ which is more typical of a higher-end table. Take the Butterfly Space Saver 22, for instance, it has a 2″ apron but it costs three times as much. It also has thinner legs than the Triumph at 1 1/8″ compared to 2″. So while the Triumph is a little lacking in areas such as the table top thickness it certainly overperforms in terms of its frame.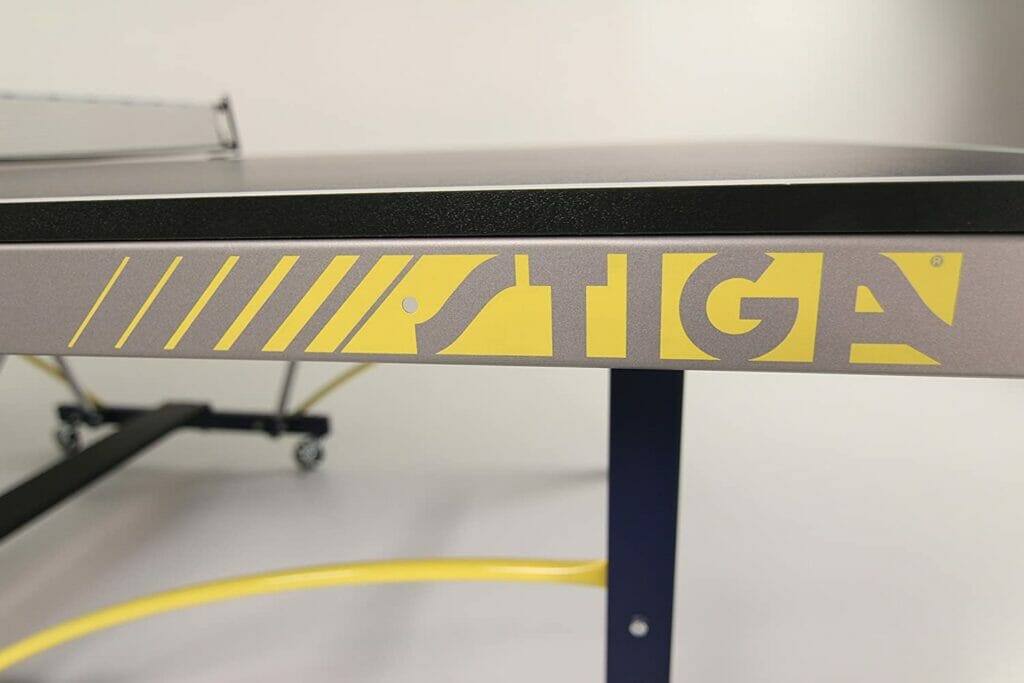 Solo Playback Mode & Folds for Storage
Like many tables nowadays, the STIGA Triumph ping pong table is foldable and you can erect one side to play by yourself when you don't have a partner. This is a great feature for beginners.
The table uses a two-piece design. This means it isn't super compact when you fold it up. If you're in the market for the best foldable tables you can read our guide about that here.
However, when compared with other two-piece tables it's around average for compactness. The storage dimensions measure 60″ (W) x 30″ (D) x 62″ (H).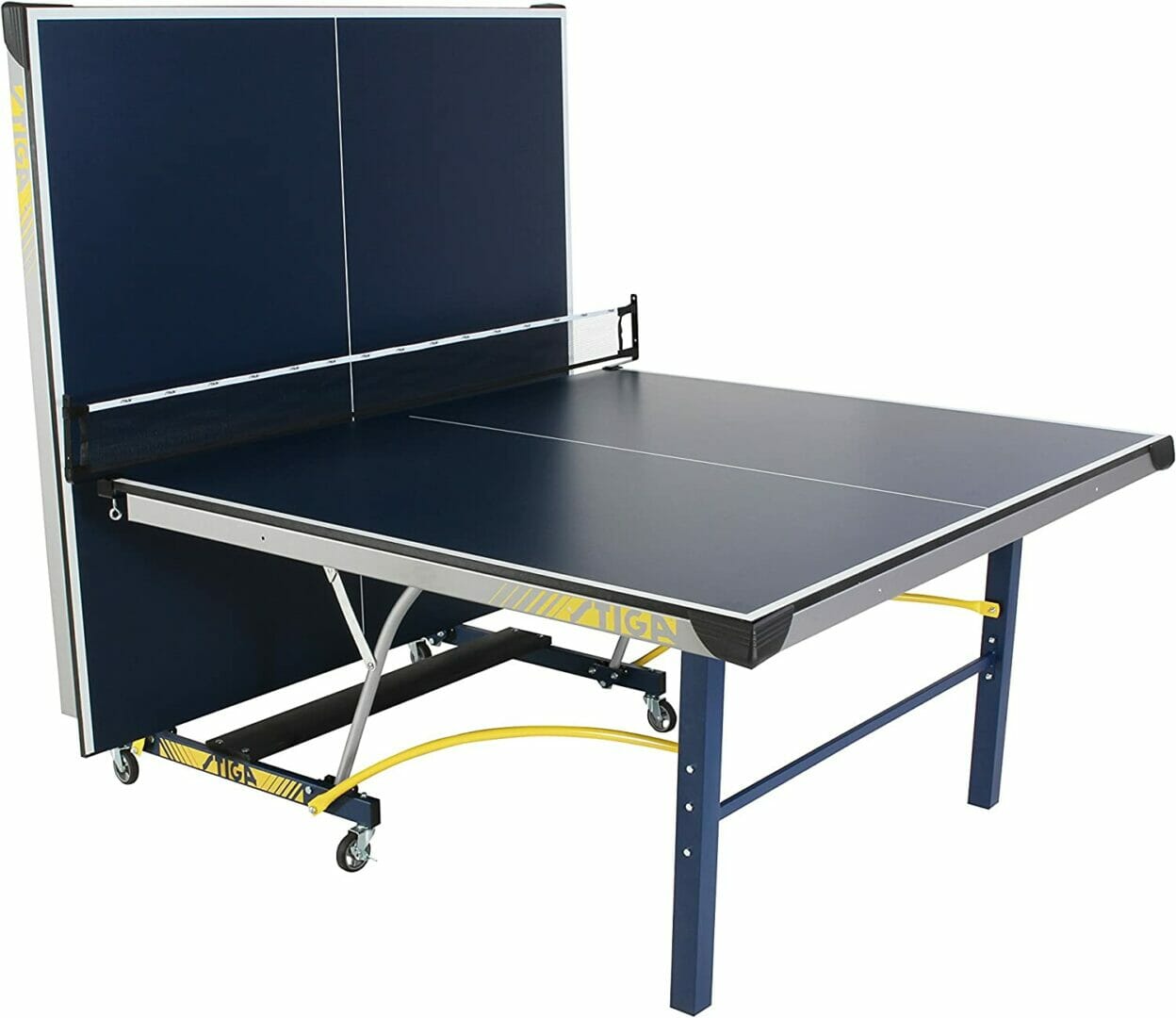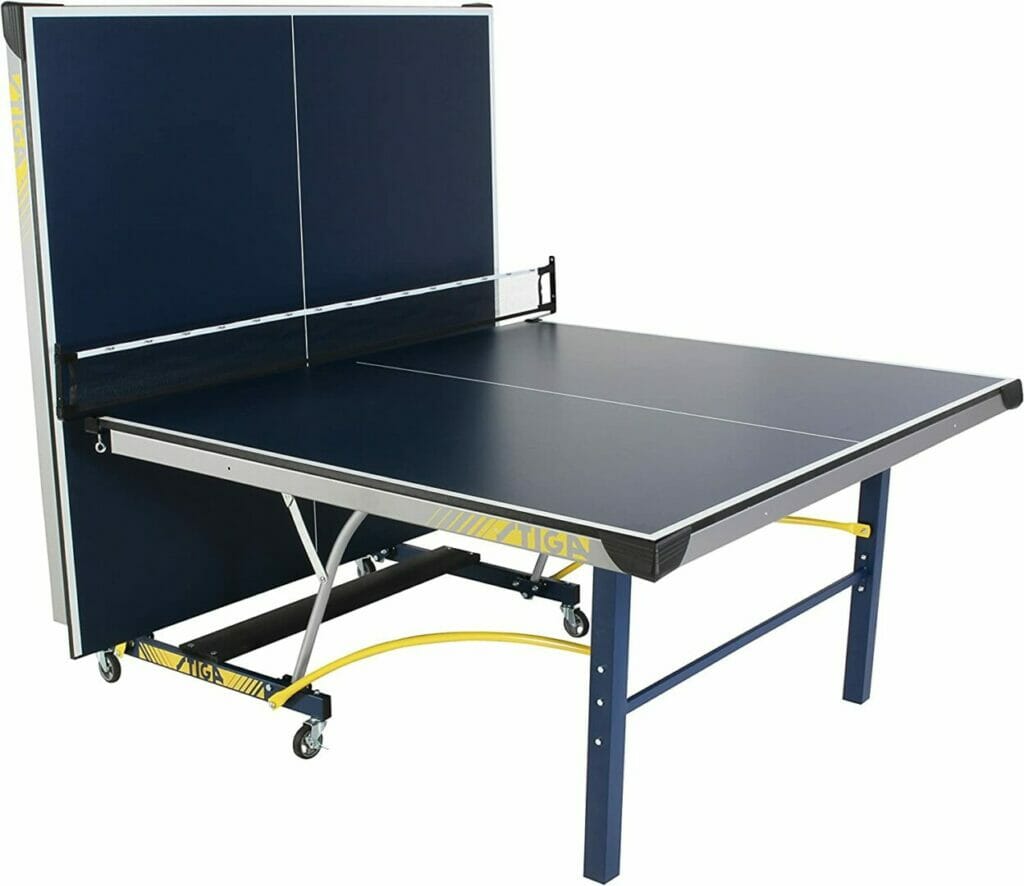 Cons
Surface Thickness
The biggest drawback with this table is the table top. At a thickness of 16mm (5/8"), it provides a relatively poor bounce. Usually, we recommend 18mm as a minimum. Therefore this table is only really suitable for casual players.
Another issue I noticed was that select customers were experiencing problems upon delivery. The likes of pre-existing scratches and small paint blemishes were present on some customers' tables, and when they reached out to STIGA, the company was of little help. This is surprising given that STIGA is one of the most trusted table tennis brands.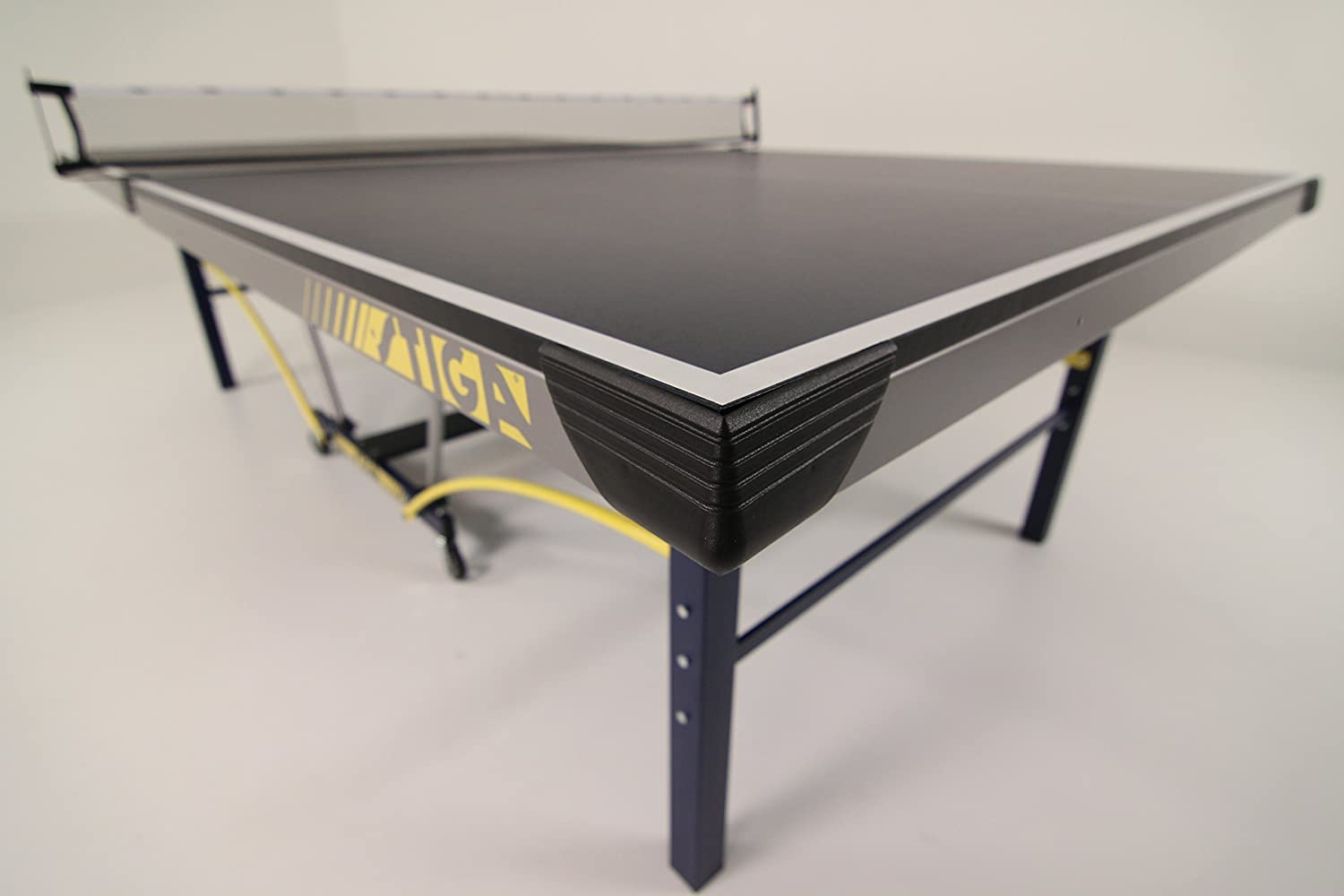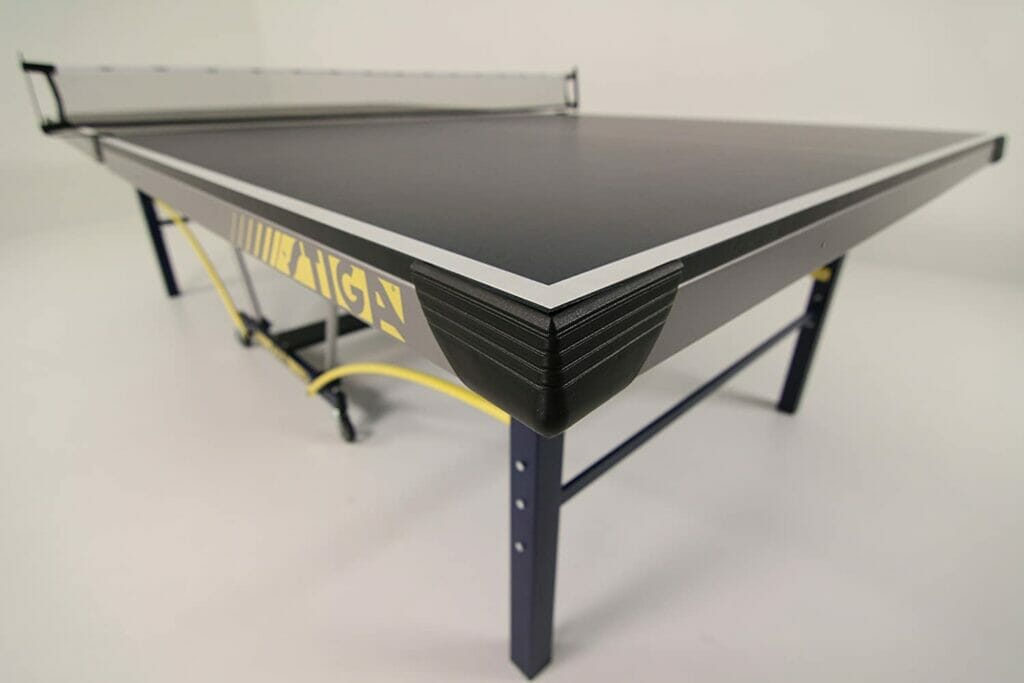 Basic Net
While a poor net is somewhat expected with an inexpensive table, it's a fact that I still want to make sure you are aware of. The Triumph ping pong table doesn't come with any paddles or balls, just a net (this is normal). However, the net is rather rudimentary. It's cheap and has no tension adjustment.
A claim could be made that it has height adjustment, but this is dubious at best. Unlike most height adjustable nets, which have a knob at the bottom to turn, with this net, you instead lift it up and rely on the elastic to keep it in place. I, for one, am not really a fan.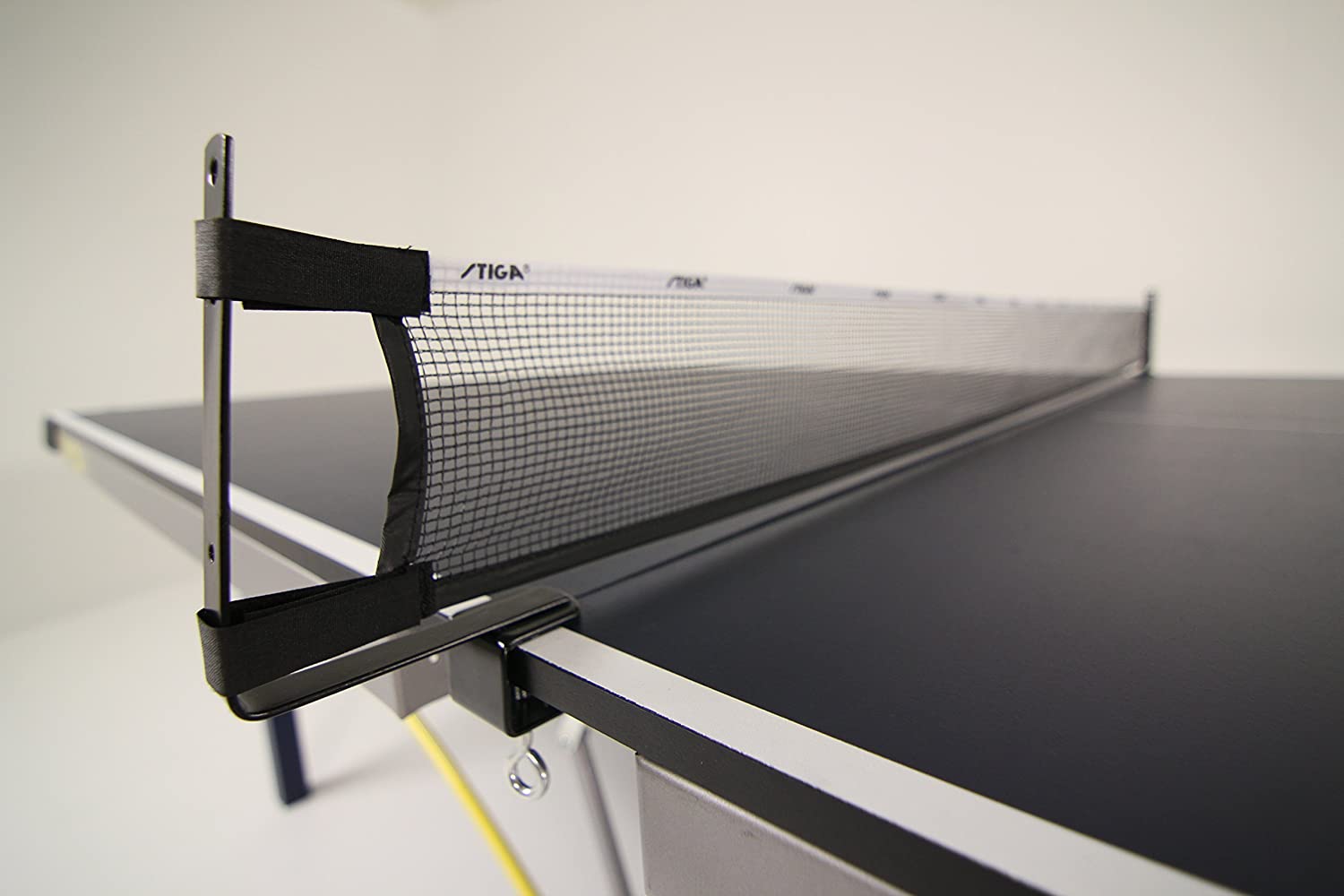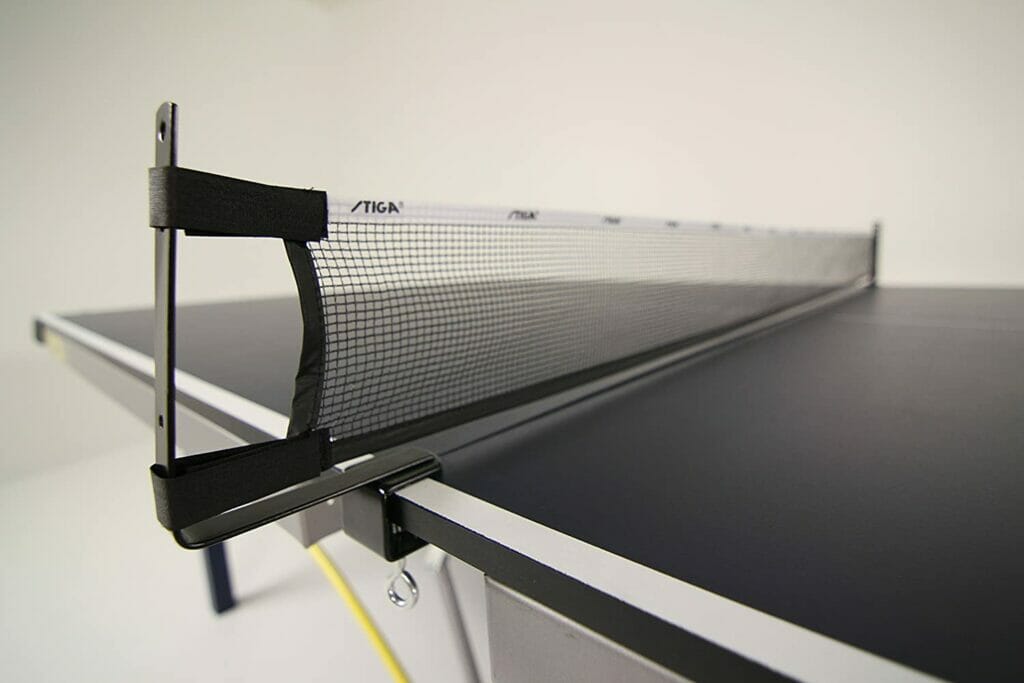 Alternative Options
STIGA Advantage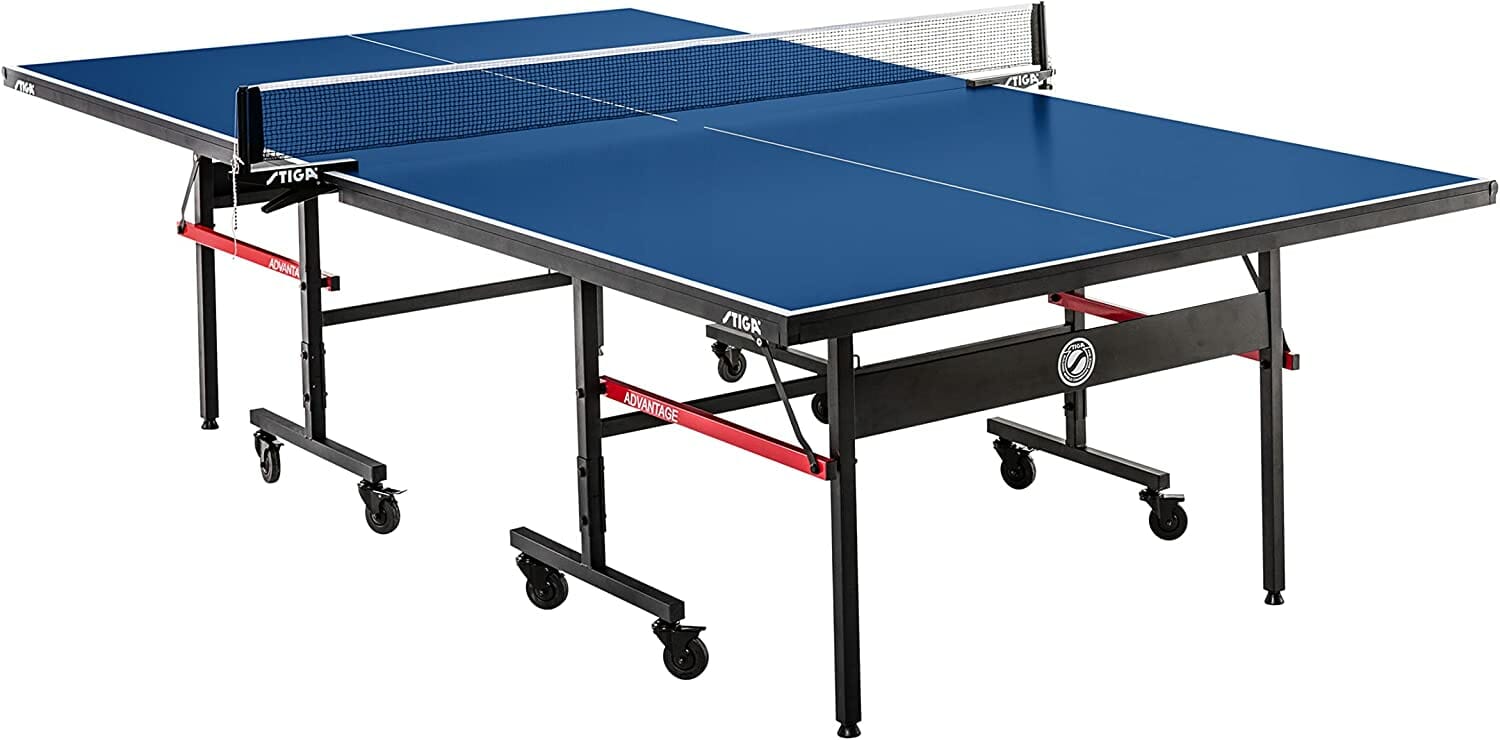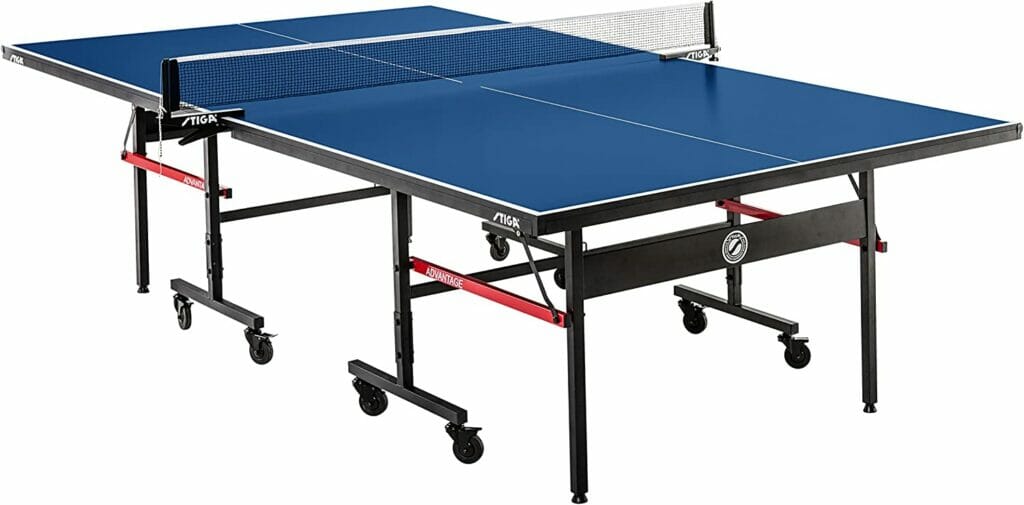 The clear alternative to the Triumph is the Advantage. It is made by the same company, is much newer, and is cheaper than what the STIGA Triumph was when it stopped being sold in 2020.
The Advantage has the same 16mm (5/8″) playing surface, however, it is not as strong as the Triumph, which is unsurprising as that was one of the strongest qualities going for it. The Advantage features 1.2″ steel legs, which is far inferior to the Triumphs 2″ steel legs.
However, it does easily beat out the Triumph in several areas. These include its storage capabilities (nests together for compact storage), and the included net, which is of much higher quality.
JOOLA Inside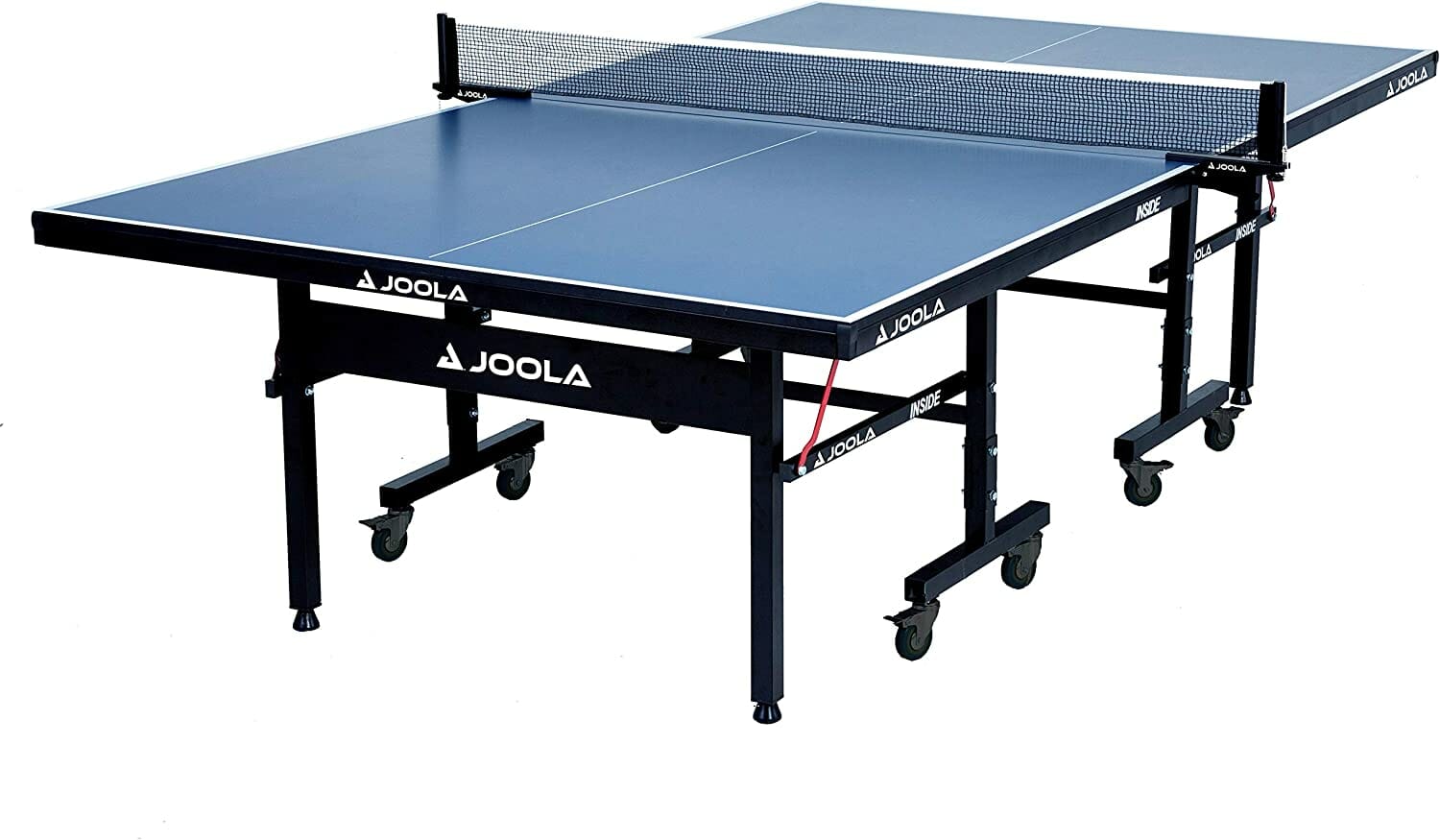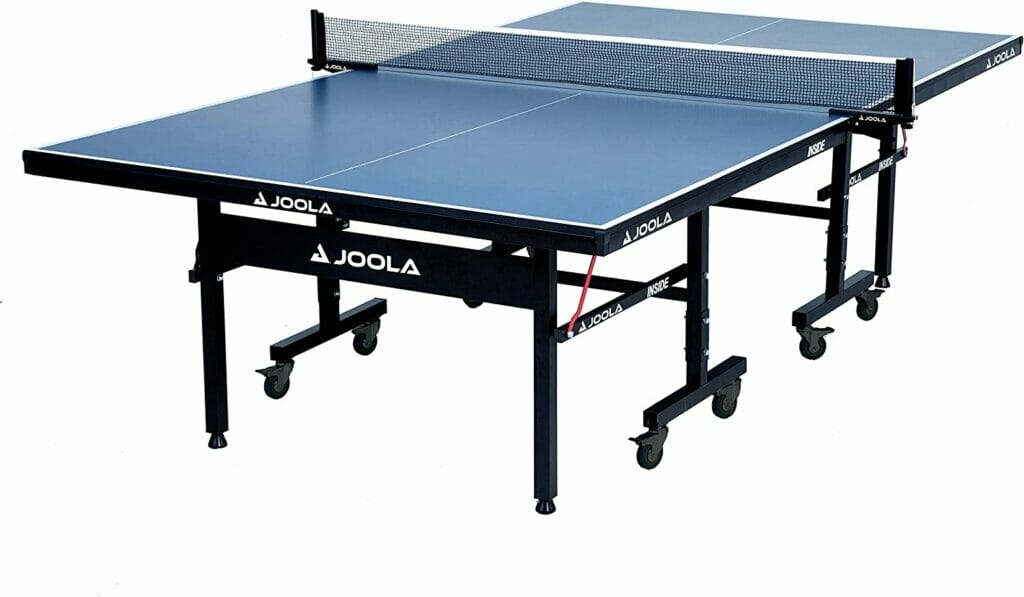 The JOOLA Inside also makes for an excellent alternative. I have chosen to go with the 18mm version instead of the 15mm version, as ideally, we don't want to go any less than the Triumph's 16mm.
Of course, for this increased table top size, you have to pay a little more, but not too much. It is certainly worth the upgrade. The Inside shares many qualities with the Advantage, including the fact that it is two-piece and therefore stores compactly.
However, it is marginally better in some areas, such as the legs, which measure 1.5″ wide. This, of course, means it is not as strong as the Triumph. But then again, it provides better value given its thicker playing surface.
Conclusion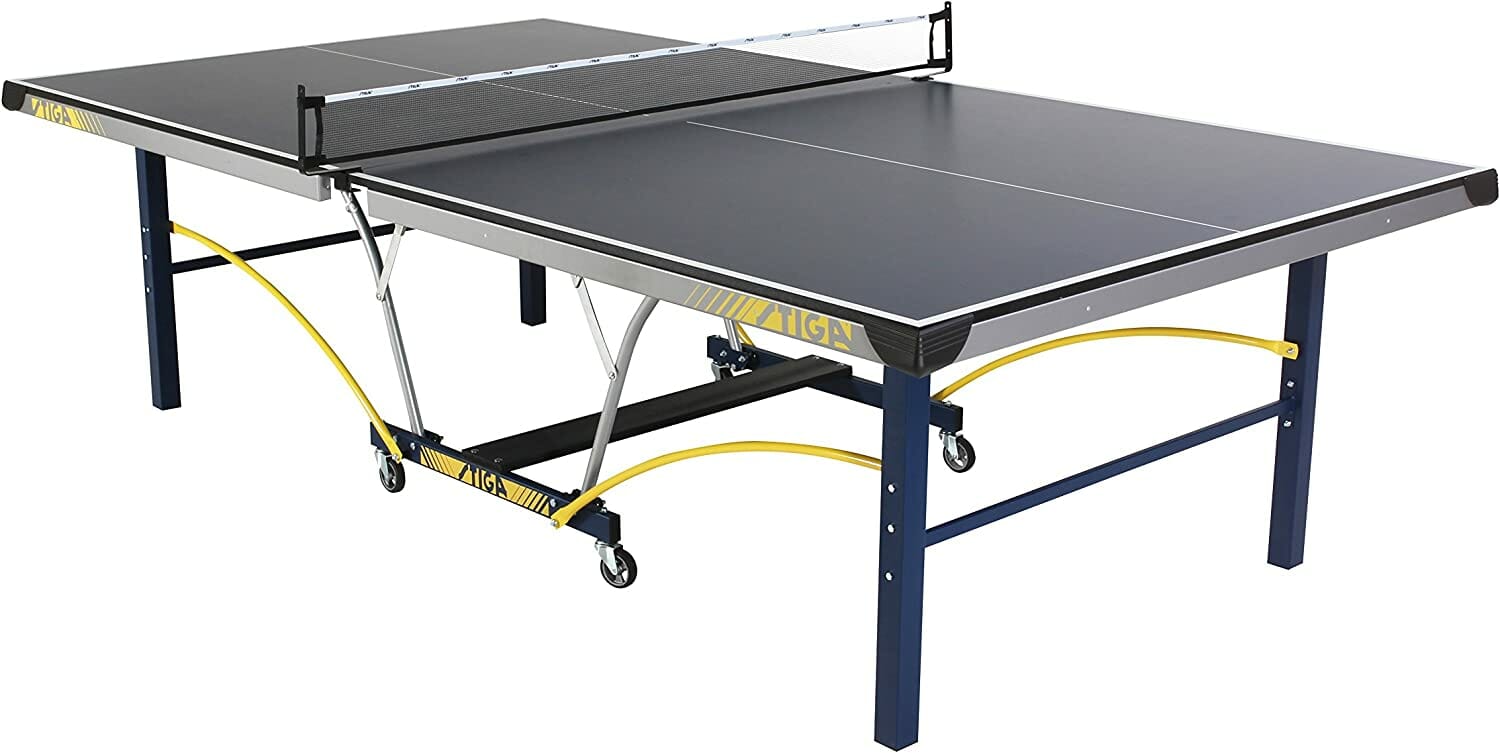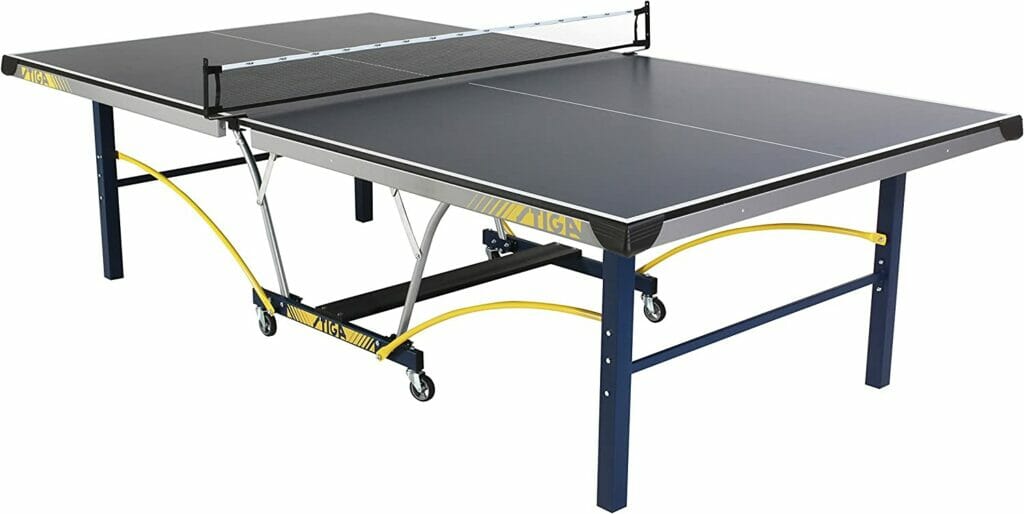 That marks the end of our STIGA Triumph review. Overall the STIGA Triumph is a strong table tennis table, but considering its thin playing surface it's more for fun than serious play. As it is now discontinued, the STIGA Advantage and JOOLA Inside are the clear alternatives you should be looking at.
If you really can't decide between the two we recommend you give our comparison a read. Alternatively, you can skip straight to our master table tennis table guide where we cover all of our favorite models.
Similar reads:

Freelance writer. Table tennis enthusiast. Lover of all things online. When I'm not working on my loop game I'm probably binge-watching some fantasy show.