The STIGA Master Series ST3100 indoor ping pong table will work great for entry to mid-level Ping Pong players who are looking for a way to improve their skills. It been out for a while now and in that time has garnered hundreds of 5 star reviews and is a firm favorite. Here's our review of the STIGA Master ST3100.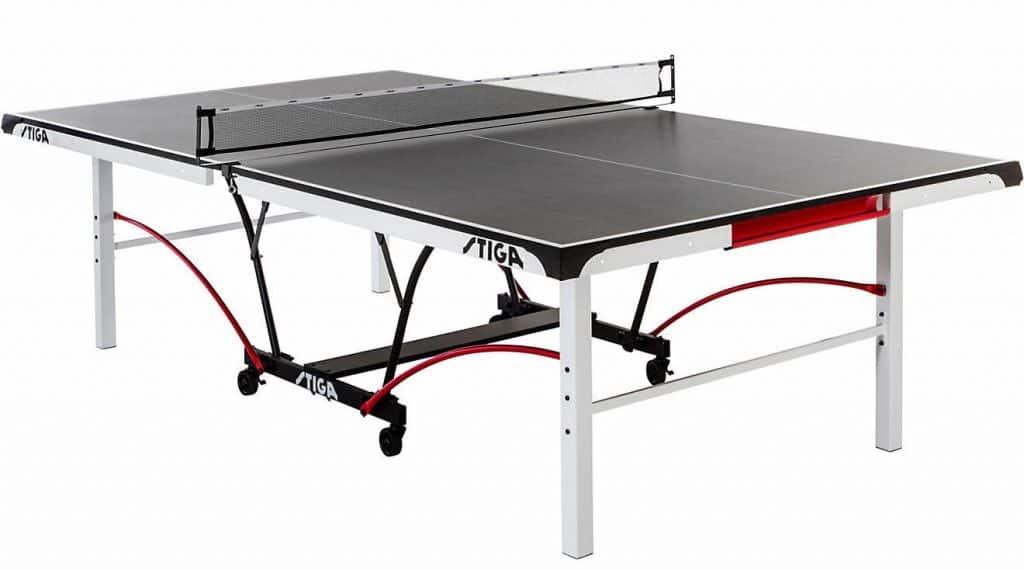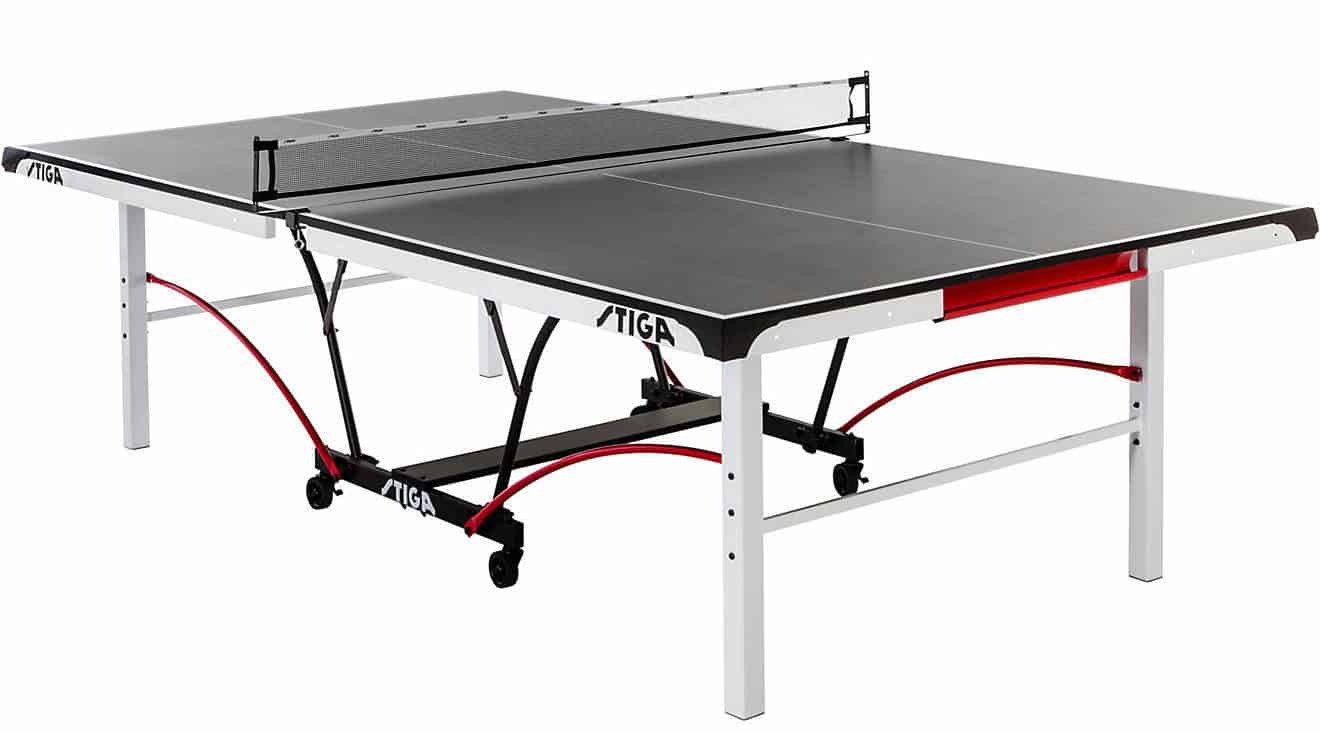 STIGA Master Series Overview
It offers many advantages to other ping pong tables within the same price range. It actually has a ¾" top, which is thicker than most of its competitors in the same price bracket whcih means it provides a better bounce response.
Having owned and tried out a lot of table tennis tables over the years, we can say from our own experience that this table provides a great overall value for those who are looking for a solid entry-level table for a recreation room. High school and middle school aged kids all seem to think it's a professional level table and love playing on it.
Specifications
Performance table with integrated ball storage apron
Sturdy-link chassis with smooth and durable silk screened striping
Ball apron holds 24 balls total (12 per side), balls not included
¾" top
Includes net and post system
3″ casters
2″ apron
2″ legs
Packaged: 62.5″ x 56.5″ x 5.0″
Play position: 108″ (9ft) x 60″ (5ft) x 30″
Playback position 60″ x 68″ x 62″
Storage position: 60″ x 30″ x 62″
Harder to assemble than most
If the simple assembly instructions are not followed, this table can be difficult to assemble correctly. It will take longer than some other tables because it has more parts. Have at least one other person assist in the installation process. Be sure not to overly tighten the nuts, because somehow this makes it hard to fold up and store. Definitely invest in a power drill if you don't have one to make this installation go faster, and closely keep an eye on what size bolts you are using for which part..
Large wheels make rolling it easy
This particular tennis table has 3" casters, which are larger than most other tables within this price range. This makes it particularly easy to roll it over carpet and generally move around the room when not in use.
Solid, well-engineered framing
The undercarriage of this table is well engineered. It locks together and provides a very sturdy playing surface once assembled. The 2" thick stabilizing legs are not flimsy and support the table well. When the wheels are locked and the legs are down, the table resists movement when dumped.
Single player option
It also has a convenient "playback mode" that allows you to fold up only one end of the table to allow people to practice Ping Pong individually without a partner. I had never done this before, but this table makes it easy and it actually dramatically improved my Ping Pong play.
Folds up for easy storage
Not only does this table fold one side at a time to allow for single player play, it also folds up completely to enable storage in tight spaces. This makes it possible to roll it out of the way and behind a couch when not in use.
Ball storage
This table has a ball apron that holds up to 12 balls on each side. Most of the other tables don't have ball holders at all or only held up to 4. Without a place at all to store balls, you will be constantly chasing them around the room or trying to balance them on a coffee table nearby.
Pros
Very high ball storage capacity
Thick legs provide rigid support
Playing surface is well made and has a professional appearance
Folds up completely for convenient storage
Large casters make rolling the table easy
Playback position allows for single player play
Cons
Net and post are not of very high quality
Balls and paddles are not included
Red stabilizing bars don't look professional, give it a comedic appearance
Relatively difficult assembly with a lot of parts
Conclusion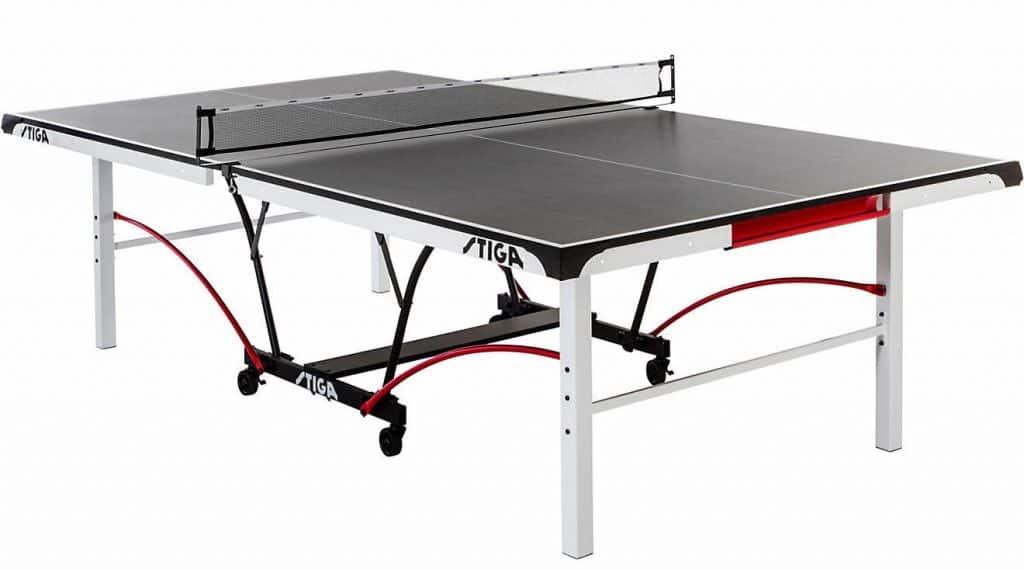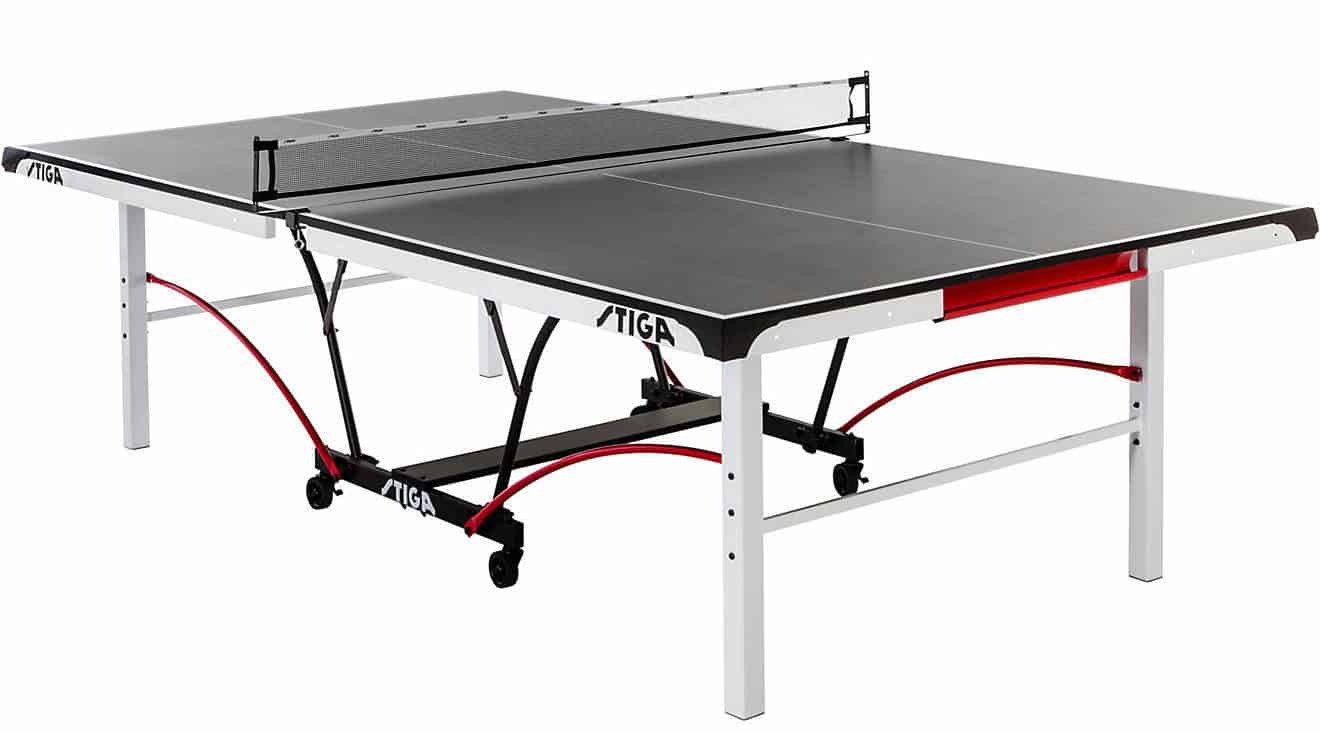 Overall, the STIGA Master Series ST3100 competition indoor table is a great buy for anyone looking to outfit a game room, garage, or rec room with a solid ping pong table. Although it probably wouldn't impress a professional ping pong player, it certainly gets the job done for families looking to entertain the kids.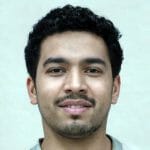 Eugene (Gene) Sandoval has been one of those guys who spent too many hours around ping pong tables in high school. However, soon enough, Gene understood that there is more to ping pong than having fun. That is how he started a journey that made Eugene one of the experienced semi-professional ping pong players in the United States. As the founder of the PingPongRuler, Eugene spends most of his time surrounded by ping pong tables and research. He always has this knack for coming up with new ping pong strategies and telling the good and bad equipment apart.