STIGA ST3100 Review – The Master Series
The STIGA Master Series ST3100 table tennis table is a great mid-level ping pong table for players who are looking for a way to improve their skills. It has been out for a while now, and in that time it has garnered hundreds of 5-star reviews and is a firm favorite. I, for one, would have loved to have used this table when I first started out if I had the room for it inside my house! Here's our Stiga ST3100 review.
*UPDATE* The Stiga ST3100 is now out of stock in most places. We instead recommend purchasing the newer ST3600. More information on that model at the end so keep reading!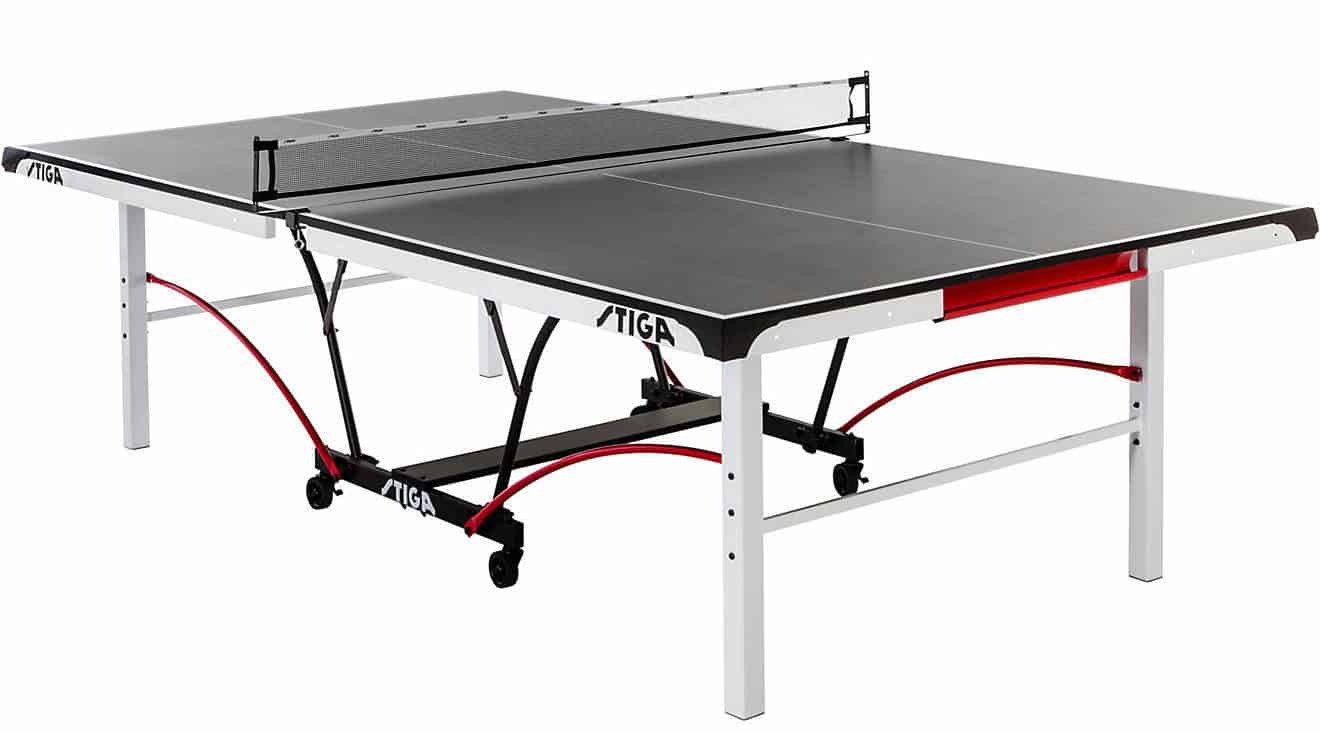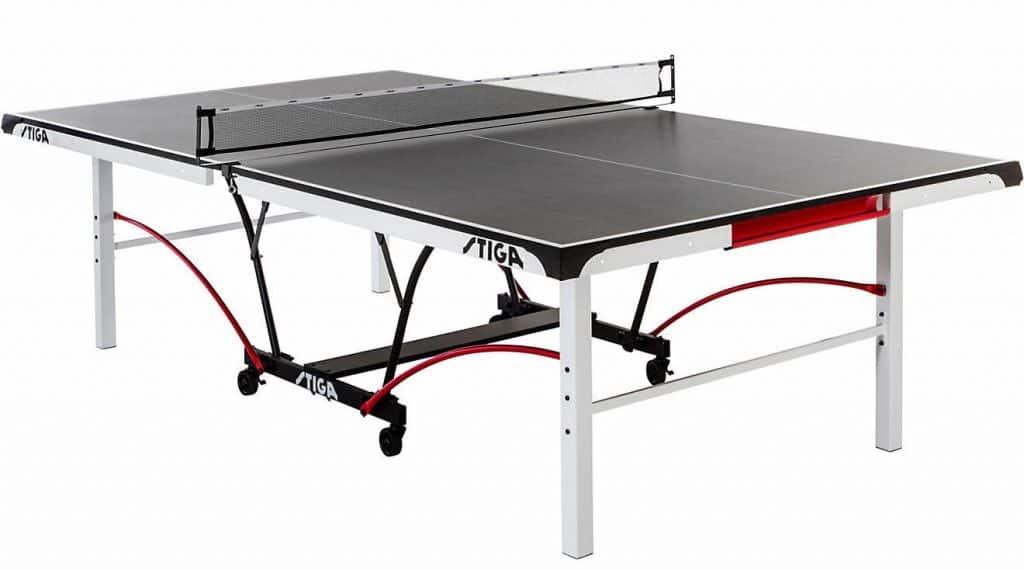 | | |
| --- | --- |
| Playing Surface | ★★★☆☆ |
| Build Quality | ★★★☆☆ |
| Value | ★★★★☆ |
| Extras | ★★★★☆ |
| Overall | ★★★★☆ |
STIGA Master Series ST3100 Overview
The Stiga ST3100 table tennis table offers many advantages over other ping pong tables within the same price range. The main quality being its ¾" top which is pretty thick for a table of its price. Having such a thick playing surface correlates to an enhanced bounce response.
Having owned and tried out a lot of table tennis tables over the years, we can say from our own experience that this table provides a great overall value for those who are looking for a solid entry-level table for a recreation room. Almost all of the online Stiga S3100 reviews we studied were positive. And we expect you'll love the way it performs too.
Specifications
Sturdy-link chassis with smooth and durable silk-screened striping
Ball apron holds 24 balls total (12 per side), balls not included
¾" playing surface
Includes net and post system
3″ casters
2″ apron
2″ legs
Packaged: 62.5″ x 56.5″ x 5.0″
Play position: 108″ (9ft) x 60″ (5ft) x 30″
Playback position 60″ x 68″ x 62″
Storage position: 60″ x 30″ x 62″
Weight: 195lbs
Assembly
Assembly is perhaps the largest drawback to purchasing this table. Where many tables come pre-assembled and can be up and running in as little as 10 minutes, this table takes considerably longer. Stiga Master Series ST3100 reviews from players indicate that assembly takes 2-4 hours depending on how quickly you work. But I wouldn't let the long assembly period deter you from purchasing. How the table performs once built is far more important than assembly time.
Fortunately, the instructions are very clear, so you shouldn't make any mistakes during the build process. Below is a video assembling the ST3000 table tennis table which is the previous model to the ST3100. As best we can tell, there is very little difference between the two, so this video may help you along the way.
Large Wheels
The Stiga ST3100 ping pong table has 3" casters which are larger than most other tables within its price range. This makes it particularly easy to roll over carpet and other uneven surfaces.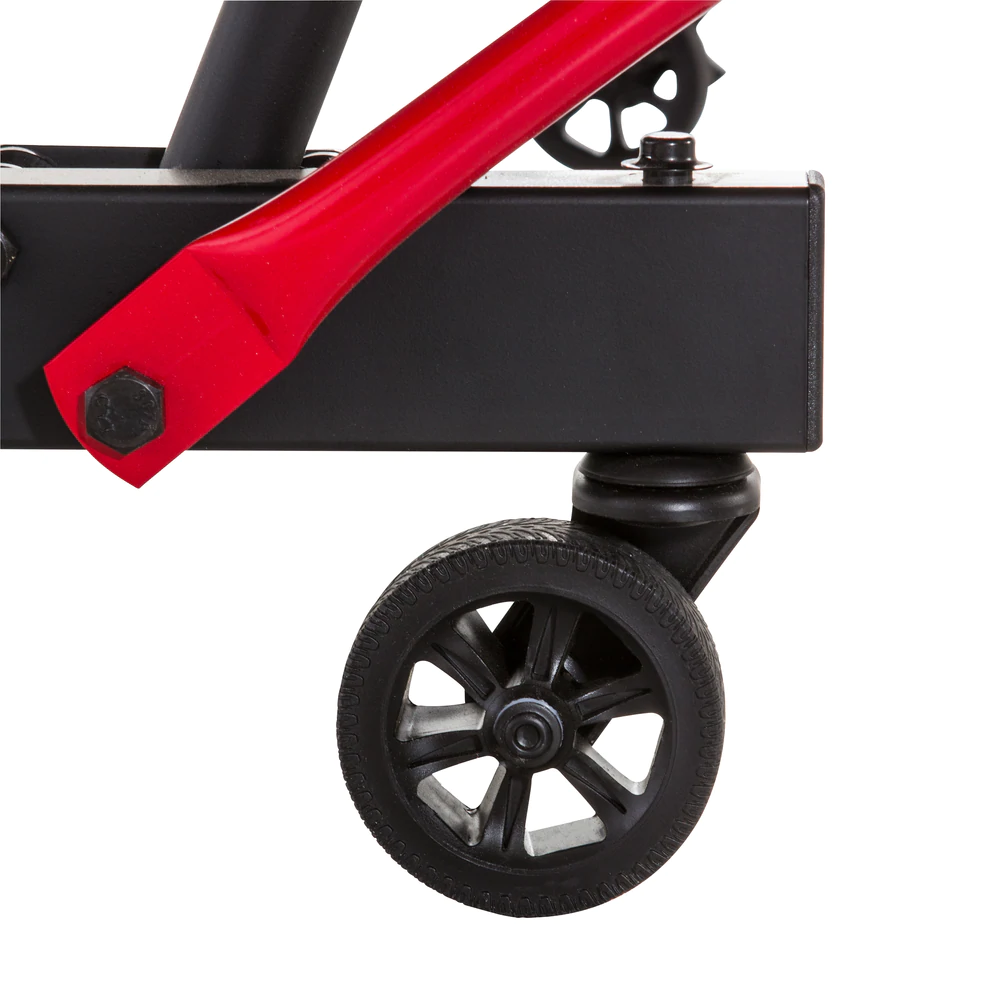 Solid Well-Engineered Frame
The undercarriage of this table is well engineered. It locks together and provides a very sturdy playing surface once assembled. The 2" thick stabilizing legs are not flimsy and provide adequate support. When you erect the table and lock the wheels it doesn't budge at all when bumped which is pretty important as knocking the table happens more than you might expect.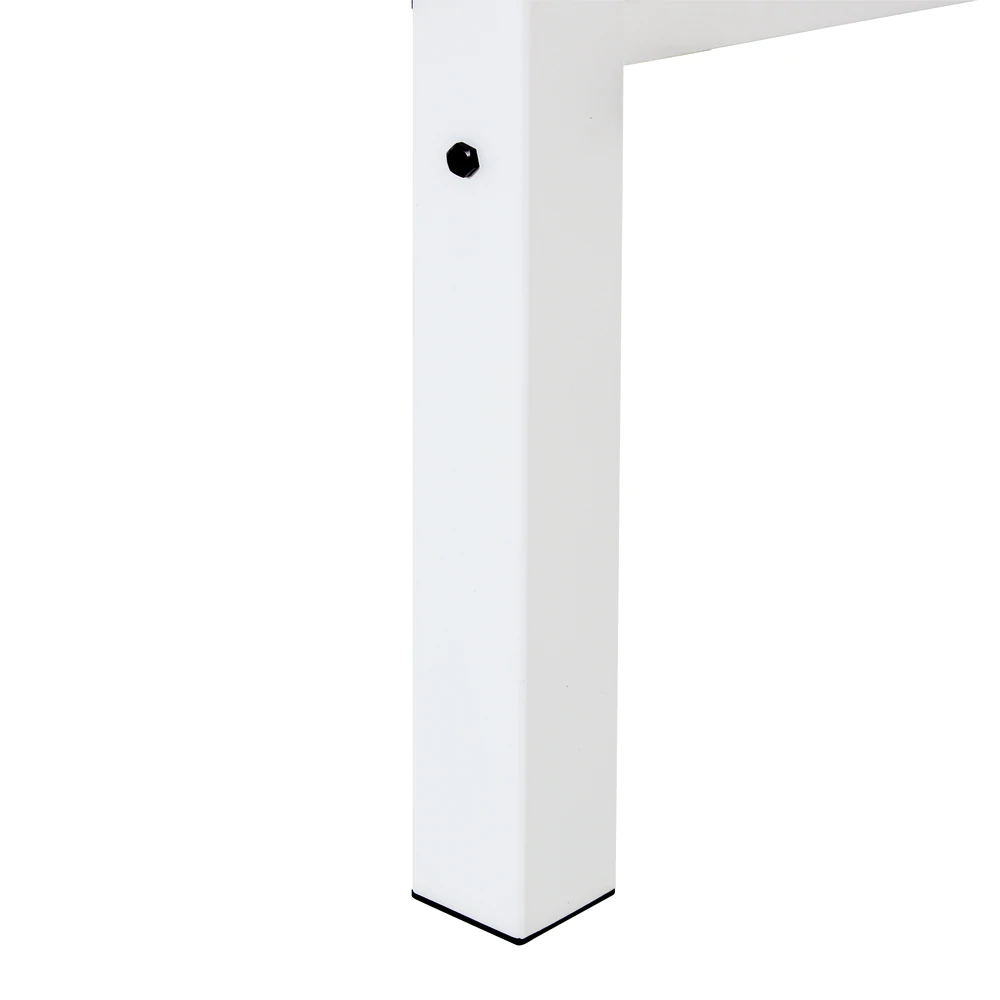 Single-player Option
The Stiga Master Series ST3100 features a convenient "playback mode" that allows you to fold up only one end of the table to allow you to practice ping pong individually without a partner. This is great for beginners who are looking to hone their hand-eye coordination and become familiar with the basics of table tennis. Often there's not always a partner available to play with, so having access to playback mode ensures you can train whenever you like!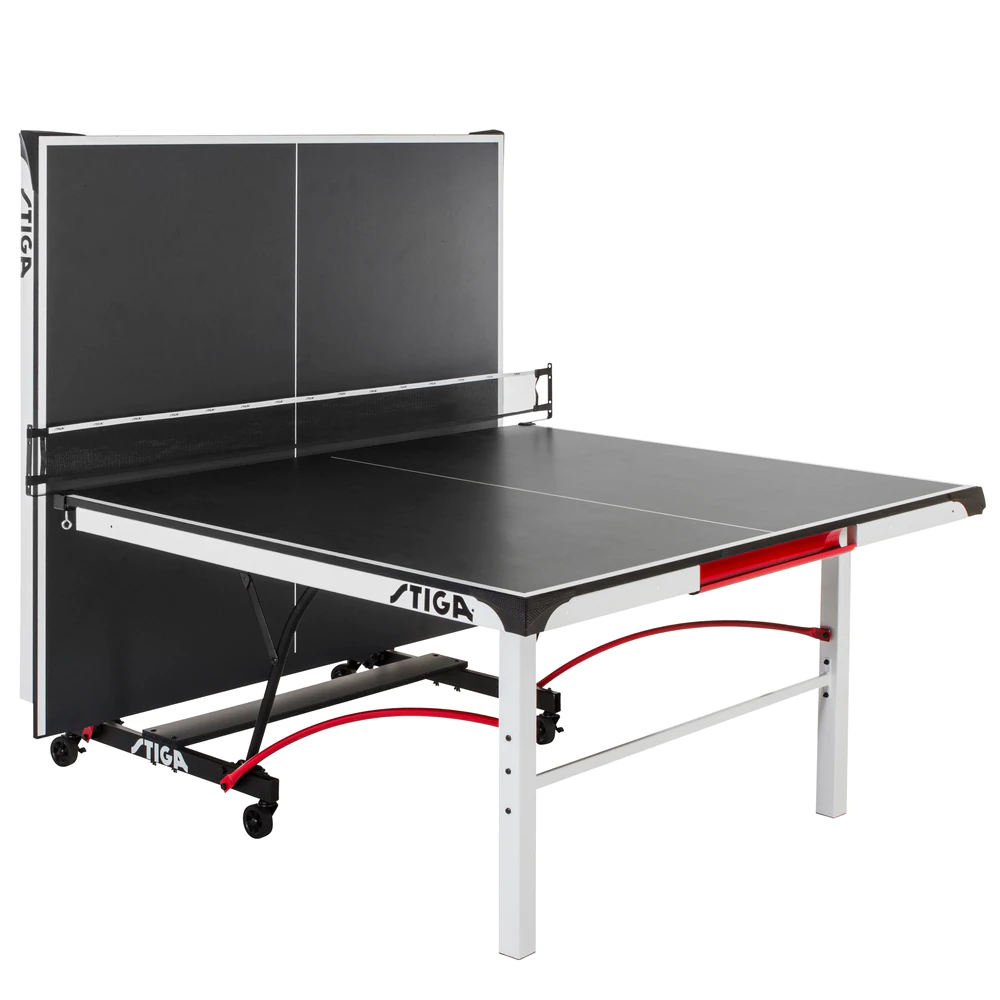 Folds Up for Easy Storage
Not only does this table fold one side at a time to allow for single-player play, but it also folds up completely to enable storage in tight spaces. This makes it possible to roll it out of the way and behind a couch when not in use. One aspect I think is important to note is that this table is one singular piece. The table halves do not break away like many tables you see nowadays. This means it's a little heavier to wheel around.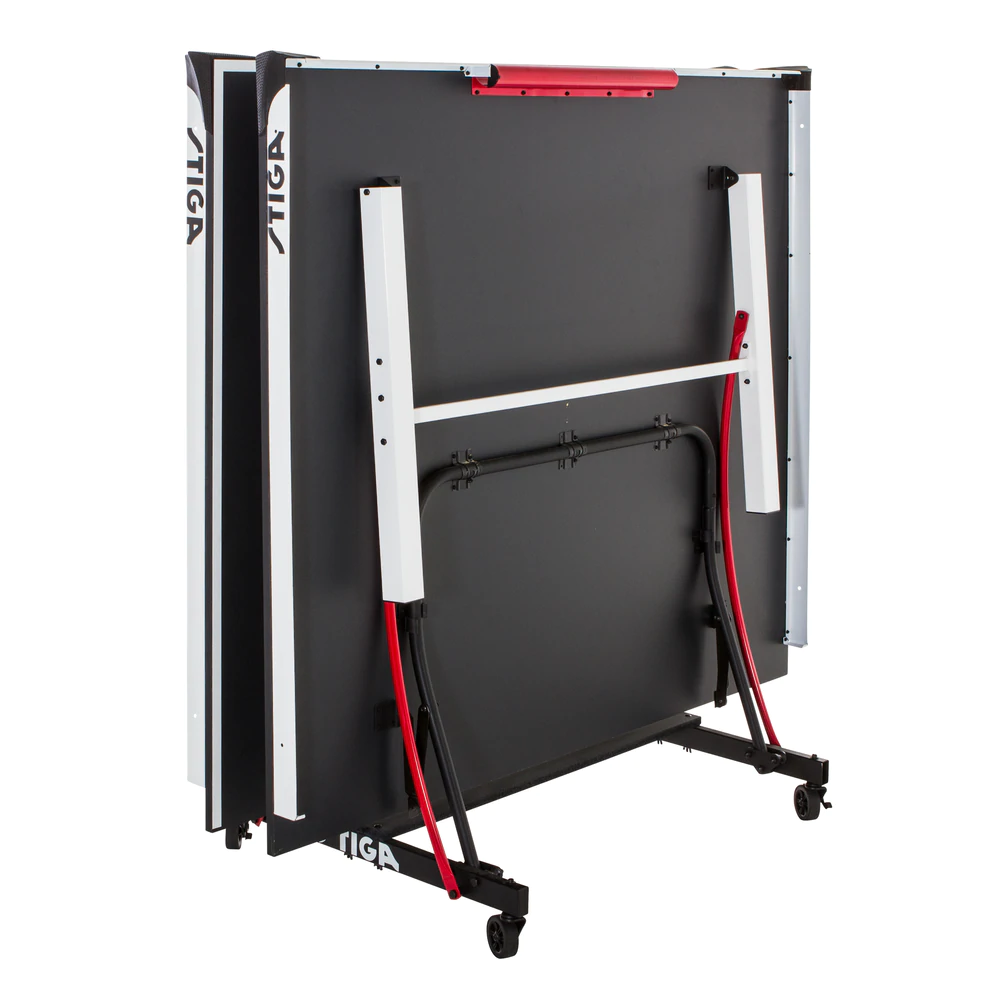 Ball Storage
The Stiga ST3100 indoor table tennis table has a ball apron that holds up to 12 balls on each side. Most other tables don't have ball holders at all or only hold up to 4. So the ST3100 really is a market leader in this niche area. This feature ensures you are never further than arm's length from a ball which means you can keep playing to your heart's content (or until you run out of balls!).
Pros
Very high ball storage capacity
Thick legs provide rigid support
Playing surface is well made and has a professional appearance
Folds up completely for convenient storage
Large casters make rolling the table easy
Playback position allows for single-player play
Cons
Net and post are not of very high quality
Balls and paddles are not included
Red stabilizing bars don't look professional — gives it an amateur look
Time-consuming assembly with a lot of parts
FAQs
Stiga ST3100 vs ST4100 — What's the Difference?
The ST4100 is a newer advanced model that is more fitting for advanced players than those at an intermediate level. Its apron and legs are 0.5″ thicker, but more importantly, the playing surface is very high quality at 25mm (tournament standard). It does, however, have a similar appearance to the ST3100 ping pong table and also takes a considerable amount of time to assemble.
How Much Does a Stiga S3100 Weigh?
The Stiga S3100 ping pong table weighs 195lbs which is fairly heavy. It does, however, have 3″ wheels which make it easy to move around. Given its weight and lengthy assembly period, it's somewhat challenging to set up. We recommend getting help if possible.
Is Stiga a Good Ping Pong Brand?
Stiga is a widely respected table tennis brand that sells all kinds of equipment for casual and professional players alike. They are based in Sweden and have partners in over 100 countries. Their Stiga Advantage table is one of the best-selling models of all time.
Conclusion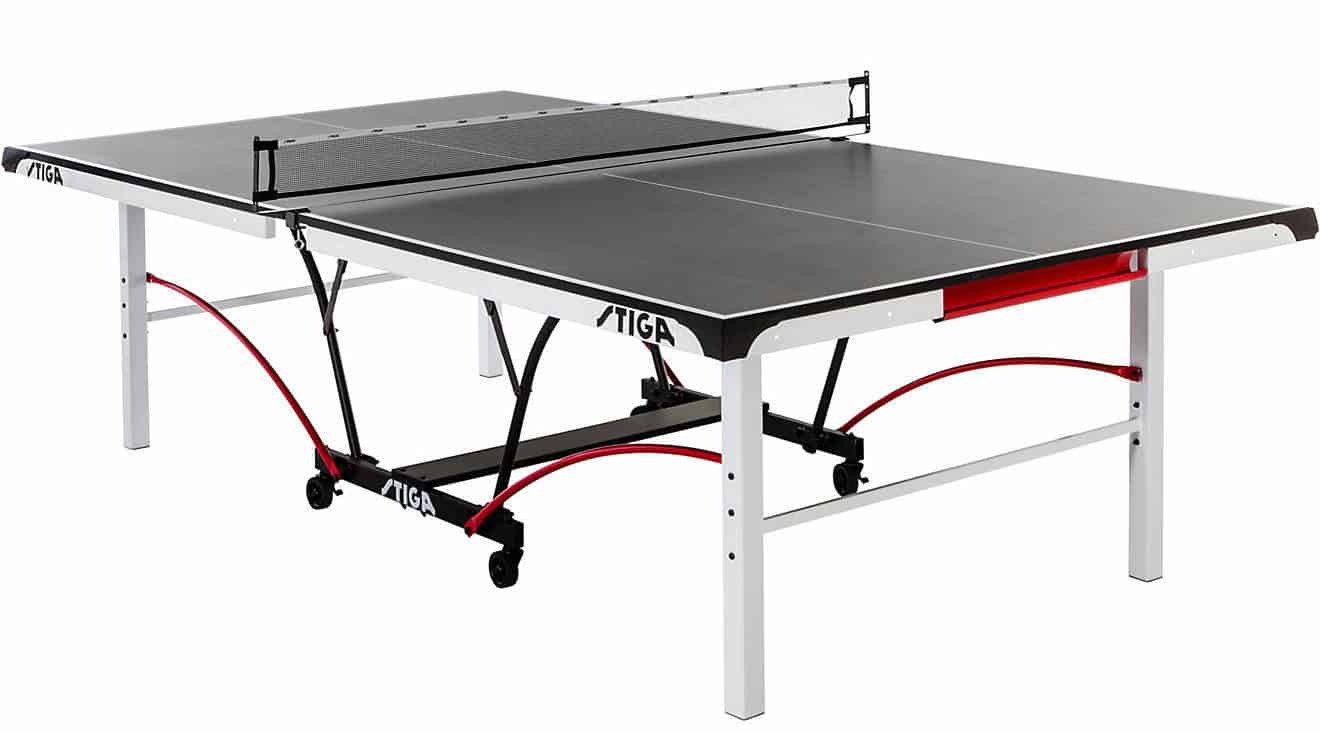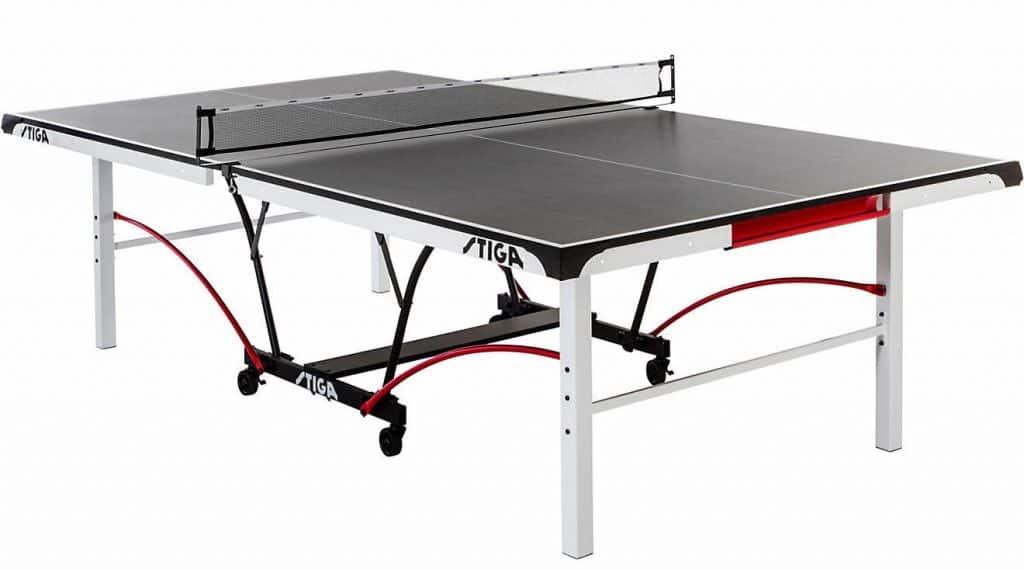 So that's the end of our Stiga ST3100 review. The STIGA Master Series ST3100 indoor table tennis table is a great buy for anyone looking to outfit a game room, garage, or rec room with a solid ping pong table. Although it probably wouldn't impress a professional ping pong player, it certainly gets the job done for families looking to entertain the kids.
If you want to learn a little more about how to choose a ping pong table, check out our guide. It will help you find the right table for you if the Stiga ST3100 doesn't quite cut it.
Recommended Alternative — Stiga ST3600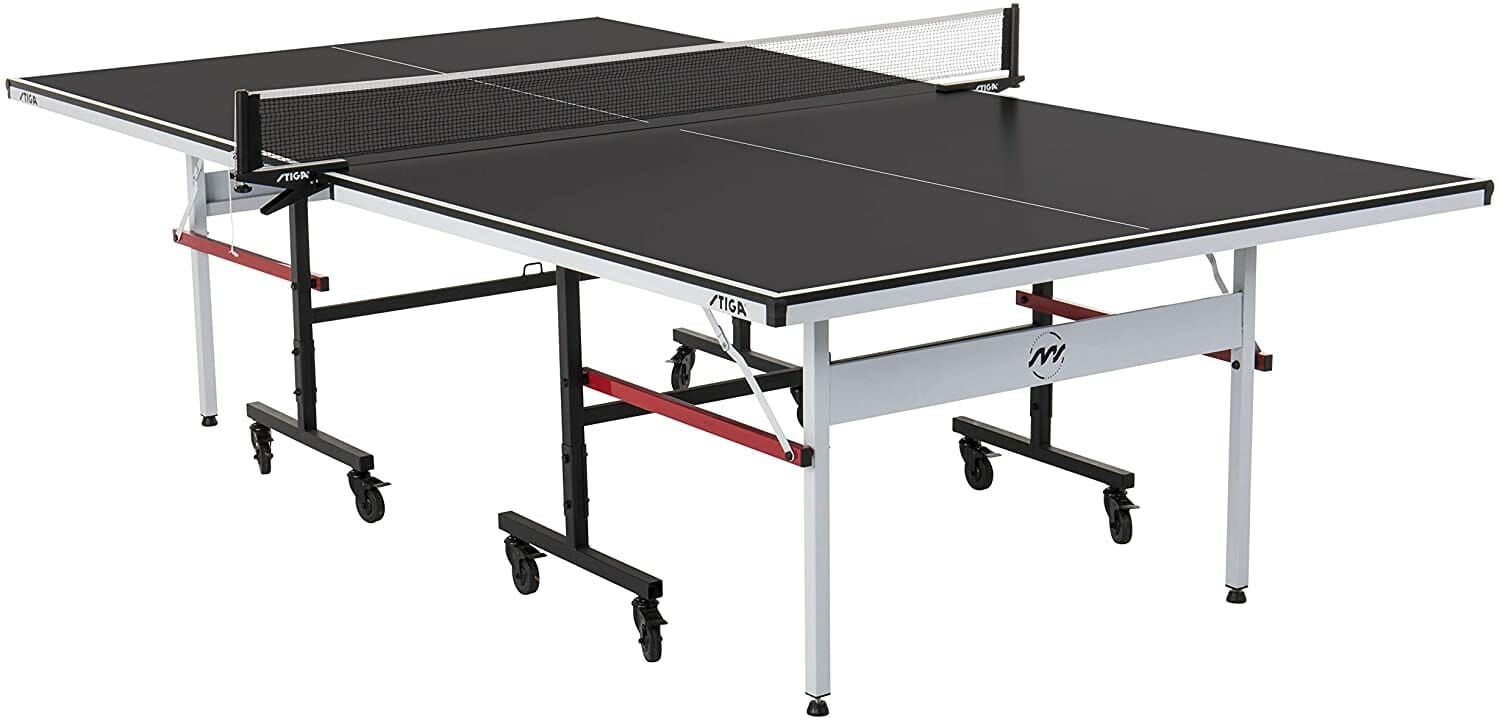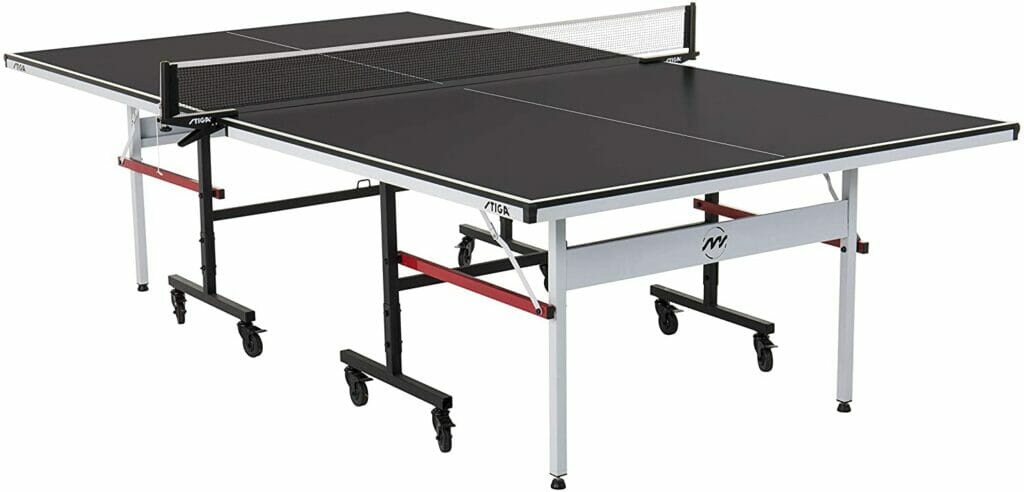 10-minute assembly
5/8″ playing surface
3″ lockable casters
1.5″ steel legs and apron
Folds for storage
Solo playback mode
High-quality net included
Given that the ST3100 is now out of stock in most places we instead recommend the newer ST3600. It has advantages and disadvantages over its predecessor. First off, the drawbacks: its playing surface is around 3mm thinner. This doesn't seem like much, but it definitely reduces the quality of the bounce. As such, it's ideally a table for beginners. if you want a more advanced model check out our best ping pong tables of the year.
The ST3600 also has a marginally thinner apron and legs by 0.5″, but it's worth noting the supporting frame does appear stronger. And finally, there's no ball storage for the ST3600 — which is hardly a deal-breaker.
Onto the advantages. And the first one is a biggy for most people. The table comes 95% pre-assembled which means you can be playing in as little as 10 minutes. This blows the ST3100's ~3-hour assembly period out of the water. It also uses a different construction. Each table half separates which makes it easier to move and store. You also get a far higher quality net which is both tension and height-adjustable.

Eugene (Gene) Sandoval has been one of those guys who spent too many hours around ping pong tables in high school. However, soon enough, Gene understood that there is more to ping pong than having fun. That is how he started a journey that made Eugene one of the experienced semi-professional ping pong players in the United States. As the founder of the PingPongRuler, Eugene spends most of his time surrounded by ping pong tables and research. He always has this knack for coming up with new ping pong strategies and telling the good and bad equipment apart.