Donic Bluefire M2 is a well-balanced rubber for all areas of play, yet it also offers high spin and speed, which makes it very desirable. It best fits into the offensive category but can certainly still occupy the allround+ or offensive+ classification in the hands of the right player and blade pairing. Simply put, it is versatile, and Donic has once again given us a great rubber.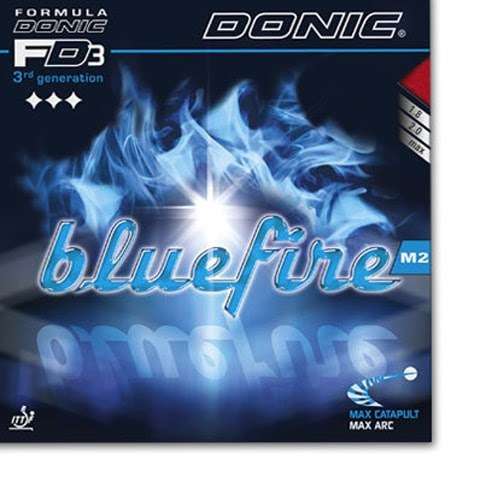 Specifications
Brand — Donic
Type of rubber — Inverted
Style — Offense
ITTF approved? — Yes
Thicknesses (mm) — 1.8, 2, MAX
Price — $$
Construction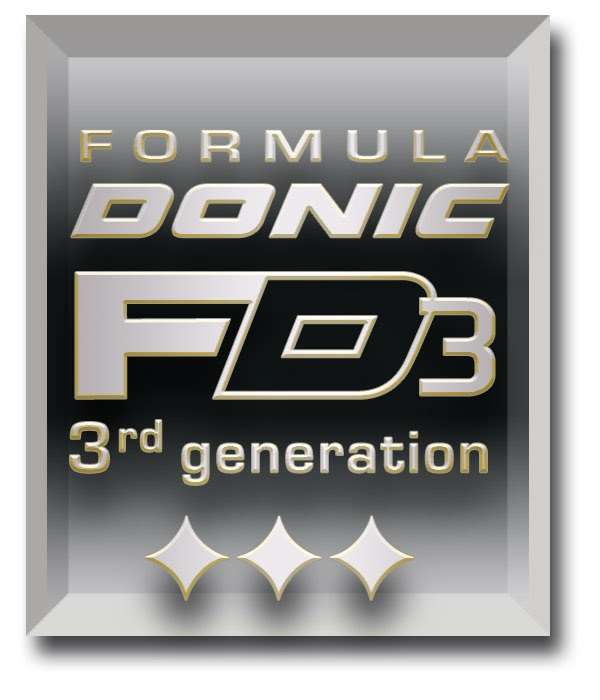 Bluefire M2 uses Donic's FD3 3rd generation technology. First released to combat the speed glue ban, FD3 has proven widely popular, and Donic still uses it in their new rubber lines over a decade later.
Bluefire M2 features a dazzling porous blue tension sponge with a spinny top sheet. This top sheet uses long, narrow pimples.
What Table Tennis Pros Use Donic Bluefire M2?
There are 3 international players that we are aware of who actively use Bluefire M2 or have used it in the past. Coming in at the highest rank of 184 is Padsak Tanviriyavechakul of Thailand. He uses M2 on his backhand with Hurricane 3 Neo on his forehand (review here). To complete the setup, he uses the Original Carbospeed, formerly known as the Ovtcharov Carbospeed.
The highest-ranked female player using the rubber is Dorina Srebrnjak of Croatia who is 305 in the world. She uses Bluefire M2 on both sides with an Ovtcharov Senso V1 blade. And finally, the last player is Muhd Shakirin Ibrahim. He is a former Malaysian player who peaked at 278 in the world. He used the same setup as Srebrnjak except for Bluefire M1 on his forehand.
Donic Bluefire M2 Ratings
Speed — 8.7
Spin — 9.1
Control — 8.6
Hardness — Medium
Our rating — 8.9
The Positives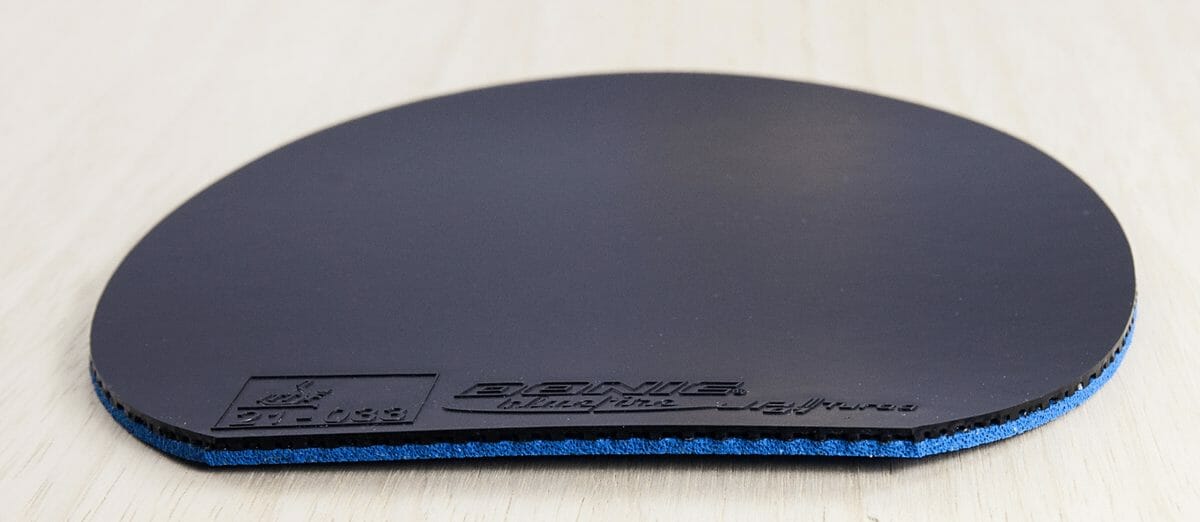 Bluefire M2 is a super rubber for the offensive style. The Donic Bluefire M2's hardness isplaced bang in the middle between Bluefire M1 and M3, and the Bluefire M2 boasts the greatest balance between control and speed.
Its spin and speed are very high, with the former leading as its top trait. This means loops are highly spinny, as are serves. M2 features a medium-high throw angle with a pronounced arc. This gives the ball good clearance over the net and makes your shots safer to perform. Think of a less extreme version of the Tenergy 05 — if Tenergy 05's throw angle is a touch too high for you, Bluefire M2 could be the change you need.
The Bluefire M2 makes loop openers very easy. And the potent spin M2 can produce reduces the risk of opponents playing strong counter-returns. Donic Bluefire M2's weight is average so it's simple and untaxing to reset to the ready position after playing a stroke. This means you can comfortably play close to the table.
You can also amp up the speed considerably due to the rubber's in-built catapult effect. This should give you sufficient confidence to take a few steps back and engage in fast looping rallies or smash your opponent off of the table. Equally, when you need to take a foot off of the gas and slow the game down with defending, M2 has you covered. With good dwell time, blocking feels comfortable.
So all in all, Bluefire M2 covers all of the bases of the attacking style. We feel it is most suited to players who favor a medium-high throw angle with a predominantly spin-based game.  
Pros:
Very spinny
Catapult effect
High throw angle
High control
The Negatives
While there is little to critique in terms of the performance of the Bluefire M2 rubber, a case can be made that it is not fast enough. Now, this is a bit of a stretch, as it is certainly a fast rubber. But of course, highly offensive players are always seeking the fastest rubbers they can get their hands on, and Bluefire M2 is not it.
Rubbers like Evolution MX-P and Tenergy 64 are far better choices for these players.
Funnily enough, the next drawback relates to M2 being too fast! It is quite a springy rubber, and as such, it can sometimes be a little difficult to control in the short game. However, after a bit of practice, you'll soon become familiar with how it performs and have little trouble keeping the ball short.
The final issues with M2 lie in the properties of the rubber itself. Several Donic Bluefire M2 reviews from players noted differences between the black and red rubber. This is a characteristic we have noted with a select few rubbers in the past. The black side is slightly grippier than the red and it lasts a little longer. So, fortunately, there is no major quality flaw, just a small distinction between the red and black side which is far from a deal-breaker. Most players probably won't even notice it.
Another thing to be aware of is that a select few Bluefire M2 reviews from players found that the sponge is rather fragile. This means you have to be extra careful with it if you want to reglue your rubber sheets to different blades. If you're not careful, parts of the sponge may tear away, thus reducing the rubber's support and effectiveness. It may be that the fragility of Bluefire M2 is tied to its high porosity, that's our best guess.
Whatever the case may be if you are looking for a rubber that you want to try on multiple blades we recommend purchasing a different one. Bluefire M2 is best glued and left on.
Cons:
Not fast enough for speed seekers
Springiness makes it hard to control the short game
Differences between red and black side
Sponge is a little fragile
About Donic
Donic is a German table tennis manufacturer with the slogan "Create Success". First established in Cologne, the companies name derives from its founder, Doctor (Do) George Nicklas (nic). He went on to sell the company to the Schreiner family in the late 1980s when he relocated to Sweden.
Frank Schreiner, who would later go on to lead Donic, developed a very close relationship with Jan Ove Waldner among several other elite players. Waldner has served as a brand ambassador for Donic since 1993. He promised that he would work closer with the company upon his retirement from competitive table tennis. A promise he has since fulfilled.
Donic Bluefire M2 Alternatives
In my opinion, Donic has gone a little nuts releasing new rubber lines so you are not short of choice that's for sure!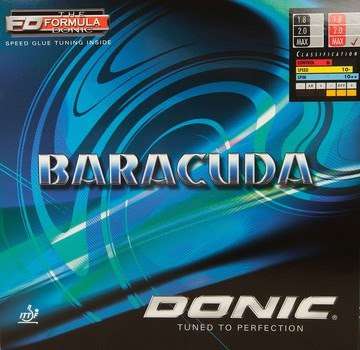 A great alternative to Bluefire M2 is the legendary Baracuda. It is a much older medium rubber but still proves popular with players. In fact, my brother just purchased a set of them a couple of weeks back! Baracuda is similarly fast but more spinny than Bluefire M2. It also has a high throw angle much like Tenergy 05.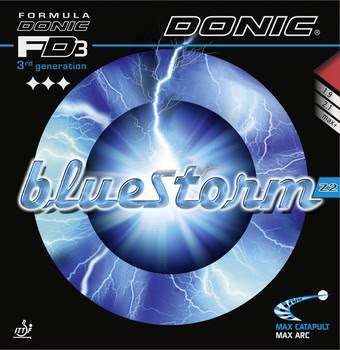 The next rubber you might want to look into is Bluestorm Z2. It is a medium-hard rubber situated between Bluestorm Z1 and Bluestorm Z3. Players feel that it has similar spin to Bluefire M2 with a little more pace. It does, however, feature a medium throw angle that is lower than Bluefire M2.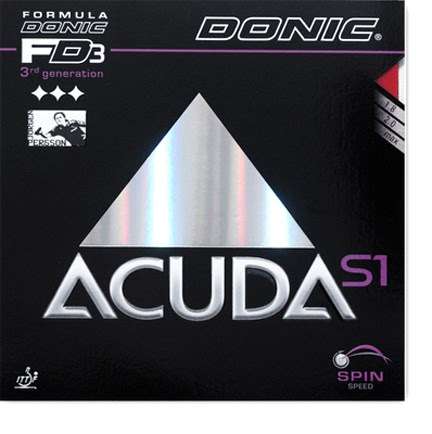 The final rubber we recommend is Acuda S1, another older rubber by Donic. You can read a full review of Acuda S1. Acuda S1 plays very similarly to Bluestorm Z2. The only notable difference is its longevity. Players feel that Acuda S1 lasts longer.
Conclusion
The Donic Bluefire M2 is a super rubber for offensive players. It provides plenty of speed, and should only be too slow for players that are constantly attempting loop kill shots. We love how spinny it is, which is why we feel that it is a great match for players who like to attack with a particular emphasis on spin. Perhaps those who focus on strong spinny openers off of serves, or overwhelming choppers with heavy topspin.
Unfortunately, our Donic Bluefire M2 test showed it wouldn't quite make it in our top table tennis rubbers list. There is heated competition to receive such recognition, so only the best rubbers feature. As great as Bluefire M2 is, we feel it lacks any one characteristic that makes it one of the best. But as always, if its attributes resonate with your play style, it is likely the best rubber for you. Just because players hail a rubber as "the best" doesn't mean it will work well in your hands by any means.
If you're still not sure if Bluefire M2 is for you consider giving this brief video a watch. It's less than a minute and breaks down some key characteristics of Bluefire M2

Freelance writer. Table tennis enthusiast. Lover of all things online. When I'm not working on my loop game I'm probably binge-watching some fantasy show.