Cornilleau 500M Crossover Review
The Cornilleau 500M Crossover is a table tennis table designed for the outdoors. The table is constructed to easily open, fold, and store, with levers that make bringing out the table a joy, rather than a chore. The top of the table is made with laminated material to prevent warping and is coated with a special material to prevent glare from the sun. Let's take a look at some of its other features in a bit more detail now.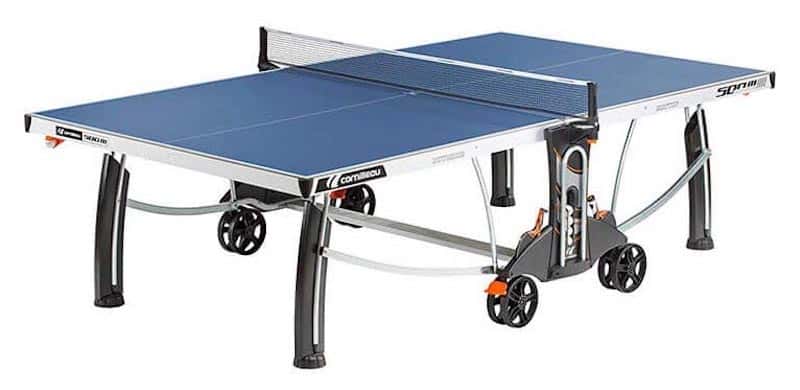 Specifications
Dimensions – 9 ft x 5 ft
Assembly time – 90 minutes
Surface thickness – 7mm Resin laminate playing surface
Weight – 158 lbs (72kg)
Price – $$$$$ (Check current price)
Our rating – 9.2/10
Overview of the Cornilleau 500M
The Cornilleau is a great ping pong table built to be used outdoors. It's made by French brand Cornilleau, a well-respected manufacturer with decades of experience in making high-quality tables. We liked the 500M so much it's in our top five recommend outdoor tables. To see where it came, check out our best outdoor table tennis reviews post here.
Features
The 7mm thick resin laminate surface
When it comes to outdoor tables, being totally and utterly weatherproof is the most important thing to look for. You shouldn't use an indoor table outside as the moisture can ruin the table and cause the surface to warp.
The Cornilleau 500M has a 7mm thick resin laminated table top surface which is on the upper end when it comes to outdoor tables (which tend to be between 5mm and 7mm). It gets one of the best ball bounces we've seen on an outdoor table. You can keep this table outside all year round as to keep it from rusting and warping it's sealed with a protective melamine coating to stop any moisture from getting in. The surface is made to be anti-glare to prevent you from being blinded by the reflection of the sun mid game. Although you can leave the table outside 24/7 we do recommend that you fold it away and get a table cover to keep it in the best condition possible.
The table top has corner protectors to stop it from getting bashed or chipped when moving it around. It also takes away the sharp edge which kids will be grateful for if they happen to run into it and knock their head!
Strong and durable weather resistant frame that's wheelchair friendly
Just like the table surface, it's essential when buying a table for the outdoors to get a rust and corrosion proof undercarriage. Otherwise, the table will lose it's stability and won't be as safe. The 500M has a 2.25 inch galvanized steel frame to support the table top. This prevents it from rusting and gives it great stability to withstand any knocks and keep you safe.
Each of its legs has wide feet for extra support and you can adjust the height of them to ensure that your playing surface is completely flat. It's also wheelchair friendly due to the design not having any parts of the frame getting in the way.
Safe and easy to fold
It doesn't split into two halves like a lot of its competitors but this doesn't mean that it's not easy to fold away. It takes around 30 seconds to put into the storage position and then its storage dimensions are 62" H x 64" W x 30" D. It has 16 automatic locking points to ensure that it won't collapse unexpectedly, a very important thing to consider if using it with kids.
Huge 200mm twin wheels
Another key feature on an outdoor table is large durable wheels to make moving the table over different types of terrain easy. On indoor tables, you usually have 3″ – 4″ wheels that would struggle outside. The 500M has huge oversized 200mm (almost 8″) double wheels that give it great mobility.
The wheels lock into place with the flick of a switch to keep the table stable when in use and also to prevent it from moving when folded up in the storage position. It also has a crossing handle at its base which helps when lifting it over large obstacles.
Bat and ball storage plus dispensers
Another useful feature is the storage space for your bat and balls. On either side of the table is a spot to store two bats and four balls (four bats and eight balls altogether). We're constantly misplacing them so we really like this feature. We wouldn't recommend leaving your paddles outside in the rain though. They will quickly wear out so it's better to buy a case for them or bring them inside.
This table also has little ball dispensers at each end of the table. A nice little touch that makes getting balls a lot more practical.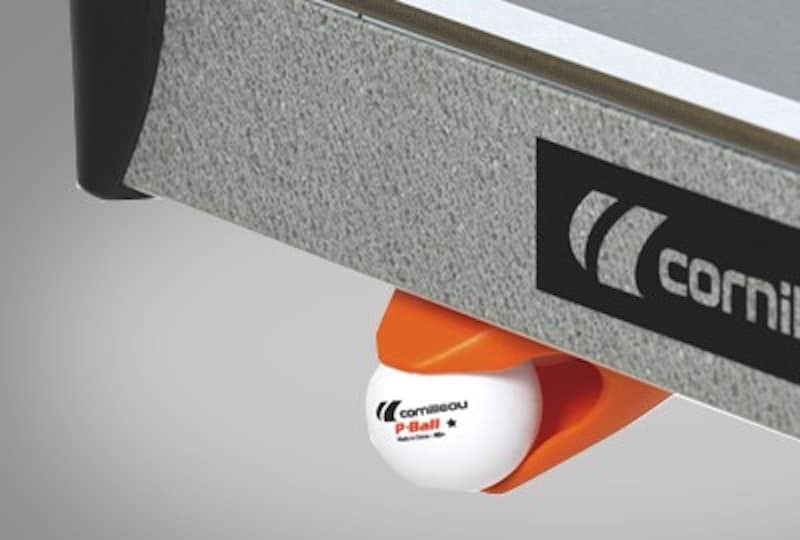 Adjustable and weatherproof net that retracts
It comes with a really good net and post system that you're able to adjust the height and tension off to ensure the perfect game each and every time. When you're finished playing and you fold the table up you don't need to take the net off. As the tables fold up the net swivels automatically making it extremely convenient and easy to use. It's made from polyester and so is weatherproof, another great feature to look for when choosing an outdoor table.
90 minute assembly time
It will take around 90 minutes to assemble which is relatively quick when it comes to some of its competitors. A lot of tables can take 2 – 3 hours so it's pretty quick compared to them but there are a lot of tables these days that come 95% preassembled and will only take 10 minutes to put together.
Here's the official assembly instruction video from Cornilleau to show you what to expect. You will need two people to put it together.
About Cornilleau
French table tennis manufacturer Cornilleau has been at the forefront of ping pong products for decades. They are world renowned for their high quality and dedication to improving the design and usability of tables, especially ones built for the outdoors. Customers have also reported great customer support when ordering spare parts or dealing with any issues.
Positives
7mm weather resistant table surface – The 7mm resin laminate, waterproof and anti-glare tabletop gives a great bounce
Durable corrosion-proof frame – Strong and durable frame that is built for the outdoors
Massive double wheels

– It's easy to move around with 200m (almost 8″) double wheels

Wheelchair friendly – Due to design you can use this table in a wheelchair
Bat and ball storage – Space to store four bats and eight balls
Convenient ball dispensers – At each end of the table are handy ball dispensers
Adjustable, retractable weatherproof net – Adjust the height and tension of the net easily and then when you're finished, it automatically retracts when you fold it away. It's also made to withstand the elements
Available in two colors – You can choose between two tabletop colors, a grey and blue (we like the blue one)
10-year warranty – Cornilleau offers an amazing 10-year warranty
Negatives
Long (ish) assembly time – It will take around 90 minutes to assemble
Fairly heavy – It weighs 158 lbs and doesn't split into two separate halves so can make it a bit more difficult to put together and to move around
Price – Not the cheapest outdoor table on the market (although it costs quite a bit less in Europe)
Conclusion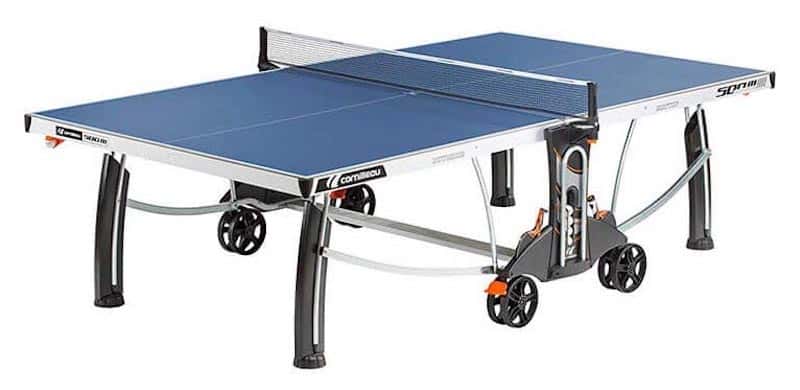 The Cornilleau 500M is one of the best outdoor ping pong tables on the market because of its thick surface and durability outdoors. It's rare for an outdoor table to play so well, but the 500M does well when compared to other tables we've looked at. It's got a lot of great features that we look for recommending ping pong tables and it gets very good reviews both for its quality and customer support from Cornilleau. All in all, it's definitely on our shortlist of tables and is worth a look at if you have a bit more to spend.

Eugene (Gene) Sandoval has been one of those guys who spent too many hours around ping pong tables in high school. However, soon enough, Gene understood that there is more to ping pong than having fun. That is how he started a journey that made Eugene one of the experienced semi-professional ping pong players in the United States. As the founder of the PingPongRuler, Eugene spends most of his time surrounded by ping pong tables and research. He always has this knack for coming up with new ping pong strategies and telling the good and bad equipment apart.