Cornilleau 100S Crossover Review
The Cornilleau 100S Crossover is an outdoor, a mid-tier weatherproof table tennis table. It's designed by French brand Cornilleau, a leader in providing high-quality table tennis tables and other equipment for the recreational market.
In this post we're going to look at one of their very popular out door tables, the Cornilleau 100S Crossover and review some of the reasons why it's been so popular for so many years.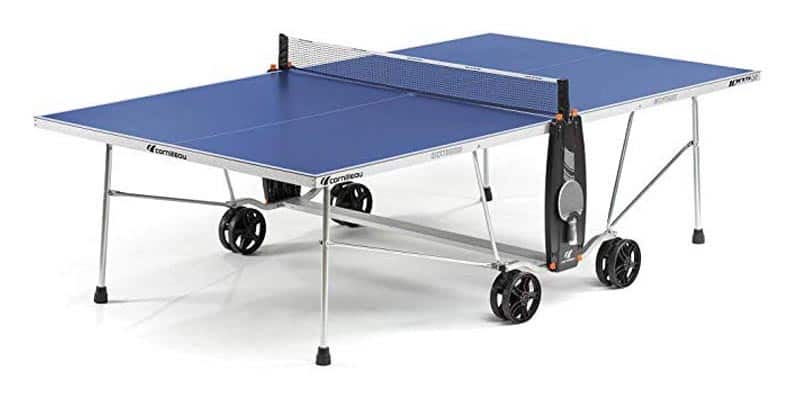 You may have read about the Cornilleau Sport 500m, well this is the table designed before that, the predecessor to that popular table. The only real difference between the Cornilleau 100S Crossover and the Cornilleau Sport 500m is the price and the thickness of the playing surface. The folding system, safety features, materials used and warranty are all the same. (To check out our other recommended tables click on this link.
That's not to excuse the thickness of this playing surface. Although the weatherproof materials and feature as a whole are very important, the next characteristic any person should look at is the thickness of the Ping-Pong table.
This table has a 4mm thickness while the Cornilleau Sport 250 has a 5mm and finally a 6mm surface on the Cornilleau Sport 500m.
On any outdoor Ping-pong table you are not going to get the same playing capabilities as an indoor table, but you should be purchasing an outdoor table with the expectation in mind. That being said, if you are concerned about the quality of the bounce, you should keep a few things in mind.
If you are more interested in having a tournament level competition-ready Table tennis table, then this is probably not the table for you. However if you are just looking for a decent, full-sized weather-proof Table tennis table, then this is a great choice..
Specifications:
4mm resin laminate top
1½" structural galvanized steel frame
Push'N Lock design that provides easy and safe folding
Galvanized steel legs for increased stability
Adjustable feet on the playing-edge legs
Racket storage on each side of the table
6″ double-wheel casters with notched tread for superior grip
Permanent weather-resistant polyester net system with tension adjustment
weighs 100 lbs and folds compactly for storage at 62″ H x 74″ W x 30″ D.
Assembly:
Assembly is always an issue, especially with outdoor tables. For some reason, outdoor tables are generally delivered less complete and are more difficult to assemble than indoor tables. However not this table, assembly was easy and only took a few hours.
Another good thing about this table was the weight of the table. With an outdoor table, having a light table is beneficial if you plan on constantly bringing the table in and out. Therefore this table's light-weight allows individuals to carry and store and bring back-out with ease.
What we liked
There are a number of things we liked about the 100S Crossover.
It has an incredible 10 year warranty. We've reviewed a lot of tables over the years of running this site and Cornilleau's warranty on outdoor tables is the longest we've seen. It doesn't apply to the wheels or net and posts as these wear out quicker and won't last 10 years, but, they guarantee that the frame and table surface will last a decade. A great sign of the quality materials and its durability.
Conclusion: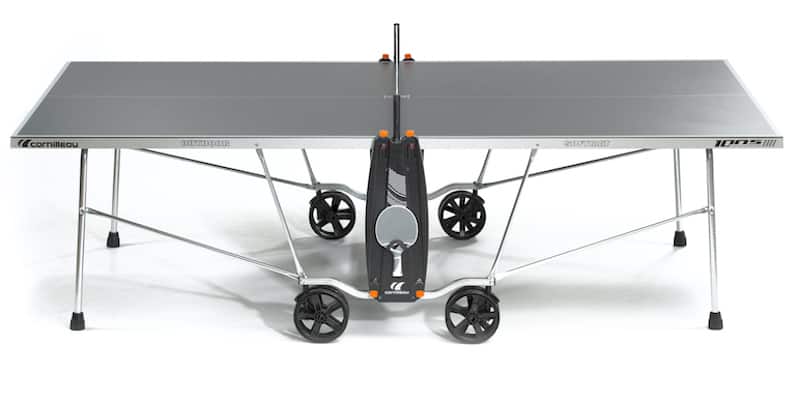 You should purchase this table if you are looking for an outdoor Table tennis table but you don't want to spend over $1000 on a more expensive table. While this table is pretty good for its price, there are other tables that provide a similar value and are also outside. This tables thin playing surface makes it less ideal than some alternatives, however, its impressive outdoor weather resistant features make it a favorite for cheap outdoor table tennis table enthusiasts.

Eugene (Gene) Sandoval has been one of those guys who spent too many hours around ping pong tables in high school. However, soon enough, Gene understood that there is more to ping pong than having fun. That is how he started a journey that made Eugene one of the experienced semi-professional ping pong players in the United States. As the founder of the PingPongRuler, Eugene spends most of his time surrounded by ping pong tables and research. He always has this knack for coming up with new ping pong strategies and telling the good and bad equipment apart.