The Killerspin MyT5 is a high-quality table tennis table with a 15mm / 5/8" medium density fiber top with a uniquely designed Repeat Roller Coating (RRC).
If you're a beginner looking for a great-looking and dependable table the MyT5 could be a good choice. It's not often we see a table with a red and white color scheme, and in my opinion, it's a real eye-catcher!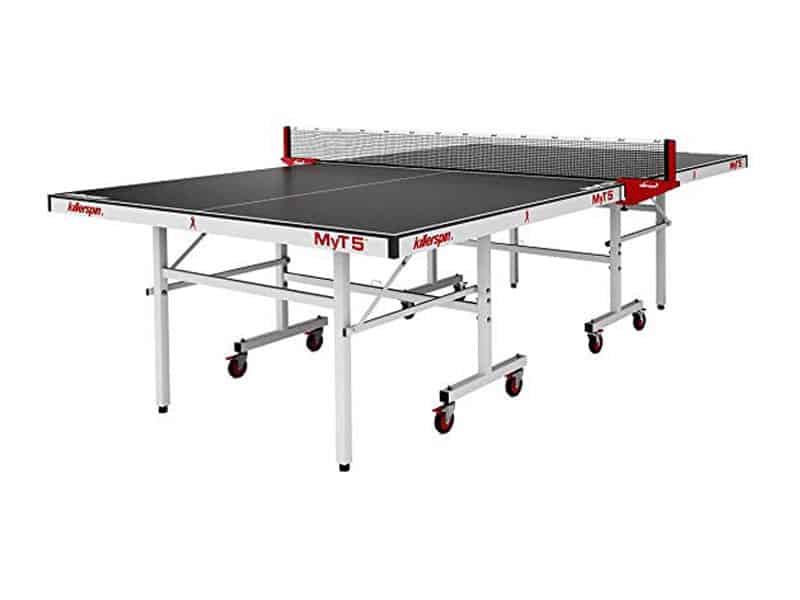 *Update* The Killerspin MyT5 is now out of stock. We instead recommend the Stiga Advantage as the closest alternative. To learn more, read our dedicated review or scroll down to the "alternative options" section.
Specifications
Table Thickness: 15mm
Wheels: 3 inches
Solo Playback mode: Yes
Frame and leg thickness: 1-inch frame and 1-1/5 inch legs
Warranty: 1 year
Weight: 203lbs
Extras: Killerspin net
Pros
Well-built
Eye-catching
Minor Assembly required
Compact storage
Cons
Expensive for an entry-level table
Thin playing surface
Quick Assembly and Compact Storage
Like many tables, the assembly of the Killerspin MyT5 ping pong table is very quick and simple. In fact, there are only a total of eight nuts that you need to fit, so you should be up and running in around 15 minutes.
As for putting the table away, it's very compact. It's a 2-piece model so the halves can nest together for compact storage. They measure just 2ft in width when stored flush next to one another. You can also fold up one side for solo playback mode. This is great for playing by yourself when you don't have a partner available.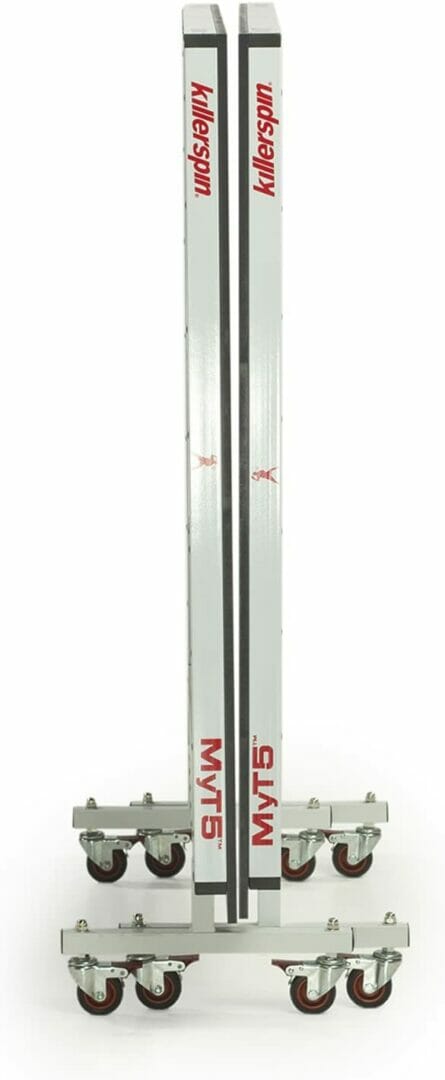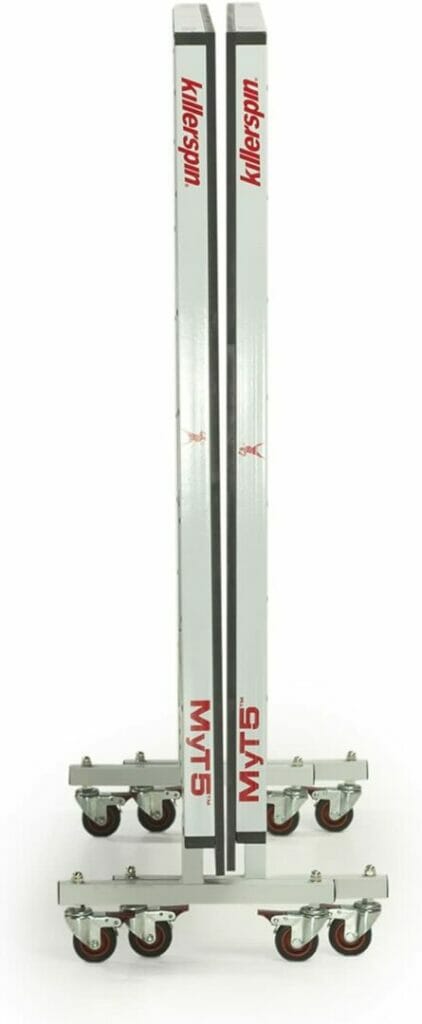 15mm Thick Playing Surface
When choosing a ping pong table, the most important factor is the thickness of the playing surface. This dictates the quality of the bounce. The thicker the playing surface, the better the bounce will be.
The Killerspin ping pong table MyT5 features a 15mm medium density fiberboard (MDF) top with a specially engineered Repeat Roller Coating (RRC) process. This RRC painting technique helps to mitigate glare and ball marks which is pretty advantageous. However, 15mm is very thin for a table tennis table.
Our minimum recommendation for keen players is 18mm. 15mm thick tables are instead best suited for beginners who are not set on reaching an advanced level. We do wish this table was thicker, and given the price, we really think it should be. It doesn't provide anywhere near the value other tables do in its price bracket.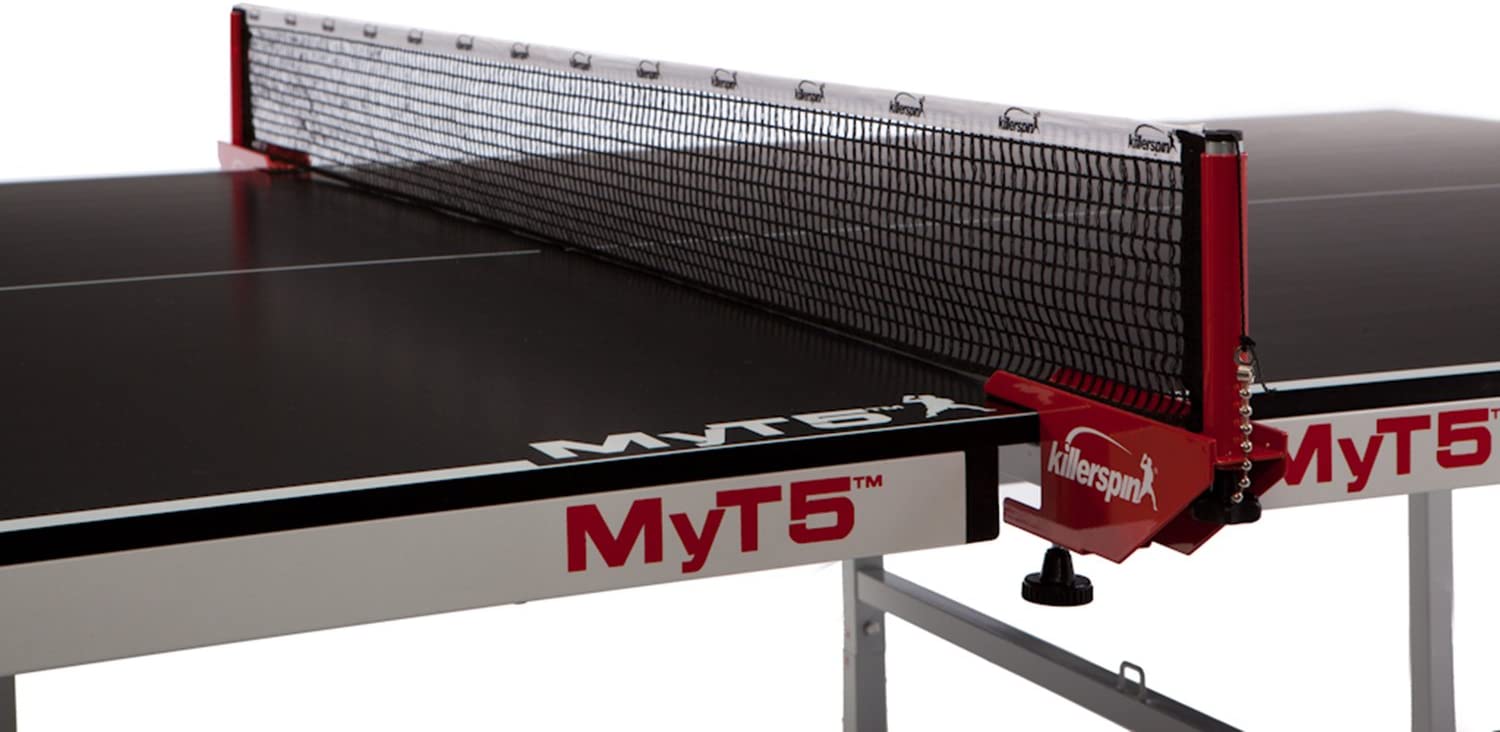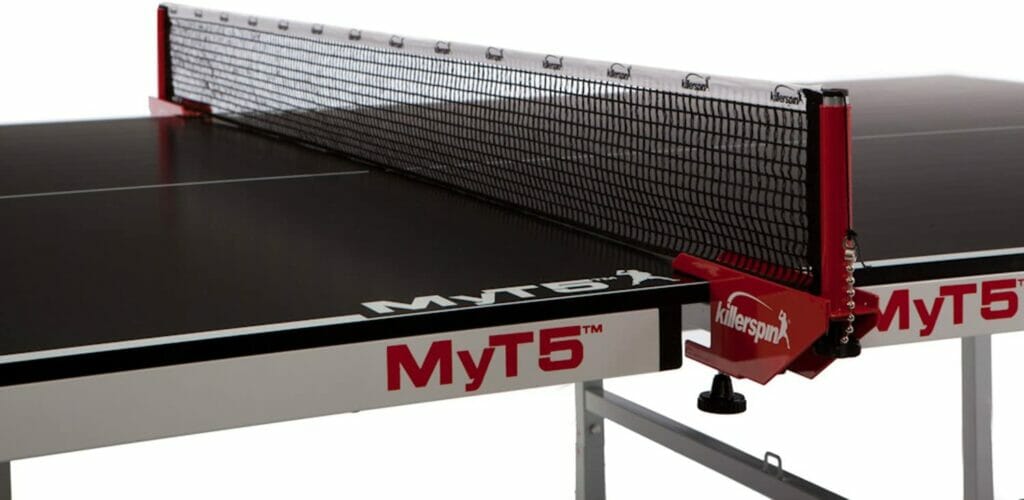 Strong Build
The build quality of the MyT5 Killerspin table is pretty respectable — it impresses us far more so than its playing surface. Its predominantly made from heavy-gauge steel, the frame measure 1-inch thick, and the legs measure 1-1/5″ thick.
As such, we have no concerns over the table ever becoming bent out of alignment or significantly damaged from heavy use. At 203lbs it has quite a lot of weight to it, it measures what most 18mm thick tables weigh, despite being only 15mm thick.


Overall Rating — 5.9
While the MyT5 ping pong table looks exceptional and is well-built, it falls short in two key areas: its table top thickness and cost. The cost especially is what marked down its overall score. For beginners (the intended target audience), cost is crucial. Many do not have large budgets to work with because they are not fully invested in the sport — they are seeking cheap tables that offer value.
Alternative Options
Stiga Advantage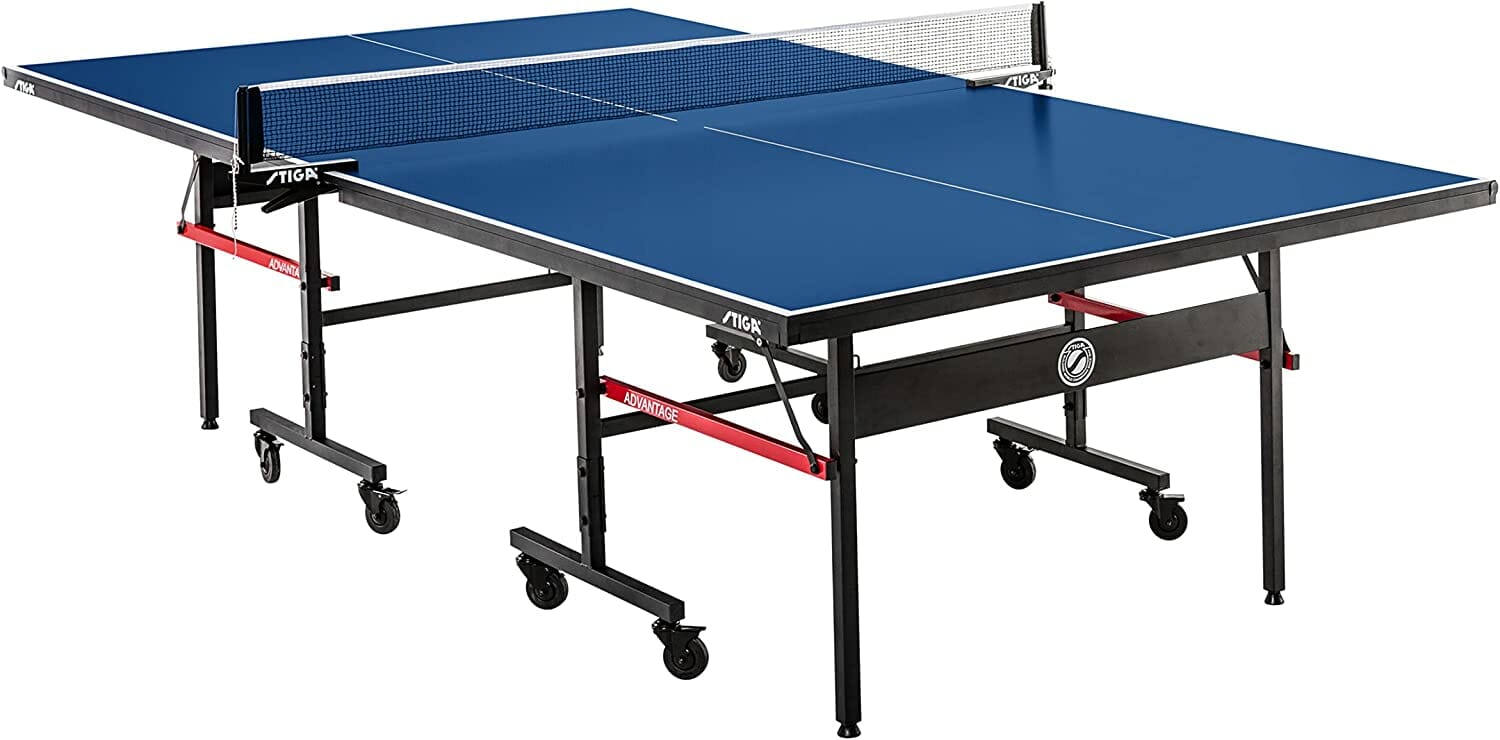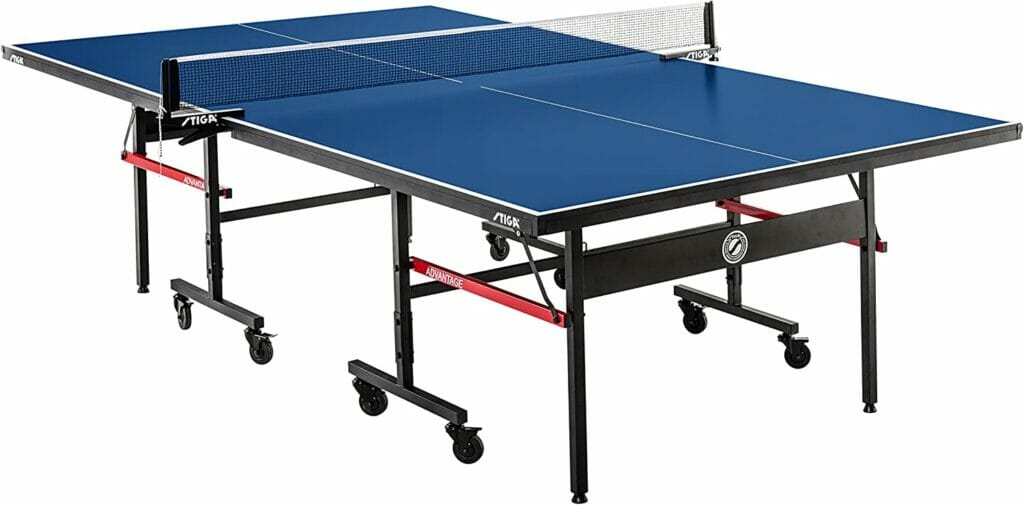 The Stiga Advantage is one of the best entry-level tables. It's made by a trusted table tennis manufacturer and has thousands of 5-star reviews on Amazon. Also, when you look past the aesthetics of the table, it fairly closely resembles the Killerspin MyT5 while costing significantly less.
For starters, it has a similar tabletop thickness, measuring just 1mm more at 16mm. It also has 1-1/5″ thick legs, 3″ wheels, and nests for compact storage just like the MyT5. Furthermore, it assembles in only 10 minutes which is slightly quicker.
In fact, the only area we could find where the Killerspin MyT5 beats it is in regards to warranty. The MyT5 has a 1-year warranty period whereas the Stiga Advantage is just 90 days. However, we feel this is of little consequence. The Advantage is well-built and we doubt that you will have any issues.
Stiga Advantage Pro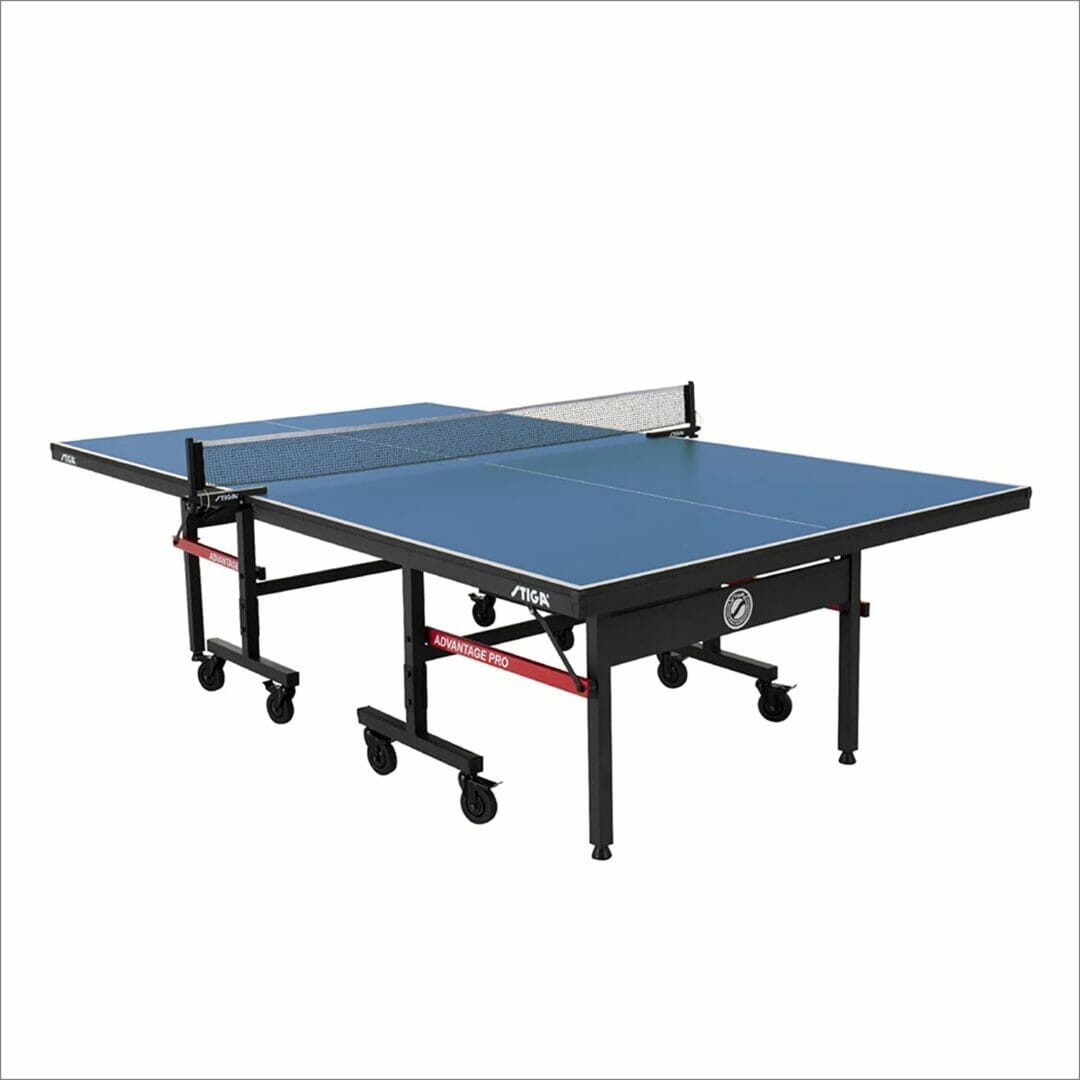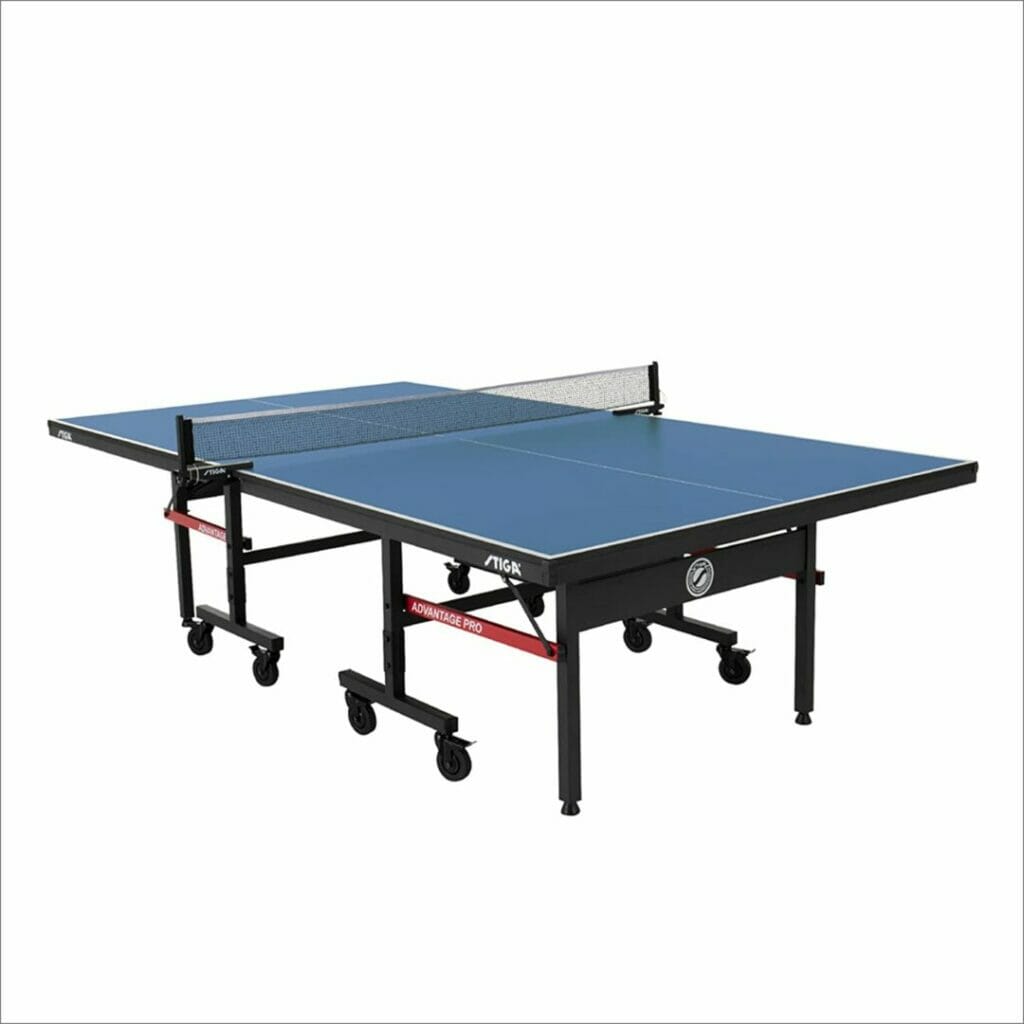 For our second recommended table we have the Stiga Advantage Pro. It's an upgrade on the Advantage, and for what you get we feel it is well worth the money. This begins with its play surface which is 19mm thick. With such a thick table top virtually any player can enjoy using it.
It also has larger 4″ wheels, and a thicker frame featuring 1.6″ legs. This means it is more enjoyable to use, more robust, and easier to maneuver. In my opinion, it's a no-brainer to purchase this given it is still way cheaper than what the Killerspin MyT5 used to cost before it went out of stock.
Conclusion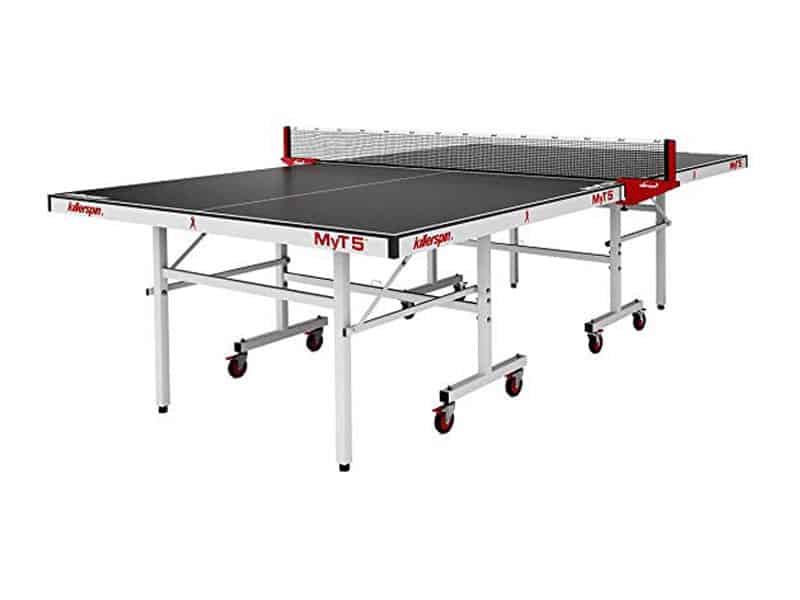 While the Killerspin MyT5 is now discontinued, we won't especially miss it given how it was a little overpriced. Fortunately, Stiga has a cheaper alternative in the form of the Stiga Advantage which is a far better buy.
To reiterate, it's a pretty basic table. I only recommend it to beginners. And if you're planning on sticking to table tennis you are better off buying a higher-quality table for future-proofing purposes. Nevertheless, it's a sound buy for the right person, perhaps for the intention of some family entertainment.
If instead, you are a little more serious about table tennis and still on a limited budget, the Stiga Advantage Pro is the table you want. I play on similar tables at my club all the time and they are perfectly fine for me (and I'm an advanced player). Of course, if you have more money and want something better by all means go ahead. We have a comprehensive guide to all the best ping pong tables on the market. I'm sure you'll find the table you are after there.
Also, check out our STIGA Apex paddle review if you are looking for a beginner's recreational bat.
Check out the other models:

Freelance writer. Table tennis enthusiast. Lover of all things online. When I'm not working on my loop game I'm probably binge-watching some fantasy show.