9 Fun DIY Ping Pong Table Ideas for A Weekend Project
Ping pong tables can be expensive and for some people, buying one isn't possible. For others, playing table tennis is only half the fun, and the journey of building their own table from scratch is where they get most of their satisfaction.
In this post, we'll be sharing some inspiration on how to make your own ping pong table. We'll cover our favorite designs and provide links to plans for you to follow.
What You'll Need
You're going to need a few different things to start building a ping pong table. But the exact tools and materials you'll require will depend on how competent and ambitious you are. Plus, it will depend on which plans you're following.
There are a few common components that you'll need no matter which designs you're building which we'll cover below.
Wooden Pieces for the Table's Top
The first thing you'll need for your table is a DIY ping pong table top. These tend to be made out of wood although you can use other materials. You can either purchase one very large piece or two smaller pieces which you will then need to cut into the dimensions of a ping pong table.
Just to give you a rough idea, a standard table is 9 feet long and 5 feet wide. If you're a little short of space you might want to shoot for a mini table. These tend to be around 6 feet long and 3 feet wide. However, if you have the space we highly recommend that you make your DIY ping pong table dimensions full-size. This will result in the most fun!
Table Legs or a Steady Base
Making ping pong table legs DIY is optional, but if you opt to go without you'll have to choose something else to act as a solid base for the top. You can use some makeshift legs by using chairs or picnic tables that you might already own.
Tools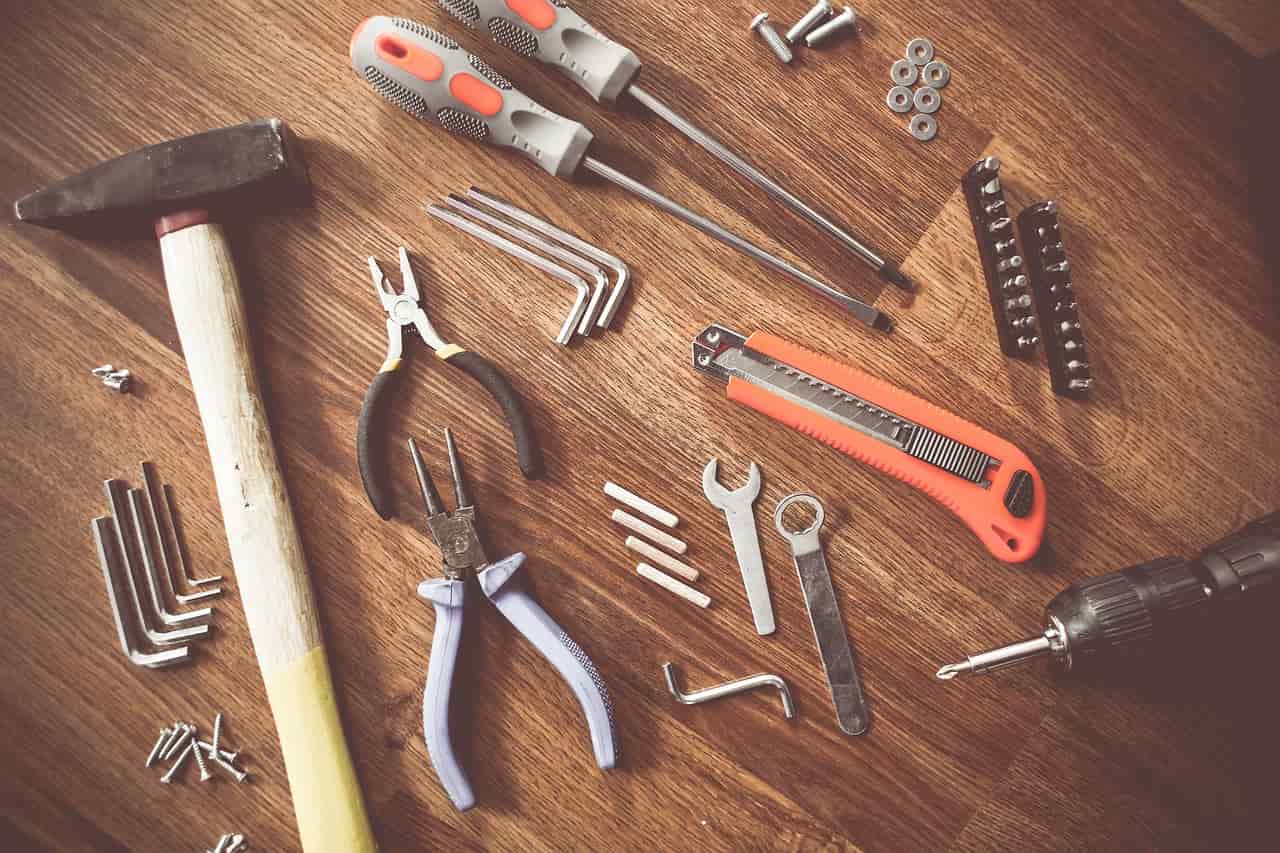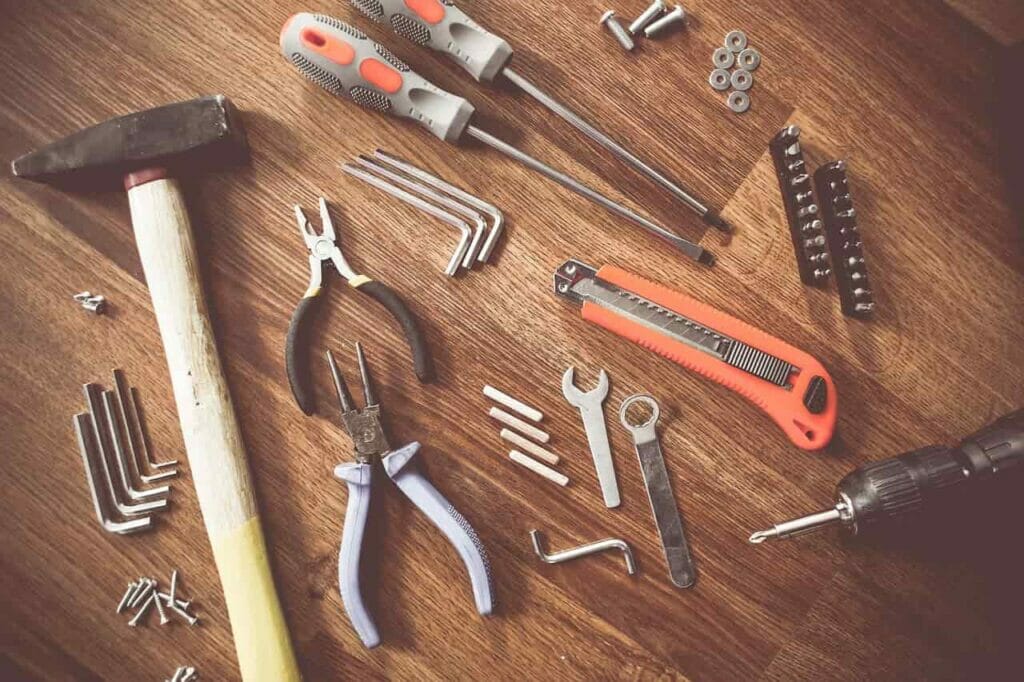 You're going to need some basic tools to be able to cut, screw and drill all the pieces together to fashion your new DIY ping pong table. You'll at least need:
A saw
A drill
Some nuts, bolts, and screws
Paint
Similar to the table legs, painting your ping-pong table is optional. Obviously, you can use any color you like but most table tennis tables are usually either blue or green.
We recommend going for a dark shade of either as ping pong balls are usually white or orange and it's easier to see the ball with darker-colored table tops.
How to Make a Ping Pong Table
So now that we've covered a few of the things you'll need for your homemade ping pong table, we've made a list of some of the best ideas and designs we've found from around the web.
1. Folding Ping Pong Table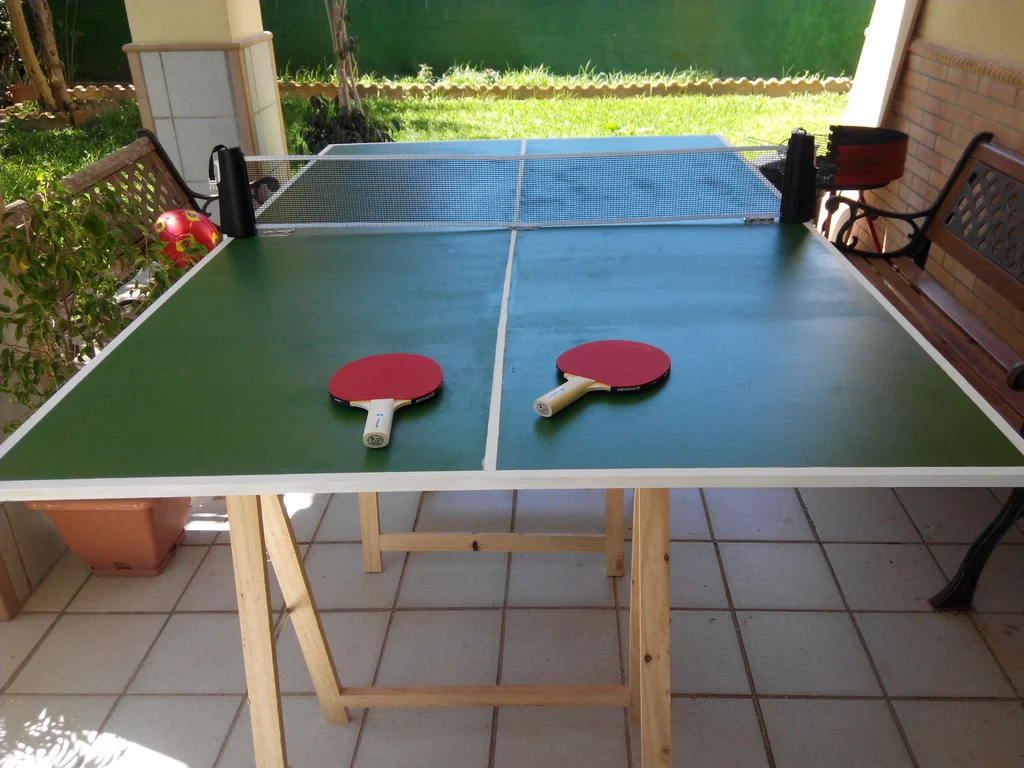 Required Materials:
MDF board
Pinewood trestles
Wood primer
Paint
Hinges
Paint roller
Ping pong set
Estimated Cost: $75
Our first inspiration for you is a foldable ping pong table DIY style by user deiivid94. He talks you through everything that you need to know to make a working ping pong table in a really simple way.
This particular table folds up therefore it is ideal for use indoors where space might be in short supply. It also won't break the bank, and all in all, he reckons it should take 2-3 days from start to finish.
2. Non-Folding Ping Pong Table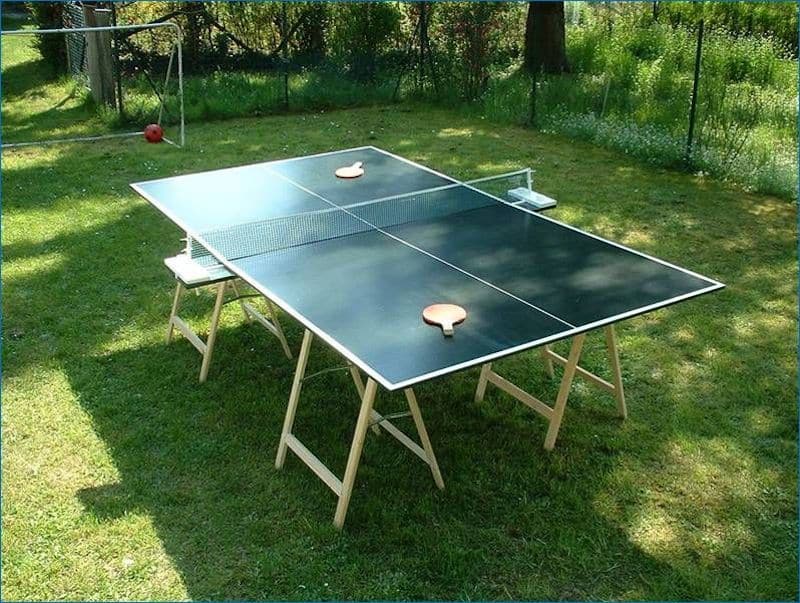 Required materials:
Nuts and bolts
Plywood
Wooden pins
Brackets
Glue
Primer
Paint
Varnish
Estimated Cost: $105
If you're looking for a full-size table and are not fussed about foldability, this model by Davide67 could be a good option for you.
Although it looks like he has simply purchased a ping pong table conversion top and balanced it on some chairs, he's actually made most of it from scratch including the net! The table top splits into two sections making it easy to move around. And when in use the top sits on some DIY work stands that are pretty inexpensive.
We love the design and the paint finish on this table. If you want to have a go at making it check out the very detailed plans using the link below.
3. Simple No Drill Required DIY Table Tennis Table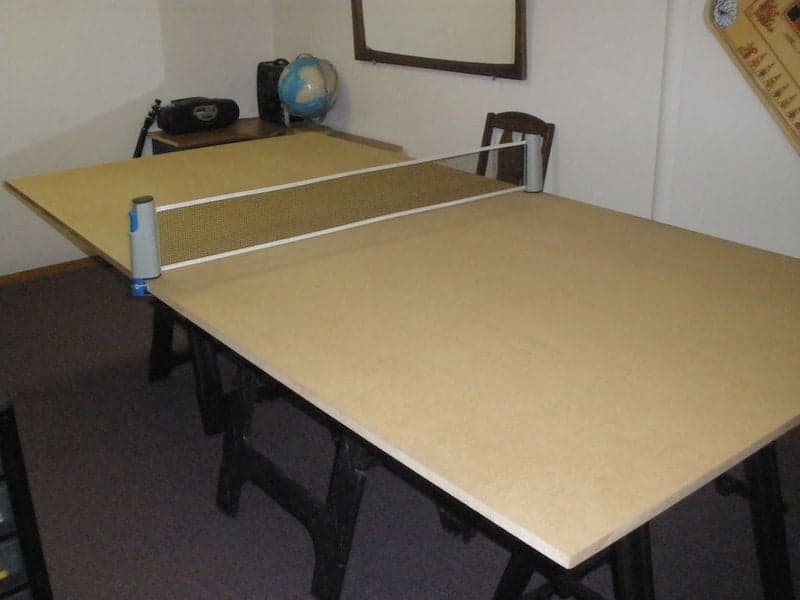 Required materials:
MDF
4x saw horses
Ping pong set
Optional: braces, screws, thumb screws, paint
Estimated Cost: $85
If you're looking for a simple DIY ping pong table project that's easy to build but won't win any awards, then check out this DIY ping pong table on instructables.com.
It's remarkably affordable with the designer claiming that it will cost less than $100 to make and it only requires a few materials. All you need are two sheets of MDF along with four plastic saw horses to act as the frame and table legs.
This model surely isn't the sturdiest of tables, but if you're not that handy at woodworking then it could be a good option to get up and running quickly and without much hassle.
4. The Upside-Down Old Car Table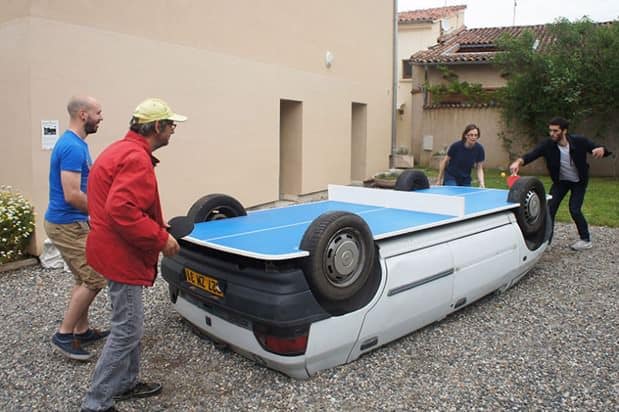 Required materials:
Estimated Cost: $160 (assuming you already have the old car!)
There are some very inventive and creative people out there, and one such innovator came up with a DIY table we just love — he converted an old car into a ping pong table. While the wheels aren't the most practical and will considerably affect the quality of the game, it's a great talking point and feature.
Unfortunately, there is no real guidance for this particular table but we can provide a bit of advice. Given the table is for outdoor use you need to treat the top to prevent it from warping. This means you'll need to seal the top with resin or something similar. Please note, this is rather costly.
We expect this project takes a lot more work than at face value, but if you have an old car lying around then you could give it a go. If you do, please let us know how it went!
5. Ping Pong Table Door
Required materials:
Glue
Miscellaneous wood
Pins
Pipe
Wooden dowels
Screws
Metal cylinder
Metal rods
Paint
Tape
Hook eyelets
Thin plastic tubing
Netting
Estimated Cost: $50
One of our favorite ideas in this post is this amazing ping pong table door. When folded up the door functions exactly as it should, but flick a few switches and it magically unfolds into a mini ping pong table.
It really takes inventiveness to a whole new level and has been executed perfectly. The net doubles up as storage, and hidden support beams pull out when you want to use the table.
You can actually order them straight from German designer Tobias Fränzel, but as they're made to order and cost over €12,000, you might be better off trying to make one yourself by following the videos we have provided.
6. Public Ping Pong Table Art Piece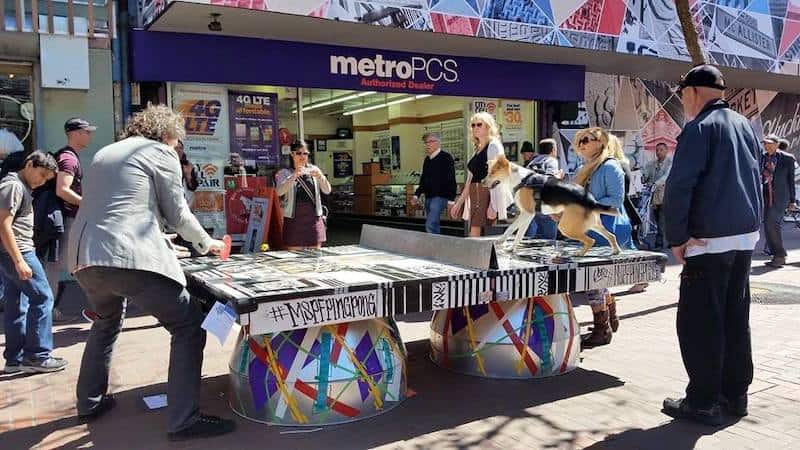 Required Materials:
2x plywood boards
Plywood sheet
Chalkboard paint and painting materials
Primer
Wood for frame
6-8 sandbags
2x sheet metal cylinders with tops
3 gallons of Clear Pour-On resin
5 ft of sheet metal
Bats and balls
Estimated Cost: $900
Another table for ambitious builders is this retro-looking public ping pong table. It's a little more work than some of the others we've looked at, but if you got some time and a lot of dedication it could be a fun project to take on.
It will require a few days to build, lots of materials and will cost around $900 to put together. However, compared to purchasing a public ping pong table it's a lot cheaper as they can easily cost upwards of $2500.
7. X-Pong Ping Pong Table
Required Materials:
2x 4×8 pieces of plywood
4x 2x4s
Paint
3x ping pong nets
4x c-clamps
Zip ties
Screws
Estimated Cost: $100
If you want a bold fun table to enjoy with family and friends we think the X-Pong table by NathanR152 is a great project.
It's not particularly difficult to make so even inexperienced builders might want to give it a go. The hardest part is probably getting the table top nice and round, but just take your time and you should get there.
8. Ping Pong Table with LEDs
Required Materials:
Birch plywood
Hinges
Veneer edging tape
Jumper wires
Arduino microcontroller
Push button switch
LED strip
Joining biscuits
Ping pong set
Estimated Cost: $160
If you've got decent experience building things in the past you might want to tackle this nifty ping pong table which glows in the dark. Made by I Like To Make Stuff, it's pretty hands-on and requires a lot of specialist tools.
Fortunately, Bob's build video is very clear and professionally made, so it's easy to follow along. We especially love how he, alongside Evan and Katelyn, incorporated LEDs into the table. They look fantastic. The leather net is also stunning — I've never seen a leather net before!
9. Walnut Ping Pong Table
Required Materials:
Walnut
2x4s
Glue
Brass inlay
Screw
Biscuits
Rubio Monocoat Pure Oil
Estimated Cost: $105
Our final table looks rather different from the rest. It sports a minimal look which reminds me of many of the pricier designer tables on the market. For around $105 it seems like a great ping pong table DIY project for the home.
3x3Custom – Tamar breaks down the build process step by step in her tutorial video. Given the table has a fairly basic design, it's not that challenging of a build. We feel the walnut finish would feel right at home in many people's houses. This is not the sort of table that needs confining to a games room — it's a statement piece that belongs in the likes of the living room.
Conclusion
If you're wanting to take your table tennis seriously, then we always recommend you buy a table from a reputable brand. However, building a DIY ping pong table is a great alternative if you're more of a casual player.
They make for a fun weekend project to work on by yourself or with a group of friends. And as they say, sometimes the journey is the destination — learning how to make a ping pong table is highly rewarding!
If you made any of these tables let us know in the comments below and send us your photos. We'll be sure to feature them in this post. Good luck!
FAQs
Can You Build Your Own Ping Pong Table?
Building your own ping pong table is not as difficult as you might think as you don't need to incorporate folding as most commercial tables do. You can even just make a table top and rest it on a solid structure if you want to save time and money.
What Is the Best Material to Make a Ping Pong Table?
The best material to use when making a table tennis table is MDF. This is what all quality tables are made out of as it provides a high-quality bounce and is very durable.
How Much Does it Cost to Build a Ping Pong Table?
The cost of making a ping pong table depends on the type of build you want to undertake. Basic builds can cost under $100, whereas costly tables such as those you would use outdoors can cost many times more, almost reaching four figures.

Eugene (Gene) Sandoval has been one of those guys who spent too many hours around ping pong tables in high school. However, soon enough, Gene understood that there is more to ping pong than having fun. That is how he started a journey that made Eugene one of the experienced semi-professional ping pong players in the United States. As the founder of the PingPongRuler, Eugene spends most of his time surrounded by ping pong tables and research. He always has this knack for coming up with new ping pong strategies and telling the good and bad equipment apart.