Cornilleau 400M Crossover Review
Update: The Cornilleau 500x Outdoor has replaced the 400m Crossover. See our full review on it here. 
The Cornilleau 400M Crossover outdoor table tennis table is a great addition to Cornilleau's premier line of outdoor Ping-pong tables. It's designed with a 6mm resin laminate playing surface that prevents any weather from affecting the table. Cornilleau really is the pro when it comes to weather-proof Table tennis tables. The galvanized frame of this table is thick enough that the constant outdoor rough play will go unnoticed on the table's durability.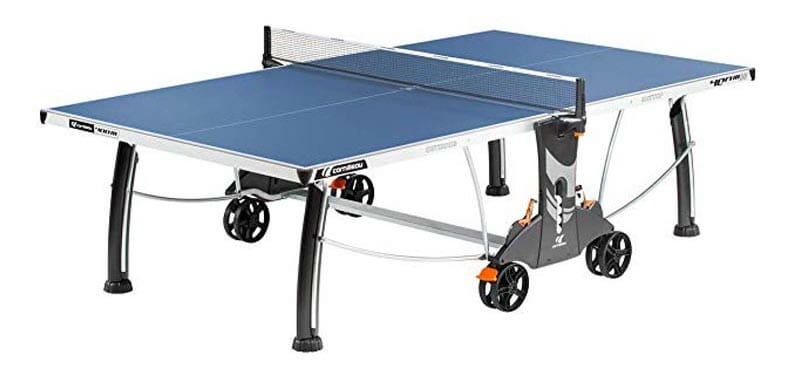 Specifications:
Excellent warranty
Playback mode
6mm resin laminate top
Patented MATTOP® finish
Anti-glare finish
1 3/4″ structural galvanized steel frame
Ball and covered racket storage on each side of the table
6″ double-wheel casters with notched tread
Permanent weather-resistant polyester net system with tension and height adjustment
new retractable net
corner protectors for added safety
wheel brakes to secure the table
adjustable leg height
weighs 150 lbs
folds compactly for storage at 62″ H x 64″ W x 30″ D.
Assembly
Assembly is long but easy. The table is quite heavy so you're going to need two people to put this table together, but other than that, it's a relatively straightforward process.
There are quite a few parts, so expect to spend 3-5 hours assembling this table. While that can appear quite long, it's important that the table is built correctly to prevent damage from the weather.
Cornilleau recognizes that assembling the tables is a pain, that's why they've provided step-by-step instructions online that will walk you through assembling the table.
Conclusion: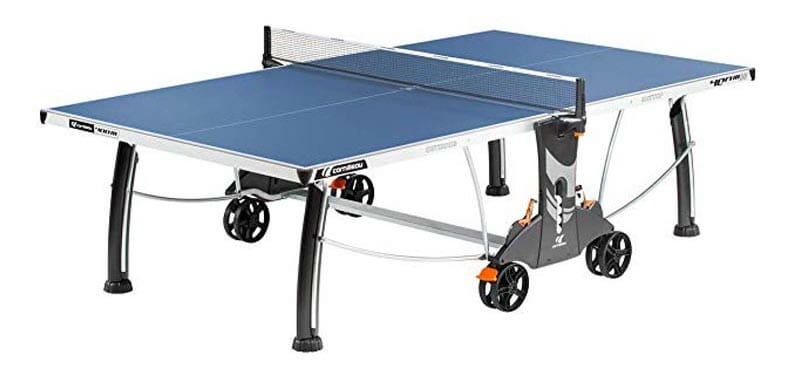 The Cornilleau Crossover 400M Outdoor table tennis table is a great choice if you're looking for a premier level outdoor Ping-pong table.
It's got all the extra features that one would look for in a table. While the surface may not play like a professional, competition indoor table, you can't expect an outdoor table to play as well. If you do, then you should look at the more expensive outdoor tables such as the Cornilleau sport 500m outdoor. Overall, we highly recommend this table if you're looking for a mid-tier outdoor Ping-pong table.

Eugene (Gene) Sandoval has been one of those guys who spent too many hours around ping pong tables in high school. However, soon enough, Gene understood that there is more to ping pong than having fun. That is how he started a journey that made Eugene one of the experienced semi-professional ping pong players in the United States. As the founder of the PingPongRuler, Eugene spends most of his time surrounded by ping pong tables and research. He always has this knack for coming up with new ping pong strategies and telling the good and bad equipment apart.