Cornilleau Pro 510M Review
The Cornilleau Pro 510M is a stunning table. If you are looking for a table to impress your friends, to glamour up your backyard, if you need a center piece for the outdoors, you've found it.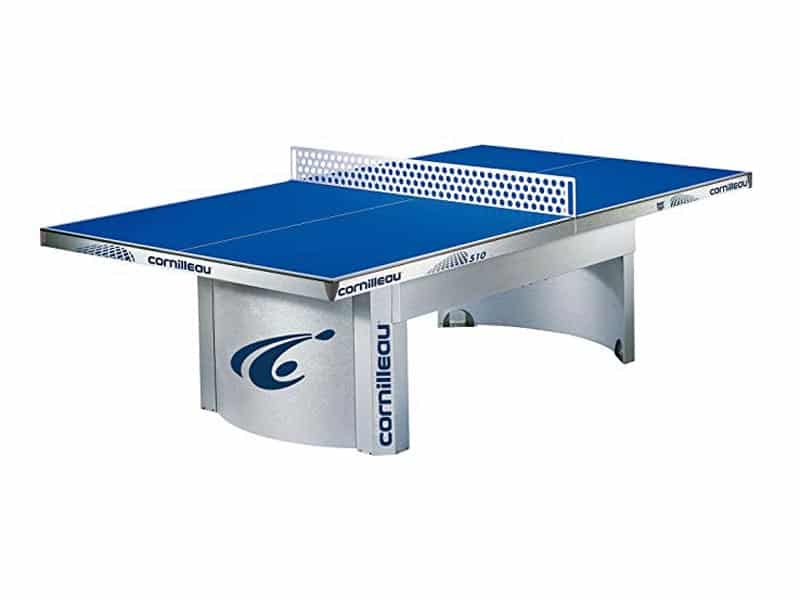 This outdoor table tennis looks amazing, but it has to be because it's a stationary table. There aren't any wheels and the net is steel, but no matter, that shouldn't stop you from purchasing this table, because it's a great outdoor Ping-pong table for any park or recreational school setting.
If you're worried about the playing surface getting ruined or performing inadequately because it's an outdoor table, do not fear! It's got a 7mm weather-proof resin laminate surface that 's ITTF approved, a characteristic generally not witnessed in outdoor tables, as well as a steel net. You can be sure that this table will play like a higher level indoor table and the table is guaranteed to withstand any weather onslaught it may encounter. If it doesn't, return it with the 3-year warranty!
Specifications
Dimensions: 108in L x 60in W x 30in H / Weight: 170 lbs.
Features a 7mm Resin Laminate Playing Surface for a Hard, Dense Playing Surface that Meets ITTF Standards / MATTOP Finish Provides an Anti-Glare Finish and Proper Ball Adherence
Durable Arched Legs Include Feet Ready to be Secured to the Ground – Perfect for Parks, Schools, Resorts, Camps, or Any Homeowner!
Includes a Permanent, Tamper-Proof Steel Net
Features a 2-1/4in Structural Galvanized Steel Frame to Support the Playing Surface
If you are looking for an outdoor table that will also stand up to kids, not to mention the weather, then this table is for you. It can be screwed in from the bottom for extra safety and the steel net prevents you from ever needing to replace it, which you often do.
Assembly
Assembling this table can take a little while. Plan to spend around 2-4 hours assembling this table, and we recommend having 2 people, as this table is quite heavy.
Conclusion: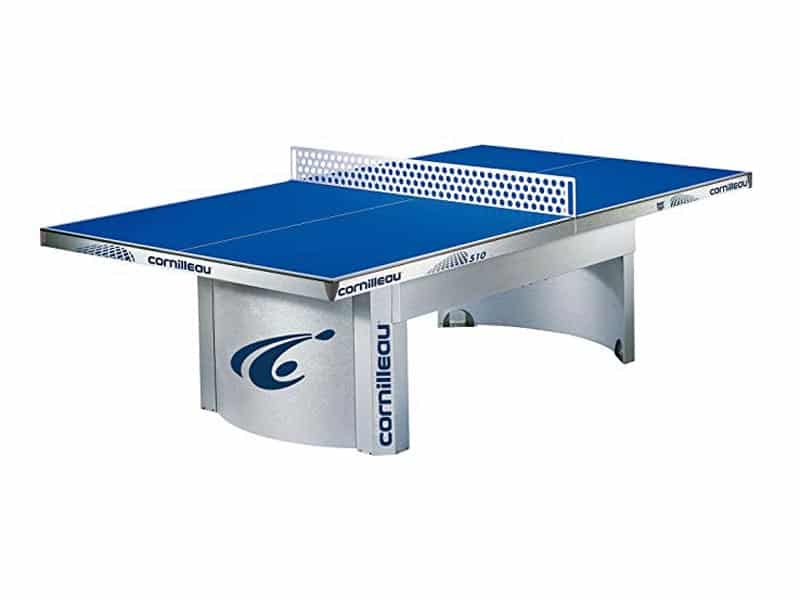 The Cornilleau Pro 510M is one of the best outdoor table tennis tables on the market that we've seen. If you need a solid table that will withstand the weather, kids and anything you can throw at it, then it's a very good option. It's made of steel so you know it can withstand anything and the playing surface is high quality as well. 6mm is not a playing surface you generally you see on outdoor tables so you can be sure that this table will perform well for years to come. However, if you are looking for an indoor table or a competition accepted table, this is not the table for you. There are other indoor tables that will cost significantly less and will have better qualifications.

Eugene (Gene) Sandoval has been one of those guys who spent too many hours around ping pong tables in high school. However, soon enough, Gene understood that there is more to ping pong than having fun. That is how he started a journey that made Eugene one of the experienced semi-professional ping pong players in the United States. As the founder of the PingPongRuler, Eugene spends most of his time surrounded by ping pong tables and research. He always has this knack for coming up with new ping pong strategies and telling the good and bad equipment apart.