The 5 Best Pickleball Paddles under $100 in 2023
With pickleball growing in popularity the way it is, more equipment is available than ever. And while inexpensive gear certainly has its merits, it can be a little lackluster, especially if you're set on seeing how far you can progress your skill.
That's why we'll cover our favorite pickleball paddles under $100 today. Although $100 is much more expensive than most of the paddles on the market, it represents a good price point. With an average of 2-5 years of life, you're better off investing more greenbacks for superior quality.
As a brief overview, the best pickleball paddles under $100 are:
Read on to learn how each paddle earned its spot on our list!
Why You Should Trust Ping Pong Ruler
We here at Ping Pong Ruler are experts in all things sports. Our team has decades of experience playing with and testing table tennis equipment, and we regularly branch out to other sports. Pickleball is our latest obsession. For this review, we tested each pickleball paddle on the following characteristics:
Speed
Control
Spin
Shape
Weight
Value
Feel
Warranty
The 5 Best Pickleball Paddles Under $100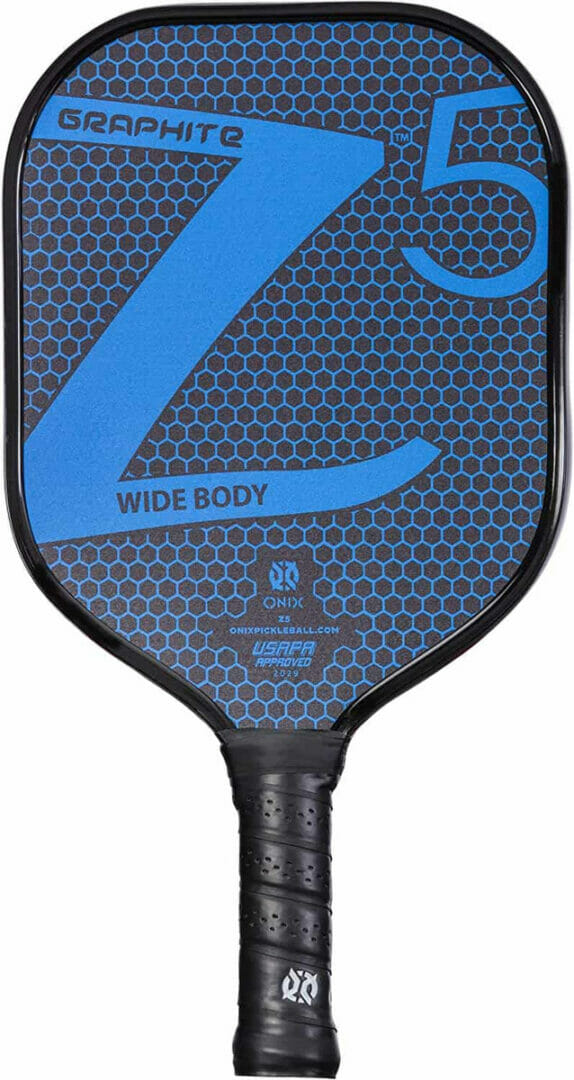 Specifications
Weight

: 7.5 – 8.2 oz

Core material

: Nomex honeycomb

Face material

: Graphite

Handle circumference

: 4.25"

Handle length

: 5"

Dimensions

: 15.5" L x 8.1" W
Pros
Great power
Easy to control
Suits a wide range of skill levels
Large sweet spot
Available in 13 colors
Cons
Loud
Not for players who like a soft feel
Rating: 9.5
Up first, we have the most popular paddle from the top brand ONIX. The Graphite Z5 sports a wide body and is a good fit for beginners and advanced players.
It feels very different from the other paddles on this list because of its Nomex core. Nomex is a much older material than the polypropylene we so commonly see today, but it's still around for a reason: it packs a punch. Due to the core composition, the ONIX Z5 leans towards power, while the graphite face helps to increase control and accuracy.
We found it very satisfying to strike the ball. And while power is high, we had little trouble keeping the rally alive. Our main issue with the Z5 is not the paddle but the core material. Nomex is very loud, which can irritate some people — we wouldn't recommend using this paddle in a residential setting.
As a final point, the ONIX Graphite Z5 comes in a wide range of colors; 13 to be exact. This gives you the freedom for your paddle to look however you want. It also beats out every other racket in this area. The next highest is the Paddletek Phoenix which offers five colors.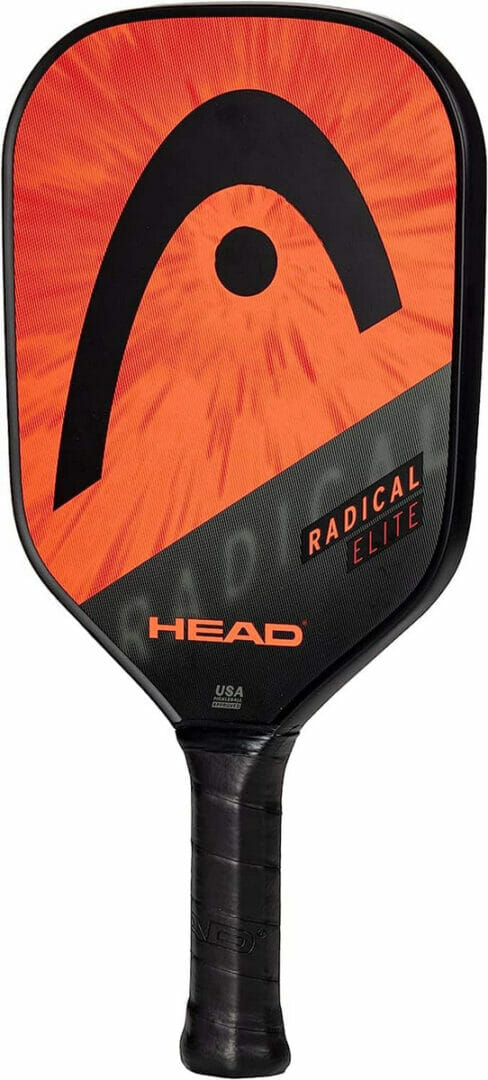 Specifications
Weight: 8.1 oz
Core material: Polypropylene honeycomb
Face material: Fiberglass
Handle circumference: 4.1"
Handle length: 5"
Dimensions: 16" L x 7.9" W
Pros
Great power
Soft feel
Very attractive design
1-year warranty
Cons
The face is not very textured
Rating: 9.3
Coming in second place, we have the HEAD Radical Elite, which undercuts the ONIX Graphite Z5 by about 20 bucks. It sports an Optimized Tubular Core, which employs a polypropylene honeycomb. This core is very thick, so you get plenty of pace alongside a soft feeling.
As for the face, it uses fiberglass. This gives it plenty of pace at the sacrifice of spin. The surface is fairly smooth, so performing spin shots with this paddle can be tough.
Despite the polypropylene honeycomb core, we found the pace comparable to the ONYX Graphite Z5. This is largely because the core is thicker than most and because the fiberglass face is faster than the graphite face of the Z5.
Overall, I can see a lot of intermediate players and up getting a lot of enjoyment from the Radical Elite. Not only does it feel great to play with, but it also has a very attractive design. I'm fond of the orange and black colorway, but you can also pick it up in black and yellow.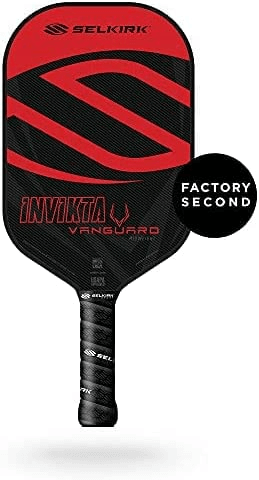 Specifications
Weight

: 7.36 oz

Core material

: Polypropylene honeycomb

Face material

: Carbon fiber

Handle circumference

: 4.25"

Handle length

: 5.25"

Dimensions

: 16.5" L x 7.38" W
Pros
Great power
Soft feel
Produces lots of spin
Bigger sweet spot than most paddles of a similar shape
Cons
Comes with markings on the face
No warranty
Rating: 9.2
Regarding pickleball paddles, Selkirk is one of the top brands you can purchase from. The issue is that their paddles are a little pricey for most players. The solution? Factory seconds.
These paddles have minor facial markings, allowing them to be sold for a discounted price. This is the perfect way to get a high-quality paddle cheaply, as the markings do not affect playability!
We chose the Vanguard Invikta midweight model, which weighs 7.36 oz. Like the Radical Elite, it has a thick honeycomb core. However, unlike this paddle, it has a carbon fiber face. The technology Selkirk employs here is called QuadCarbon. They utilize an aero-space bi-directional type of carbon fiber which they weave together for a face that is twice as stiff.
The face and thick core combination give you a super-fast paddle, just like the Graphite Z5 and Radical Elite. We'd have to say spin is the most noticeable area regarding having an edge over its competitors. We found it easily beat out the Radical Elite.
The main drawback to this great paddle is the lack of a warranty. While minor markings present little issue, a lack of a warranty is more of a concern. However, given Selkirk's undeniable quality in pickleball paddles, we don't think this should be reason enough to deter you. Undoubtedly, the Vanguard Invikta is one of the best pickleball paddles under $100.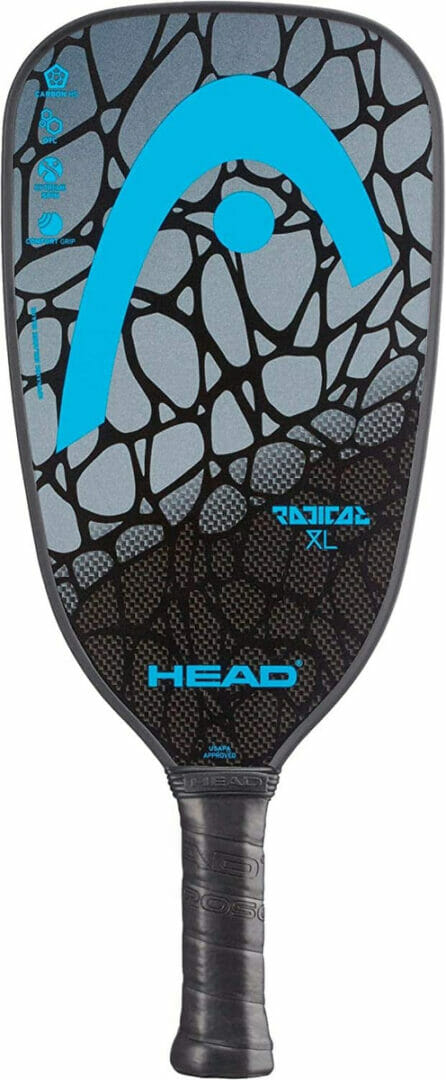 Specifications
Weight

: 7.6 oz

Core material

: Polypropylene honeycomb

Face material

: Graphite

Handle circumference

: 4.25"

Handle length

: 4.5"

Dimensions

: 17" L x 7" W
Pros
Increased reach
Good pace
Capable of high spin
1-year warranty
Cons
Elongated shape does not suit beginners
One of the more expensive options
Rating: 9.1
As our second offering from HEAD, we have the Radical XL. It's a little like it's cheaper, brother, but suited to a more advanced audience.
They share the same Optimized Tubular Core technology, which uses a polypropylene honeycomb. However, the face of this paddle is different. Using graphite rather than fiberglass makes the racket lighter, more accurate, and easier to wield.
However, it doesn't end there. We were pretty blown away by the Extreme Spin tech on the face. It makes slicing the ball a breeze. We certainly can't say the same for the Radical Elite. Then again, that paddle is much cheaper.
You'll also notice the head shape of the Radical XL is different from all of the other paddles we have covered so far. This is because it sports an elongated head shape. The racket is the longest on this list at 17" and the thinnest at 7". This gives you increased reach, which helps you make those short dinks.
However, the sweet spot is much smaller. Therefore it is best suited to more advanced players with an easier job finding it. We think it's a cracking buy that ever-so-slightly scrapes under the $100 mark.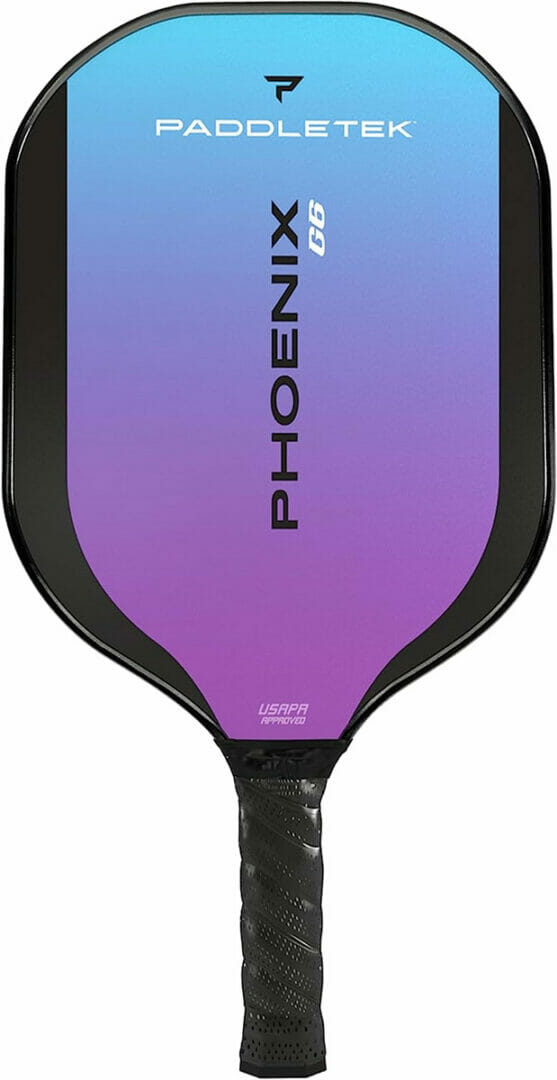 Specifications
Weight

: 7.8 – 8.1 oz

Core material

: Graphite polymer honeycomb

Face material

: Polycarbonate

Handle circumference

: 4.25"

Handle length

: 5"

Dimensions

: 15.63" L x 7.75" W
Pros
Lots of control
1-year warranty
Large sweet spot
Available in five colors
Cons
Not that robust
You may receive a racket lighter than specified
Lacks power
Rating: 8.5
If you're looking for a paddle with more control, the Paddletek Phoenix G6 could be the racket you are after. It's shaped much like the ONYX Z5 with a wide body and similarly weighted. However, its composition is entirely different.
For the core, the Phoenix G6 uses a polymer honeycomb paired with a layer of graphite, which we usually see for the face. Yet, Paddletek has instead elected to use a polycarbonate face instead. It has plenty of texture to generate decent amounts of spin with it.
This paddle represents a great balance between control and power, with the former a little more dominant. Besides the materials, this is partially due to the paddle's weight, which we found was lower than the 7.8 – 8.1 oz range supplied by the seller. That's a pretty big oversight, as less weight comes with less pace.
Therefore we think the Phoenix G6 is a solid option for a beginner who wants to prioritize good technique and control rather than lightning-quick smashes.
Frequently Asked Questions
Are Pickleball Paddles Under $100 Good?
Many excellent pickleball paddles are under $100, even for advanced players. Yet for us, the best pickleball paddle under $100 is the ONIX Graphite Z5. It offers plenty of pace but has a large sweet spot.
What Is a Better Core, Nomex or Polypropylene?
Neither Nomex nor polypropylene is better than the other. Rather, Nomex is harder and faster and produces a very loud sound when struck. Polypropylene, on the other hand, is slower and softer. It is also much quieter, which many players prefer.
What Is the Fastest Pickleball Paddle?
The fastest pickleball paddle under $100 is the ONIX Graphite Z5. Its Nomex core alone helps give it a speed edge over most polypropylene core paddles on the market.
Closing Thoughts
So that wraps up our list of the best pickleball paddles under $100. For just two figures, you can get your hands on many quality pickleball paddles and virtually any material combination you want.
For most people, we expect the ONIX Graphite Z5 pickleball paddle to be the best. This is because, while powerful, it suits a wide range of players. It's also got excellent control and comes in 13 different colors, which is a nice bonus.
Yet for more advanced players, you might want to instead consider the Selkirk Vanguard Invikta or HEAD Radical XL. While it's true they are both the most expensive paddles on this list. They feature the best tech. Both are highly accurate and outcompete the rest when it comes to spin.
Similar Reads

Freelance writer. Table tennis enthusiast. Lover of all things online. When I'm not working on my loop game I'm probably binge-watching some fantasy show.