The 6 Best Pickleball Paddle Covers in 2023
Got pickleball paddles? Of course, you do. Everyone is giving pickleball a try these days. And irrespective of whether you spend $40 or $140, you should seek to protect your paddle so that it lasts for as long as possible.
The easiest way to do this is to pick up a high-quality pickleball paddle cover. They're super inexpensive, and it's not the sort of purchase you need to put a lot of thought into. But you know us, we're all about providing the best sporting info around.
Here are the 6 best pickleball paddle covers:
To learn why we rate each of these cases so highly, read on! After the review section, you will also find a buyer's guide, which will further help inform you about every you ever wanted to know about purchasing pickleball paddle covers.
Top 3 Picks: Pickleball Paddle Covers
Why You Should Trust Ping Pong Ruler
As sporting experts, we know our stuff when it comes to equipment. Although the vast majority of our content focuses on our main love, table tennis, we have also grown to love pickleball.
We have written many guides, from the rules of the game to the top pickleball paddles. For this post, we considered pickleball cases based on the following criteria:
Build quality
Protection
Style
Ease of transport
Size
The 6 Best Pickleball Paddle Covers of 2023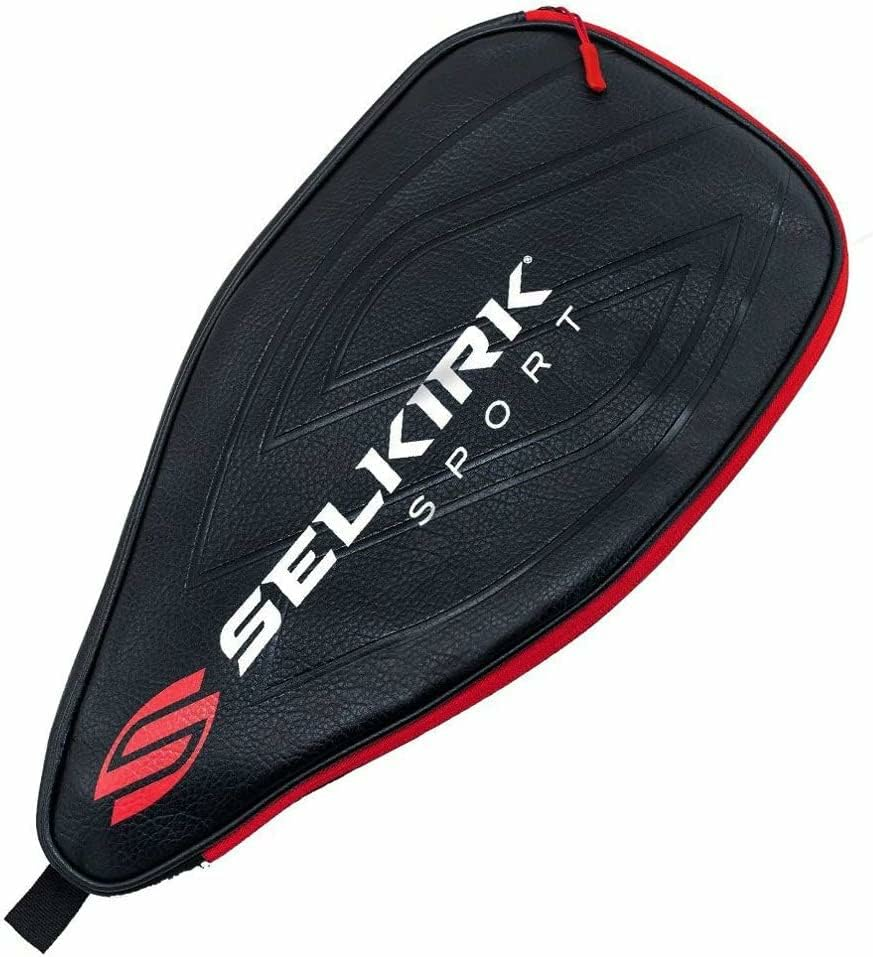 Specifications
Material:

 PU leather and terry cloth

Size:

 18.5" x 9.5" x 1"

Color:

Black and red
Pros
Stylish
Premium materials
Protects the entire paddle
Long zipper
Cons
No carry strap
Only available in one color
Rating: 9.8
Our favorite pickleball paddle case comes from none other than Selkirk, one of our favorite paddle manufacturers. Their premium case is a cut above the rest of the competition. The exterior is made from durable PU leather and the interior features thick terry cloth.
Like the Franklin-X Single Paddle Bag, it is one of the few cases that houses your entire paddle, providing more protection than most. It is also one of the most attractive in our eyes. It sports a beautiful black and red design, with the rear sporting Selkirk's signature "S" logo.
Another positive which is easily overlooked is the lengthy zipper. Most other cases use basic zippers, whereas Selkirk's case features an extended zip for enhanced ease of use. It's also bright red, keeping in check with the design.
Coming in at 18.5" x 9.5" x 1", Selkirk assures buyers that this case fits all of their paddles, including the elongated models. So you likely won't have to worry about compatibility whatsoever, even if another brand makes your paddle.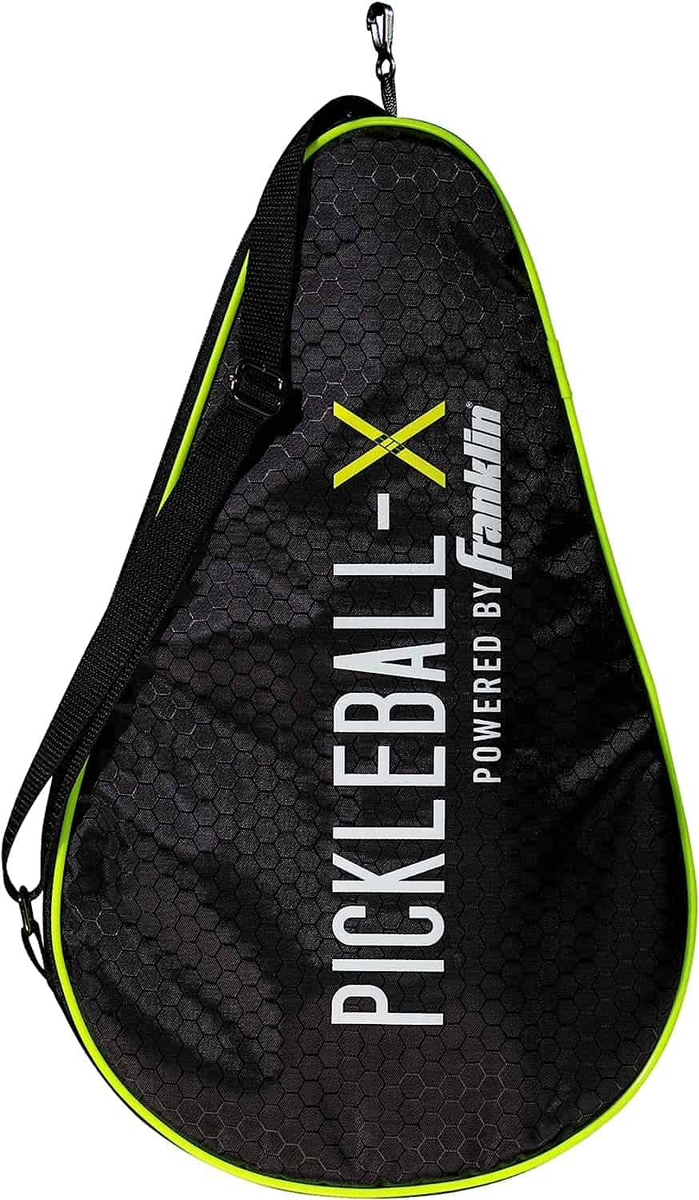 Specifications
Material:

Not listed

Size:

17" x 10" x 1"

Color:

Black/optic yellow, gray, gray/pink
Pros
Official cover of the US Open Pickleball Championships
Protects the entire paddle
Built-in fence hook
Carry strap
Cons
Rating: 9.6
In our second position, we have the Franklin Pickleball-X single paddle case. This model initially drew our attention because it is the official bag of the US Open Pickleball Championships.
Therefore you can be sure that it is high performing and resilient. Otherwise, it would not have received such a title.
Unfortunately, Franklin does not list which material they use. Our best guess is that the exterior is canvas, as that is how it feels.
One main advantage of this model over most of the competition is that the case surrounds the entire paddle, not just the head. This ensures maximum protection and helps prevent your paddle's handle from getting damaged or too dirty.
The case also features a fence hook, allowing you to conveniently hang it while playing, and a carry strap for easy mobility. No doubt it's one of the best pickleball paddle covers available.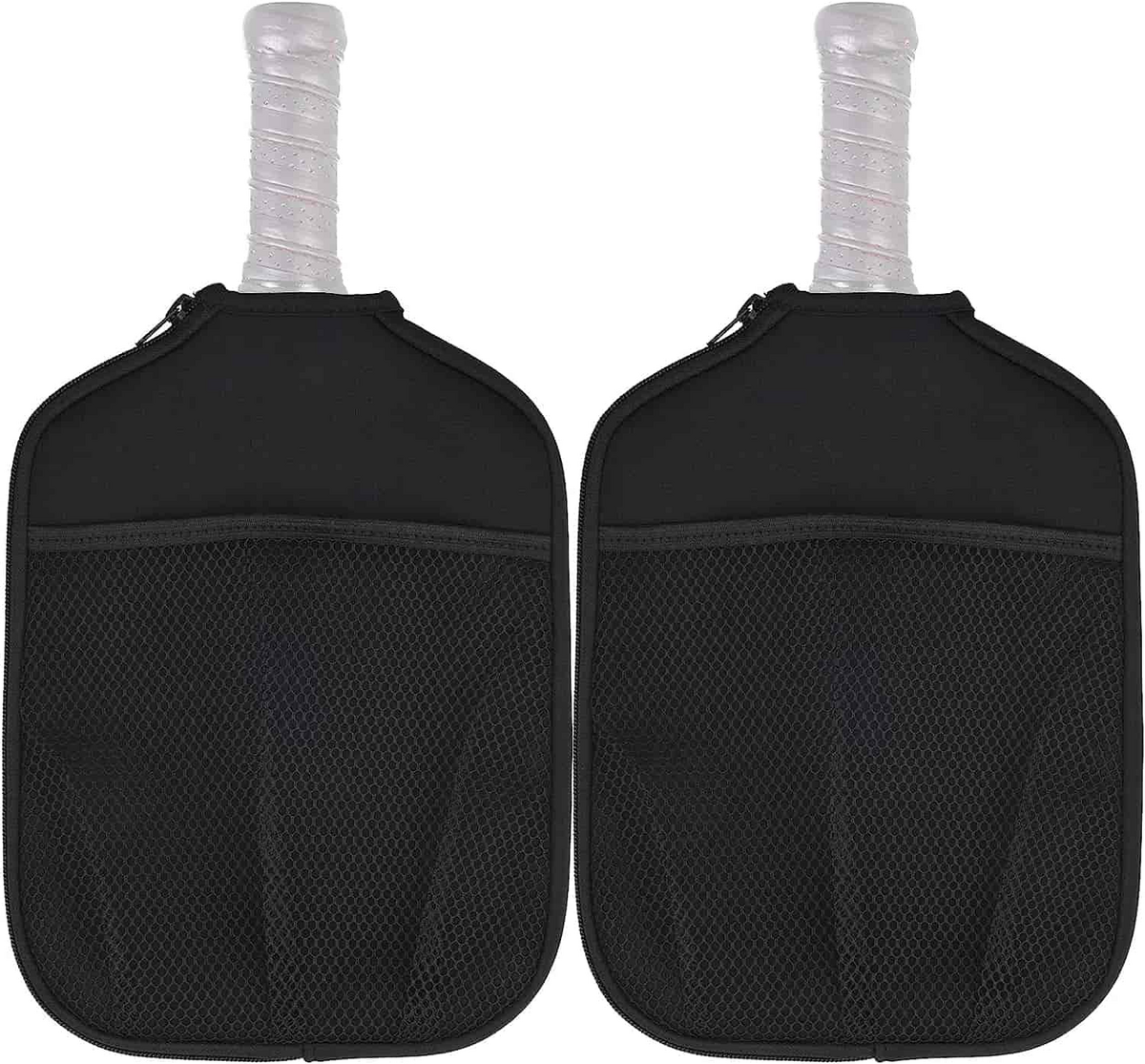 Specifications
Material:

 Neoprene

Size:

 11.25" x 8.25"

Color:

Black
Pros
Comes in a pack of two
Features a mesh sleeve for balls
Cons
No carry strap
Only available in black
Rating: 9.2
Let's be honest, pickleball racket covers aren't something you want to invest a tonne of money in. Many of you likely just want good protection at an affordable price tag. If that sounds like you, the Cosmos pickleball cases could be exactly what you are after.
Like most others, they are made from neoprene, yet where they excel is their cost. You get two cases rather than one for the same price as most competing models. Perfect if you've just picked up a pickleball paddle set.
Yet they also have another unique feature that may appeal, and that's their mesh sleeves on the front. These are for storing a pickleball ball. No longer will you be rummaging around in your bag trying to find a ball. With this pickleball racquet cover, you'll always have one handy beside your paddle.
Of course, the Cosmos cases aren't perfect. Otherwise, they would be higher up on this list. Ultimately, they are very simple and plain looking, and not to my taste. However, I can't argue with the value that they provide.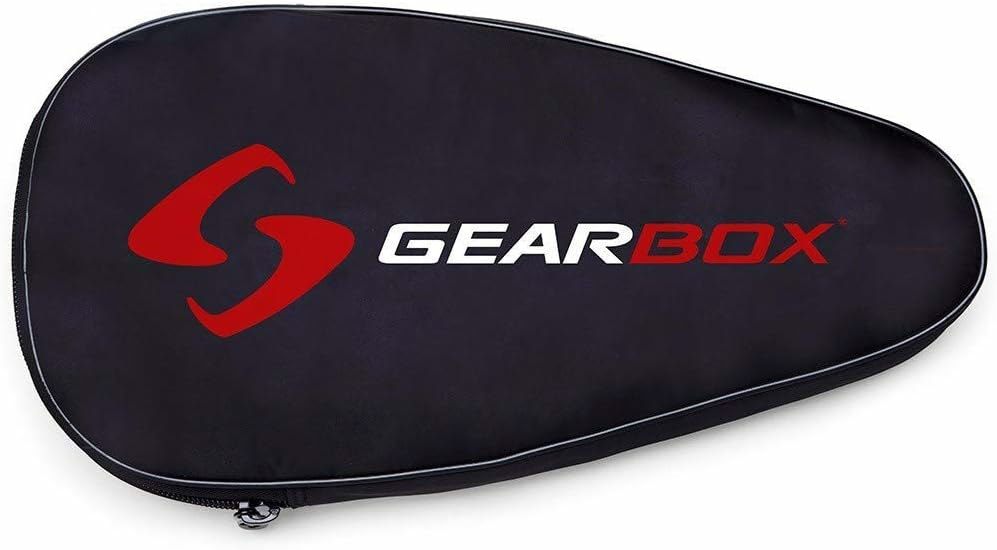 Specifications
Material:

900D Tetoron

Size:

18" x  9"

Color:

Black
Pros
Protects the entire paddle
Robust
Accessories pocket
Cons
No carry strap
Only available in one color
Rating: 9.5
In terms of quality, the Gearbox paddle case feels right behind Selkirk's offering. It's robust and made from 900D Tetoron, unlike any other cases on this list. It also features two high-quality zips, one for the main section and another for your accessories. This could make a good home for your phone while you play.
Undoubtedly, the stand-out feature of this pickleball racket cover is the storage capacity — you can house two paddles rather than one, a quality that no other cases on this list can claim.
My main pet peeve, while small, is that it doesn't feature a carry strap. For cases that only cover the racket's face, a strap is unnecessary as the paddle can go in another bag, or you can hold it by its handle. Yet, for models that encapsulate the whole paddle, I really feel that they should come with one as standard.
However, I can't critique it too harshly in this regard, as only the Franklin Pickleball-X Case has this feature.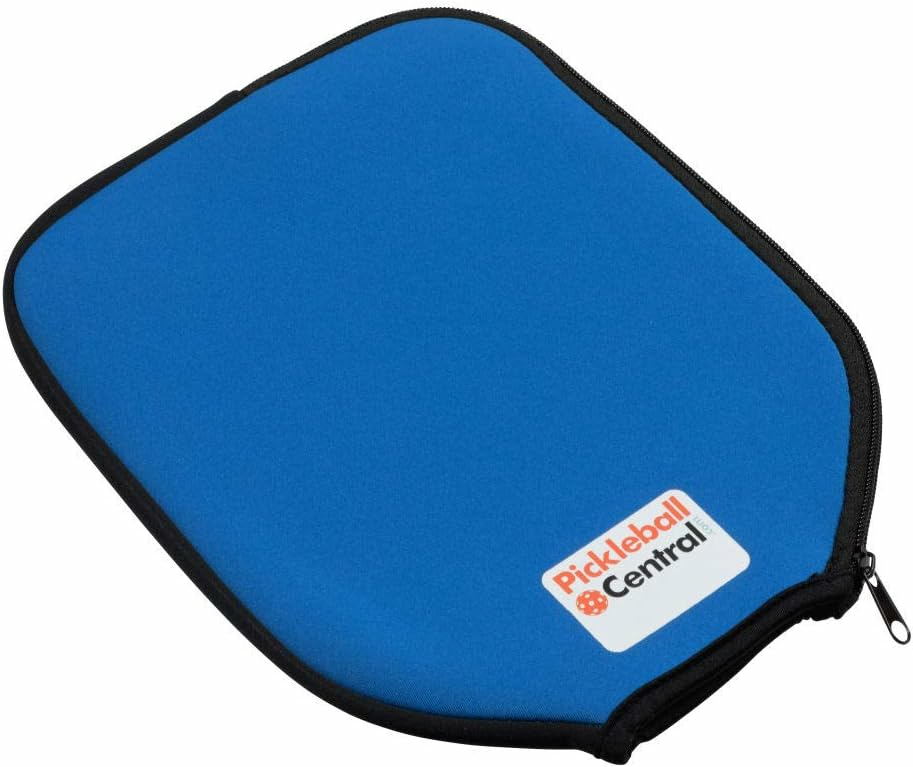 Specifications
Material:

 Neoprene

Size:

 12" x 10"

Color:

Black, blue, gray, lime, pink
Pros
Many colors available
Robust zip
Cons
Rating: 9.2
The Pickleball Central paddle case marks our first model, which only covers the paddle face, leaving the handle exposed. This makes it a much smaller option. Also, as it's a neoprene pickleball paddle cover, it's both durable and flexible. You can easily store it in a rucksack if needed.
It measures 12" x 10" and fits most paddles up to 8.25" wide. If you have an elongated rather than wide-body racket, you should be aware that the case may slide around a bit. Yet the robust zip will keep the cover secure.
One of the most alluring qualities of this model is the color availability. There are five to choose from, which is very respectable given that most cases only come in a basic color like black.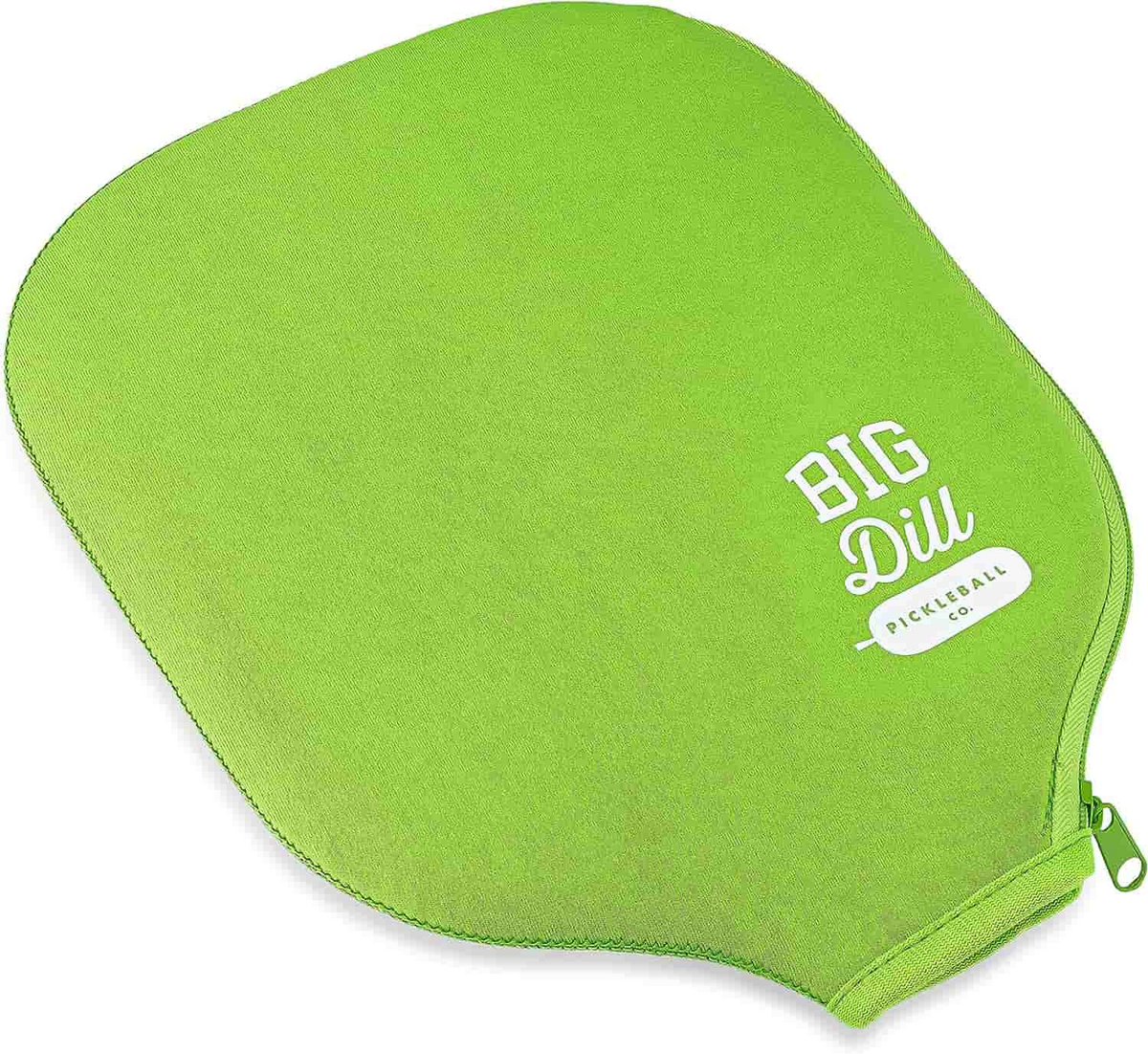 Specifications
Material:

 Neoprene

Size:

 11" x 8.5"

Color:

Black and lime green
Pros
Cons
Rating: 9.1
The Big Dill Pickleball Racket Cover may sport a minimal design, but I can't help but get sucked in by the charming appearance. The logo is very photogenic, and I'm a big fan of the lime green variant.
However, if that's too bold for your taste, the case is available in black too.
With respect to features, the Big Dill case is very basic — it doesn't have a fence hook, an extended zip, or a carry strap. It's a lot like the Pickleball Central Case, except I think it's more attractive. That being said, the Pickleball Central Case is available in three more colors.
Concerning size, the Big Dill paddle sleeve measures 11" x 8.5", making it similar to the Cosmos case and smaller than the Pickleball Central model. While it will fit standard rackets, you'll likely need to look elsewhere if yours is extra wide or long.
Pickleball Paddle Cover or Pickleball Bag?
Both pickleball paddle covers and bags are great purchases to protect your paddle, but you only really need one or the other. Pickleball bags feature cushioned sections, so they will protect your paddle just as well as a pickleball case.
Simply ask yourself: Do you have another bag to store all of your gear? If you already have such a bag for your balls, jacket, and other equipment, then a cover makes the most sense. If not, a pickleball bag may be the best option.
Pickleball Case Buyer's Guide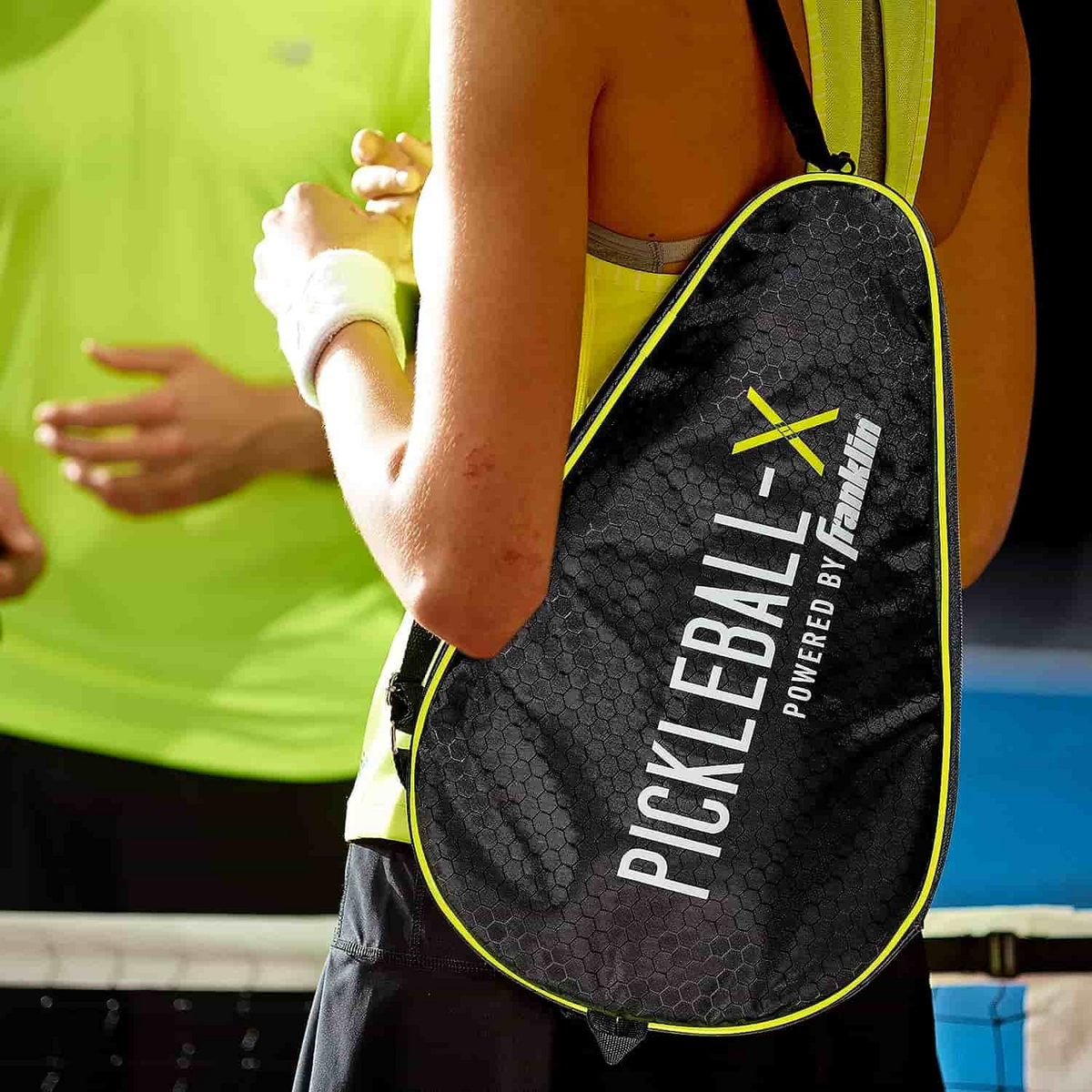 Size
All pickleball paddle cases are designed to support standard 11.5" x 8" paddles. However, some will also fit extra wide or elongated paddles as well. So you should check the measurements before purchasing.
Also, most cases only protect the paddle's face (head pickleball paddle covers), leaving the handle exposed. If you want maximum protection, you should buy a large cover that encases your entire paddle, like the Selkirk, which is my favorite paddle.
Material
The majority of paddle cases are made from neoprene, a soft and durable inexpensive material. However, you will find the likes of PU leather and polyester too.
PU leather is also very durable but has a much nicer appearance than neoprene.
Zippers
All pickleball paddle cases you zip enclosures, and most will feature a basic zip which is fine for the job. However, some will be more robust, likely meaning they last longer.
Other cases may also feature extended zippers. Due to their increased length, they are more user-friendly.
Style
As pickleball paddle cases are fairly basic and inexpensive pieces of kit, their designs are usually very basic as well. They are often featuring block colors, with black being the most common. However, there are some stylish cases available. We are particularly fond of the Selkirk case, which features an eye-catching red and black design with an embossed "S" on the back.
Frequently Asked Questions
Do Pickleball Paddles Come With Covers?
Most pickleball paddles come with a case, especially if you purchase a set. However, some don't come with a case or may be low quality. Therefore, you may find yourself needing to purchase a high-quality cover.
Are Pickleball Paddle Covers Worth Buying?
Pickleball covers are certainly worth buying. They help protect your paddle from scratches and dings, which will preserve its life, saving you money.
Do You Need a Pickleball Paddle Cover?
You don't necessarily need a pickleball paddle case, but it's a worthwhile investment. You can protect your investment for as little as $8, so we strongly recommend you consider doing so.
Closing Thoughts
That just about sums up our list of the best pickleball paddle covers. Hopefully, one or two caught your eye! We recommend purchasing a cover even if it's not on our list. Given how cheap they are relative to the cost of a new paddle picking one up is a no-brainer.
If you're unsure which one to choose, we propose the Selkirk Premium Pickleball Paddle Case. It provides complete protection for your paddle, including its handle, and it looks the best with its attractive black and red color scheme and embossed "S" logo.
We also highly rate Selkirk as a pickleball brand. They produce some of our favorite rackets, so choosing a paddle case from them is only natural. Rest assured. You can purchase with confidence.
Haven't picked up a racket yet? Check out our guides on the best pickleball paddles for beginners and the best Head pickleball paddles.

Freelance writer. Table tennis enthusiast. Lover of all things online. When I'm not working on my loop game I'm probably binge-watching some fantasy show.