4 Best Outdoor Pool Tables in 2023
Who has space for a pool table in their home? Next to nobody, that's who! Pool tables are large pieces of furniture, and to be able to use one properly, you need lots of room as you have to consider being able to make the shots with your cue — not just the table itself.
So why not consider buying an outdoor pool table instead? Most of us have plenty of room in our gardens. And what better way to make use of this space? However, you can't purchase any old pool table, you need one made for the outdoors.
This post discusses the best outdoor pool tables in 2023 and some key pointers to help inform your decision.
Featured Products
Why You Should Trust Us
When it comes to sports equipment, Ping Pong Ruler are experts. We've spent many years reviewing products and have the know-how to tell apart the good equipment from the bad.
All thoughts are our own and completely unbiased. We are not paid to endorse any of the weatherproof pool tables you see listed in this article.
Outdoor Pool Tables Reviews
1. Imperial 8' Outdoor Pool Table — Best Overall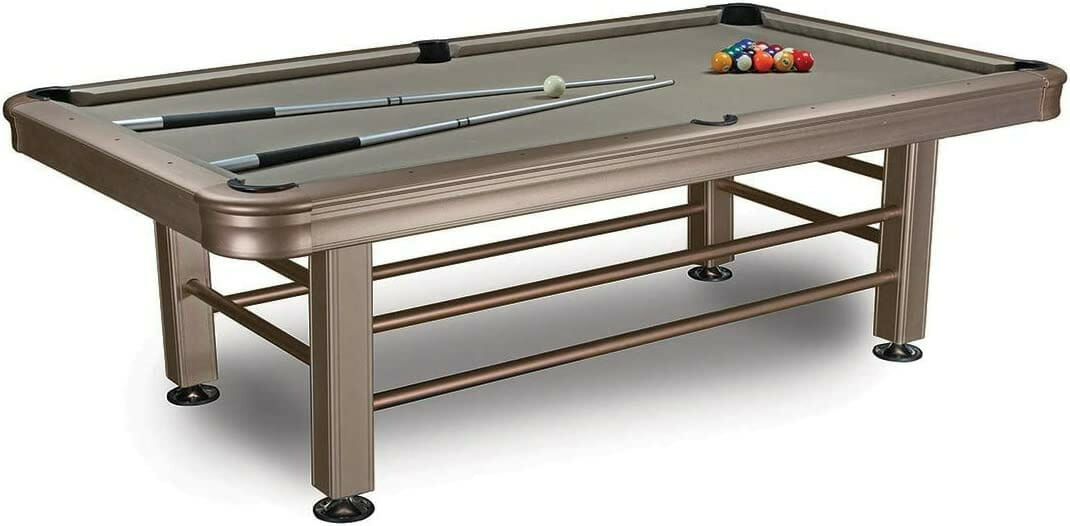 Specifications
Dimensions: 98.25" L x 54.25" W x 31.5" H
Materials: Aluminum, polyester, Formica, resin
Weight: 816 lb
Pros
Very sturdy
Includes cover
Minimal assembly
Adjustable feet
Balls are resistant to chipping
Cons
Rating: 9.5
In our opinion, the best outdoor pool table you can buy in 2023 is by Imperial. It's almost full size at 98.25" in length and sports a slick and attractive design. It features anodized aluminum with a tan-colored waterproof Taclon cloth. The cushions also use standard K66 rubber so the rebound is similar to indoor pool tables.
As for the playfield, it measures 18 mm thick and uses 140 layers of Formica sheets with resin for an ultra-hard surface. The playfield is then subjected to extreme temperatures and pressure to ensure that it is waterproof, durable, and resistant to fire.
Just know that the table is damn heavy. Coming in at 816 lbs you'll need a group of friends to help assemble and move the table. That being said, the only step for assembly is to attach the legs which is very straightforward.
All accessories are included along with a cover which we recommend you use whenever the table is not in operation. This will help ensure you get as much life out of the table as possible. Furthermore, the table comes with 2 years of warranty. This isn't particularly long, but it beats out many other waterproof pool tables.
2. Extera Outdoor Pool Table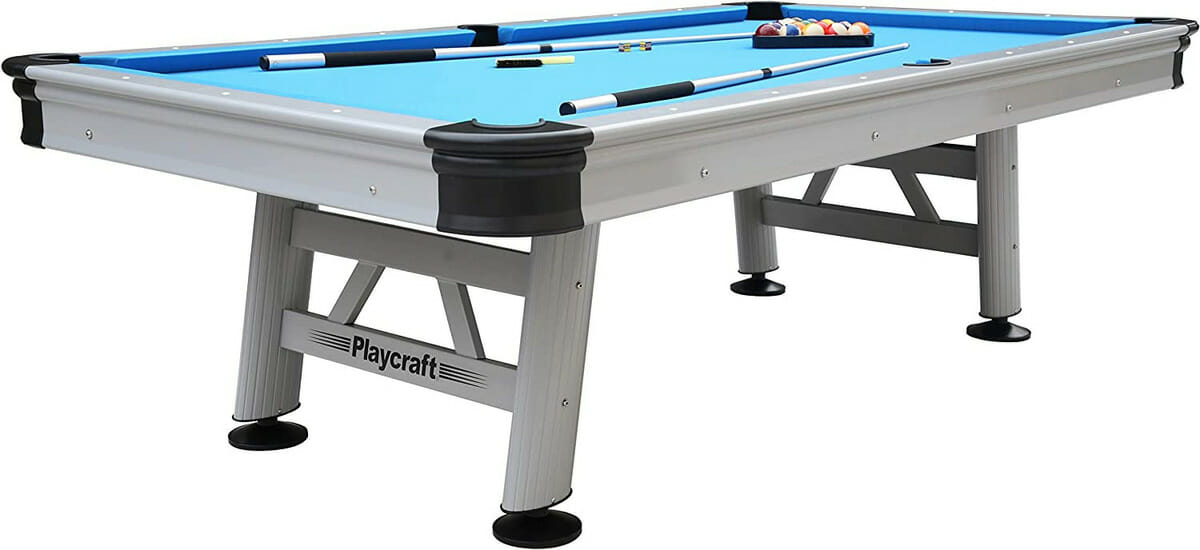 Specifications
Dimensions: 99" L x 55" W x 31.5" H
Materials: Aluminum, high-density fiberboard, resin, fiberglass
Weight: 325 lb
Pros
Sturdy
Includes cover
Minimal assembly
Adjustable feet
Cons
Expensive
Not particularly attractive
Heavy
1-year warranty
Rating: 9.1
The Extera pool table by Playcraft is another solid outdoor option. It's marginally bigger than the Imperial table but a hell of a lot lighter at 325 lb. While this is true, 325 lb is incredibly heavy in its own right! Fortunately, like with the Imperial model, you only have to attach the legs and you're ready to play.
Besides the costly price, the appearance may be one of the biggest drawbacks to this table. Simply put, it's very underwhelming, but outdoor tables tend to look worse than their indoor counterparts.
What matters more is performance, and it delivers here. The table features a composite playfield made of high-density fiberboard and resin. The manufacturer then encases this base in fiberglass for additional rigidity and to ensure that it is completely waterproof. Similarly, the electric blue Polytech cloth is waterproof so it has no issues with rainfall.
Like the Imperial outdoor billiard table, it features standard K66 cushions for good rebound. However, the Polytech cloth is a little on the faster side. It also has half of the warranty coverage at 1 year. We hoped it would have been longer given the expense of this table.
3. Playcraft Santorini 7' Outdoor Pool Table — Multi-Functional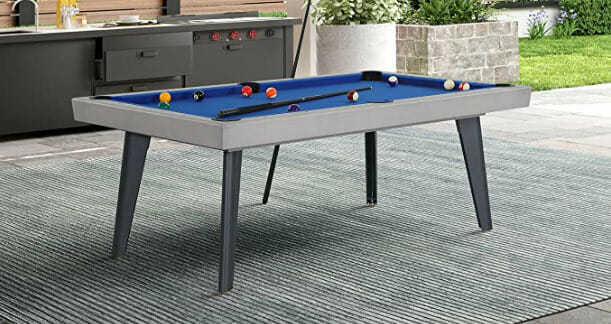 Specifications
Dimensions: 82" L x 46" W X 31.25" H
Materials: Aluminum, stainless steel, slate
Weight: 330 lb
Pros
Features dining top and ping pong conversion top
Includes matching benches
Includes cover
Adjustable feet
Sleek design
Cons
Amazon listing has inaccurate info
Expensive
1-year warranty
Rating: 8.9
The Playcraft Santorini is a little smaller than the other two models covered thus far. It measures 82" L x 46" W X 31.25" H making it around a foot shorter in length — don't make the mistake of believing the dimensions on the Amazon listing as these are erroneous.
The first aspect of the Santorini that caught our eye is the sleek and minimal build. The heavy gauge aluminum rails are gray and sit on graphite legs. By contrast, the Santorini receives its color pop from the weatherproof cobalt blue cloth. So not only is the shape of the table appealing, but also the colors on show.
Made from heavy gauge aluminum, it's a stronger pool table than it looks. And unlike the other models, it uses a classic 1-piece slate for the bed, which we commonly see for quality indoor tables.
Perhaps the most compelling reason to pick up this outdoor pool table is its multiple uses. It comes with both a dining top and a ping pong top. This means you are essentially getting three uses in one! Furthermore, the table comes with matching benches to complete the look. So no need to purchase chairs separately.
4. Berner Billiards Orlando Outdoor Bumper Pool Table — Cheapest Choice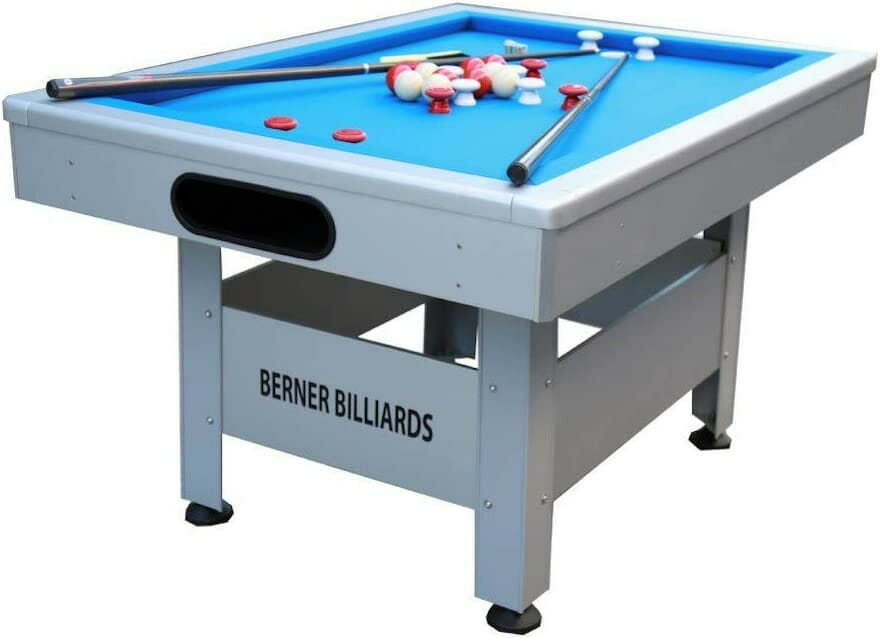 Specifications
Dimensions: 54" L x 39" W X 31" H
Materials: Engineered wood, aluminum, MDF
Weight: 240 lb
Pros
Cheapest outdoor pool table
Lighter build makes it easier to move
Includes cover
Adjustable feet
Cons
Expensive
Plain design
Small playfield
Rating: 8.2
If you're looking for a more affordable outdoor pool table, the Orlando by Berner Billiards is one of the top contenders. It's less than half the Imperial outdoor pool table cost, although we should note it's still far more expensive than most indoor pool tables.
The main difference between this model and the others relates to the size. The Orlando is a bumper pool table, which is much smaller and less elongated. This of course, means it's less fun to play on, but it does have the advantage of being lighter, which makes it easier to move if need be.
It features a weatherproof WPC cabinet and a treated MDF bed. As for the cloth, it is waterproof and a vibrant euro blue. This breathes some much-needed life into the Orlando, as it has a very plain design with a large "Berner Billiard" logo which is a bit of an eyesore.
Overall it's a great little outdoor pool table. We feel it could be a good choice for families, but more serious players will likely want something a little larger.
Buyer's Guide for the Best Outdoor Pool Tables
Build Quality
Outdoor pool tables are usually built to very good standards, given that they must endure more harsh conditions than indoor models. Most tables weigh around 300-800 lbs, and while the assembly is usually limited, their sheer weight means you'll need a few people to help assemble the table.
Materials
Most all-weather pool tables use rigid aluminum for much of the frame as it is both lightweight and rust-proof. Some tables may also use stainless steel in limited quantities.
In regards to the bed, we see more diversity. A select few models use slate beds just like indoor tables do. However, most will go without. Instead, the standard is to use some kind of wooden core, be it high-density fiberboard or MDF. Manufacturers then encase it in resin or fiberglass to make it rock-solid and waterproof.
This is then fitted with a waterproof cloth that can handle wet conditions.
Size
Exterior pool tables come in a range of sizes. Most are around 8 ft but smaller and larger options are available.
You can also get bumper pool tables such as the Orlando. It's 4.5 ft long.
Budget
While some indoor pool tables are affordable, we cannot say the same about outdoor pool tables. Almost all models cost at least five figures.
There is also quite a significant range, so set a realistic budget and stick to it. Generally speaking, the larger the table you want, the more you'll have to pay. For 8 ft tables or larger you are looking at over $4,000.
FAQs
Does an Outdoor Pool Table Use Slate?
Most pool tables for outside don't use slate. Instead, they use materials specifically designed to handle outdoor conditions. Usually, the beds are made of a composite material consisting of wood, resin, and other materials.
What Are Outdoor Pool Tables Made Of?
Outdoor pool tables commonly feature an aluminum frame and legs as aluminum is lightweight, durable, and rust-resistant.
The playfield often features a wooden base with resin or fiberglass elements added for strength and a waterproof seal. Finally, this is topped with a waterproof cloth to ensure a smooth ball roll.
How Much Does an Outdoor Pool Table Cost?
Most of the time pool tables for outdoors are more expensive than indoor tables. They cost anywhere from around $1,500 to $5,000.
How Long Do Outdoor Pool Tables Last?
Outdoor waterproof pool tables are highly durable but they don't tend to last as long as indoor tables which can survive for up to 25 years. This is because of the extreme weather they face including UV radiation, rainfall, and sub-zero temperatures.
You can prolong the life of your outdoor pool table by fitting it with a cover.
Conclusion
Outdoor pool tables are the perfect way to enjoy the sport of pool if you're short of space in your home. Remember that you'll likely need help assembling your table as most models are 300 lb+.
To recap, we feel that the Imperial 8' outdoor pool table is the best outdoor pool table right now. It's super sturdy and we admire the anodized aluminum finish. If, instead, you want to take the cheapest route, the Berner Billiards Orlando outdoor bumper pool table is the way to go. Sure, it's a little small, but you can still have loads of fun using it.
Want more pool goodness? Check out our guide on the best foldable pool tables and the different types of pool games that you can play.

Freelance writer. Table tennis enthusiast. Lover of all things online. When I'm not working on my loop game I'm probably binge-watching some fantasy show.