The Stiga Cybershape is an innovative patent-pending blade, the likes of which we have never seen before. Its hexagonal shape is super eye-catching, and it has a lot of players asking, "is the Cybershape any good, or is it just a fad?".
That was my exact stance too. And I just had to find out how good this blade really is.
So today, I'm going to cover the Cybershape across the board to see where its strengths and weaknesses lie, and, ultimately, whether you should buy it or not.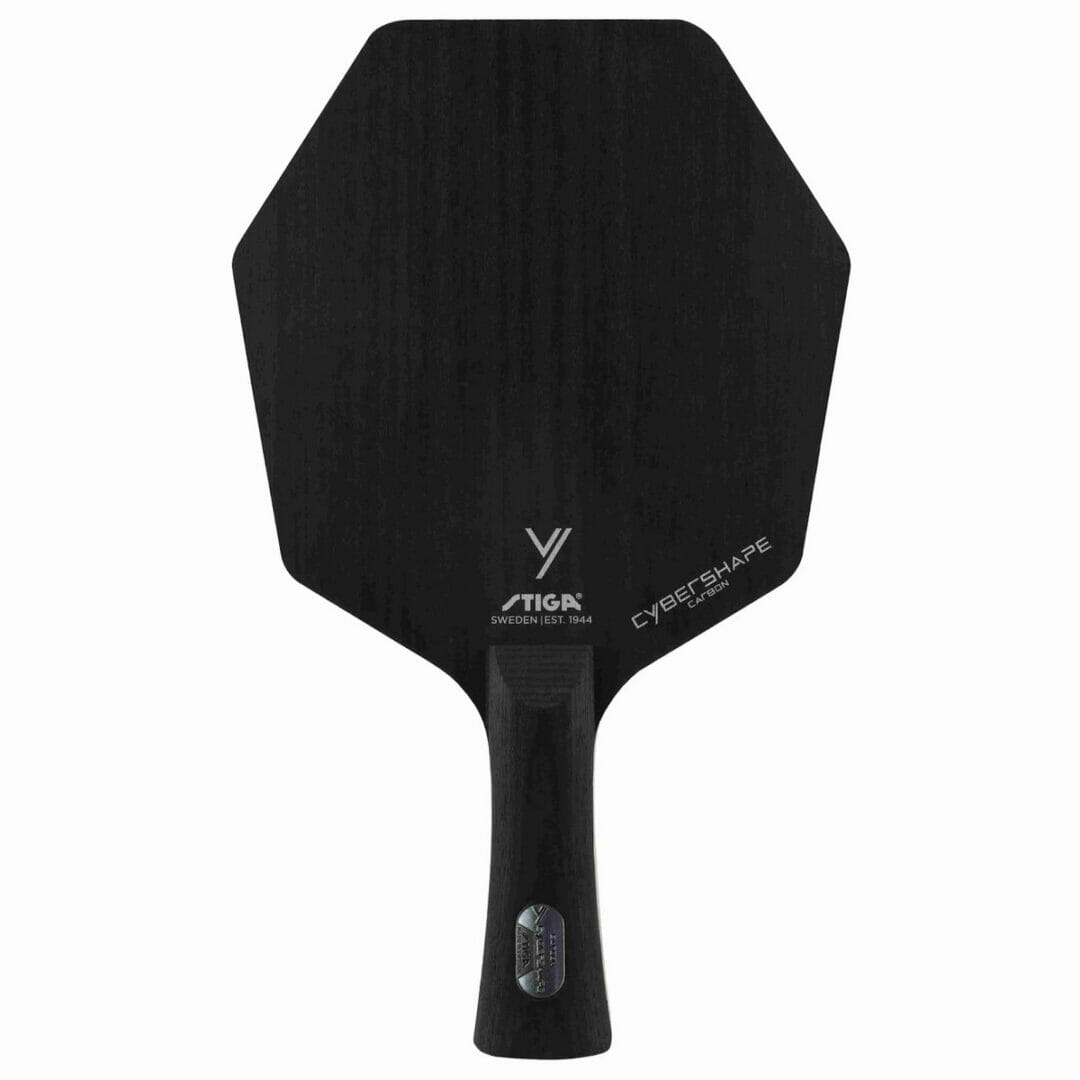 Specifications
Class — OFF
Plies — 5W + 2C
Weight — 85g
ITTF approved? — Yes
Price — $$$$
Our rating — 9.4
Stiga Cybershape Construction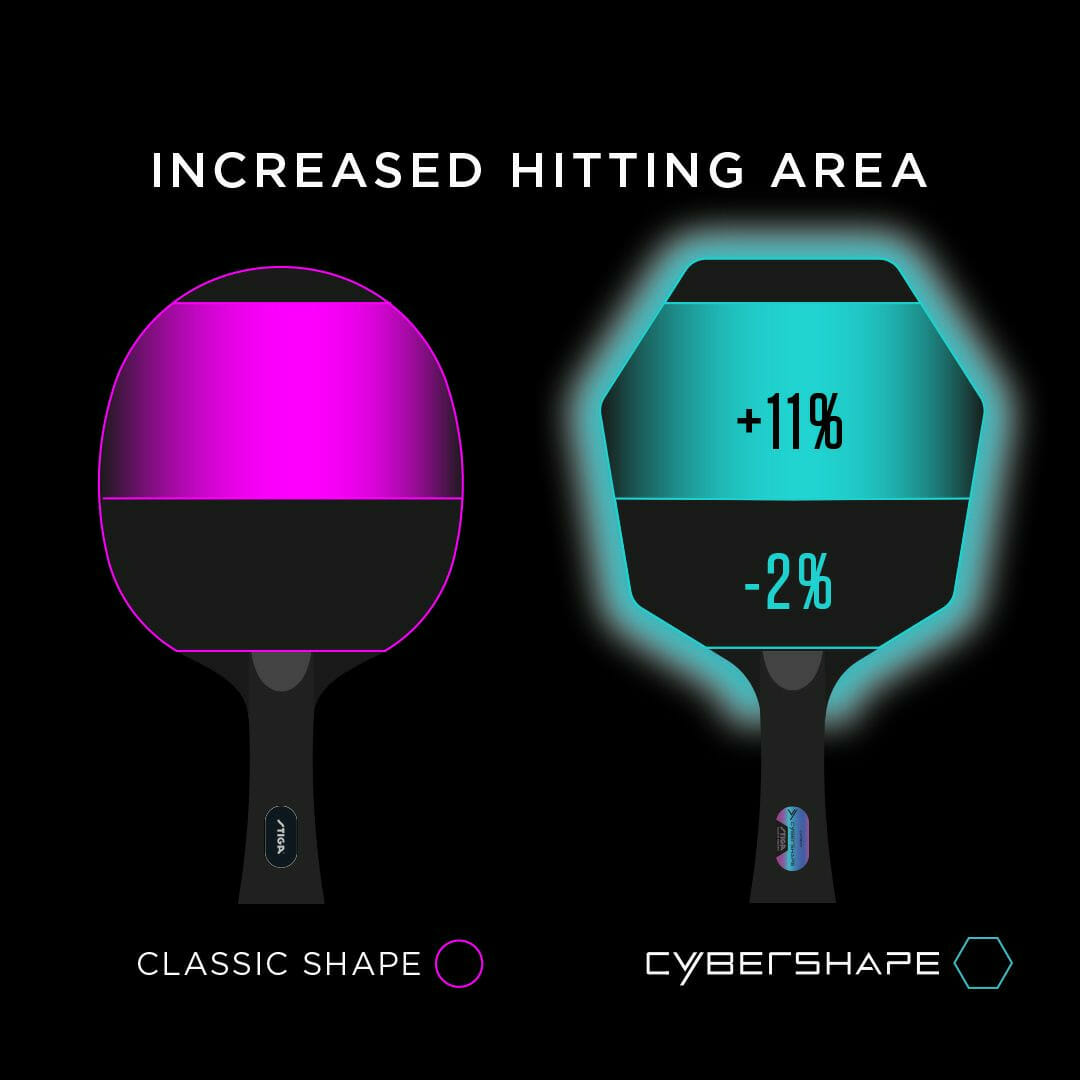 Kicking off this Stiga Cybershape carbon review, let's talk composition. The glaring difference between the Cybershape and conventional blades is its shape. Where all other blades up until this point have had a circular shape, the Cybershape is hexagonal.
Stiga chose to make this revolutionary change after conducting tests on the optimal hitting area of table tennis rackets. The result was that the top portion of the blade was the optimal area. Consequently, they engineered a racket face with an 11% wider surface area on the top section (shake hand version).
To ensure this didn't make the blade too heavy they were forced to make some other changes. The first was in regards to the CCF layer. Made in Germany, it's a carbon composite that is lighter than standard carbon layers. The second change involved reducing the surface area of the bottom section of the blade. A reduction of 2% meant the blade is well-weighted at 85g.
Having searched around online, I believe the composition of the Stiga Cybershape carbon to be koto-ayous-carbon-kiri-carbon-ayous-koto.
What Table Tennis Pros Use the Cybershape?
The pro that gave the Stiga Cybershape a lot of exposure is Truls Möregårdh, he is a Swedish player sponsored by Stiga. He performed incredibly at the 2021 World Championships in Houston reaching the final where he lost to Fan Zhendong.
This was a huge stage and his unique blade caught the eye of players all around the world. Stiga must have been rubbing their hands together!
Speaking about the blade, Möregårdh has stated that he has been using it since the first day it was released. And that "after using the blade for just a couple of training sessions, I felt it approved my game right away, and the adjustment time was basically zero".
Stiga Cybershape Pros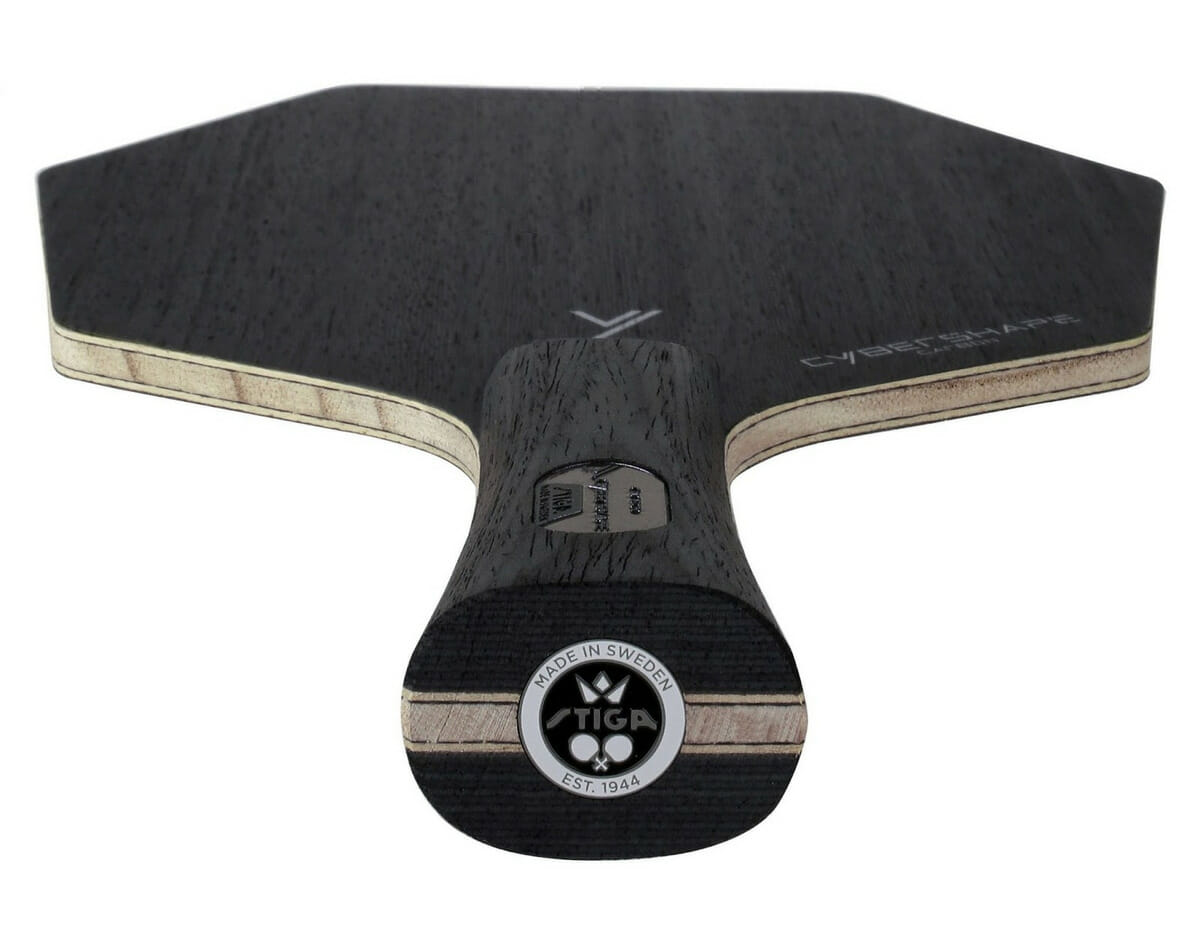 Very attractive visually
Larger hitting area
Larger surface area when close to the table
Bigger sweet spot than traditional blades
Fast with good control
First and foremost, the Cybershape carbon is a great-looking blade. I'm a big fan of the black handle with the inner plies showing through. It looks rather intimidating! The lens in the handle also has a nice touch. It has a kind of holographic effect where it appears as blue or purple depending on your viewing angle.
Moving onto performance, the greatest strength of the Stiga Cybershape blade relates to its increased hitting area. With 11% more coverage at the top of the racket face, you have a greater surface area to hit. This increased surface area also increases your sweet spot. As such, you can have more confidence in your offensive game as the Cybershape is more forgiving than most carbon-composite blades.
Regarding speed, the blade is definitely in the offensive category, but probably on the lower end. Its carbon layers are situated just outside the core layer, not the outer layer. This leads to reduced speed and more control. That being said, it is the second fastest Stiga blade according to Stiga, scoring just two points less than the Carbonado 145 in terms of speed.
In my opinion, it is plenty fast enough for any attacker. And a great buy if you want a blade that is quick and reliable with good control.
Stiga Cybershape Cons
Expensive
A little head-heavy
Serving may take some adjustment
Cannot reuse rubbers from other blades
The glaring issue with the Stiga Cybershape is the price tag. Given that it's not a slightly modified blade piggybacking off of older models it is unsurprising that the Cybershape costs a lot more than most blades. Stiga is taking a risk by producing a never-seen-before blade, and it makes sense for them to charge a premium.
While us players are happy to invest heavily in quality blades, we don't want to get ripped off. Fortunately, I don't really think this is the case with Cybershape. Sure it's pricey, but just look at Butterfly blades by comparison, their most expensive models cost more than the Cybershape.
Ultimately, the quality is there with this blade, it just doesn't provide much value for money. Therefore for most players, a cheaper blade is probably a better option.
The other issues with the Cybershape relate to its unique shape. For starters, you can't try out rubbers from other blades to see how they perform on the Cybershape. This is because of the increased surface area at the top of the blade — the rubbers wouldn't cover it.
Furthermore, adapting to the hexagonal shape might take a little getting used to for some players. It's a little head-heavy, and the vertices may throw you off a bit. The main area this will occur is during serving, as this is the only time you are trying to hit towards the outer edge of your racket face. However, I don't think this will pose much of an issue, and if it does it only takes a minor adjustment to correct.
About Stiga
Stiga is one of the top table tennis manufacturers in the world. Based in Sweden, they produce all kinds of table tennis equipment.
They began creating table tennis products in 1944. Their early blades helped numerous Swedish players win championships from the 1960-1980s. Today they continue to produce elite equipment for professionals and amateurs alike. While their top-of-the-line equipment can be expensive, they sell many cost-effective options, which has made them very popular.
Alternative Options
Stiga Carbonado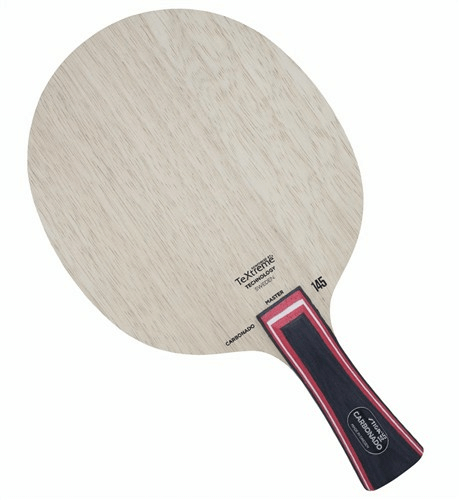 The Carbonado is another premium blade by Stiga. It's quite a bit cheaper than the Cybershape. Where the hexagonal build is the unique selling point of the Cybershape, the TeXtreme carbon fibers are the unique selling point of the Carbonado. It's a patented compound and makes this blade pretty damn fast.
Despite this fact, Stiga only marginally classifies the Carbonado as quicker. Nevertheless, it could be a good alternative if you are willing to sacrifice a bit of control for elevated speed.
Timo Boll ALC
My personal blade, the Timo Boll ALC is another great alternative to the Cybershape. It's the cheapest of the three blades (which is a rarity for Butterfly!) and is one of the most popular blades of all time.
It's great pretty much everywhere on the table, and I especially love it for medium-distance looping.
FAQs?
Is the Stiga Cybershape ITTF-Approved?
Yes, the Cybershape blade is ITTF-approved. This means you can use it for competitive events.
Final Thoughts: Stiga Cybershape Blade Review
The Stiga Cybershape is a revolutionary hexagonal blade that has been well-received by players. It may be expensive, but it does seem to present a minor advantage over conventional blades, so we could start to see more players using it.
The biggest drawback to the Cybershape is its price, it doesn't provide very good value for money. However, if you care more about obtaining the best blade rather than bang for your buck, it could be a good option.

Freelance writer. Table tennis enthusiast. Lover of all things online. When I'm not working on my loop game I'm probably binge-watching some fantasy show.