The Palio Master 2 is the second premade bat from Palio and Expert Table Tennis. It's aimed at intermediate players who want an all-round bat that's able to generate a bit more speed and spin but without compromising too much on the control. In this review, we'll take a look at some of its features and cover what we liked (and didn't like) about it.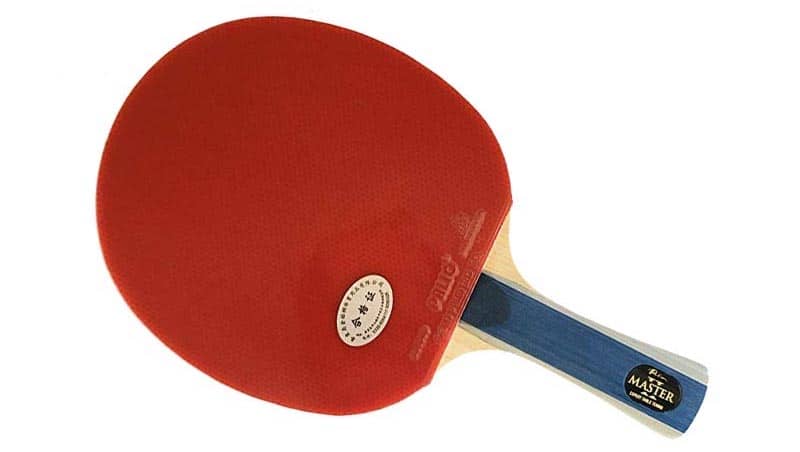 Specifications
Paddle ratings – Speed: 8.0, Spin: 9.0, Control: 8.0
Blade – All wood (not sure of the number of plies)
Rubbers – 2mm thick Palio's CJ8000 rubber on both sides
Grip – Flared
ITTF Approved – Yes, you can use it in official tournaments
Price – $$ (Check the latest price on Amazon)
Our rating – 9.2
A look at the features of the Palio Master 2
A good allrounder: Great for intermediate players
Once you begin to level up your playing ability you're going to want to be able to generate more speed and spin with your paddle of choice. The first bat your start out with should be slow and have a high control rating to allow you to practice placing your shots without them flying off the bat. But once you begin to improve your skills and ball placement you'll find you quickly become frustrated with a very basic bat.
The Palio Expert 2 (which is another pre-made bat from Palio) is great for beginners as it has a control rating of 10. But this bat, The Master 2 has a lot more speed and so is better suited for intermediate players and those who've got to grips with controlling the ball.
If you've seen the video Expert In A Year by Expert Table Tennis (the co-maker of this bat) Sam uses the Master 2 for the first six months of his training. Check the video out below.
The rubbers: Palio CJ8000
On both sides of this racket are the CJ8000 rubbers from Palio. They are 2.0mm thick and tacky meaning you'll be able to generate a good amount of spin on the ball. They're ITTF approved as well so you'll be able to use them in official tournaments which is always a good sign of the quality of the paddle.
Flared grip handle
The Master 2 has a flared grip handle which is where it gets slightly wider towards the end of the handle. This helps it to fit comfortably in your hand. It's not currently available in a penhold style grip but most players in the west use shakehand style.
Free paddle case included
If you've read our guide to choosing a ping pong paddle you'll know that keeping the rubbers on your bat away from dust and moisture is essential to ensuring it lasts and keeps its tackiness. When purchasing through Amazon you get a paddle case included for free. It's not the best but is definitely better than no case at all.
About the manufacturer: Palio and ETT
The Master 2 is one of three premade bats from the collaboration between Palio and Expert Table Tennis. The first in the series is the Expert 2 which is designed for beginners. Then you've got this bat the Master 2 which is aimed at intermediate players as it has a little more speed and less control. Then you have the Legend 2 which has a speed rating of 10. It's a lot faster and is suited for serious intermediate players and more advanced players.
All of the bats get good reviews from customers and we've personally tried them and really enjoyed playing with them all. It just depends on your current ability as to which one would be best suited for you. If you're looking for some other options you can also check out our post here where we cover all our favorite bats of 2019. On that post is also a buying guide to what to look for in a new paddle depending on your ability.
Pros: What did we like?
Good all round bat – Very popular all round bat that has a good balance of ratings without compromising on any particular one
ITTF approved tacky rubbers – The CJ8000 rubbers on this bat are nice and tacky so you'll be able to generate a good amount of spin and play in official tournaments
Very affordable – All of Palio and ETT's bats are very reasonably priced compared to similar quality bats from competitors
Paddle case included – It comes with a case for the bat included
Good customer service – The company respond to negative reviews and are eager to resolve any issues
Cons: What didn't we like
Rubbers can peel off

– A few customers have reported the rubber sometimes peels off after a few weeks (you can get some glue to stick it back)

Hollow sound when hitting the ball – Some customers reported that it makes a hollow sound when hitting the ball which can be off-putting
Conclusion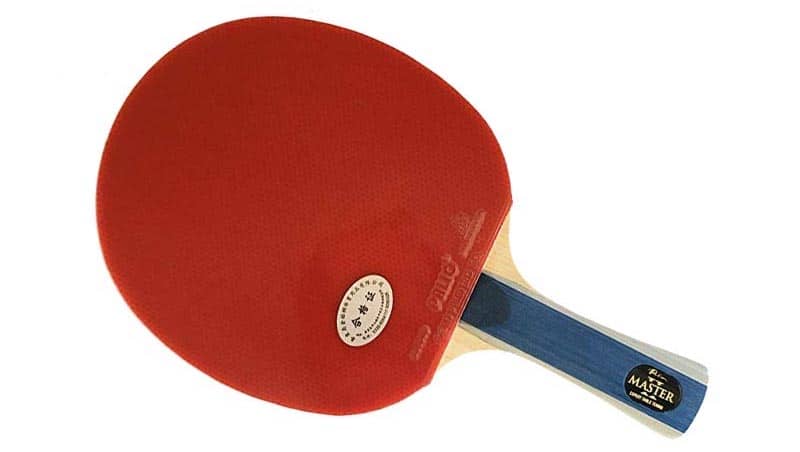 So what did we think of the Palio Master 2? Well, we've tried a lot of different paddles over the years and we really like all the Palio bats. We really liked the Master 2 as it's balanced and will suit a lot of players. It's a lot more powerful than the Expert 2 so could make a good upgrade for beginners progressing in their skills but not wanting to lose all the control. That being said we wouldn't recommend this bat to complete beginners. It's got a little too much speed for someone who hasn't played before and they'll struggle to control the ball. It gets really good reviews from customers on Amazon and we really enjoyed playing with it too.

Eugene (Gene) Sandoval has been one of those guys who spent too many hours around ping pong tables in high school. However, soon enough, Gene understood that there is more to ping pong than having fun. That is how he started a journey that made Eugene one of the experienced semi-professional ping pong players in the United States. As the founder of the PingPongRuler, Eugene spends most of his time surrounded by ping pong tables and research. He always has this knack for coming up with new ping pong strategies and telling the good and bad equipment apart.