Kettler TopStar XL Review
The Kettler TopStar XL is an outdoor ping pong table with a number of features that make it an ideal table for recreational use in your garden or garage. It's less expensive than some of the other outdoor models but still provides a great quality of play that even more advanced players will enjoy. It comes with a weatherproof surface and anti-reflective certified true bounce tournament top to give you the best game possible. Let's take a look at some of its features.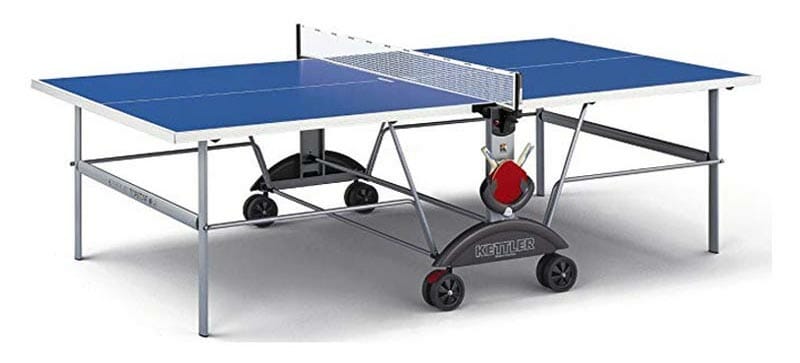 Check the latest price on Amazon.
Specifications
Dimensions – 9ft x 5ft (Regulation size)
Assembly time – 2 to 3 hours
Surface – Aluminum and chipboard
Weight – 128 lbs
Price – $$$ (Check the latest price on Amazon)
Our rating – 8.9/10
Overview of The Kettler TopStar XL
Features
Weatherproof table top
The first thing any person interested in purchasing an outdoor table should ask: Can the table hold up to the weather? Well, this table is reinforced with 7/8″ patented, weatherproof ALU-TEC top with Climate-Control technology, so you can be sure that this table can withstand the onslaught of any rain storm.
The table contains multiple layers of aluminum and chipboard to mimic the play of an inside table but with the durability of an outdoor table to ensure that it gives a good consistent bounce. On top of that are multiple layers of protective coating along with a UV protective finish to stop the sun from causing the table to fade.
Then to finish it's surrounded by a 1.5″ aluminum apron to keep all the moisture away and prevent the table from warping and rusting.
Very easy and safe to fold up
The Topstar is super easy to fold away when not in use. With four safety locking buttons just unlock them and lift or lower the table and the legs will automatically fold away or deploy. It's one of the best folding mechanisms we've seen and if you watch the video above you'll see how easy it is.
It means you can also fold up half of the table to put it into playback position to practice on your own when you don't have anyone to play against. When folded up the table maintains a low center of gravity to prevent it from falling over. It also is very compact in the storage position with dimensions of 26.25″ wide x 64.75″ high x 72″ long.
Strong and durable frame
The table is supported by a strong and durable steel frame that is coating with synthetic powder and galvanized to prevent it from rusting away in the elements. The legs are 2.5 inches thick and elliptical to provide optimum stability. As we covered they automatically deploy when unfolding the table.
For easy mobility, the table is equipped with four double 5.5-inch caster wheels to make moving it across different terrain easy. As the table doesn't split into two halves like a lot of other tables it's good that it's got such large wheels. Two of them lock to keep it steady when stored for safety or when unfolded for the best possible gameplay.
Assembly: It will take a couple of hours
As with a lot of other outdoor tables, the assembly of TopStar XL can be pretty complicated. The instructions that come along with the table are quite poor. Realistically it's going to take at least two to three hours and you'll need two people to help with some of the heavy lifting. This link will take you to the official instructions but there's also a video from Kettler below which should give you an idea of what to expect.
Comes with a table cover plus bat and balls
We always recommend purchasing a table cover for your new ping pong table, especially for outdoor tables. Whilst most of the time they're made with durable and weatherproof materials that mean you can just leave them out come rain or come it's just not worth the risk. You'll considerably increase the lifetime of your table by just simply folding it up and popping a cover on.
Thankfully, the Kettler comes with a cover included as standard (when ordering through Amazon) which means you won't have to make any additional purchases. They don't say what the model of the cover is but from what we can see it looks like this one which gets reasonable reviews although customers have reported it isn't that durable. Still, it's better than no cover and it's included in the price.
It also includes two Kettler Halo 5.0 paddles plus six 3-star balls which means you can start playing straight away without purchasing anything extra. Considering these items are close to $100 to purchase separately it's pretty good value.
Weatherproof net and posts that you don't have to remove
One thing we love about the TopStar is that you don't have to remove the net and posts when you're folding it away. They are completely independent from the table surface and are attached to the frame. It saves a lot of time when getting ready or packing down. As you'd expect from a modern net and post you can adjust the height and the tension. The posts are made from a durable resin so that they won't rust or become damaged after getting wet (although we still recommend using the included cover when not in use).
About the manufacturer: Kettler
Kettler are a family-run German brand that has been around since 1949. They don't just make table tennis equipment but are also one of the leading makers of fitness equipment, bicycles, outdoor kids toys and other furniture with their products being sold in over 60 countries all over the world. Kettler USA have been around since 1981 as the distributor in the states and if you're in Virginia you can pop into their showroom in Virginia Beach to see all their products.
Positives
Easy folding mechanism

– Incredibly easy to fold away and set up with four locking points for added safety

Good table surface – It's got a reasonable bounce for an outdoor table that will be great for recreational and casual games
Comes with accessories – It comes with everything you need to start playing including the net and posts, 2 paddles, 6 balls and a table cover
Weatherproof net and posts – A great net that you don't have to remove when folding the table away
Long warranty – It comes with a 5-year warranty (or 1 year for commercial)
Negatives
A little expensive – It's a mid-range outdoor table and so is a little more expensive than some
Difficult to assemble – Not an easy table to set up and will take two people around 2 – 3 hours
Conclusion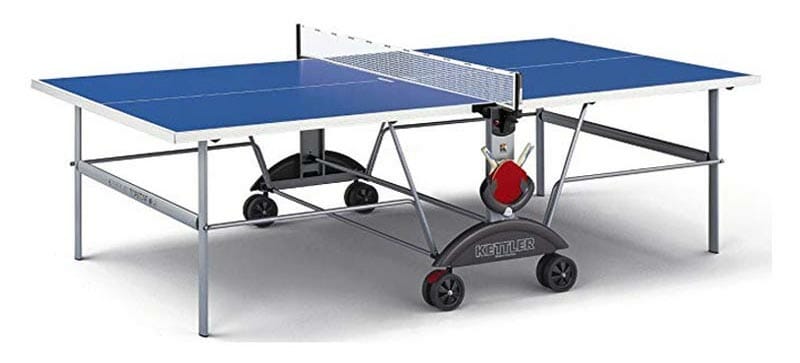 Overall, we liked the Kettler TopStar XL and thought it stood up well against some of its competitors. We love that it comes with so many accessories like the paddles, balls and table cover. For that reason, it could be a good option for families looking for a table to use outside or in a garage. We don't like how long it takes to assemble. With so many tables these days coming 95% preassembled it's a shame Kettler can't do something to speed up the process. But, it's got a good surface that produces a reasonable bounce for an outdoor table, is durable and at an affordable price.
Check the latest price on Amazon.

Eugene (Gene) Sandoval has been one of those guys who spent too many hours around ping pong tables in high school. However, soon enough, Gene understood that there is more to ping pong than having fun. That is how he started a journey that made Eugene one of the experienced semi-professional ping pong players in the United States. As the founder of the PingPongRuler, Eugene spends most of his time surrounded by ping pong tables and research. He always has this knack for coming up with new ping pong strategies and telling the good and bad equipment apart.