Harvard Ping Pong Table – Edge Review
The Harvard Edge ping pong table is a very inexpensive model targeted toward casual players with a limited budget. As table tennis specialists, we are not particularly fond of this model as it leaves a lot to be desired, but we recognize that it provides a solid entry point to allow some players to have their own table, who might otherwise not be able to afford to. I started on the kitchen table, and everyone has to start somewhere!
*UPDATE* The Harvard ping pong table known as the Edge has been long discontinued. Scroll down for our top alternative recommendations or read our write-up on the best 11 tables of this year. They are far better than the Harvard table tennis table!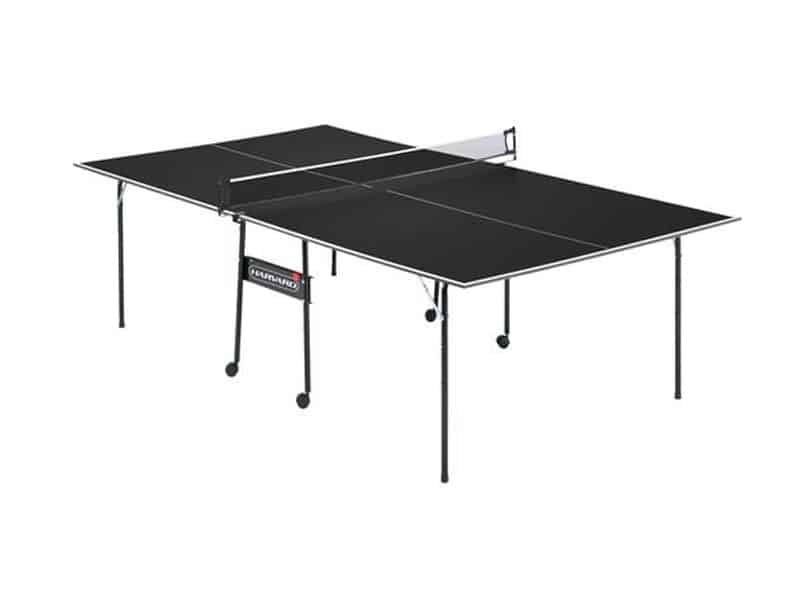 Specifications
1″ steel self-opening legs provide sturdiness and strength

13mm (1/2″) tabletop with folding playback option, so you can practice on your own
Folds up to 75″H x 60″W x 19″D
2″ double-wheel casters for portability
What We Like About the Harvard Sports Ping Pong Table
The primary selling point of the Harvard Edge table tennis table is its price. It is one of the cheapest tables you can buy which makes it a good choice for players who are on a tight budget. It is less than half of the cost of most tables.
One feature that might be of interest is the solo playback mode. It enables you to put up one side of the table so that you can play by yourself when you don't have a partner available. Now most tables come with his feature, but not all.
What We Dislike about the Harvard Ping Pong Table
Our main issue with Harvard Edge is the playing surface which is just 13mm (1/2″ thick). This is very thin for a table tennis table and does not provide a good bounce. It means only beginners should really consider this model. It's certainly worth spending a bit more money to secure a table with a thicker, more reliable playing surface.
Another drawback is that the Harvard ping pong table parts are not very strong. The frame is very thin and the legs measure just 1″ in diameter, which is essentially the thinnest you are going to find for a table tennis table. The legs are also not perfectly straight in some cases, and I worry that some people may lean too heavily on the table causing it to collapse or bend. So if there's anything to take away from this Harvard sports ping pong table review, it's that the table is poor quality, and more importantly, unsafe.
Alternative Recommendations
Stiga Advantage Lite
Specifications
Playing surface thickness: 13mm
Weight: 145lb
Indoor/outdoor: Indoor
Leg levelers: Yes
Solo playback: Yes
Extras: Net
Warranty: 90-day limited
Price: $
If you're after the most reliable cheapest table you can buy then you need look no further than the Stiga Advantage Lite. It is one of the best-selling tables of all time and for good reason. The Advantage Lite weighs just 149lbs and uses eight 2″ wheels for maneuverability making it easy to move anywhere indoors. The table also separates into two halves, meaning they nest together for simple storage, and it makes it light enough to carry up a few steps if need be.
The overall strength of the undercarriage is also a massive upgrade on the Harvard Edge. The table is far more secure both when erected and in a closed upright position. No bending of the legs here whatsoever. To sweeten the deal, the table arrives 95% pre-assembled so you'll be up and running in around 15 minutes.
JOOLA Inside 13mm
Playing surface thickness: 13mm
Weight: 119lb
Indoor/outdoor: Indoor
Leg levelers: Yes
Solo playback: Yes
Extras: Net
Warranty: 1 year
Price: $
The JOOLA Inside is another one of the best-selling table tennis tables of all time. Keeping in check with the low budget, we are taking a look at the 13mm version. It comes in thicker versions, much like the Stiga Advantage does.
The quality of the JOOLA Inside and Stiga Advantage Lite is very close as the two tables are practically clones of one another with different brand names. However, there are a few minor differences. The first is the weight, surprisingly, the Inside is lighter than the already lightweight Advantage lite being 119lb as opposed to 145lbs. This makes it a little easier to move around, but more prone to falling over, so don't push/pull the table too quickly.
The biggest advantage the JOOLA Inside possesses is in regards to warranty. JOOLA includes a 1-year warranty which is a hell of a lot for such a cheap table. Stiga falls well short of this period only offering 90-day cover. With all this in mind, I prefer the JOOLA Inside over the Stiga Advantage Lite.
JOOLA Inside 18mm
Playing surface thickness: 18mm
Weight: 209lb
Indoor/outdoor: Indoor
Leg levelers: Yes
Solo playback: Yes
Extras: Net
Warranty: 1 year
Price: $$
As a final recommendation, I just wanted to make you aware of the JOOLA Inside 18mm which is a great buy for the money. As mentioned earlier, you can pick up the Inside in different thicknesses: 13mm, 15mm, 18mm, and 25mm. While the 13mm version is good for those with a limited budget, the 18mm version is well worth the price increase.
You get the same great design as the 13mm, but simply a more upgraded table. It's far stronger, and the bounce is much improved. I play on 18mm thick tables all the time and it's the minimum amount I recommend for driven table tennis players. So if you're more than a casual joe who plays once in a blue moon, I certainly recommend the 18mm version over the 13mm.
FAQs
Is Harvard a Good Ping Pong Table?
The Harvard Edge is a sub-par ping pong table. The Edge is very thin at 13mm and below what we usually recommend. However, perhaps the biggest issue is the fragility of the frame. The Harvard Edge uses very thin metal that is not always straight. We are not confident it would hold up if it were heavily leaned on. Given the rarity of finding a model, it also could be difficult to find the Harvard Ping Pong Table assembly instructions.
How Much is a Harvard Ping Pong Table?
The Harvard Edge ping pong table's price was less than $300 before it became discontinued.
Conclusion:
In this Harvard Edge Table review, it's of little consequence that this ping pong table has been discontinued as we would not have recommended it to you anyway. Hopefully, the Harvard ping pong table review segment made that clear. Instead, we put forward the JOOLA Inside 13mm as the absolute best budget table for those of you who want to pay as little as possible. It's great value for money, and our only real issue with it is the playing surface is thin, but for the money, it's impossible to get anything thicker.
And for those with a slightly larger budget, we instead recommend purchasing the JOOLA Inside 18mm. As a stronger table with a much better bounce, it's a far better table in my eyes. By opting for this model you also eliminate the need to upgrade the table at a later date. I've been playing for over a decade and it's good enough for me for home use, so I can almost guarantee the same can be said for you.
If you're not sold on either the Stiga Advantage or JOOLA Inside, you might find our guide comparing the two useful. Alternatively, we have individual reviews available for both the Stiga Advantage and JOOLA Inside as well. That should be more than enough reading for you to make your mind up!
Want to learn more about how to pick a table? Read our guide.