EastPoint Sports Fold 'N Store Ping Pong Table Review
EastPoint ping pong tables are some of the best tables on the market. The EastPoint Fold 'N Store ping pong table is the product we're looking at today and is the perfect addition to any office or rec room. In short…
The EastPoint Fold 'N Store table tennis table is inexpensive and lightweight. It is a far more suitable purchase for most people than the more expensive models which are heavier and harder to move around.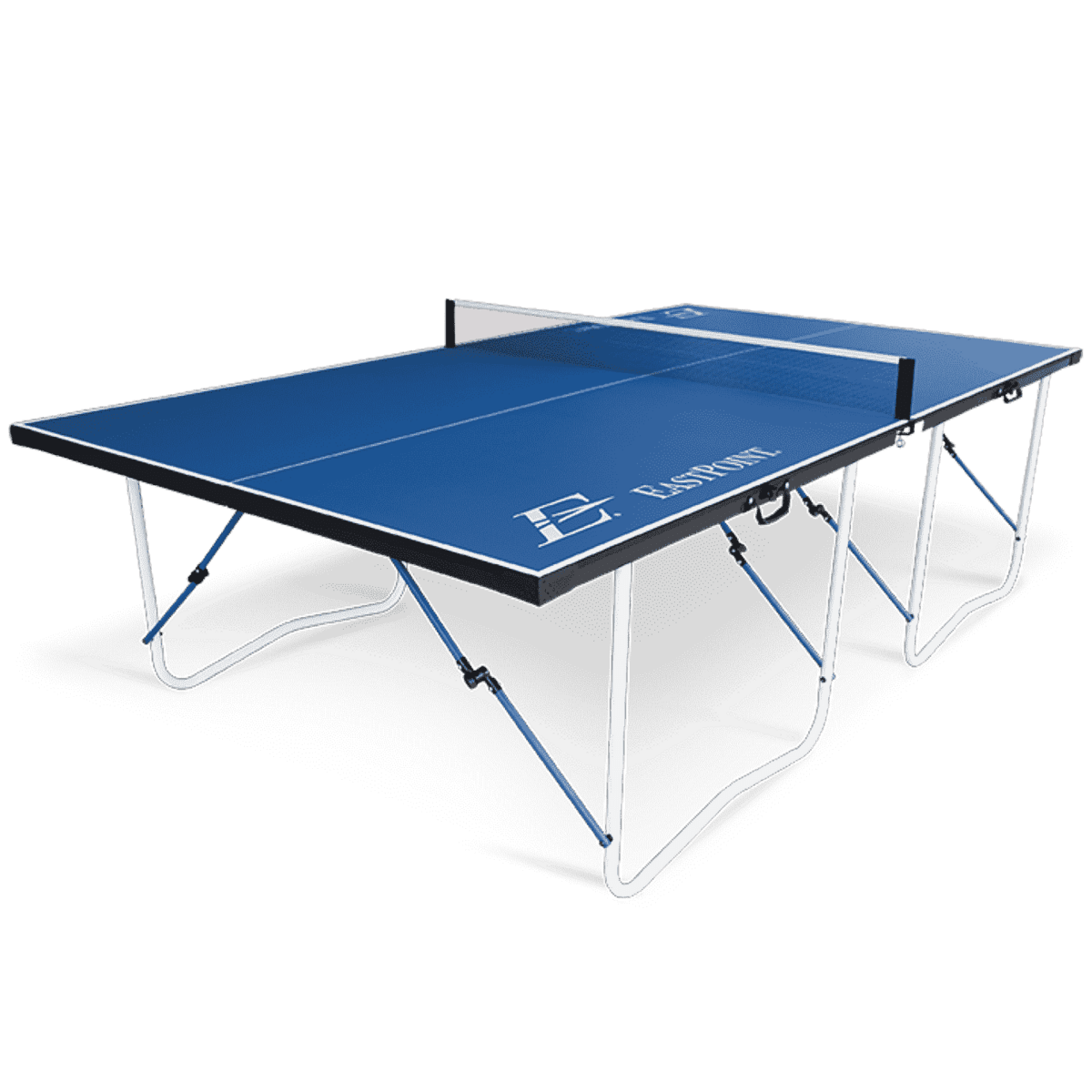 Specifications:
Dimensions – 9ft x 5ft (Regulation size)
Assembly time – None
Surface Thickness – 12mm
Weight – 104lbs
Price – $
Our rating – 7.1
Overview of the EastPoint Sports Fold 'N Store Ping Pong Table
At a Glance: Benefits and Drawbacks
| | |
| --- | --- |
| Pros | Cons |
| Inexpensive | 12mm playing surface |
| Fully pre-assembled | No solo playback feature |
| Ultra-compact storage | No leg levelers |
| Highly portable | Not as sturdy as other tables |
| Includes bats, balls. and a portable net | |
| | |
Fold 'N Store Dimensions
The Fold 'N Store is a full-size indoor ping pong table by EastPoint Sports. This means that it is the same size as other regulation tables, measuring 108" (L) x 60" (W) x 30" (H) when erected.
Compact Storage
Like most other ping pong tables, the Fold 'N Store folds so that you can conveniently store it. This makes it far more feasible to own. But where most other tables fold upright and still take up a lot of space, the Fold 'N Store does not. It instead uses a clamshell design for ultra-compact storage.
Essentially, each side of the table folds in on itself, giving you two table halves. When put together, the folded table dimensions are 54" (L) x 7.5" (W) x 31" (H).  
This means the EastPoint folding ping pong table takes up 85% less space by volume than traditional tables. Thereby giving you far more control over storage. You can store it in say a closet or under your bed — an option most other tables do not provide.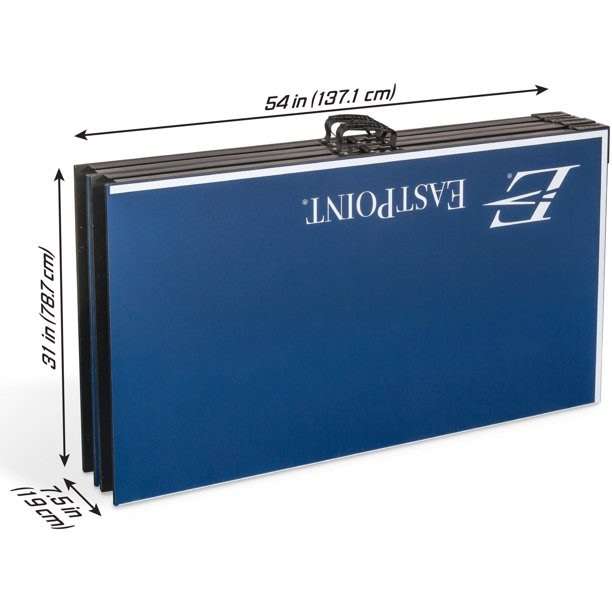 12mm Thick Playing Surface
The thickness of the playing surface on the EastPoint Fold 'N Store table tennis table is 12mm. If you've read our other articles here at Ping Pong Ruler, you know how much we bang on about table thicknesses. This is because it's one of the first things you should consider when shopping for a table. A thicker playing surface means a higher, more reliable bounce.
At 12mm, the EastPoint Fold 'N Store table tennis table is on the lower end of table thicknesses. This means it does not provide a great bounce when compared with other models.
However, we feel this is not as big of an issue as it may seem. The thin playing surface helps keep the table compact which is ultimately one of its greatest selling points. It also keeps it lightweight, which again is vital for portability. And finally, the table is very inexpensive. If it were any thicker, the price would undoubtedly rise by a large sum.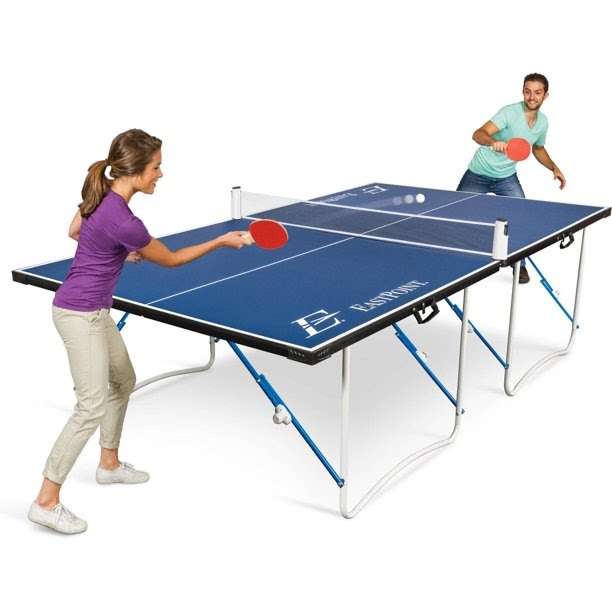 Highly Portable
Portability is an area the Fold 'N Store EastPoint Sports table tennis table outshines almost all of its competitors. Most tables are very heavy, and you push them on wheels to maneuver them. Depending on where you take your table, it can be quite the job. Ping pong tables with small wheels really suffer, and you always have to be aware of safety. Pushing too hard could cause the table to fall on its side which would damage it.
Fortunately, the Fold 'N Store bypasses these issues. Due to its compact size and lightweight build (just 104lbs!), you can easily carry it around using the included carry handles. This means you can comfortably take it across any terrain, or even store it in your car or van for a fun day out!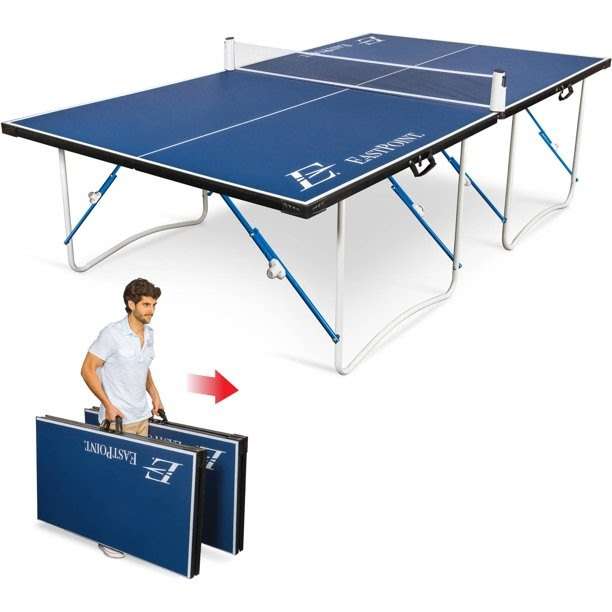 Includes Bats, Balls, Net, and Underside Storage
Given the affordability of the table, we are somewhat surprised by the inclusion of bats and balls. Two of each come with every purchase and while they may not be the best quality, it means you get playing straight away.
If you're interested in buying your own higher-quality paddle, we recommend browsing some of the best paddles on the market.
Unlike many cheap tables which use a fixed net system, the Fold 'N Store does not. Instead, the table comes with a portable net. These are very handy as they fit a variety of table sizes, even makeshift table tennis tables! This means that if you didn't want to take the EastPoint Sports table tennis table out with you, you can just take the net instead. Affix it to any table-like surface and boom! You've made your own table!
We also like the fact that the table comes with underside storage for bats and balls. It may be a simple feature, but it means all of your required table tennis equipment takes up even less space and you are less likely to misplace bats and balls.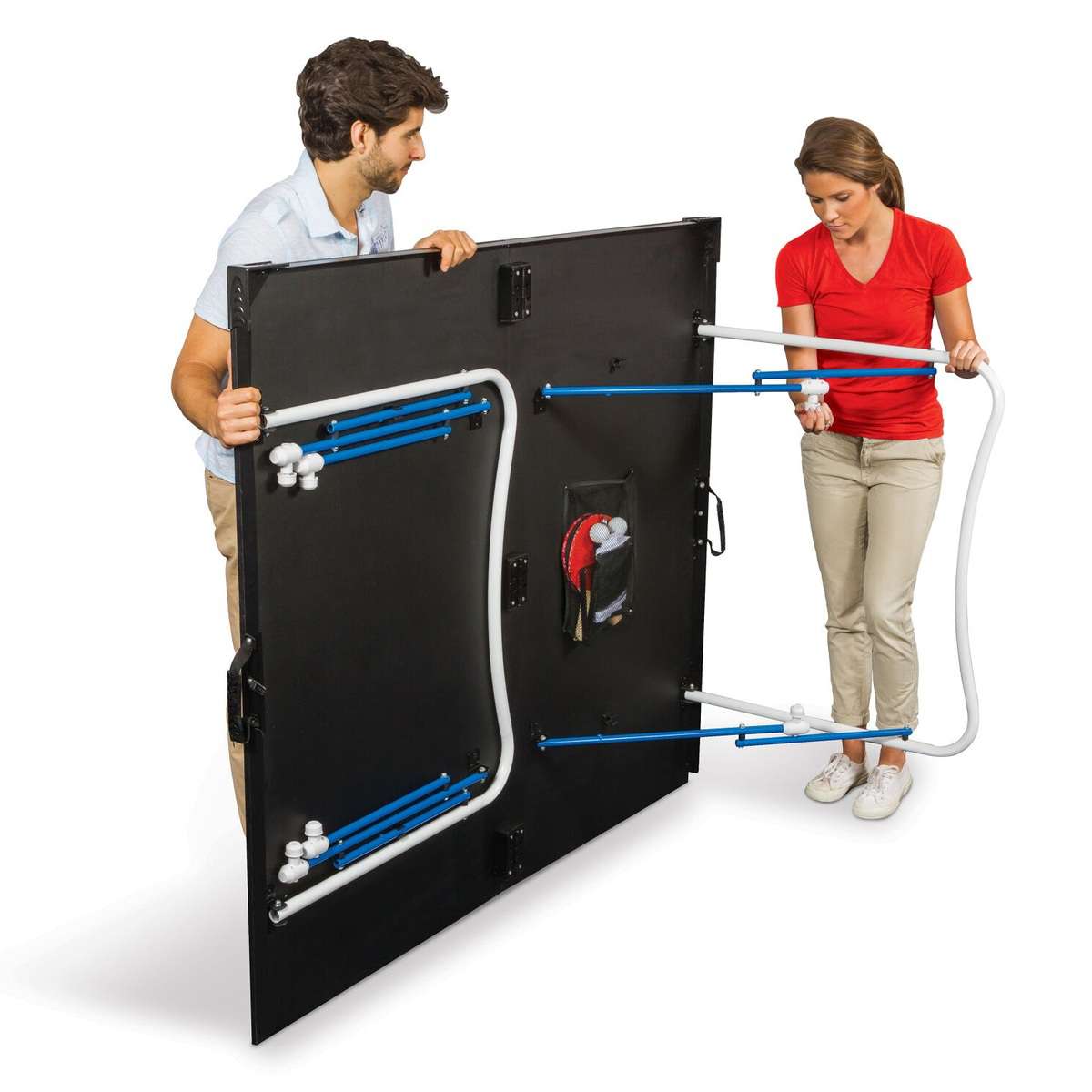 Steel Frame and Corner Caps
The EastPoint Fold 'N Store table features a sturdy 1" rust-resistant steel frame with accompanying aprons and molded corner caps to provide maximum protection. This also helps prevent warping which is vital as an uneven table tennis table is virtually unplayable.
The blue crossbars are thinner than the main frame and slot into place when you erect the table. They give it the support it needs. While it is far from being the most durable ping pong table you can buy, we feel it is fit for purpose. However, we strongly advise against putting excess force on the table — sitting on it is an absolute no-no!
Who Should Buy the Fold 'N Store Ping Pong Table?
Given its features and inexpensive price, the Fold 'N Store ping pong table is ideal for casual players. It is perhaps best suited for a rec room, office, or family days out.
There are several reasons we feel that the table is most suited for beginners and this starts with the table thickness. At 12mm, it simply doesn't provide the bounce quality needed for players of a higher skill level. Such players are better off checking out EastPoint Sports' thicker 18mm model, the Classic Sport 3000. Yet for beginners just looking to have some fun, 12mm does the job.
Another factor pointing towards a beginner audience is its price tag. The Fold 'N Store is one of the cheapest full-size table tennis tables you can buy. This provides a great entry point for people just getting into the sport who likely do not want to invest great sums of money into a table. And even if such people could invest large sums of money for a top-end model, it would likely not be worth it for them. They wouldn't appreciate the features as much as advanced players, and they might not even use it regularly enough to make it worthwhile.
The middle fold that goes through each end of the table may also deter higher-level players. This is because a ball that bounces along this seam will not have a reliable bounce. However, for beginners, this is of little consequence.
How to Assemble the Fold 'N Store Table
A huge plus in the Fold 'N Store's favor is that the table is fully preassembled meaning you don't have to break out any tools. It's just a matter of unfolding it and you are good to go!
The easy setup of the EastPoint Sports Fold 'N Store table tennis table is as follows:
Open each clamshell half
Fold out the legs which extends the blue bar supports.
Connect the two crossbars
Tighten each of the linkage tubes
And that's it! Turn the table so it's upright, attach the net, and have some fun! As straightforward as the process is, EastPoint Sports provides a setup video above. Take a look!
About EastPoint Sports
EastPoint Sports provide recreational sporting goods for both indoor and outdoor use. They aim to provide the best cost-value ratio on the market, and in many cases, they do. Their products are extremely popular, and they produce a wide range of equipment spanning from billiards, to 4-way volleyball, to cornhole sets.
EastPoint Sports Everywhere Net Set
EastPoint produces other table tennis equipment such as the Everywhere Net Set. It is a great net replacement should your existing net fail and fits all standard table tennis tables. It even fits non-standard tables as the net easily retracts. This helps you make a table tennis table out of virtually any surface.
We also love the mini ball storage that attaches to the outside of the post. A nifty feature that is a first for us! Included with this bundle are two weatherproof bats and three balls. Everything you need to play on the go!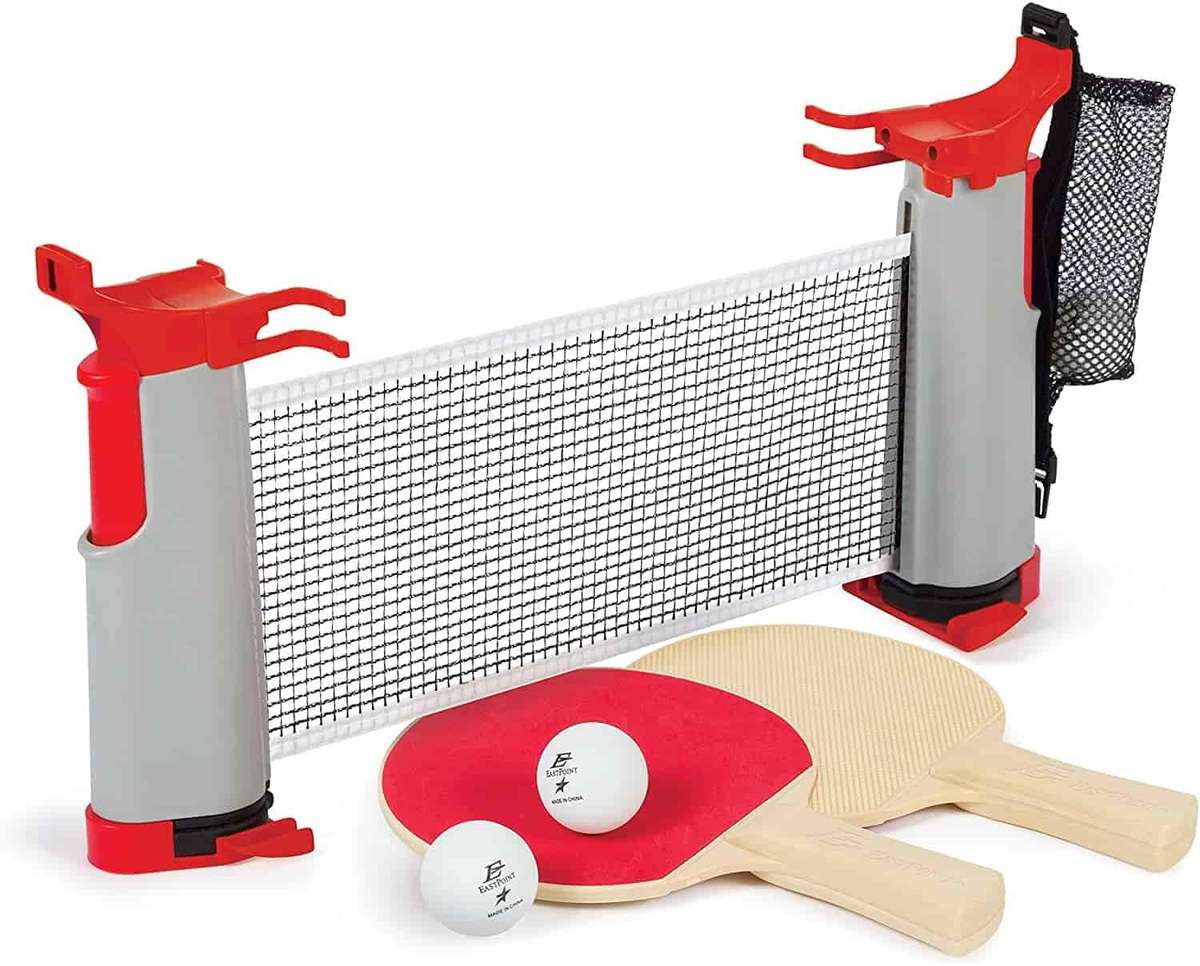 Other Similar Tables
Given that the Fold 'N Store excels when it comes to portability, we feel that you may find value in our 5 best portable ping pong tables article. They give the Fold 'N Store a run for its money! Just be aware that most of the tables that feature are not full-size.
Of those that meet full-size dimensions, two key alternatives come to mind: the JOOLA Inside 13mm and Stiga Advantage Lite. Both are manufactured by table tennis specialists.
JOOLA Inside 13mm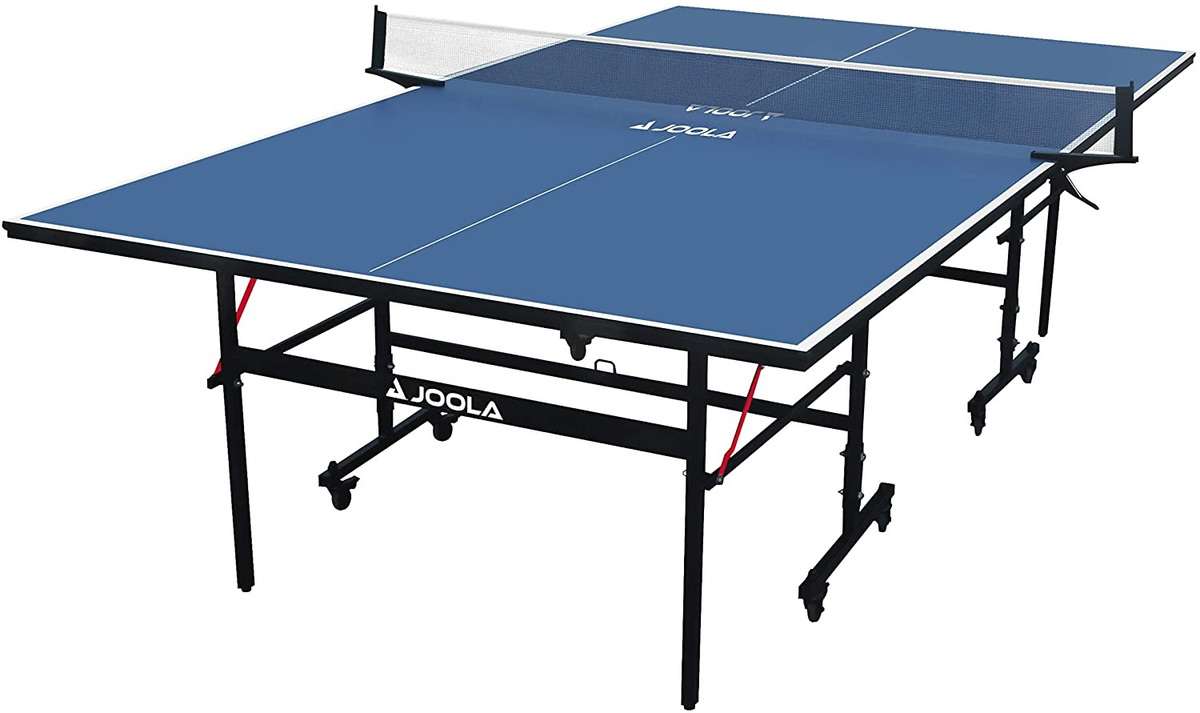 The first is the JOOLA Inside which comes with a choice of table thicknesses: 13mm, 15mm, 18mm, or 25mm. As the Fold 'N Store is 12mm thick, the 13mm variant is its closest alternative.
And there is no mistaking that it is a superior ping pong table. It features thicker 1.5" steel aprons and is far more resilient. It also comes with a higher quality net and has leg levelers which the Fold 'N Store does not. The main drawback is its folded size and lack of portability. It nests for storage rather than using a clamshell design so it takes up far more space, and you can't carry it around — you have to wheel it.
If you are at all interested we recommend you have a read of our review that goes into a great deal more depth. However, please note this is for the 15mm version.
Stiga Advantage Lite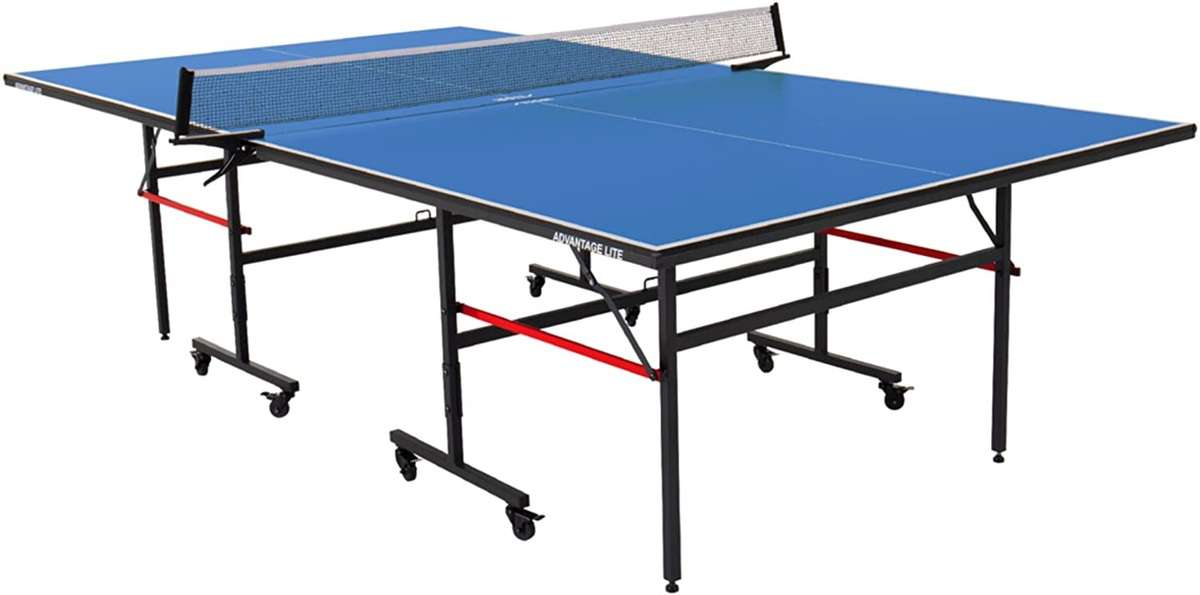 The second table that might interest you is the Advantage Lite by Stiga which is a little more expensive. It has an identical playing thickness of 13mm. Like JOOLA's Inside range, the Advantage has a few different versions too. The Advantage Pro is the thickest at 19mm, with the Advantage (16mm) and Advantage Lite (13mm) being more basic options.
In our opinion, the Advantage Lite is ever so worse than the JOOLA Inside 13mm. This is simply because the supporting apron is 0.75" compared to the Inside's 1.5" apron. In all other respects, the tables match one another.
We also have a Stiga Advantage review (not the Lite) for you to check out which may help you decide if it's the best table for you. Furthermore, we created a specialized article comparing the Stiga Advantage and JOOLA Inside tables. This is to help all you folks out there who are racking your brains over which model you should get.
Alternatively, if you want a more comprehensive review of what's on offer, check out our 13 best ping pong tables in 2022. In this article, we cover the best indoor, outdoor, and mini table tennis tables.
Conclusion
EastPoint ping pong tables are very popular, and the 12mm EastPoint Fold 'N Store table tennis table is one of the most compact and portable full-size models that you can buy.
Its cheap price point makes it an ideal candidate for buyers who are not particularly skilled at table tennis and are trying to get the most out of their money. In my opinion, it provides perhaps the best cost to dollar ratio I have seen, which makes it easy to recommend. My only advice is to analyze your skill level. While this EastPoint ping pong table is a great buy, it is not suitable for advanced players.

Freelance writer. Table tennis enthusiast. Lover of all things online. When I'm not working on my loop game I'm probably binge-watching some fantasy show.