The 11 Best YouTube Channels to Learn Table Tennis
Learning how to play table tennis is great fun but once you reach a certain standard it can be hard to get to the next level on your own.
Getting some table tennis lessons is a good option, but unfortunately, not everyone has the time or the money to be able to hire their own personal table tennis coach. You might not even have a partner to train with.
However, learning online can be a good alternative and a lot cheaper, if not completely free!
To save you some time, we've rounded up what we think are some of the best ping pong YouTube channels to help you learn and improve your ping pong skills. These are channels I regularly watch, and I am sure, after reading this article, you will regularly watch them too!
1. Table Tennis Daily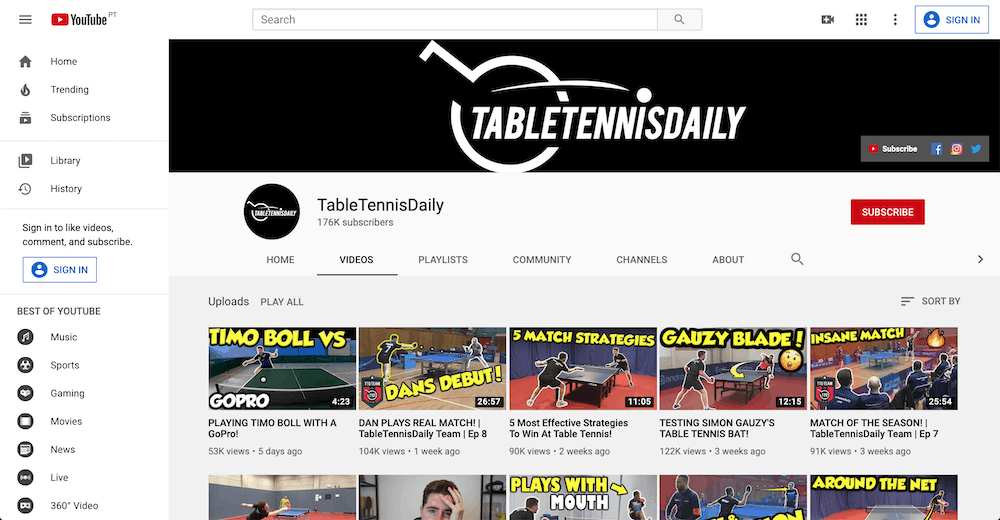 Type of Content
Tips and coaching advice
Product reviews
Matches
Videos featuring pros
Table Tennis Daily is one of the oldest and most resourceful ping pong channels we found for those learning ping pong. They started way back in 2011 and since then, this channel has added loads of detailed tutorials, guidelines, and reviews of table tennis equipment. They even film with pros such as Timo Boll, Dimitrij Ovtcharov, and Patrick Franziska.
As a result of their great content, they've built up quite the following. At the time of publishing, they have over 285k subscribers. Pretty impressive! Another thing we love is their regular posting schedule, they tend to release a new video once or twice a week.
Featured Video
2. Tom Lodziak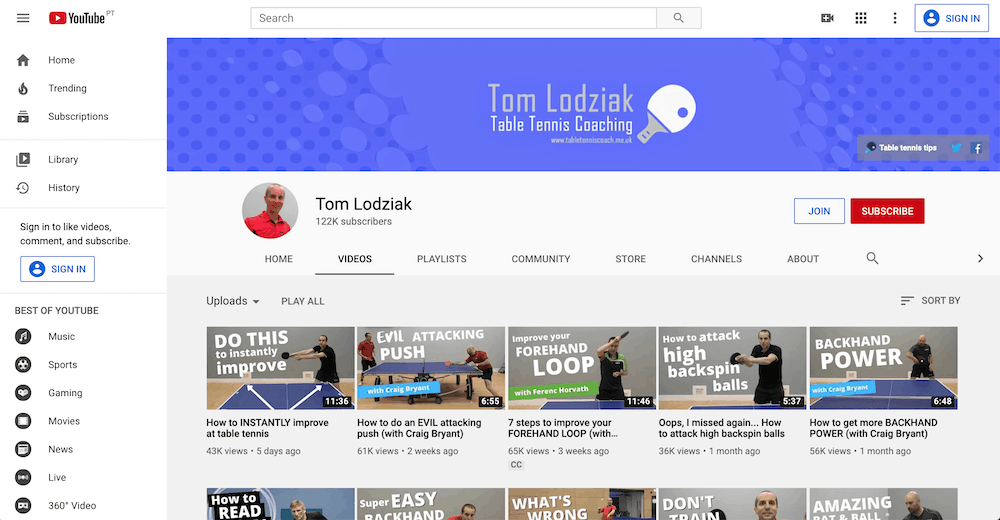 Type of Content
Tips and coaching advice
Videos featuring pros
Match-play
Another channel definitely worth checking out is Tom Lodziak's ping pong YouTube channel. Tom, who is a professional coach based in the UK, draws from his personal experiences in the field, as well as the knowledge he's gained from undertaking the UKCC (UK Coaching Certificate) training course.
His table tennis YouTube channel, which has over 177,000 subscribers, offers a massive selection of videos covering everything from tactics, how-to videos for particular shots, beginner lessons, and live Q&As.
Featured Video
3. PingSkills
Type of Content
Tips and coaching advice
Challenge videos
Up next we have the PingSkills YouTube channel which is run by Melbourne-based Alois Rosario and Jeff Plumb, both former players turned coaches. They almost exclusively produce table tennis coaching videos and are one of the oldest table tennis YouTube channels, starting over 14 years ago. As of the time of writing they have a staggering 707 videos on their channel.
They also feature their Ask the Coach podcast show where they cover specific questions faced by players and other topics. We definitely recommend giving it a listen.
Featured Video
4. Ben Larcombe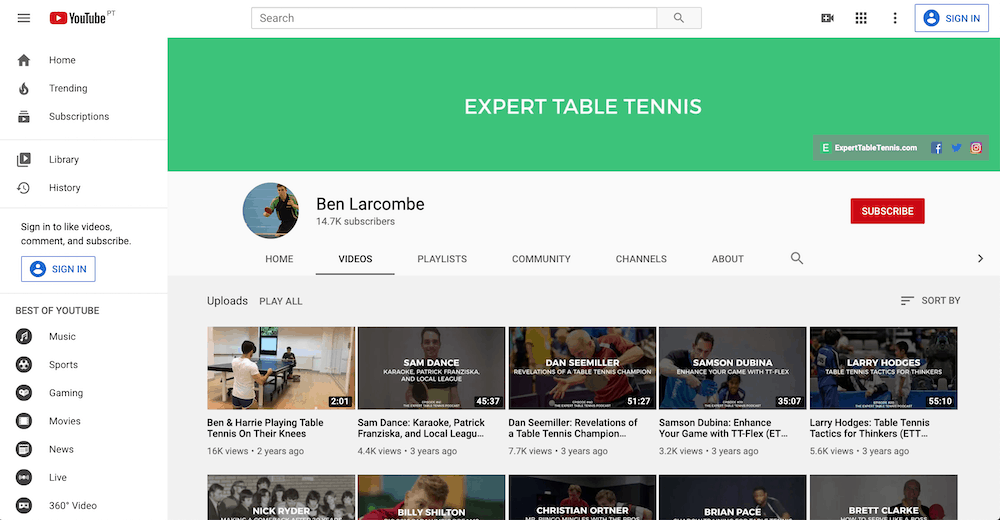 Type of Content
Progress videos
Match play
Podcasts
Next we have the wonderful channel from Ben Larcombe, a UK-based table tennis coach who also runs the Expert Table Tennis website. After starting way back in 2012 he's gathered almost 15,000 subscribers.
His channel is a treasure trove of information for individuals looking to learn how to play and improve their game. It's a little different from a lot of the other channels we've covered in this post though as it doesn't really contain any how-to videos. Instead, it has lots of videos from experts sharing their tips and advice.
One particular series that we recommend watching is Ben's Expert in a Year videos. If you haven't seen them, he took a complete beginner and trained him up to become an expert in just one year. They had one-hour lessons 5 – 6 times a week and filmed the whole thing. It's a fascinating journey that shows tonnes of table tennis training videos!
Featured Video
5. Table Tennis University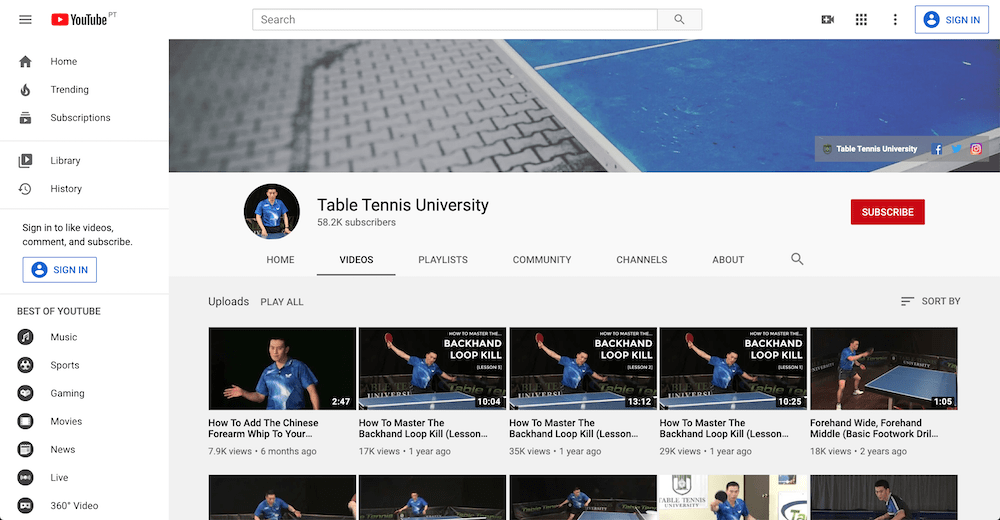 Type of Content
Table Tennis University is a pretty comprehensive YouTube channel for everything related to learning table tennis. The channel, which was founded way back in 2007, has over 60k subscribers and a good amount of content to delve into.
Most, if not all of the coaching videos are taught by Tao Li — a former professional table tennis player. In fact, he's even won a gold medal at the Chinese National Junior Championships. He has a great teaching style and given his experience and expertise in this sport, it makes a great place to learn.
Although they're not publishing any new tutorials there's a lot you can learn from the videos already available. Learn how to block topspin loops, improve your forehand loop, and more.
Featured Video
6. MLFM Table Tennis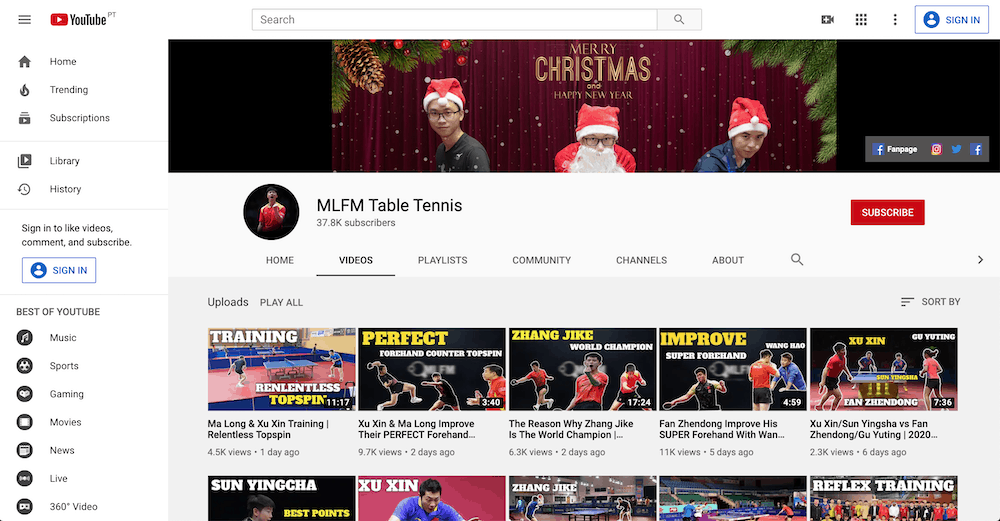 Type of Content
Pro matches
Amateur training/matches
Tips and coaching advice
MFLM Table Tennis is one of the latecomers to YouTube ping pong channels. However, its popularity has grown pretty rapidly, attracting over 36,000 subscribers in less than a year. Given the high quality of their video content, it's not surprising that one of their videos has over a million views!
Their tutorials are mainly how-tos, making it an excellent starting place for newbies. You will learn different ways to serve, how to train at home, and basic exercises you can do to improve your game.
Featured Video
7. Pongfinity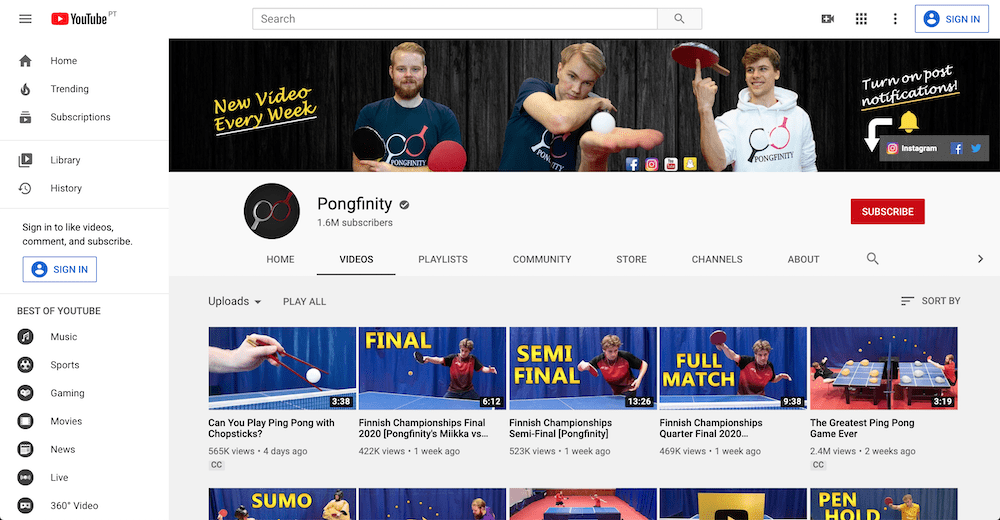 Type of Content
Challenge videos
Compilations
Pongfinity is another YouTube channel worth checking out if you're a budding ping pong player. Launched around five years ago by Finnish players Emil, Otto, and Miikka, this channel hasn't been around for too long, but in that short time they've built up over 3.25 million subscribers!
They publish new videos regularly covering whacky trick shots and interesting ideas on how to play table tennis differently and inject a bit of fun into your games.
Featured Video
8. YangYang TT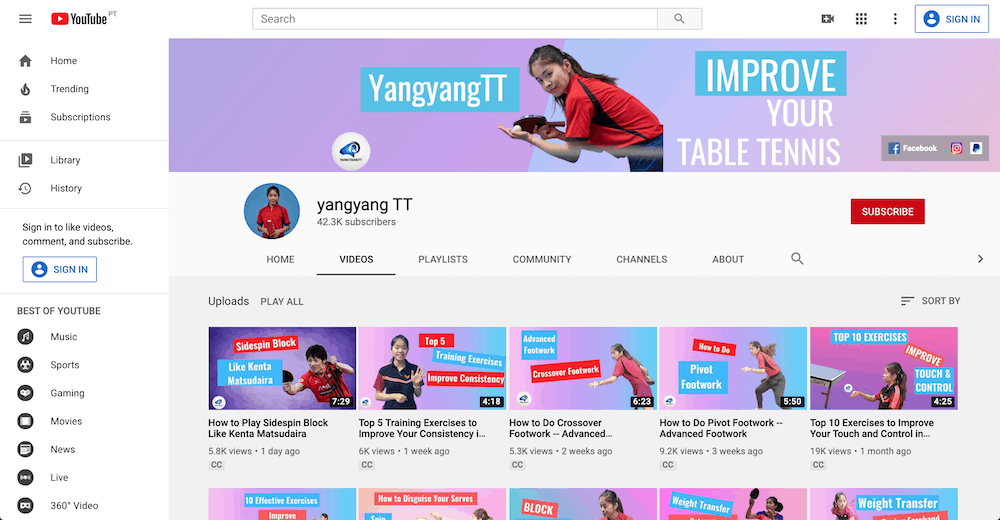 Type of Content
Tips and coaching advice
Product reviews
Commentary
Highlights
Since she started publishing videos in 2018, Yangyang, a Chinese national, has been training anyone who's interested in becoming an expert table tennis player. She's also been a professional player and has won numerous gold medals at competitions.
One of the things you'll love about her channel is how she breaks down complex techniques using simple-to-understand explanations. Learn how to play a variety of shots such as the forehand flick, backhand loop, and backhand topspin. She also reviews different types of rubber/blades and posts table tennis training videos.
Definitely an interesting channel to keep an eye on — may appeal to younger players.
Featured Video
9. EmRatThich Table Tennis Coach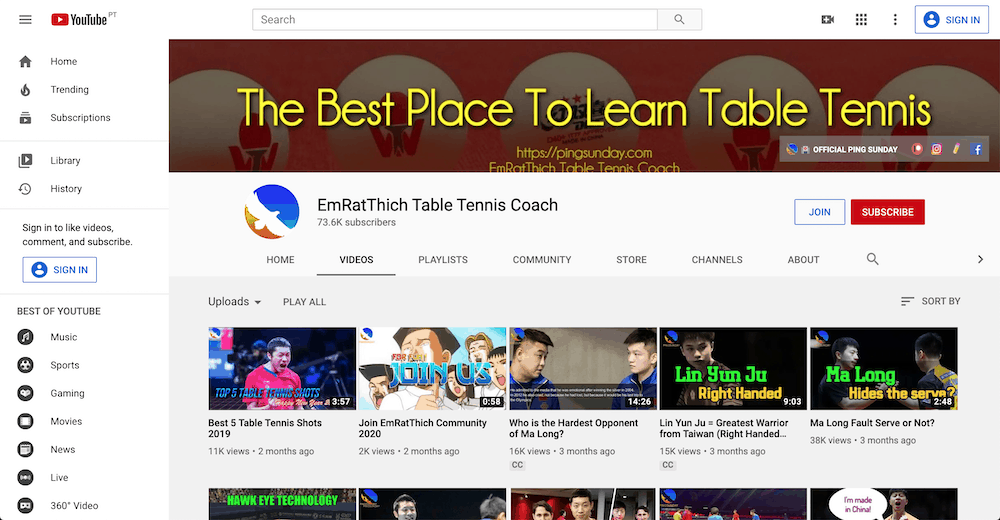 Type of Content
Tips and coaching advice
Commentary
Product reviews
If you're looking to improve at table tennis EmRatThich's channel with over 70k subscribers is one you should certainly check out. It has hundreds of videos covering loads of different topics with many how-to videos, reviews of matches, best shot round-ups, and guides on how to choose equipment. Worth checking out to get your fix of table tennis videos.
10. Adam Bobrow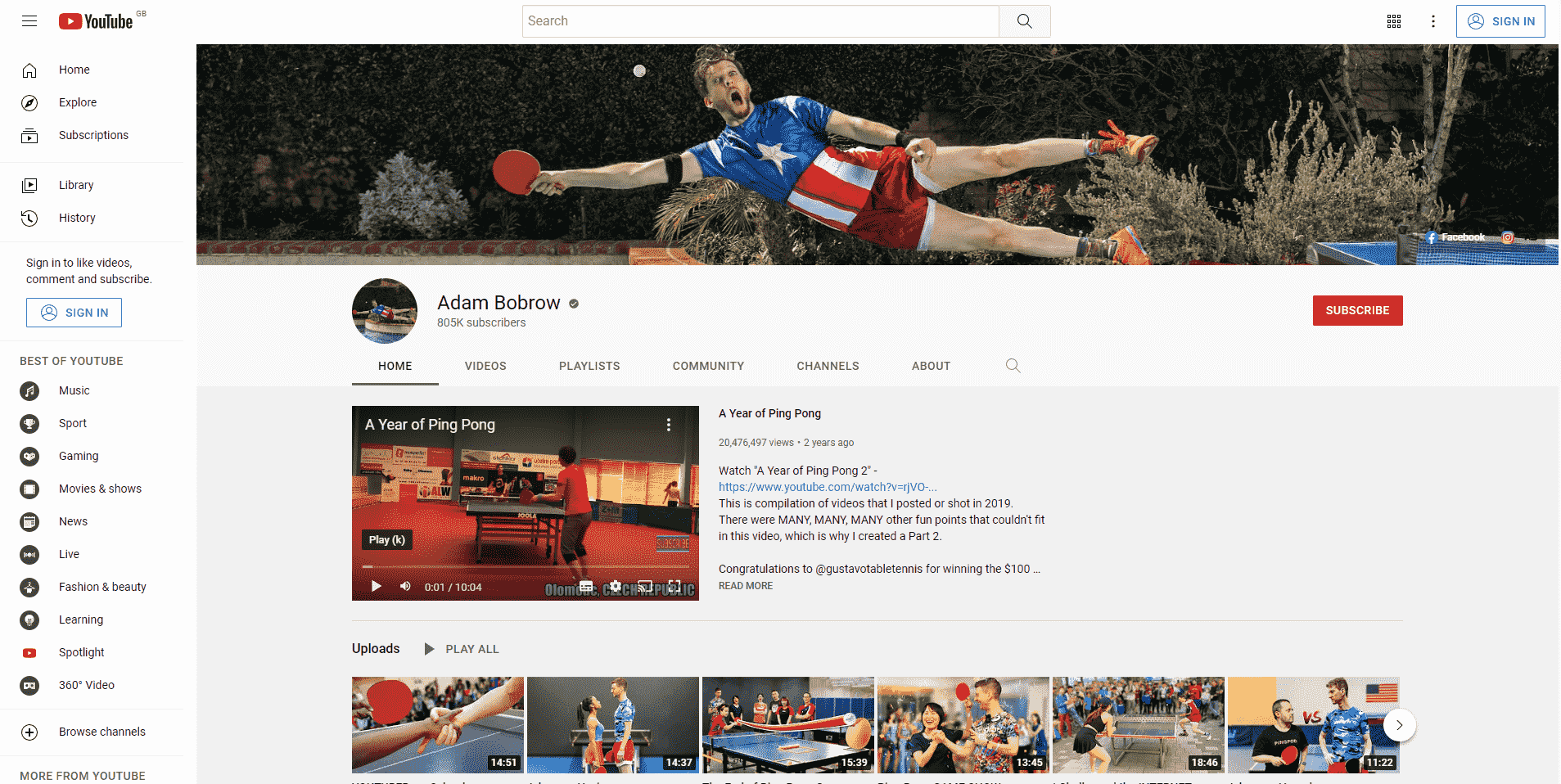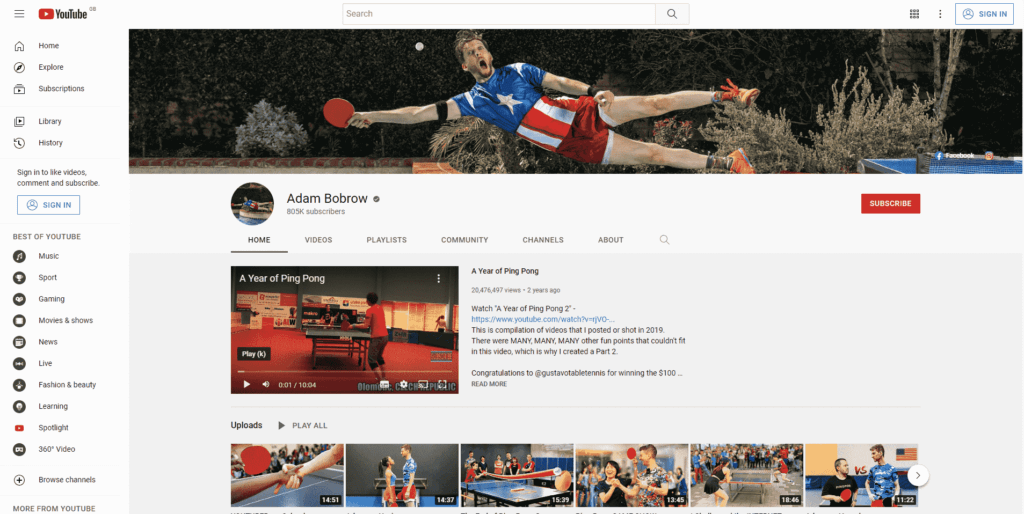 Type of Content
Trick shots
Challenge videos
Miscellaneous entertainment
Videos with pros
Adam Bobrow is a popular table tennis promoter and commentator. You might recognize him from official ITTF videos where he commentates. His style of commentary is very enthusiastic and he truly loves the game. His YouTube table tennis channel mainly consists of him playing against players all over the world who play professionally and on an amateur level.
His videos are primarily for entertainment rather than on how to improve. This is also the case with his play style. He enjoys executing extravagant and tricky shots rather than playing a straightforward game that will secure him the win. If you're a fan of unorthodox play involving lobs and snakes you need to check him out.
Featured Video
11. Ping Pong Ruler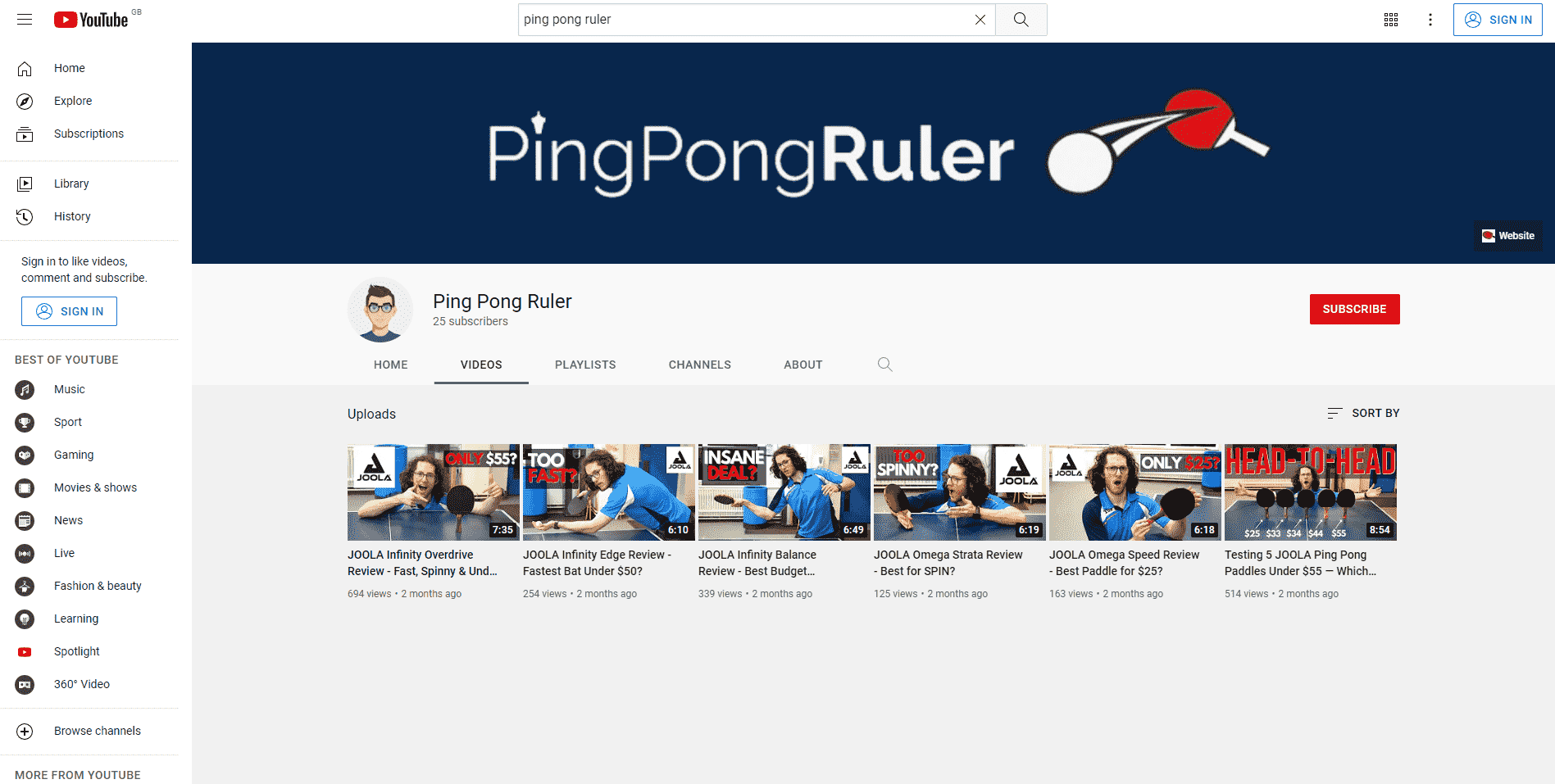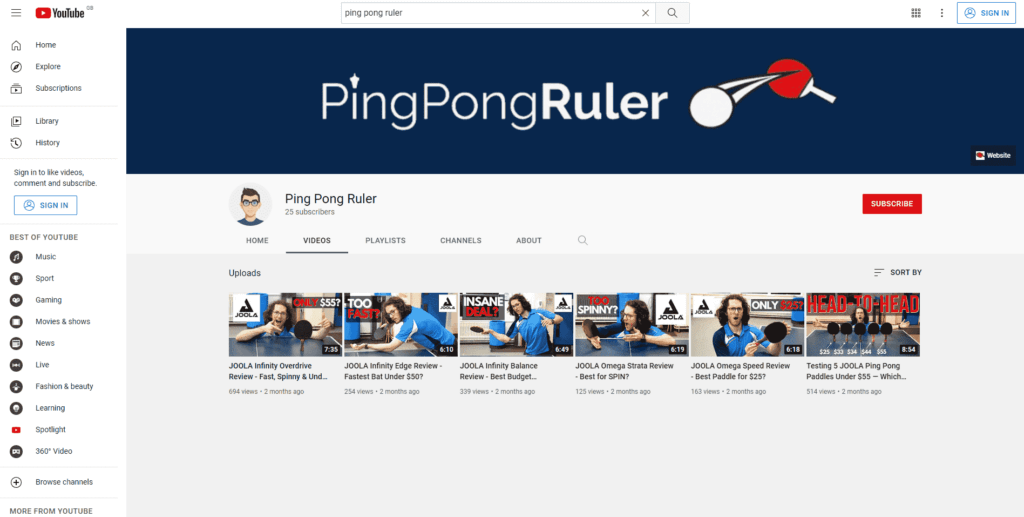 Type of Content
And finally, the last YouTube channel is… well… us! Yes, that's right. We here at Ping Pong Ruler just recently launched a brand new YouTube channel. As it stands we've got 5 videos breaking down a selection of pre-assembled JOOLA paddles such as the Infinity Overdrive. But this is just the beginning.
We hope to release many more videos in the future, reviewing new equipment, providing technique breakdowns, and in time, we hope to become the best table tennis YouTube channel. We strongly encourage you to subscribe so that you don't miss out!
Featured Video
Conclusion
YouTube ping pong channels are a great way to dip your toe into the sport without spending any money. You should certainly explore the channels on this list before taking the plunge into private coaching lessons. They provide so much free content and the quality really is fantastic.
Do you have any other ping pong YouTube channels that you think we should check out and add to this list? Post a comment below and we'll take a look.
Recommended read: Myth of the Bruce Lee ping pong video on YouTube

Eugene (Gene) Sandoval has been one of those guys who spent too many hours around ping pong tables in high school. However, soon enough, Gene understood that there is more to ping pong than having fun. That is how he started a journey that made Eugene one of the experienced semi-professional ping pong players in the United States. As the founder of the PingPongRuler, Eugene spends most of his time surrounded by ping pong tables and research. He always has this knack for coming up with new ping pong strategies and telling the good and bad equipment apart.