Best Pickleball Paddle for Spin: 5 Top Picks in 2023
The best pickleball paddles for spin should be just as much in your consideration as a fast or controllable paddle.
Without the right paddle, you have little control over the trajectory of the ball in the air, and you are forced to play in a very one-dimensional way which makes you easy to read. You know what that means? A whole lot of losses, that's what!
So take advantage of the spin that is on offer for the top pickleball paddles, and witness your game evolve!
As it stands, the best pickleball paddles for spin in 2023 include:
Selkirk Vanguard Power Air pickleball paddle

 — Best overall

Selkirk SLK Omega Max pickleball paddle

 — Best for most people

Head Radical Pro pickleball paddle

 — Budget pick
But are these paddles good enough to pick up on their spin qualities alone? Read on to find out!
Why Trust Ping Pong Ruler?
At Ping Pong Ruler, we've produced sports guides for over a decade. We started off much like many of you. Keen sports players who were looking for advice on how to improve and guides on the best equipment.
So, we set out to create the best source of reliable sporting information. With our team of experts, we carefully craft each guide in an entirely impartial fashion. We are not paid to advertise any of the products we recommend. They are simply our unbiased opinions.
Pickleball Paddle Spin Rates
Our pickleball paddle spin test obtained the following RPM values for each of the paddles we reviewed.
| | |
| --- | --- |
| Paddle | Spin RPM |
| | ~1850 |
| | ~1700 |
| | ~1600 |
| | ~1500 |
| | ~950 |
Best Pickleball Paddles for Spin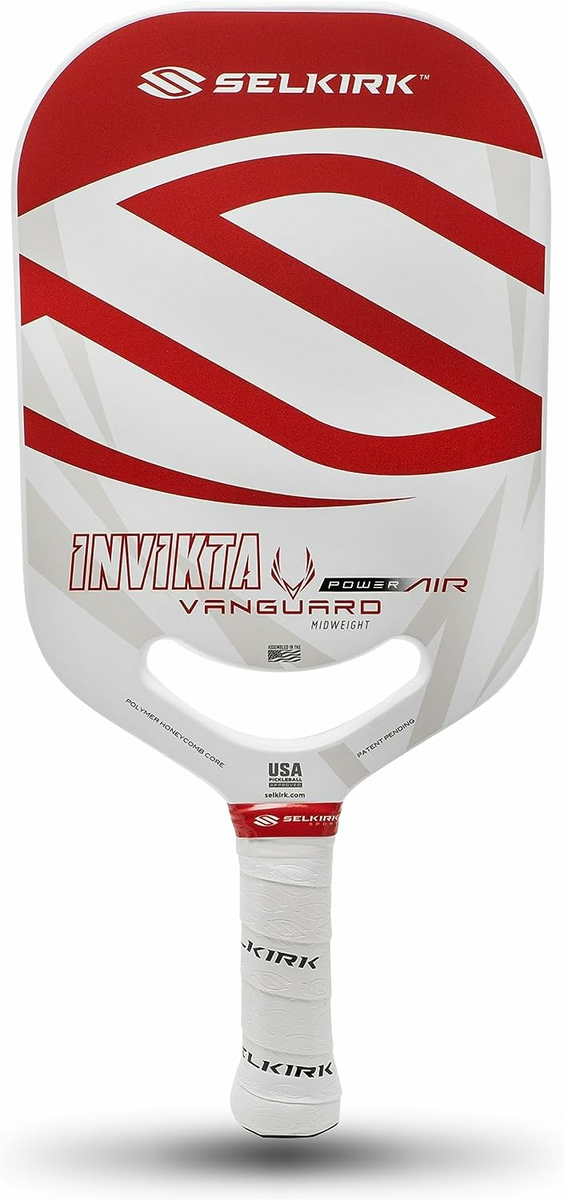 Specifications
Face material:

Carbon fiber with ProSpin+ NextGen Texture

Core material:

Polymer honeycomb

Shape:

Elongated and standard

Grip dimensions:

4 ⅛"

Weight:

 7.7-8.1 oz

Warranty:

 Lifetime warranty
Rating: 9.6
Taking our top spot for the best spin pickleball paddle is the Selkirk Vanguard Power Air. It's an elongated paddle aimed at serious players that is packed full of innovative tech.
This is immediately apparent from the Throat technology. The open area increases flex upon contact with the ball which helps lead to enhanced spin and power. But enough about that, let's take a closer look at the spin, as that is what you are all here for.
Our testing shows that it produces a staggering 1800 RPM which is unmatched. This is a result of the ProSpin+ NextGen Texture which is very rough and long-lasting. The face is actually composed of four layers, two of FiberFlex, and two of Quantum+ carbon. This increases stiffness, once again leading to more power.
There's also no denying this racket is simply gorgeous to look at. It's easily one of my favorite designs, and the dynamic throat helps to drill home that this is a very high-end product. Of course, the drawback with this is that it is very pricey. If you want the best spin on the market, it comes at a hefty cost, and so it should.
It represents the highest level of pickleball racket engineering and also comes with a lifetime warranty. There's simply no beating that.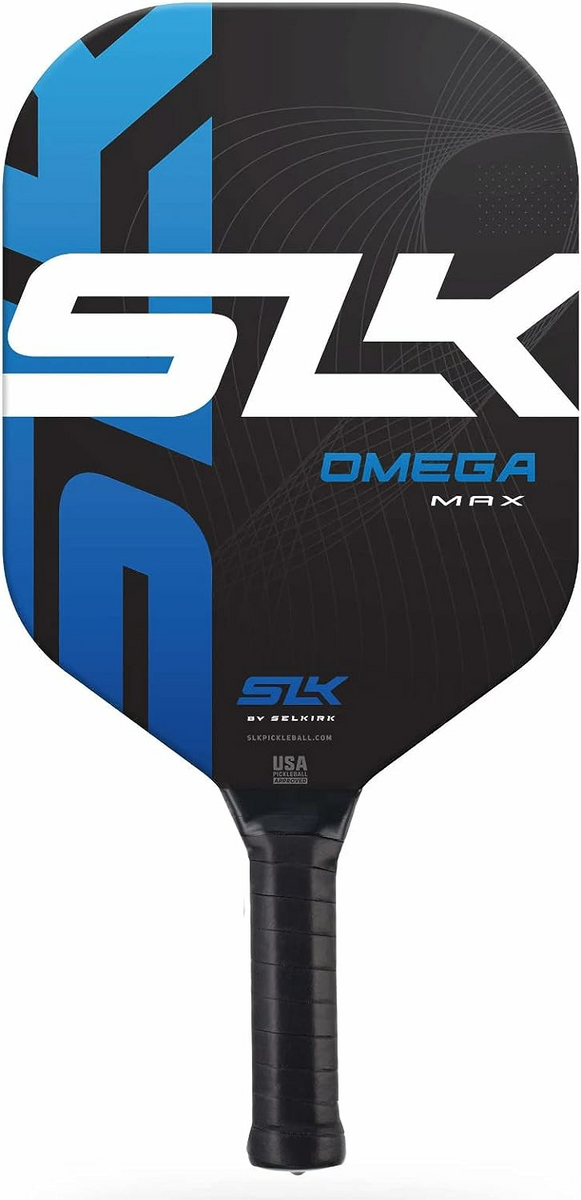 Specifications
Face material:

Carbon and fiberglass

Core material:

Polymer honeycomb

Shape:

Standard

Grip dimensions:

4 ¼"

Weight:

 7.7-8 oz

Warranty:

 Lifetime warranty
Rating: 9.9
In at my second spot for the pickleball paddles with the most spin, I have the Selkirk SLK Omega Max. It only falls short of the Vanguard Power Air by a few hundred RPM, yet it holds its own in terms of performance.
This exceptional paddle, as I'm sure you'll agree, is also a stunner visually. The smart graphics and edgeless frame really separate it from most paddles on the market in my opinion. It sports a dual core which combines a Rev-Core and polymer core that is 0.5" thick.
Moving onto the face, it's once again composite, using GC9-Flex Dual Carbon with fiberglass for the ultimate combination. The only issue I can see with this racket is durability. A by-product of the sleek edgeless design is that the edges are left unprotected, so durability may well become an issue in the future. I recommend picking up some edge tape if you're worried about damaging the paddle.
All in all, I think the Selkirk SLK Omega Max is the top pick for most players looking for a high-spin racket. While it doesn't quite match the Vanguard Power Air in terms of spin levels, it's very close and less than half of the cost. When it comes to spin and value, it's in a league of its own.
Specifications
Face material:

Carbon fiber

Core material:

Polymer honeycomb

Shape:

Elongated and standard

Grip dimensions:

4 ¼"

Weight:

 8.4 oz

Warranty:

 6 months
Rating: 9.4
Another one of the best pickleball paddles for power and spin is the JOOLA Ben Johns Hyperion CFS. As the name implies, this racket is used by world number 1 Ben Johns himself. This should speak volumes of its quality.
Like most paddles today, the Hyperion CFS uses a polymer honeycomb core, but what makes this racket special is the Carbon Friction Surface.
It uses JOOLA's specialized Cabon-Flex5 face, designed for maximum power and spin. There's no denying that both its pace and spin are very impressive, but it was noticeable to me that the spin was a little lower than the Vanguard Power Air and Selkirk SLK Omega Max.
On the flip side, neither of those two models has an edge wall for protection, so while the Hyperion CFS isn't as sleek, it is better protected. The wall even has foam injected into it to add perimeter weighting for superior balance.
The biggest drawback to this racket is the warranty period. At 6 months, you get good coverage, but this doesn't hold a candle to Selkirk or Vanguard, who offer a lifetime warranty.
That being said, a lifetime warranty is a touch overkill, given that paddles usually only last up to 3 years, so I still consider the Hyperion CFS to be one of the best pickleball rackets for spin.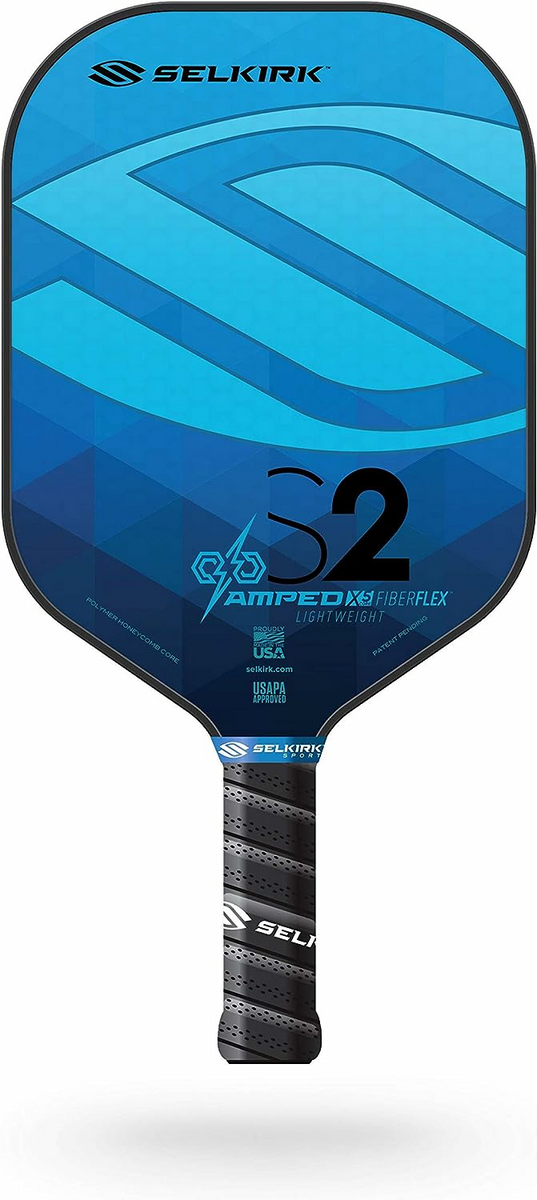 Specifications
Face material:

Fiberglass

Core material:

X5

 

Polymer honeycomb

Shape:

Standard and elongated

Grip dimensions:

4 ½ – 5 ¼"

Weight:

 8.4 oz

Warranty:

 Lifetime warranty
Rating: 9.3
The Selkirk Amped paddle is marketed as the best pickleball paddle for spin and control as well as pace, and while it's not the best in any one category, it is indeed an excellent performer across the board.
Its extraordinary pace is in large part due to the X5 honeycomb core. While this is rather similar to the honeycomb core in other paddles, it's much thicker. It also acts as a source of vibration dampening, giving it a much better feel than most of the competition.
Shifting our attention to the face, it uses fiberglass like the SLK Omega Max. The technology is known as FiberFlex and it is very impressive. I was able to slice the ball effortlessly.
I also like that it comes in a variety of shapes and colors so you can pick the right one for your preferences. The S2 and Epic adhere to the standard paddle shape, with the latter having a larger sweet spot.
The Invikta, on the other hand, is elongated to assist with reach. As for colors, all models are available in Sapphire Blue, Selkirk Red, and Amethyst Purple.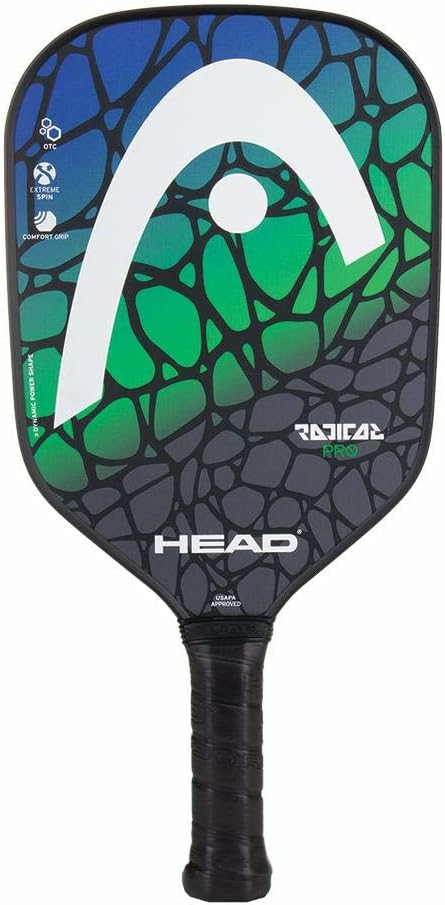 Specifications
Face material:

Fiberglass

Core material:

OTC

 

Polymer honeycomb

Shape:

Elongated

Grip dimensions:

4 ¼"

Weight:

 8.1 oz

Warranty:

 1 year
Rating: 9.3
In my experience, the Radical Pro falls well behind the rest of the pack regarding spin production, but this is not to say it is not a great paddle. This model has been popular for some years now, in part because it produces among the highest spin in the under $100 price bracket.
Once again, this is another paddle with a fiberglass face. It uses Head's Extreme Spin Surface technology. The core is also a polymer honeycomb like most others.
However, HEAD's Optimized Tubular Core is thicker than standard, much like the X5 honeycomb core, which is present in the Selkirk Amped paddles. As such, I found the Radical Pro to feel both pacey and solid in the hands.
The Radical Pro is an excellent purchase if you are on a budget and looking for a high-spin paddle. While it doesn't compete with the top models such as the Vanguard Power Air and SLK Omega Max, it really doesn't need to. If you're playing at a club level or below, it's perfect for the job.
High-Spin Pickleball Paddle Buyer's Guide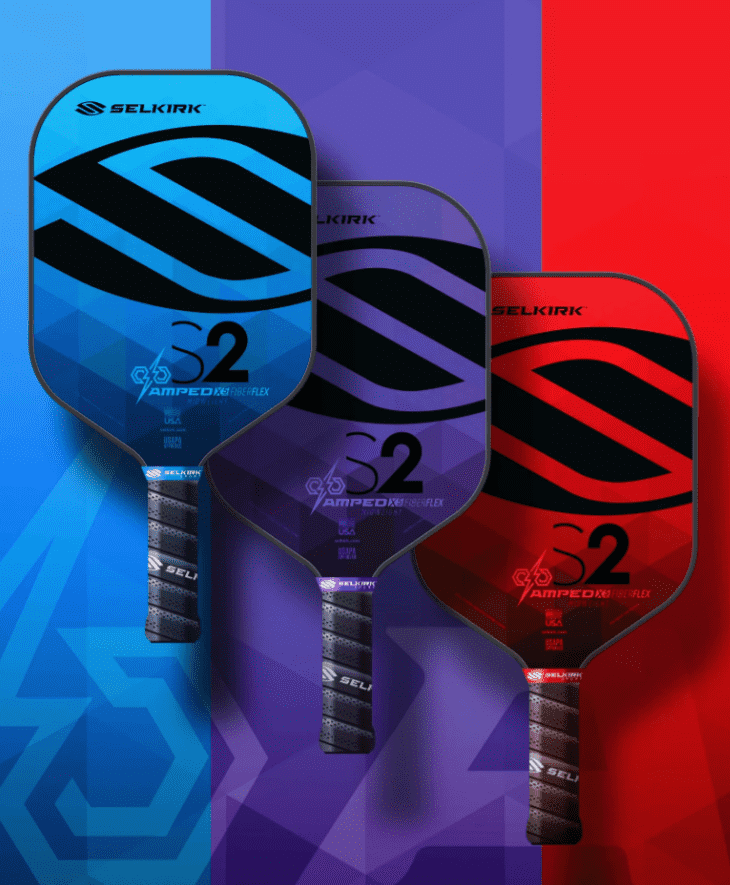 Why You Should Care About Spin
Spin introduces more versatility in your game and makes you a much harder player to face. You can hit the ball to the same area in several different ways, not only with your type of shot such as a groundstroke or volley, but also with the spin you produce.
By employing topspin, sidespin, backspin, or a combination of the two, you affect the way the ball travels and bounces. This forces your opponent to have to read and adapt to the incoming ball.
Topspin, in particular, is the most important. The more you can produce, the harder you can hit the ball as topspin causes the ball to travel downward.
In fact, spin is such a big deal that USA Pickleball has limits when it comes to surface grit. So if you're not thinking about topspin when purchasing pickleball paddles, you certainly should be.
Face Material
Face material is the biggest contributor when it comes to spin, so getting educated is a good idea.
As a general rule, the highest-spin pickleball rackets are made from carbon fiber. This is the newest material to the pickleball world and is starting to take over. These rackets often feature textured coatings to enhance spin.
Another good face material for spin is fiberglass. These are often marketed as composite so they can sometimes be difficult to identify.
Some of the worst paddles for spin are those made from wood or models that utilize paint grit. The latter has plenty of spin to begin with, but after just a few days of use the paint grit wears away.
Best Pickleball Paddles for Spin Frequently Asked Questions
How Do I Get More Spin on My Pickleball Paddle?
To create more spin, you close your racket angle and contact the ball less directly. Brush over the back of the ball and use more of a low-to-high racket motion.
Can I Add Grit to a Pickleball Paddle?
While you can make your paddle face more textured by roughing it up with sandpaper we do not recommend that you do so. Under the current ruleset, this is illegal and could land you in trouble if you get caught.
Closing Thoughts
Spin is a big deal in pickleball, and to leverage it to its fullest, you should consider picking up a high-spin pickleball paddle.
Of all the models we looked at, the Selkirk Vanguard Power Air Pickleball Paddle came out  as the highest-spin pickleball racket. Yet its hefty price tag makes it a tough sell for most pickleball players.
That's why instead, we recommend the Selkirk SLK Omega Max Pickleball Paddle as the best pickleball paddle for spin. It's less than half the cost and almost matches the Power Air in spin production. It's also incredibly quick and has one of the most attractive designs I've seen, so it's an excellent purchase across the board.
Similar Reads

Freelance writer. Table tennis enthusiast. Lover of all things online. When I'm not working on my loop game I'm probably binge-watching some fantasy show.