Why Is Pickleball So Popular? + 2023 Pickleball Popularity Statistics
Pickleball has steadily increased in popularity, but 2022 has marked a significant surge in players, with the player base jumping from 4.8 million to 8.9 million. Such growth was expected, but not so soon.
So why is pickleball so popular? Pickleball is simple to learn, easy on the body (popular with older people), and surprisingly exciting. However, much of the recent growth is likely the result of change: many tennis pros are transitioning over, and there is more promotion.
Join us as we explore the full list of reasons why pickleball has boomed recently. You will also discover some interesting pickleball statistics, such as pickleball demographics, court locations, and market size.
Why Is Pickleball So Popular? 11 Reasons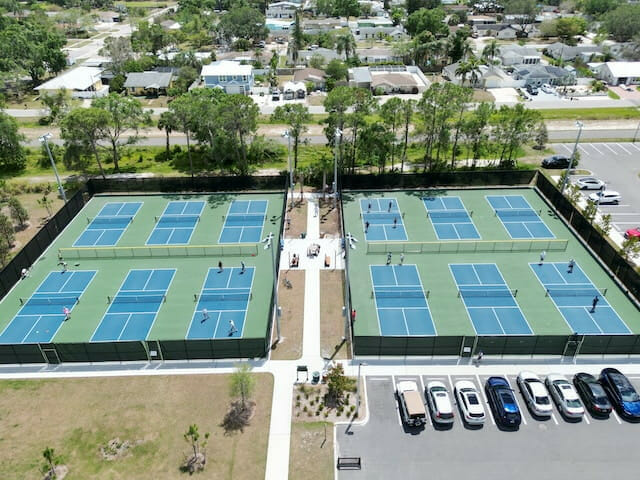 1. The Rules Are Simple
Pickleball is a simple game, so it's easy for newcomers to pick up quickly. The only unique rules are the double bounce rule, change of service, and the prohibition of volleying in the kitchen.
All three of these are relatively easy to learn, and most players will have them down in their first session.
2. Resembles Other Popular Racket Sports
Pickleball is often defined as a mix of tennis, table tennis, and badminton, and it's easy to see why. With tennis-like gameplay, badminton-sized courts, and table tennis-like paddles, pickleball very much feels like a hybrid sport.
As such, it should come as no surprise that keen players from these sports are intrigued by pickleball, and many want to try it.
3. Equipment is Reasonably Priced
Pickleball has a low cost of entry compared to many sports, which encourages more people to get involved. The only items you have to purchase are a paddle and balls. You can even buy a two-paddle bundle complete with balls to save money so that both you and your partner are equipped to play. Such a bundle costs around $40, and you can go cheaper if you want to.
4. Becoming Popular With Professional Tennis Players
There's no denying that tennis is a massive sport. In 2021, 87 million people played the sport, and this figure has only grown since, so there's no denying the popularity of tennis.
As pickleball has grown, this has caught the eyes of many professional tennis players. With similar mechanics, it's a game almost all tennis players will be good at and something fun to try. It also gives players struggling to reach the top level another competitive avenue to pursue.
Naturally, with the influx of popular tennis players transitioning over or simply raising awareness, the result is that many people in the tennis sphere are becoming aware of or even playing pickleball themselves.
5. Less Taxing on the Body Than Tennis
An unfortunate reality of tennis is that all cannot enjoy it. It's a taxing game; if you're unfit, prone to injury, or a pensioner, it may not be the wisest sport to participate in.
Pickleball provides a similar alternative which is far less demanding. With smaller courts and a non-volley area that prohibits volleying, you both have less distance to cover and slower gameplay. This makes it much easier to play for all.
6. You Can Play It Indoors or Outdoors
While pickleball is predominantly an outdoor game, you can play it either indoors or outdoors. This gives you more places to play and means you can take advantage of the sunshine or cover depending on the weather.
7. Games Are Action-Packed
While pickleball isn't as hard on the body as tennis, there's certainly no shortage of action. And who doesn't like a little bit of excitement?
8. Courts Don't Take Up Too Much Space
A barrier all sports face is finding the room to house the playing area. With pickleball, space requirements are smaller than most. A pickleball court measures 20 ft x 44 ft, the same size as a badminton court.
9. Many Locations to Play
As pickleball has grown in popularity, so has the number of courts, and more people are taking advantage of them. What's more, tennis courts can easily be adapted for pickleball with additional markings, and plenty of those are going around.
10. You Can Make Your Own Court
While temporarily converting a tennis court into a pickleball court is a solid choice, there are other options you can explore. All you need for a pickleball court is solid ground such as concrete or asphalt, enough space for the court, a pickleball net, and something to mark out the court.
We outline the best way to set up your own court here.
11. Growing Promotion
An increasing number of pickleball brands are entering the pickleball space and more tournaments are being held than ever before. All of this leads to a hell of a lot of promotion. With more eyes on the sport, it's growing rapidly. We explore this growth in the next section.
Pickleball Growth Statistics 2023

Searches for "pickleball" — Google Trends
It's not breaking news that pickleball has been on the rise, but the extent to which it has grown recently, certainly is.
The release of the 2023 Sports & Fitness Industry Association's (SFIA) Topline Participation Report has shone a bright light on the sport of pickleball, leaving players the world over proud and beaming.
Most notably, the sport has become the quickest-growing in America for the third consecutive year (2020-2022). During this period, it has grown a staggering 158.6%, with 2022 growing the player base from 4.8 million players to 8.9 million players. This my friends, soared over previous expectations.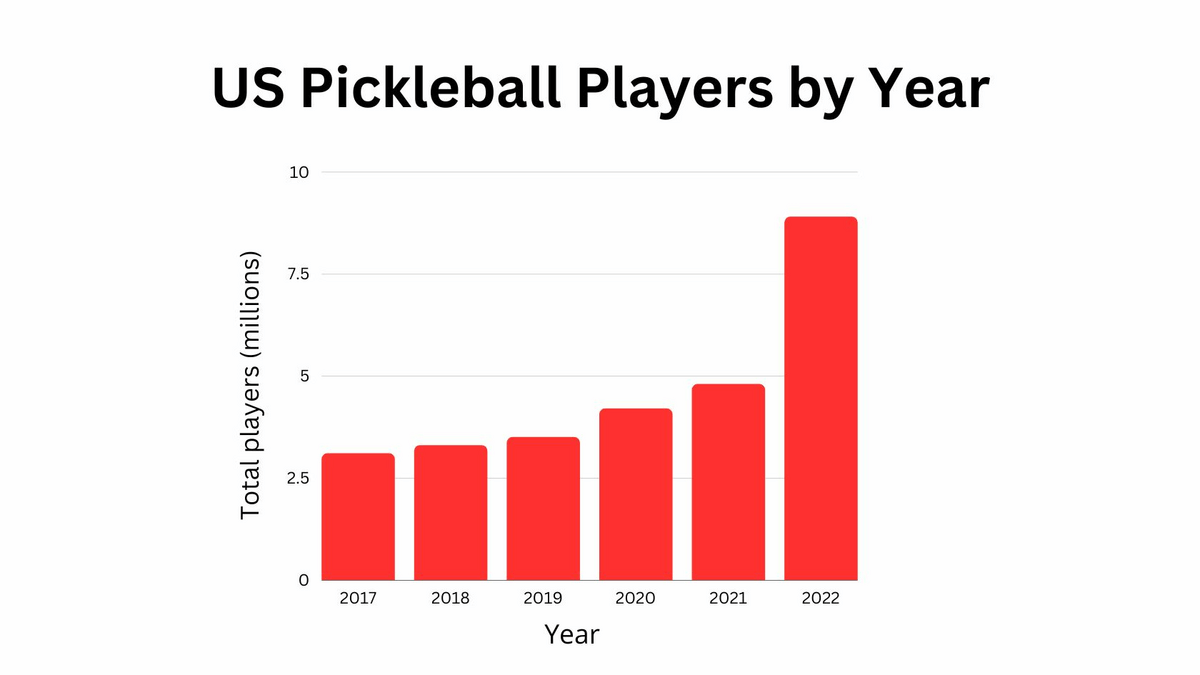 Further research also backs up the growing popularity of pickleball. As per the Association of Pickleball Professionals (APP), 14% of Americans 18 or older played at least one game of pickleball from August 2021 to August 2022.
This may seem like a low percentage, but when you consider this encompasses the whole population, many of whom don't even play sports, it's a very impressive feat. In total, we are talking about 36.5 million players here. It's incredible stuff.
This same study estimated that of those who played, 8.5 million people played eight times or more. This shows that people aren't simply picking up a racket once and calling it a day, many of these newcomers are trying the sport for the first time and coming back for more.
In fact, APP decided to explore this further by asking players what their pickleball plans were going forward. The numbers here, are once again very promising, 45% of players are planning on hitting the courts more often than previously.
30% Growth in Pickleball Memberships
Another great metric to demonstrate the growth of pickleball is USA pickleball memberships. As the governing body of pickleball in the US, increased sign-ups here show the growth of more serious players, not just casual enjoyers.
In 2021, memberships totaled 53,110, but by the very next year, the number of memberships had swelled to 68,987. That's almost a 30% growth in just a year.
Pickleball Player Demographics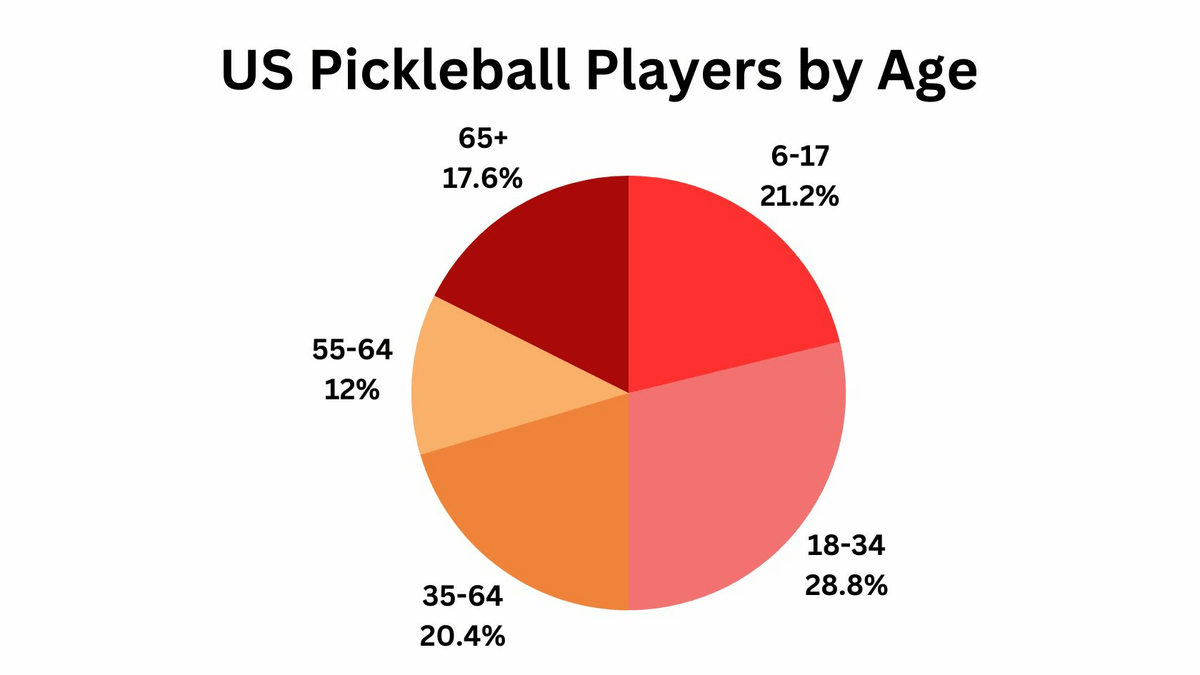 The latest figures for pickleball player demographics show that the 18-34 age category makes up the largest chunk of players at 28.8% of the player base. Previously, this category was the second largest, with the 55+ age category instead accounting for the largest group with 19.8%.
More broadly speaking, the average age of players is down 2 years from 2020, sitting at 38.1 in 2021. All of these metrics point towards growing popularity among younger players. Perhaps with an increasing number of tennis players converting over, more and more young tennis fans are becoming aware of the sport.
While it's true the average age is becoming younger. It is also true that the age of the core player base remains much older. The average age of core players is 47.5, with a total of 32.7% of core players being composed of members 65+.
In regards to gender, 60.5% of players are male, and 39.5% are female. This is somewhat surprising given that 53% of tennis players are male and 47% are female. Pickleball is less physically demanding than tennis, so one might expect to see the opposite trend.
Growing Number of Pickleball Courts
With an ever-growing number of eager players, naturally, this is putting a strain on resources, as such, pickleball facilities have experienced major growth to keep up with demand.
According to USA Pickleball, pickleball amenities registered with them have risen from 9,167 to 10,724 from 2021 to 2022. That's a rate of 130 new venues every single month!
During the same period, full-facility courts have grown from 38,140 to 44,094.
Pickleball Courts by Region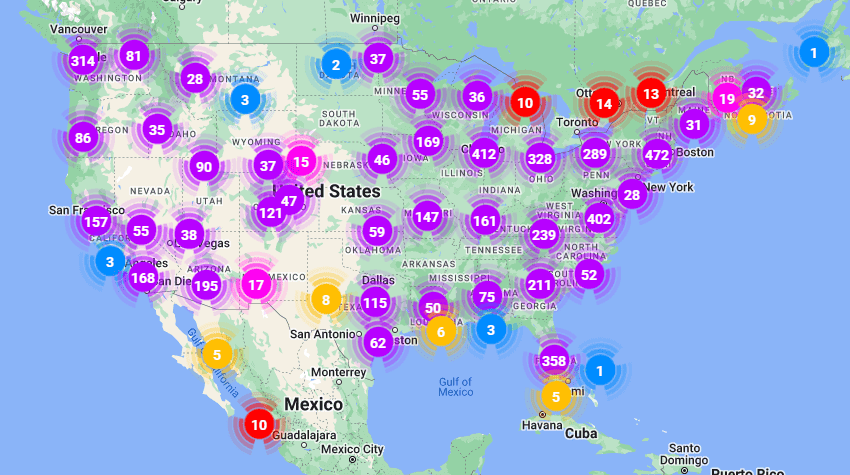 Screenshot of pickleball locations — Places2play
| | | | | |
| --- | --- | --- | --- | --- |
| State | Places | Indoor | Outdoor | Total Courts |
| California | 741 | 709 | 2880 | 3589 |
| Florida | 622 | 646 | 2208 | 2854 |
| Texas | 522 | 949 | 1132 | 2081 |
| North California | 432 | 731 | 804 | 1535 |
| New York | 404 | 698 | 758 | 1456 |
| Ohio | 397 | 748 | 869 | 1617 |
| Illinois | 389 | 834 | 844 | 1678 |
| Michigan | 385 | 759 | 866 | 1625 |
| Pennsylvania | 358 | 565 | 704 | 1269 |
| Virginia | 339 | 567 | 647 | 1214 |
Pickleball Popularity by Region
A total of 69% of the player base is a part of one of the four major regions. These include the South Atlantic, East-North Central, Pacific, and Mid-Atlantic.
Yet the fastest-growing region is not one of the densest for pickleball players. The West North Central has seen a rise of 73,000 players from 2020 to 2021. That's a 30% increase for the region.
One area that is not pulling its weight is the East-South Central region. Just 151,000 residents play the game, accounting for less than 1% of the population. That's a far cry from the likes of the East-North Central region which has 801,000 players.
Pickleball Market Size
With the number of pickleball players growing rapidly so is the market size. In 2022, it totaled 1.32 billion. It is projected to grow with a compound annual growth rate of 10.19%, reaching 2.36 billion by 2028.
Of course, this is merely a forecast and could be well off.
Closing Thoughts
Pickleball has taken the crown for the fastest-growing sport for the third consecutive year, and 2022 was particularly successful for the sport, with the player base almost doubling.
But why is pickleball so popular in 2023? The reason for recent adoption is the result of many factors. Some of which have always been true. These relate to the advantage of the game other others. Pickleball has a low barrier of entry as it is cheap to play, easy to learn, and can be enjoyed by all as it's not too demanding on the body.
However, we believe much of the recent growth results from fresh activity. More tennis players are converting to pickleball than ever before, shining a light on the sport. Even those who aren't permanently changing over are competing in the likes of exhibitions and charity matches.
This all leads to increased publicity. And with this, more brands enter the scene and a growing number of tournaments are held. If the situation evolves similarly to the last few years, we can see this growth continuing way into the future.
Frequently Asked Questions
Where Is Pickleball Most Popular in the World?
The South Atlantic has the most pickleball players of anywhere in the world, with 1,087,000 players as of 2022. More specifically, though, Florida is the most popular state. Some people call Naples the "Pickleball capital of the world."
Is Pickleball Really the Fastest Growing Sport?
Pickleball is the fastest-growing sport in the US. It has grown 158.6% from 2020 to 2022. In particular, 2022 was a big year for growth, the player base rose from 4.8 million to 8.9 million.
When Did Pickleball Become Popular?
Pickleball was first framed as the fastest-growing sport in the US back in 2010. However, the popularity was still fairly focused in a few areas. The true explosion of the sport began in 2019 — the COVID-19 pandemic likely fueled this. With restrictions in place, outdoor sports became more common.
How Many People Play Pickleball?
As of 2022, 8.9 million people play pickleball in the US alone. This marks a 158.6% rise from  2020.

Freelance writer. Table tennis enthusiast. Lover of all things online. When I'm not working on my loop game I'm probably binge-watching some fantasy show.