Vladimir Samsonov: Table Tennis Player Profile
Name: Vladimir Samsonov
Nationality: Belarus
Date of Birth: 04/17/1976
Grip: Shakehand
Hand: Right
Playing Style: All-round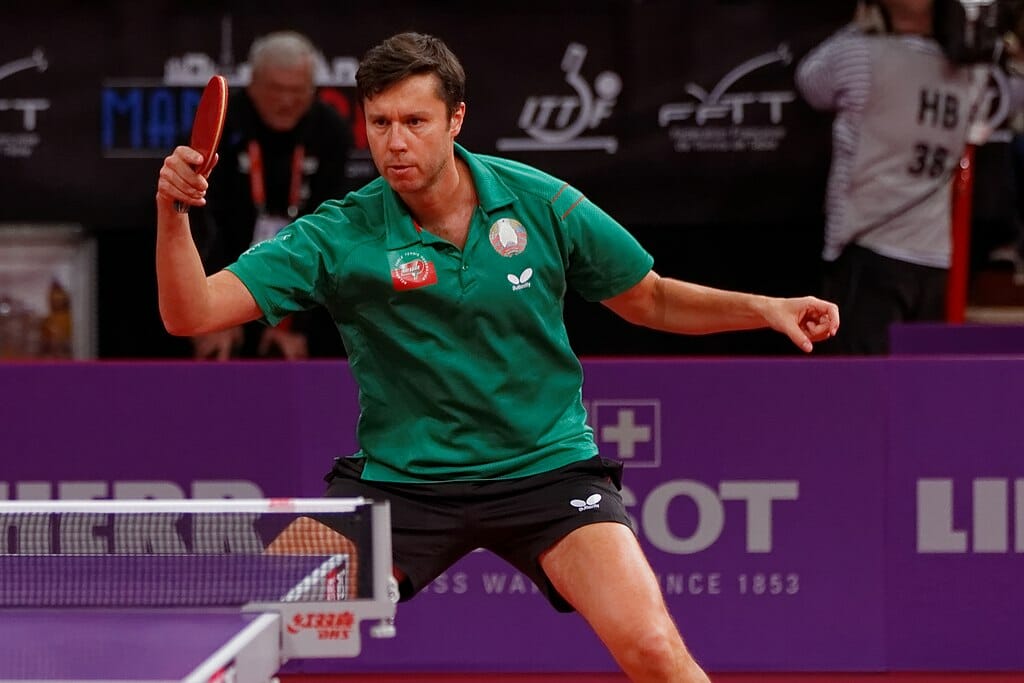 Vladimir Samsonov Biography
Vladimir Samsonov  first picked up a table tennis bat at the age of six. There were tables in the multi-story apartment building where he lived, so Vladimir saw lots of casual playing. Shortly after, he came across the club Spartak, which was next to his apartment building.
Seeing more serious table tennis players for the first time, young Vladimir had an immediate interest. After a coach saw Vladimir's talent, he told him that he had the potential to become a professional player.
With this encouragement, Vladimir attempted to join another club called Dynamo. He was unfortunately rejected by the coach, Alexander Petkevits, as he was still only six years old at the time. Instead, they invited him to come back a year later and that's exactly what he did. Petkevits went on to be Vladimir's long-term coach.
In 1987, Samsonov competed at an international level, at the European Youth Championships. He won a gold medal on behalf of the Soviet Union. But, in an interview with Samsonov, he admits he was the only backup player, meaning he didn't play a single match. Regardless, he would go on to claim 13 medals at the European Youth Championships overall in his career.
When Samsonov reached the senior level, he immediately began winning medals which helped him rise through the ranks. He won his first bronze medal in 1994 for the doubles event at the European Championships in Birmingham. A year later, he won silver in doubles at the World Championships. This was one of his all-time career highs.
Samsonov himself believes 1997 was one of his best years. He claimed his second silver medal at the World Championships – this time in the singles. He beat four Chinese players in a row to reach the final, where he lost to Jan-Ove Waldner, a Swede and one of the greatest players of all time.
That same year, he won the ITTF Pro Tour Grand Finals — a year later, he became the world champion.
Moving Clubs
Samsonov was only 16 years old around the time the Soviet Union collapsed. He was lucky to be training in Germany at the time. After training at the German national training base, he received and gladly accepted an offer to join Borussia Düsseldorf in 1994. It was the strongest, toughest club in the country, and often required multiple training sessions per day.
In 2001, he moved to Royal Charleroi, a Belgian club. Then in 2008, he switched to Cajagranada in Spain, before finally settling on Fakel Orenburg in Russia. Samsonov has certainly been around the block!
He had a great deal of success at all of the clubs he represented and was fully committed to his new way of life in each one. This commitment included learning new languages. Samsonov can speak five languages — German, Serbian, English, French, and Russian.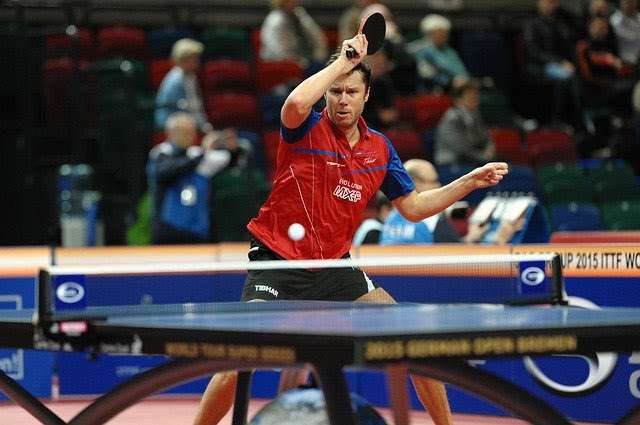 Unsatisfied by His Career
Vladimir always had big goals and was always tough on himself. Despite all he has achieved, he's still unsatisfied with the results. His dissatisfaction largely stemmed from his failure to become World Champion or win an Olympic medal. What made this even tougher to swallow was how astonishingly close he came to both!
Vladimir has won three medals at the World Championships: one bronze and two silvers. And in the Olympics, Samsonov, Vladimir's rankings were 5th, 5th, and 4th. Six opportunities in total, Samsonov was so close to achieving his dream.  
His most recent opportunity came at the Rio 2016 Olympics, where he placed 4th. His desire to win was so immense that he actually competed against German player Dimitrij Ovtcharov with a broken rib in the quarter-finals. Even if he were fully healthy, his chances wouldn't be good against this formidable opponent—but somehow, Samsonov managed to beat Ovtcharov. He would, however, fall in a tight match to China's Zhang Jike 3-2 and 11-9 in the fifth game. It couldn't have been any closer.
Tragically, the 2016 Olympics would be his last. Vladimir was forced to retire a little earlier than he had hoped, due to a shoulder injury. He had been training hard to compete in his seventh and final Olympics. At the age of 45, he knew it was his last chance to win an Olympic medal, but his long-term shoulder injury proved too problematic.
Vladimir Samsonov Net Worth
Samsonov's exact net worth is unknown. However, one source estimates it to be between $1 million to $5 million.
Vladimir Samsonov Playing Style
Vladimir Samsonov's playing style has always been diverse. With a fluid playing style, he received the nickname "Tai Chi Master" from the Chinese. His fluidity resembles tai chi, and he's an expert of both offense and defense.
His dynamic playing style is incredibly refreshing, as we see more and more players morph into the all-out-attack style. When I think of a player in my era who loves to block, Samsonov is the first one that comes to mind.
While he is clearly an expert blocker, it was his similarly matched attacking game that made him such a threat. He was able to adapt on the fly to any given situation, to punish the slightest mistakes of his opponents.  
His preferred shots were the block, loop, and counter. But he was also a fairly effective lobber and used more unorthodox shots such as the chop block.
Take a look at some of his top rallies:
Vladimir Samsonov's Achievements
The Belarusian is well known for competing at the top level for many years. Vladimir Samsonov rose to rank #1 in 1998 and remained in the top 10 for a mind-blowing 15 years! That is a feat few players can claim.
He also competed in the European Champions League (ECL) for 15 years, which gave him one of his nicknames—Mr. ECL. He was wildly successful in the ECL, securing 12 wins in his 15 entries. He won five with Royal Charleroi, four with Fakel Orenburg, and three with Borussia Düsseldorf.
Another prestigious element of his career is his exemplary ITTF Pro Tour record. He formerly held the most wins at 27 before Ma Long surpassed him by only one more win. Samsonov was also the first player ever to win a Pro Tour event on every continent.
An Olympic medal and a World Championship win may have eluded him, but Samsonov had one of the most successful careers in table tennis history.
Below are all of his medals at major events:
World Cup – Singles – 3X Gold, 1X Silver, 3X Bronze – 1996, 1997, 1999, 2001, 2009, 2012, 2013
World Championships – Singles – 1X Silver – 1997
World Championships – Doubles – 1X Silver, 1X Bronze – 1995, 1999
European Championships – Team – 1X Gold, 2X Silver, 2X Bronze – 2003, 2008, 2010, 2013, 2015
European Championships – Singles – 3X Gold, 3X Silver – 1998, 2003, 2005, 2007, 2008, 2013
European Championships – Doubles – 1X Gold, 1X Silver, 2X Bronze – 1994, 1998, 2005, 2012
European Championships – Mixed Doubles – 1X Gold – 1996
European Games – Singles – 1X Silver – 2015
Vladimir Samsonov Equipment
Vladimir Samsonov was a Tibhar sponsored athlete. He had many blades named after him, such as the Samsonov Force Pro Black Edition and the Samsonov Alpha SGS. But his blade of choice is the VS Unlimited.
For his rubbers, he uses Evolution MX-P. He likes the way the pair complement each other. At face value, it's surprising that he went for such a fast setup — not what you would expect a heavy blocker to use. The Tibhar Evolution MX rubber is extremely popular – you can read more about in our Tibhar Evolution MX rubber review.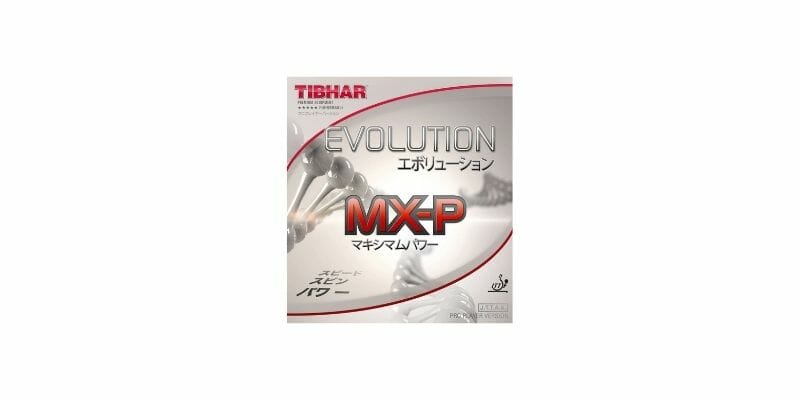 Vladimir Samsonov's Future
Now at the age of 45, Samsonov's time competing has just come to an end. But he is still very much driven to participate in the sport. Even while competing, Samsonov had involvement in table tennis governance. In 2014, faith in Samsonov was so great that was re-elected as chairman of the International Table Tennis Federation Athletes Commission.
This marked the beginning of a four-year extension to his contract. More recently, he was elected as the European Table Tennis Union (ETTU) Vice President. He comfortably won the poll, securing 80% of the votes. This new position will offer him similar duties to his previous post, representing the players and furthering the sport of table tennis.          

Freelance writer. Table tennis enthusiast. Lover of all things online. When I'm not working on my loop game I'm probably binge-watching some fantasy show.