Ma Long: Table Tennis Player Profile
Name: Ma Long
Nationality: China
Date of Birth: 10/20/1988
Grip: Shakehand
Hand: Right
Playing Style: Attack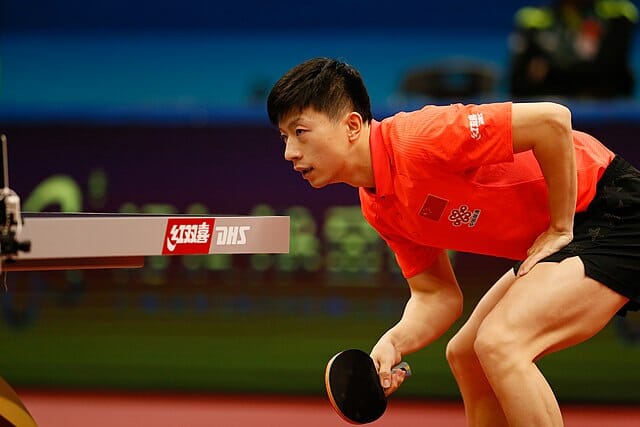 Ma Long Biography
Playing table tennis from the age of 5, Ma Long did not always love table tennis. Like many professionals, he was pushed into the sport by his parents. They wanted him to play to improve his strength and fitness.
By around 8 or 9 years of age, Ma had developed a deep passion for the game. Playing in his hometown of Anshan, he knew that he wanted to become champion before he left.
He achieved this in 1995 when he won the singles championship in primary and secondary school tournaments.
Later in 1999, Ma joined the Liaoning Provincial Sports School where he could focus more on developing his game. Supposedly, at the time, his forehand was the weaker of his flanks. Surprising, given how strong his forehand was to become.
He stayed with the team for 2 years before moving on. Guan Anhua, a coach from the Beijing team, noticed young Ma Long's talents and decided he would be a good fit for the team. This marked his commencement at the Xiannongtan Sports School.
In 2002, Ma made the National Second Team. He beat over 20 players in a seeding session that took place in Rizhao, Shandong. Just a year later, he was on the first team.
Success From an Early Age
Signs of Ma Long's table tennis dominance began to emerge in his teens. From 2003-2004 he made a statement at the Asian Junior Championships and the World Junior Championships claiming 6 golds and 5 silver medals.
Shortly thereafter, he became the youngest World Champion at just 17 years old when he won gold in the 2006 World Team Championship in Bremen. In the same year, he would claim his first World Tour Grand Final gold in Hong Kong. This would be the first of many, as he would go on to win a total of 12 medals in the event to date, 7 of those being gold.
His first World Cup win came in Linz 2009 in the team event. Here he would defeat players such as Joo Saehyuk, Ry Seungmin, and Oh Sangeun in a relatively one-sided affair. He could not, however, perform at the level needed to win the singles at the 2009 Moscow World Cup. Faced against a wall of a player in Vladimir Samsonov in the semis, Ma struggled to outmuscle the veteran's consistency, losing a very close match 4-3.
Had Ma capitalized on his 10-5 lead in the 5th set, the outcome may have been different. On this occasion, he would have to settle for the bronze. Yet, he would get the better of Samsonov over his career, beating him 10 times whilst losing just 3 in total.
By 2010, Ma Long had become the top-ranked player internationally for the first time. He consolidated his lead by winning key tournaments such as the 2010 Moscow World Championship (team), the 2010 Dubai World Cup (team), and the 2010 Guangzhou Asian Games (singles & team). Despite his best efforts, he would only manage to hold onto the number 1 spot for a year.
Struggles Against Wang Hao
Even the best players in the world have their Achilles heel. And for Ma, it was Wang Hao — one of the greatest table tennis players who ever lived.
5 years his elder, Wang gave Ma a great deal of trouble early on in his career. In their first 20 meetings, Ma won just 5 matches. Wang had his number, and he knew it. A particular tough point for Ma was when he lost 3 consecutive semi-final matches to Wang in World Championship events from 2009 to 2013. 
In the 2009 meeting in Yokohoma, Ma somewhat expected to lose. He felt that there was a clear skill gap between the two. Two years later in 2011, Ma had improved immensely and he believed he had a good chance. But 2013 was the year Ma voiced that he had a distinct advantage. Their head-to-head record backs this up. Ma had won in their last 7 meetings. However, on the day, he didn't bring his A-game.  
And yet, despite Ma losing so many of his early career matches to Wang, he managed to cause a shift in their balance by the time Wang retired. In total, Ma won 29 matches and lost 26. A very close record with a slight edge to Ma — even if Wang triumphed in certain key competitions.
Ma Long's Dominant Years
From around 2012 onwards, Ma began his reign of dominance laying claim to multiple gold medals every year. However, he was unfortunately excluded from the 2012 Olympic selection for singles due to a few losses. This was despite a 560-day win streak in the ITTF World Tour in the build-up – a little harsh, to say the least. On the bright side, he was able to compete in the team event claiming the gold.
From 2013 to 2016 Ma would secure a further 3 gold medals at the World Championships, and another 3 golds at World Cups. 2016 would be a particularly significant year for Ma, as he would finally get selected to compete in the singles event at the 2016 Rio de Janeiro Olympics. Ma would emphatically defeat Zhang Jike in the final 4-0, showing that he was a step above everyone else.
This supreme run saw Ma once again assume the number 1 spot from March 2015 all the way up to December 2017. However, Ma Long's ranking then fell considerably, dropping outside the top 10 for the first time in a decade. But this wasn't down to poor performance, but rather a re-working of the ITTF ranking system. This new system rewarded activity far more than the old system. And due to a series of injuries, Ma was competing in far fewer events than before.
His knee injury got so bad in fact, that he chose to go under the knife so that he could be fully fit to defend his Olympic title at the Tokyo Olympics. Before doing so, he shaved his head. In Chinese culture, this was a way of showing a new beginning. The surgery ultimately paid off, and Ma retained his Olympic singles title in Tokyo.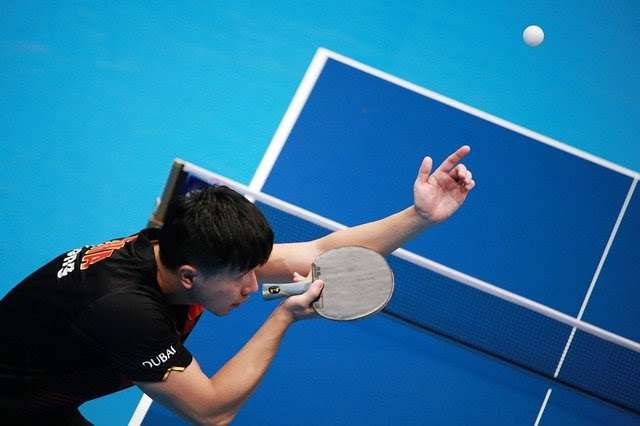 Why is Ma Long Called the Dictator?
Ma Long has a few nicknames such as "The Dragon" and "The Dictator". "The Dragon" is simply explained by his name. Long includes the character 龙  which means dragon.
"The Dictator" is a far more impressive nickname. It was given to him as a result of his style. As a ruthless attacker, he dictates the way matches play out and rules with an iron fist. Ma Long is a scary ping pong opponent to face!
Who is Better: Ma Long or Fan Zhendong?
The focal point of table tennis today seems to be the contention between Ma Long and Fan Zhendong. Both Chinese table tennis players stand above the rest of the world as the clear number 1 and 2. Even China's Xu Xin is almost 200 ranking points behind the pair.
Yet the answer to this question is rather simple: Ma Long.
Although the gap between the two does seem to be narrowing. To date, the pair have met on 34 occasions with Ma leading 22 wins to Fan's 12. When we take a closer look at 2019 and beyond, Fan leads 4 wins to 2. So this may be the point at which Fan begins to gain the edge over his fellow countryman. Only time will tell.
Yet when we look at what each of these players has achieved, Ma Long's achievements are far more impressive. In terms of gold medals, Ma holds 26 in the 3 biggest tournaments where Fan has just 12 – he has a lot of catching up to do.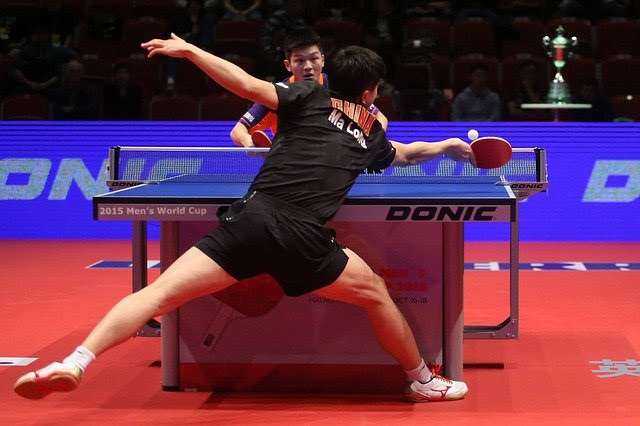 Ma Long Net Worth
Ma Long's net worth is estimated to be $20 million. This is considerably higher than most players as for one, he is the top-performing player in a country where table tennis is the national sport. And secondly, Ma Long has won countless tournaments, of which many have a sizeable reward for the winner.  
Ma Long's Style
Like many newer Chinese players, Ma Long uses a shakehand grip as opposed to penhold. The strongest part of his game is his powerful forehand. He tries to finish rallies with forehand loop kills wherever possible. His backhand, however, is also deadly. But due to his superior forehand, it makes sense for his opponents to pin him on his weaker flank.
Ma Long also uses the chop block occasionally. This pairs well with his powerful forehand. The forehand loop forces his opponents away from the table and then his awkward chop block draws them in.
Ma Long Achievements
The term "greatest of all time" (GOAT) is a title that gets thrown around way too easily. There are many players who have been dubbed the GOATs of table tennis. But in this instance, we wholeheartedly believe it is being used correctly. No one is more fitting of the title than Ma.
For starters, Ma holds numerous records. He has held the number 1 spot longer than any other player in history, at 64 months. This is despite the fact that many view the re-worked ranking system as flawed. He also became the youngest World Champion, aged just 17. This record has since been beaten by Harimoto at 14, but it is impressive nonetheless.
Ma Long has also won more gold medals than any table tennis player in Olympic history with 5 medals. The closest player is Wang Nan with 4 golds. His win in Rio 2016 also gave him the highly sought-after Grand Slam title. Joining a prestigious group of just 10 players who have won a singles gold at an Olympic Games, World Cup, and World Championship.
In his latest Olympic appearance in Tokyo, he broke yet another record, becoming the first man to defend an Olympic title. He achieved this by beating Fan Zhendong 4-2 in the final.
Here is a complete breakdown of all of Ma Long's gold medals thus far.
Olympic Games X5 – Singles, Team – 2012-2020
World Championships X12 – Singles, Doubles, Team – 2006-2019
World Cup X9 – Singles, Team – 2009-2019
Asian Games X5 – Team – 2006-2014
Asian Championships X13 – Singles, Doubles, Mixed Doubles, Team  – 2005-2017
Asian Cup X4 – Singles – 2008-2014
ITTF World Tour Grand Finals X7 – Singles, Doubles – 2006-2020
National Games of China X4 – Singles, Doubles, Mixed Doubles – 2013-2021
All China Championships X8 – Singles, Doubles, Mixed Doubles, Team – 2010-2020
World Junior Championships X3 – Singles, Team – 2003-2004
Asian Junior Championships X3 – Singles, Mixed Doubles, Team – 2004
Ma Long Equipment
Ma Long has changed his equipment quite a lot in the past. One can deduce that he likes to experiment.
His current setup uses the DHS Hurricane Long 5 blade with Hurricane 3 National Blue Sponge on his forehand and Hurricane 3 NEO on his backhand. The Hurricane 3 series is popular among the top players and with good reason.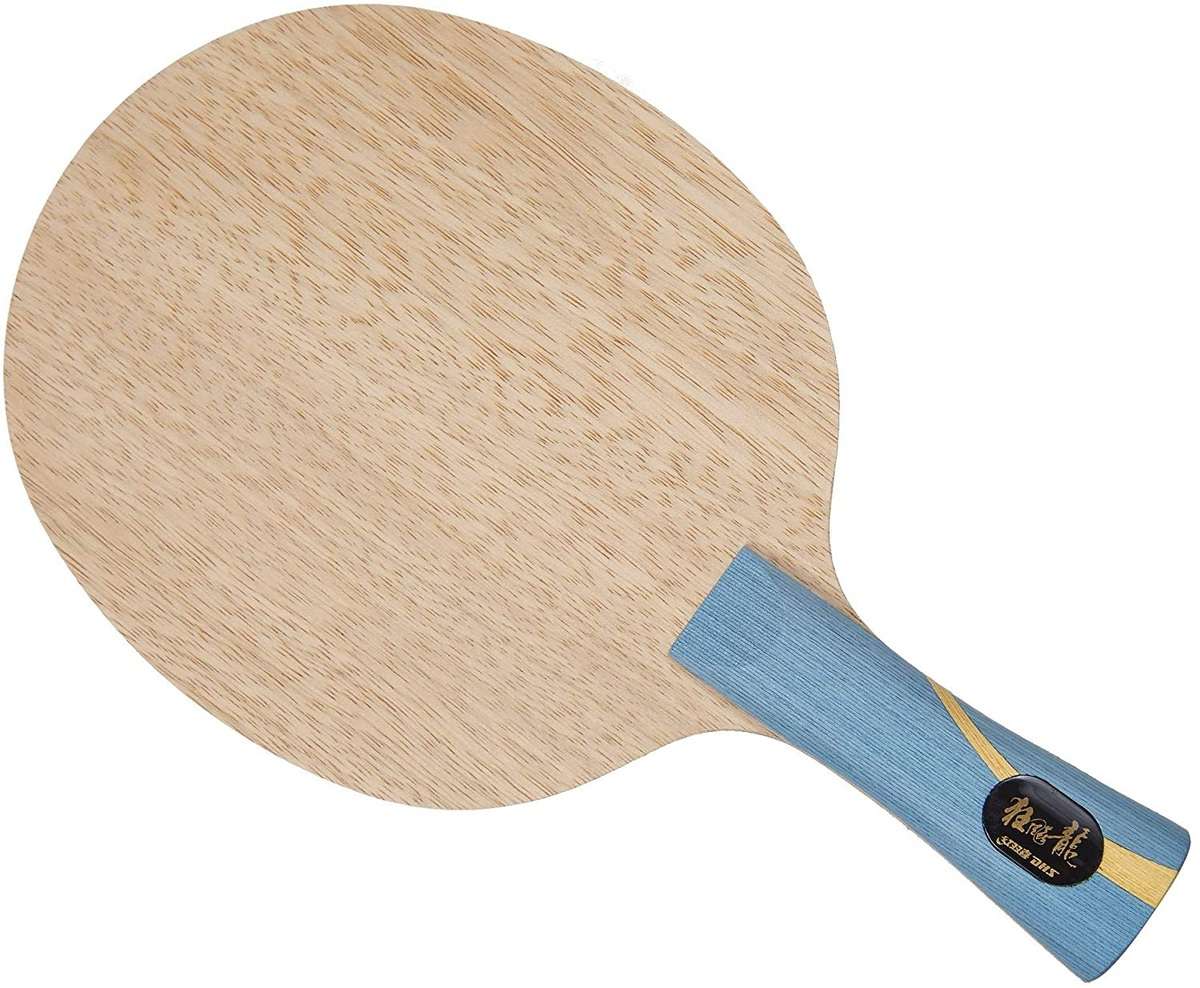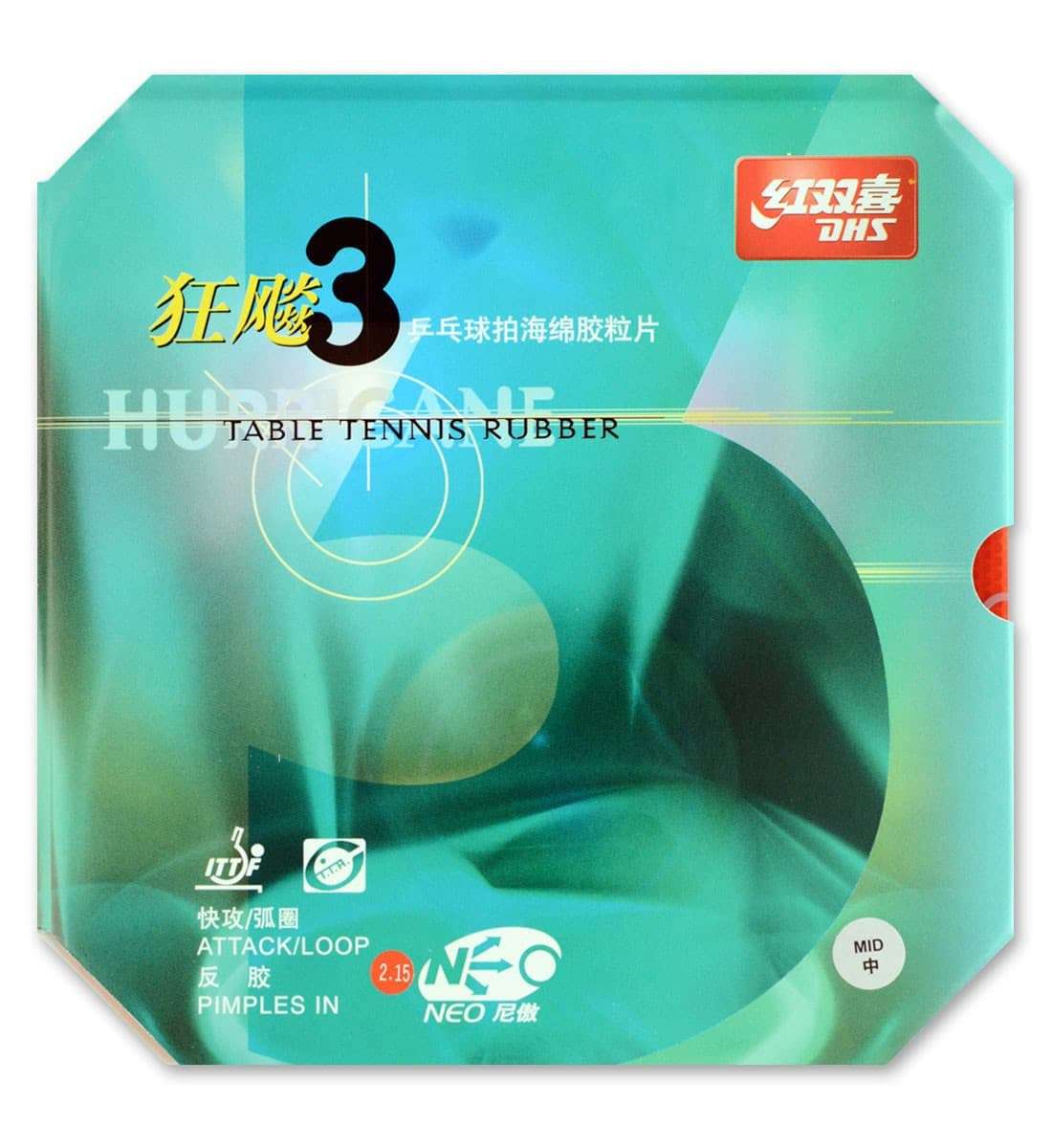 Ma Long's Future
Currently aged 32, and married with a son named Sina Weibo, retirement could soon be on the cards for Ma. Speaking with Timo Boll in an interview back in 2018, Ma stated that he would try to keep playing for 1 or 2 more years. Now in 2021, we have surpassed that time frame.
Other Chinese greats retired at similar ages: Wang Hao at 31 and Ma Lin at 33. The question is will Ma want to go out while he is still on top? Having just defended his Olympic Singles title, he is currently still the best table tennis player in the world to many.

Freelance writer. Table tennis enthusiast. Lover of all things online. When I'm not working on my loop game I'm probably binge-watching some fantasy show.