Tomokazu Harimoto – Table Tennis Player Profile
Tomokazu Harimoto Height: 5ft 10in
Nationality: Japan
Date of Birth: 06/27/2003
Grip: Shakehand
Hand: Right
Playing Style: Attack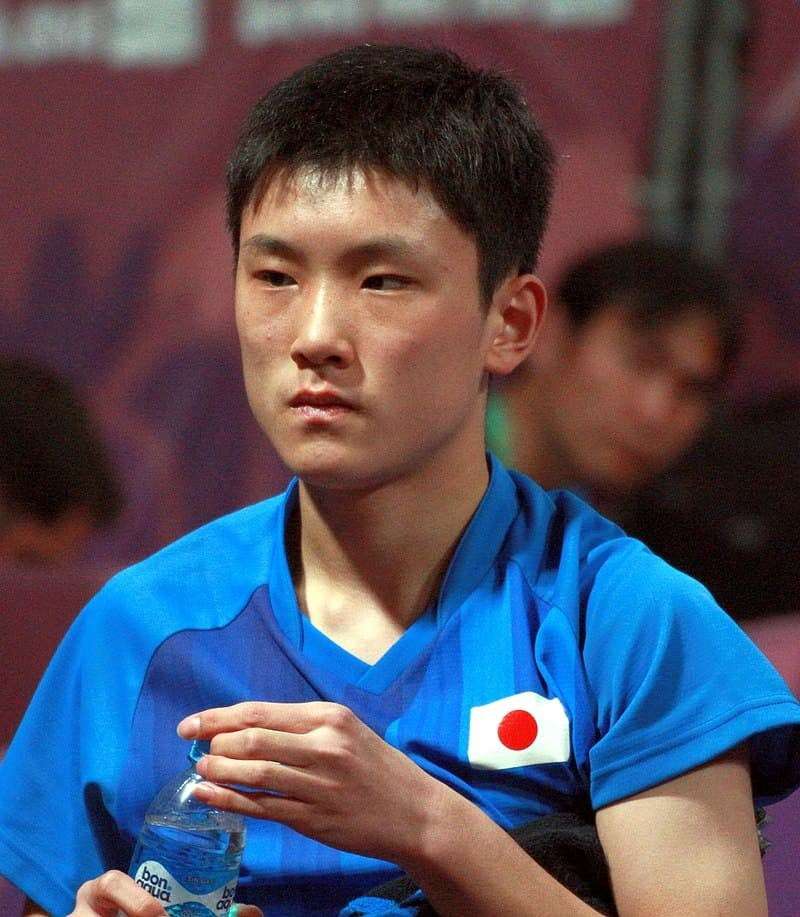 (Credit: Marcus Cyron – CC BY-SA 3.0)
Tomokazu Harimoto Biography
Tomokazu Harimoto was born on 27th June 2003 in Sendai, Miyagi, Japan. Originally named Zhang Zhihe, due to his Chinese heritage, Harimoto wouldn't change his name until he received his Japanese citizenship in 2014.
His parents were both professional table tennis players. His father Yu, was a Chinese national player at the youth level. He relocated to Japan in 1998 to begin coaching at the Sendai City Table Tennis Centre.
His mother, Ling, also played at a very high level. She represented China at the 1995 World Championships. With both parents having such strong table tennis backgrounds, it was almost inevitable that Harimoto would end up as a super table tennis player.
He began to play the sport at just 2 years old. With the guidance of his parents, he soon developed skills well beyond his years. At 3 years old, he participated in a prefecture-wide competition, placing 4th in the under 8 age class.
Then at 6 years old, shortly before joining primary school, he was selected to compete for his prefecture in the under 8 age group. This marked his first time competing in the Japanese Championships. Harimoto managed to reach the final 16. Quite the achievement!
Yet, Harimoto would return the following year and claim the title when he was just 7 years old. Demonstrating just how much he could improve in a short period.        
Junior Career
From the age of 12, players and fans worldwide have taken note of Harimoto — he has been breaking records left and right.
This began with his ITTF World Tour under 21 men's singles title win in the Japan Open. He claimed the title at the age of 12 years and 355 days. Another Japanese player, Koki Niwa, had previously held the record at 15 years of age.
Shortly after that, Harimoto was back with another record. This time becoming the youngest World Junior Champion ever. The final was a close-fought match with Seungmin Cho, where he prevailed 11-7 in the 7th game. He was just 13 years and 163 days old at the time.  
Less than a year from this date, Harimoto further added to his legacy. Becoming the youngest player ever to win an ITTF World Tour men's singles title. His route to glory in the Czech Open was challenging, and he lost a total of 13 games in his 5 matches. He faced highly ranked players such as Kristian Karlsson and Hugo Calderano. In the final, he played Germany's Timo Boll, a veteran of the game who had many years on him. Yet Harimoto proved too strong, beating Boll 4-2.
Following this win, he rose to a world ranking of 13.
In January of the following year, he would break another record. This time in winning the men's singles at the All-Japan National Championships. Becoming the youngest Japanese National Champion ever. He beat the previous record-holder, Jun Mizutani, 4-2 in the final. Mizutani first won his title aged 17, so by winning the competition at just 14 years of age, he had beaten his record by some margin. Speaking about the match, Harimoto said:
"My opponent had more experience, so I tried to fight aggressively. I figured I had nothing to lose."   
Tomokazu Harimoto's Style
Harimoto is perhaps the loudest player I have ever heard. Many players scream "cho-le" after winning key points, but Harimoto takes it to an entirely new level. Often bending over backward like he is possessed and screaming at the top of his lungs!
But his style during gameplay also diverges from what we would consider the norm. Harimoto sticks much closer to the table than many players, and it seems to be working to his advantage.
He may have adopted this style because he started playing early. At that time, he lacked the power that older players have further away from the table.
But it may also be a response to the ball change. Some players feel that the switch to plastic balls gives an advantage to players who hit flatter and earlier. This is what we frequently see from Harimoto. He is undoubtedly one of the best players in the world who plays close to the table.
Here are some of Tomkazu Harimoto's best points!
TOMOKAZU HARIMOTO INSANE POINTS  | HD (EMBED)
Tomokazu Harimoto's Achievements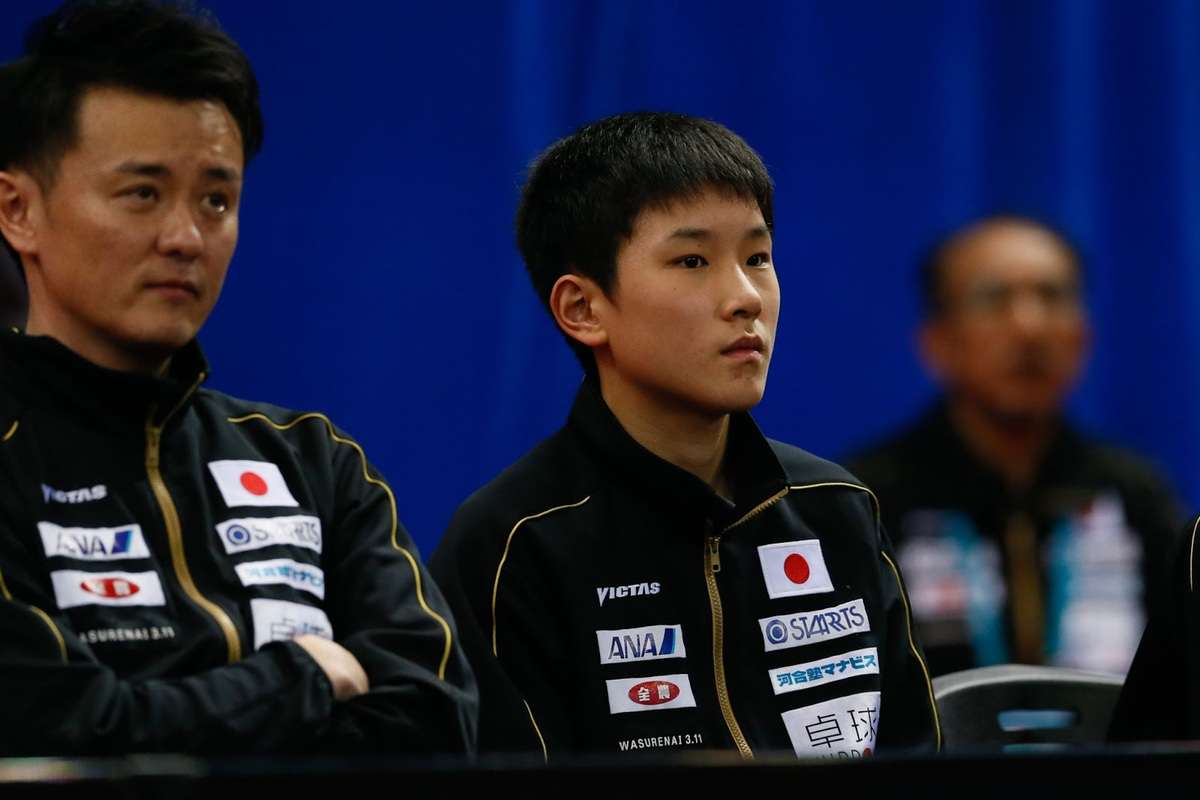 (Credit: XIAOYU TANG, CC BY-SA 2.0 via Wikimedia Commons)
Considering Harimoto is just 18 years of age at the time of writing this article, he has achieved a staggering amount in the sport. His many records relating to being the youngest winner of various events will take some time to beat. This is because he didn't just beat the pre-existing records — he smashed them.
Harimoto has also achieved a super rank internationally, alongside these key competition wins. Unsurprisingly, he holds the record for the youngest male player to break into the top 10 when he did so in 2018. And he has remained in the top 10 ever since.
Currently, Tomokazu Harimoto's ranking is 5th in the world.
Harimoto also has medals from the World Cup, World Championships, and Olympic Games. Three of the most challenging competitions in the sport.
Here is a break-down of Harimoto's top competition wins:
Asian Junior Championships X1 Gold – Team – 2016
Asian Junior Championships X1 Silver – Singles – 2016
World Junior Championships X2 Gold – Singles, Team – 2016
World Junior Championships X1 Silver – Doubles – 2016
Youth Olympic Games X2 Silver – Singles, Mixed Team – 2018
Asian Championships X1 Bronze – Team – 2017
ITTF World Tour Grand Finals X1 Gold – Singles – 2018
World Cup X3 Silver – Team, Singles – 2018, 2019, 2021
Olympic Games X1 Bronze – Team – 2020
World Championships X1 Silver – Mixed Doubles – 2021
Harimoto's current records:
Youngest winner of ITTF World Tour under 21's men's singles – 12 years 355 days
Youngest winner of World Junior Championships boy's singles – 13 years 163 days
Youngest winner of ITTF World Tour men's singles – 14 years 61 days
Youngest winner of Japanese National Championships men's singles – 14 years, 207 days
Youngest player to achieve a world ranking of 10 – ~14 years 308 days
Youngest winner of ITTF World Tour Grand Finals men's singles – 15 years 172 days
Tomokazu Harimoto's Equipment
Harimoto is a Butterfly-sponsored athlete. He uses his own signature blade — the beautiful-looking Harimoto Innerforce ALC. For his rubbers, he uses one of Butterfly's top releases, Dignics 05 on both sides (which we reviewed!).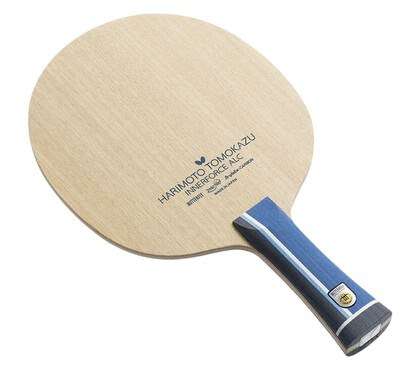 According to Butterfly, this has been his setup since July 9th, 2021. However, another source claims he uses Tenergy 80 on his forehand and Tenergy 05 FX on his backhand. These were likely his old rubbers before he switched to Dignics 05.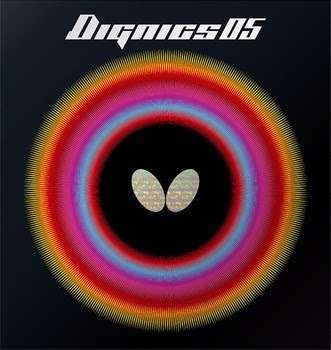 Tomokazu Harimoto's Future
Harimoto has an incredibly bright future ahead of him. At 18 years old, he hasn't even fully developed as a player yet. He just needs more time and experience to improve his entire skillset. There is no doubt he is destined to be world number 1 in his career. It is simply a matter of how soon this occurs.
Similarly, Harimoto has already proven that he can win top competitions, having medalled at the World Cup, World Championships, and Olympic Games. But he has currently been blocked from winning these vital tournaments by the might of the Chinese. His record against China's top 3 is far from stellar.
Surprisingly, Tomokazu Harimoto has the best record against Ma Long, winning in 2 of their 6 meetings. In comparison, he has won 1 out of 6 against Fan Zhendong, and even more worryingly, 0 of 7 against Xu Xin. He may continue to fall just short of gold until he can break this funk or until these players retire.
This is because his record against other top players is excellent. He beat Vladimir Samsonov 5 out of 5 times before he retired, and he has the same record against Patrick Franziska.
In fact, the only other player currently ranked above him is Hugo Calderano. And he has beaten the Brazilian on more occasions. Most recently, he beat him 4-1 in the semi-finals in the World Cup before ultimately losing to Fan Zhendong.        

Freelance writer. Table tennis enthusiast. Lover of all things online. When I'm not working on my loop game I'm probably binge-watching some fantasy show.