Stiga Raptor vs Pro Carbon – Which is Superior?
The Pro Carbon has proved to be one of the most popular rackets on Amazon, but given how the manufacturer ratings of both paddles are the same, and the Raptor's lower price, many players are eyeing up the Raptor.
Which is better for you: Stiga Raptor vs Pro Carbon?
Read on to learn which paddle is superior and the best fit for your game.
Stiga Raptor vs Pro Carbon
Stiga Raptor vs Pro Carbon Full Comparison List
Stiga Raptor

Stiga Pro Carbon

Rubbers

Stiga s5

Stiga s5

Sponge thickness

2mm

2mm

Blade category

OFF

OFF

Blade composition

5 wood + 2 carbon

5 wood + 2 carbon

Handle type

Flared

Flared

Manufacturer ratings

Control: 80

Speed: 99

Spin: 100

Control: 80

Speed: 99

Spin: 100

ITTF Approved

Yes

Yes

Weight

~165g

~159g

Warranty

90 days

90 days

Price

$$

$$
As you can see from the above chart, the two paddles are similar in many ways. So we'll have to dive deeply into the Stiga Pro Carbon vs Raptor to see what differences there are, if any. We also have separate reviews available for both the Pro Carbon and the Raptor if you would like to undertake further reading.
Stiga Raptor and Pro Carbon Positives
Fairly inexpensive
Fast
Spinny
Good control
ITTF-approved
Stiga Raptor and Pro Carbon Negatives
Rubbers are not easily removable
Manufacturer ratings are exaggerated
Lack of clarity regarding paddle differences
What Kind of Player Suits the Stiga Raptor and Pro Carbon?
The Stiga Raptor and Pro Carbon are both pre-assembled paddles that suit players who use an attacking style.
In terms of skill level, I would say they are best used by intermediate players. They are too lively for beginners, and not quite fast or spinny enough for most advanced players.
They are also priced below what it will cost to build most custom table tennis paddles. This once again re-asserts that the target audience is intermediate players.
Rubber Comparison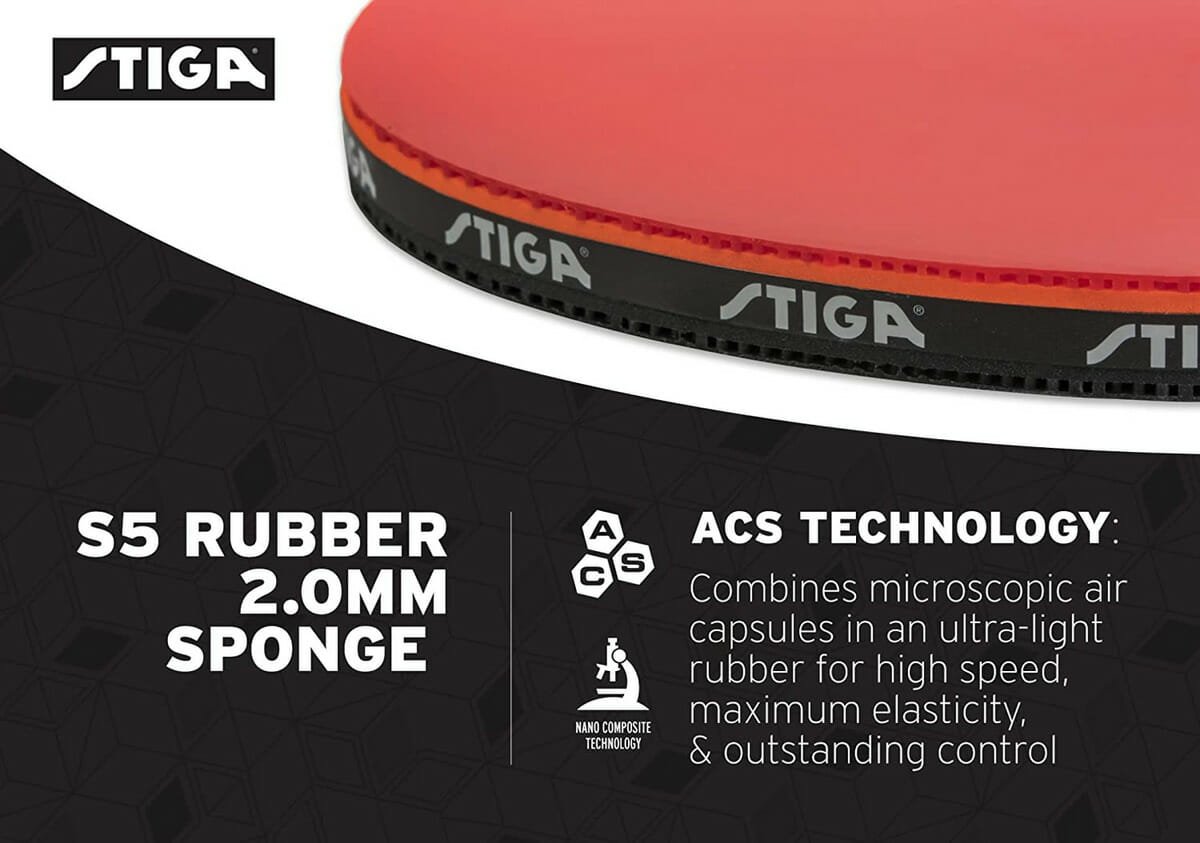 Both the Stiga Raptor and Stiga Pro Carbon use Stiga S5 rubbers on both sides of the paddle. Stiga S5 is an inverted style rubber, which is the normal kind — the pimples face inwards into the sponge.
Speaking of the sponge, both paddles use Stiga S5 with a 2mm thick sponge. This means their rubbers fall into the offensive category. So in terms of rubbers, the two paddles are identical.
The S5 rubbers use Stiga's Nano Composite and ACS technology. What this means is that the rubbers utilize stronger and more compact bonds. This makes them more elastic, which leads to increases in spin and speed.
Stiga S5 is also ITTF approved, so if you want to compete in a tournament or local league with either bat, you are able to do so.
Performance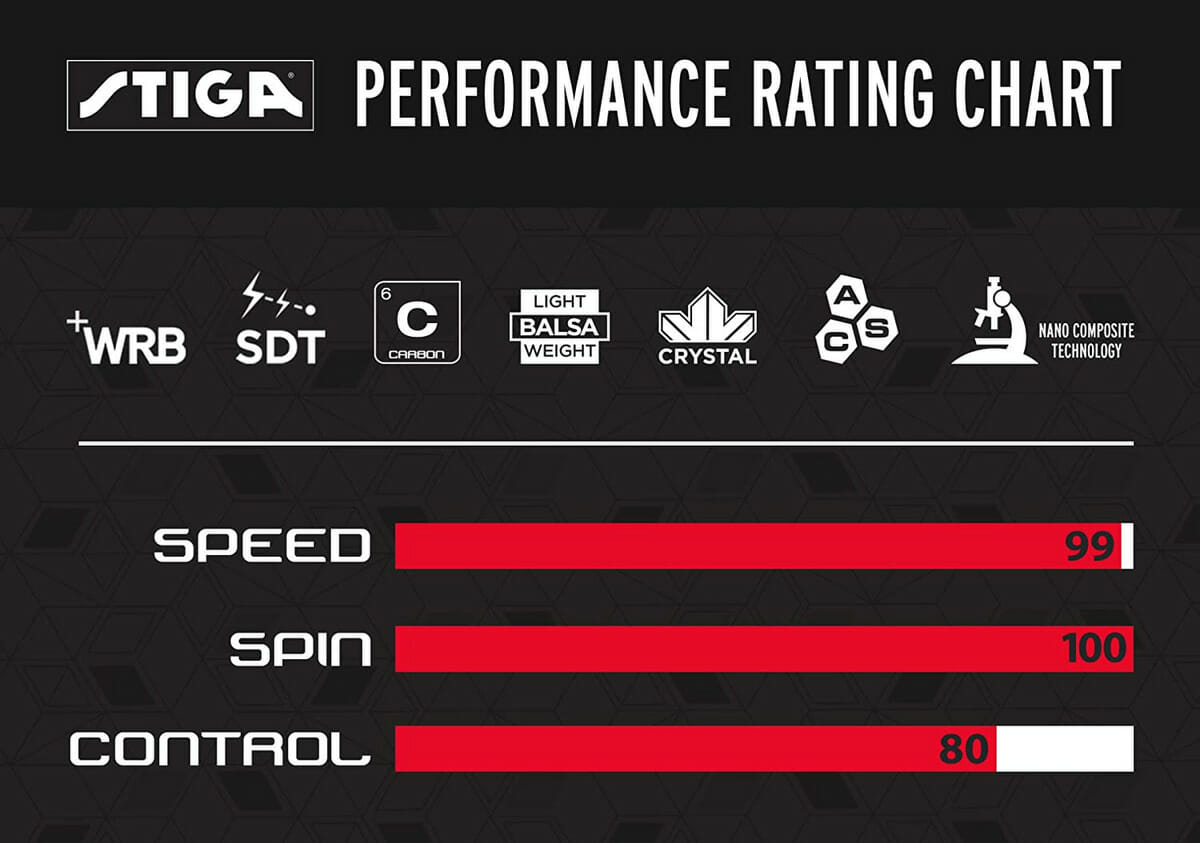 While Stiga gives both paddles a 99-speed rating and a 100-spin rating, this is far from accurate.
For almost all intermediate paddles and below, they assign ratings that seem very elevated. This is because more expensive custom equipment blows these pre-assembled paddles out of the water.
Therefore it's better to differentiate between the two types of equipment. Think of them as distinct categories with their own ratings. Cheaper, pre-assembled equipment, and custom equipment. So in Stiga's eyes, both the Pro Carbon and the Raptor are among the fastest and spinniest bats they make in the pre-assembled category.
This is a fair estimation as I would consider both to be respectable intermediate paddles. They offer great speed and spin and are a perfect stepping stone for attackers who are not yet ready for advanced equipment.
Non-Removable Rubbers
A quick word of warning regarding swapping out the rubbers. You can't. Well… kind of. The glue used to adhere the Stiga S5 rubbers to both blades is a type of super glue, not table tennis glue. Therefore you can't easily peel off the rubbers and replace them when they wear out as some other reviews suggest.
However, it is not impossible to re-use the blade, it's just a long and fiddly job. When pulling off the rubber sheets, you won't get a clean pull. Rather most of the rubber will come off, but some bits of sponge will remain glued to the blade.
Therefore you'll have to take your time to get these off and undertake quite a thorough sanding job to ensure the surface is smooth and ready for your new rubber sheets.
Blade Comparison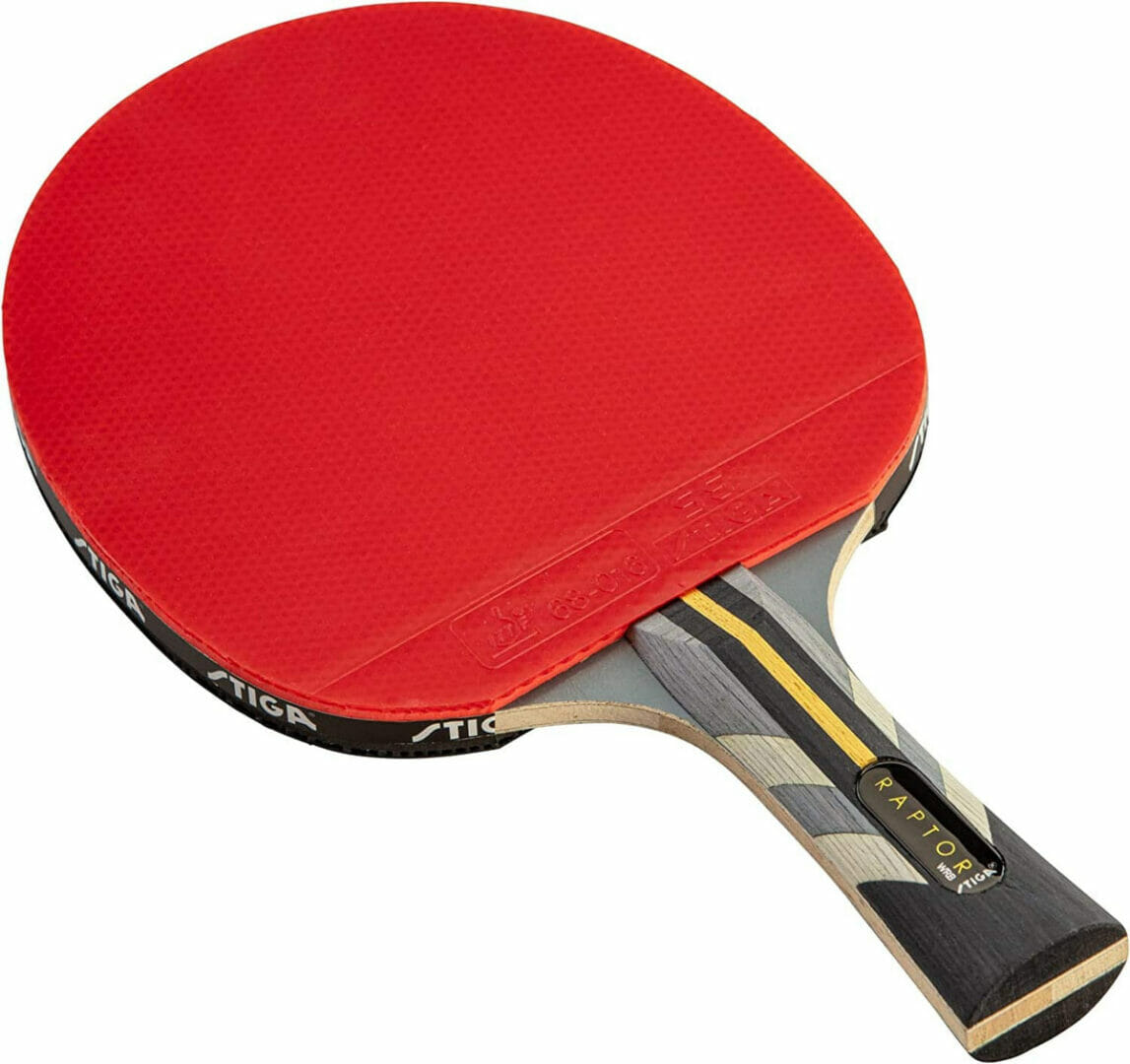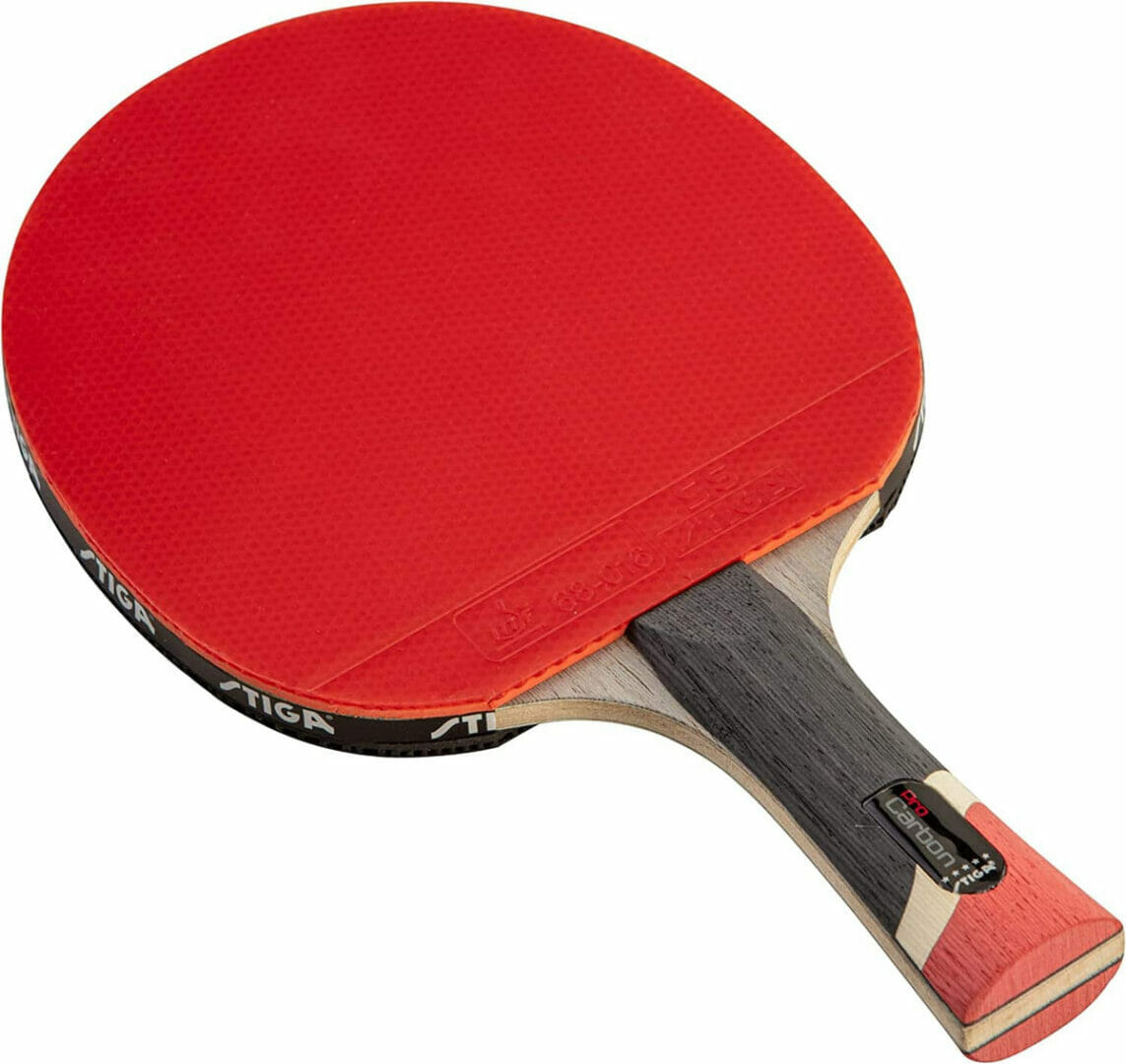 Moving on to the Stiga Pro Carbon vs Stiga Raptor blade, we see more similarities.
Both use their own stylized blade. The Pro Carbon has a dark grey handle with a dull white and red, while the Raptor features dark grey, yellow, and black.
However, both blades use an identical composition of 5 layers of wood and 2 layers of carbon. Some sources, including the Pro Carbon's listings pictures, state the Pro Carbon is 6-ply instead of 7-ply, but this is false. I confirmed the blade was 7-ply from several sources, including the description on the back of the packaging.
Unfortunately, I could not obtain specific info regarding all of the types of wood that the blades use, as Stiga does not include this info. The only detail I could find is that both paddles use a central ply of balsa wood.
WRB Technology
The Raptor and Pro Carbon make use of Stiga's WRB technology. This stands for "weight balance", "rate of recovery", and "ball sensitivity". This is essentially a fancy way of saying that Stiga shifted the center of mass of the blade to the racket face.
This makes both paddles more head-heavy than other rackets, and theoretically increases spin and the speed at which you recover. However, head-heavy rackets are not for everyone. That being said, they are not particularly head-heavy paddles compared to others that you can buy.
Shock Dispersion Tube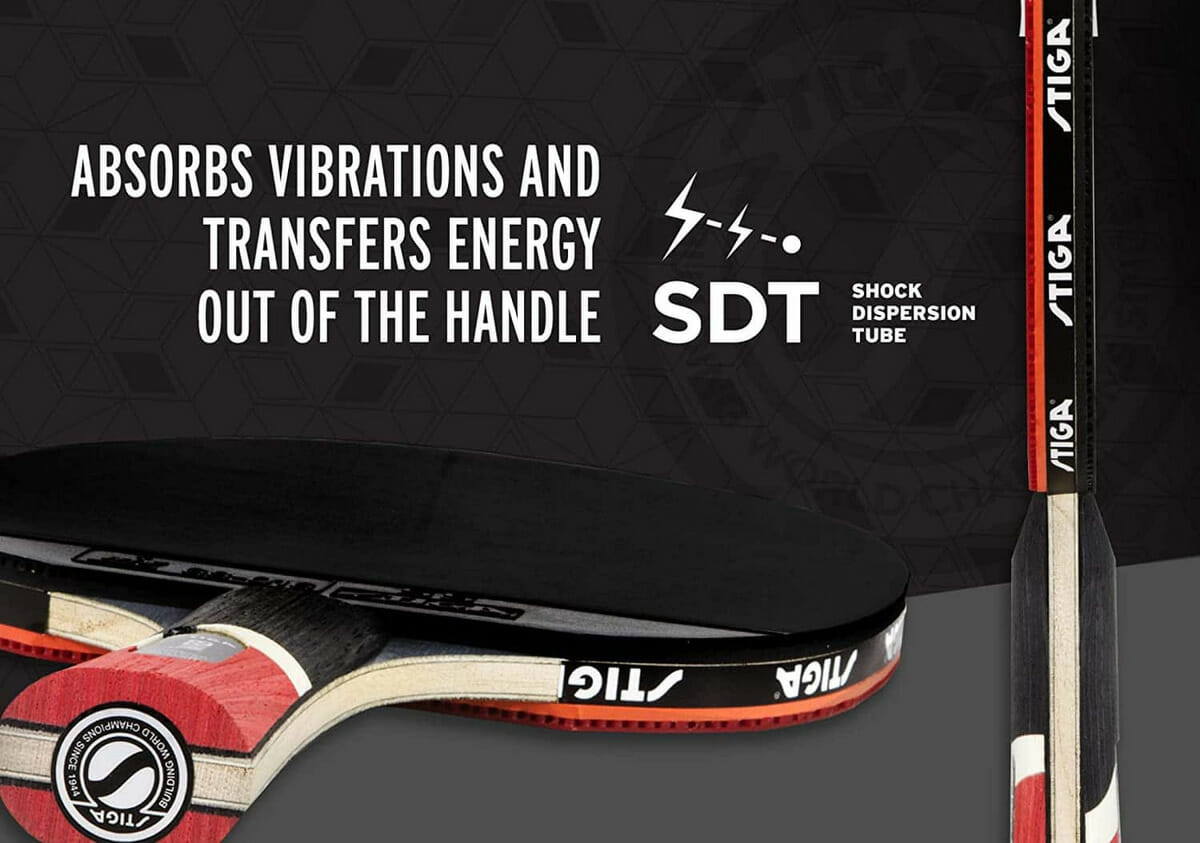 The one area beyond appearance where I was able to identify a potential difference between the blades is in regards to the Pro Carbon's Shock Dispersion Tube.
Its listing explicitly states the presence of a Shock Dispersion Tube. This is a tube located in the center of the handle which absorbs and disperses energy outwards. However, there is no mention of this tech featuring in the Raptor.
Of course, there is always the possibility that the Raptor uses this tech, but Stiga chose to omit it. However, I feel this is unlikely, as it wouldn't make sense to leave out a key piece of info that would help market the paddle.
Concave Pro Handle
Both paddles feature concave pro handles. This means they flare outwards towards the end, which makes it harder for you to lose your grip.
Concave is my preferred handle type, and this is shared by most players. I believe virtually all of Stiga's pre-assembled paddles are flared for this reason.
Performance
As we now know that the rubbers of the Raptor and Pro Carbon are identical in every way, it falls to the blades to identify any performance differences, if there are any.
Technically speaking, there shouldn't be any, as their ratings are identical with:
Control: 80
Speed: 99
Spin: 100
However, the manufacturer, Escalade Sports, suggests that there is.
Identifying differences between these two paddles is a hot topic among interested players, and when asked this question, Adam from Escalade Sports left the following response:
"Our STIGA Raptor paddle is our highest, top-of-line paddle being ITTF approved for tournament play and has more technology for power and speed for professional players. The Pro Carbon essentially has the same features just not as extreme, more for intermediate type players."
Therefore one can assume that the Stiga Raptor is slightly more advanced. After all, you can't get any more trustworthy than the manufacturer. However, they cite "more technology" as a reason, yet none of this is included in the Raptors listing info. In fact, the Pro Carbon likely has more tech, given the fact that the Raptor doesn't have a Shock Dispersion Tube.
Another useful comment was left by the Ping Pong Depot team — a trusted table tennis seller. They suggest the opposite to Escalade Sports, instead indicating the paddles are identical beyond the handle design.
"The blades are similar in every aspect except for the handle, which [has] a different design".
As such, I am led to believe the differences between the two blades in terms of performance is negligible.
Weight Comparison
As both paddles are virtually identical, it should be no surprise that they weigh almost exactly the same. The Pro Carbon weighs 159g, whereas the Raptor weighs 165g.
Both are fairly lightweight considering their 7-ply composition. Even players used to very lightweight basic bats shouldn't take too long to adjust to either the Pro Carbon or Raptor.
What Does The Stiga Raptor Look Like?
What Does The Stiga Pro Carbon Look Like?
About Stiga
Established in 1944, Stiga has produced high-quality table tennis equipment for over 70 years. Their vast assortment of blades is one of their strongest areas, but they have also produced exceptional tables, and rubbers, among other types of equipment.
So Which Paddle Should I Buy?
The Stiga Raptor vs Pro Carbon debate is a common one. And it's easy to see why given how they are essentially the same paddle from the rubbers to the blade.
Given this fact, I would mostly go based on price and appearance when buying. They both look great in my eyes, but the Stiga Raptor is slightly cheaper, so my recommendation is to go for the Raptor.
It makes for a great intermediate bat and is fairly low cost. Just remember you'll have a tough time replacing the rubbers when they wear out.
Want to learn more about other bats? Check out our top-rated Stiga bats and our favorite paddles across all brands.