Pickleball in Las Vegas: 10 Must-Visit Locations!
Pickleball has taken the US by storm, so it makes sense you'd want to find the best courts in Las Vegas. In a city famous for fun, knowing the best pickleball in Las Vegas locations can help you have a good trip.
Here are 10 venues for pickleball in Las Vegas that need to be on your radar:
Sunset Park Pickleball Complex
Plaza Hotel
Carriage House
Durango Hills Park
Westgate Las Vegas Resort Casino
Regency of Summerlin
Desert Vista Community Center
Bob Price Recreation Center
Oak Leaf Park
Veterans Memorial Leisure Services Center
Don't miss the full list, as you'll find addresses, costs, opening hours, and how many courts you'll find. Let's dive into the best places for pickleball in Las Vegas!
10 Best Places for Playing Pickleball in Las Vegas
1. Sunset Park Pickleball Complex
When it comes to Las Vegas pickleball, Sunset Park is king. With 24 outdoor courts available and soon to be 28, there are more Las Vegas pickleball courts here than anywhere else.
What's more, it's free to play, which is pretty tough to beat! The only issue is it's so popular that you may need to book to guarantee a spot. Reservations cost $6 per hour for a very affordable court.
A sports office and restrooms, as are tournament and league play, are available, so if you live nearby, it's well worth checking out.
2. Plaza Hotel
The Plaza Hotel is one of the hottest places to play pickleball in Las Vegas. Packed with four bars and many activities on offer, pickleball is just the tip of the iceberg.
There are 13 courts available and a series of sessions you can sign up for. These take place on Fridays and Saturdays and are led by National Champion Steve Cole.
Of course, you always have the option of simply playing without lessons. Sessions cost $15 per person for non-hotel guests, $10 for Nevada locals, and nothing if you're staying at the hotel.
Each session lasts for two hours, and paddle hire is available for $7 if you are not staying at the Plaza.
3. Carriage House
Carriage House is an excellent venue for pickleball courts in Las Vegas. They have 14 outdoor courts, which are open 24/7, and they run lessons hosted by former ATP professional David Rate.
However, I do think sessions here are on the costly side. While they are free for guests, as with many other hotels, non-guests are charged $25 per hour, which is very expensive in my opinion. If you want to take advantage of the lessons, this will cost $30 for a 90-minute session staying at the hotel and $40 if you are not.
4. Durango Hills Park
Durano Hills Park may have half the courts that Carriage House does, but they are free to use by all. Yet this is not just an area for pickleball. There are other attractive amenities here, such as basketball courts and a skate park.
A quick caution regarding these Las Vegas pickleball courts: it gets busy, and I mean busy! The pickleball club here has over 2,200 members, and during the summer, many players turn up 30 minutes before the courts open. Therefore, you can expect some waiting around before you get to play. Yet you shouldn't let this deter you. It's a great place to meet other keen players.
5. Westgate Las Vegas Resort Casino
Up next we have another Casino in Westgate Las Vegas Resort Casino. It's a quality pickleball venue close to the Las Vegas Strip. There are a total of 6 outdoor courts, which are open from 9 a.m. to 5 p.m., so they are not open for quite as long as the others that we have looked at thus far.
Unfortunately, there is no fee listed on their website for play — it may be free for hotel guests, but we can't say for sure. Court reservations are made by calling the Serenity Spa.
6. Regency of Summerlin
While pickleball is free at the Regency of Summerlin, it's a private community, so you'll only be able to play on these Las Vegas courts if you get invited.
They have 6 outdoor pickleball courts and tennis courts as well.
7. Desert Vista Community Center
Most people that play at Desert Vista Community Center have a membership. However, according to their rules, you can obtain a guest pass if you get a resident to act as your social monitor.
There are tonnes of activities to choose from, and they have 10 pickleball courts which is plenty. There's also a pickleball group here that arranges fun events and tournaments.
8. Bob Price Recreation Center
If you want to escape the heat and play on indoor pickleball courts in Las Vegas, the Bob Price Recreation Center is a great venue. While it's true, there are only 4 courts available. Play is free.
The center is open 7 a.m.-7 p.m., Monday to Friday. Regrettably, it's closed on the weekends, which may make it difficult for some people to check out.
9. Oak Leaf Park
Don't be fooled by the fact that Oak Leaf Park only has 4 courts. This area has a very passionate pickleball community — the Facebook group has over 700 members.
They host beginners sessions on Tuesdays which coach Gary Hartley leads. These cost $10 for residents and $13 for non-residents. However, if you don't want to attend one of these structured sessions and just want to play for yourself, you don't have to pay a penny!
10. Veterans Memorial Leisure Services Center
Another excellent Las Vegas pickleball area is the Veterans Memorial Leisure Service Center. They have 3 indoor courts for use, and you pay per session, although the fee is not listed.
Unfortunately, the opening hours may also prove problematic for many people as it's only open for two hours, from 8 – 10 a.m., Monday to Friday.
Upcoming Pickleball Projects in the Pipeline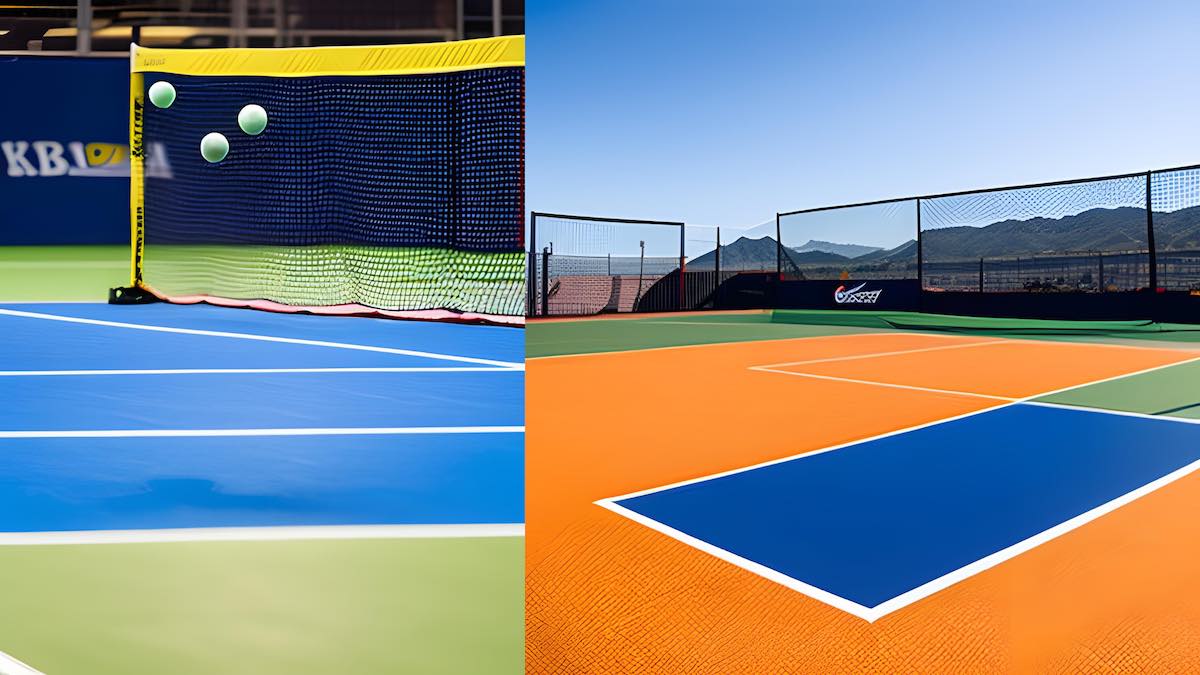 While there are plenty of venues for pickleball in Vegas, the craze continues, and we will soon see many more open up. The two that caught my eye are Electric Pickle and the new Regional Pickleball Complex.
Electric Pickle penciled a deal with The Bend, a large sports-themed restaurant and shopping complex, for 10,000 square feet of space. In total, there will be 9 courts, and it's expected to open in late 2023.
Even more promising is the new Regional Pickleball Complex that is in the works. With an estimated cost of $12,009,000, it will house a staggering 30 courts, making it the most comprehensive pickleball area in Las Vegas. The future of Vegas pickleball is bright indeed my friends!
FAQ
Are there any indoor pickleball courts in Las Vegas?
Yes, there are indoor pickleball courts in Las Vegas, perfect for those who wish to escape the city's intense heat and play in a controlled environment. Here are some notable venues:
Bob Price Recreation Center

: Located at 2050 Bonnie Lane, this center offers 4 indoor courts available for play. It operates from 7 a.m.-7 p.m. Monday to Friday.

Veterans Memorial Leisure Services Center:

 Situated at 101 N Pavilion Center Dr, this venue provides 3 indoor courts. The available playing time is between 8 – 10 a.m., Monday to Friday.
These venues allow players to enjoy pickleball year-round, irrespective of the weather outside. Whether you're a local or a visitor, these indoor courts in Las Vegas guarantee a fun-filled pickleball experience.
Final Thoughts
Pickleball in Las Vegas is clearly more than just a fleeting trend.
With the city's spirit for entertainment and leisure, Las Vegas offers some of the finest venues for pickleball enthusiasts.
From the expansive Sunset Park Pickleball Complex to the luxurious settings at the Plaza Hotel, there's something for everyone. Whether you're a local looking for a weekend game or a tourist wanting to add a sporting element to your trip, Las Vegas ensures you won't be disappointed.
And with upcoming venues like Electric Pickle and the new Regional Pickleball Complex on the horizon, the future for pickleball in Las Vegas is looking brighter than ever.
So, the next time you're in the city, make sure to visit one of these top venues and immerse yourself in the thrilling world of pickleball in Las Vegas.
Similar Reads

Freelance writer. Table tennis enthusiast. Lover of all things online. When I'm not working on my loop game I'm probably binge-watching some fantasy show.