Cornilleau 500X Outdoor Review
The Cornilleau 500X Outdoor table tennis table is a great addition to Cornilleau's premier line of outdoor ping pong tables. Replacing the 400M, it's designed with a 6mm resin laminate playing surface that prevents weather from damaging it. Another reason why Cornilleau is one of the best manufacturers of weather-proof table tennis tables.
Plus, the galvanized frame of the 500X Outdoor makes this table very durable and able to endure years of regular use. 
Add in the 10-year warranty and top-of-the-line safety features like oversized wheels and corner protections pads, and this is an excellent outdoor table for families and intermediate players.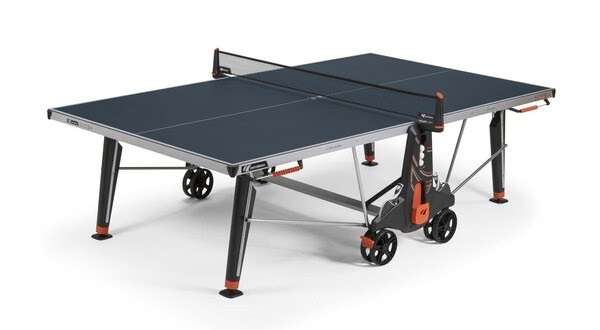 Cornilleau 500X Outdoor Specifications
Dimensions — 30″ H x 108″ W x 66″ D (Regulation size)
Folded dimensions — 61″ H x 66″ W x 30″ D
Weight — 150 lbs
Assembly time — ~90 minutes
Price — $$$$
Our rating — 9.6
Pros
Suitable for outdoor play
Excellent warranty
Playback mode
6mm resin laminate top
Anti-glare finish
2″ galvanized steel frame
Ball and bat storage on each side of the table
Abacus scorer
Leg levelers
6″ double-wheel casters with notched tread
Cons
Fixed net
Expensive
Requires significant assembly
6mm Resin Laminate Top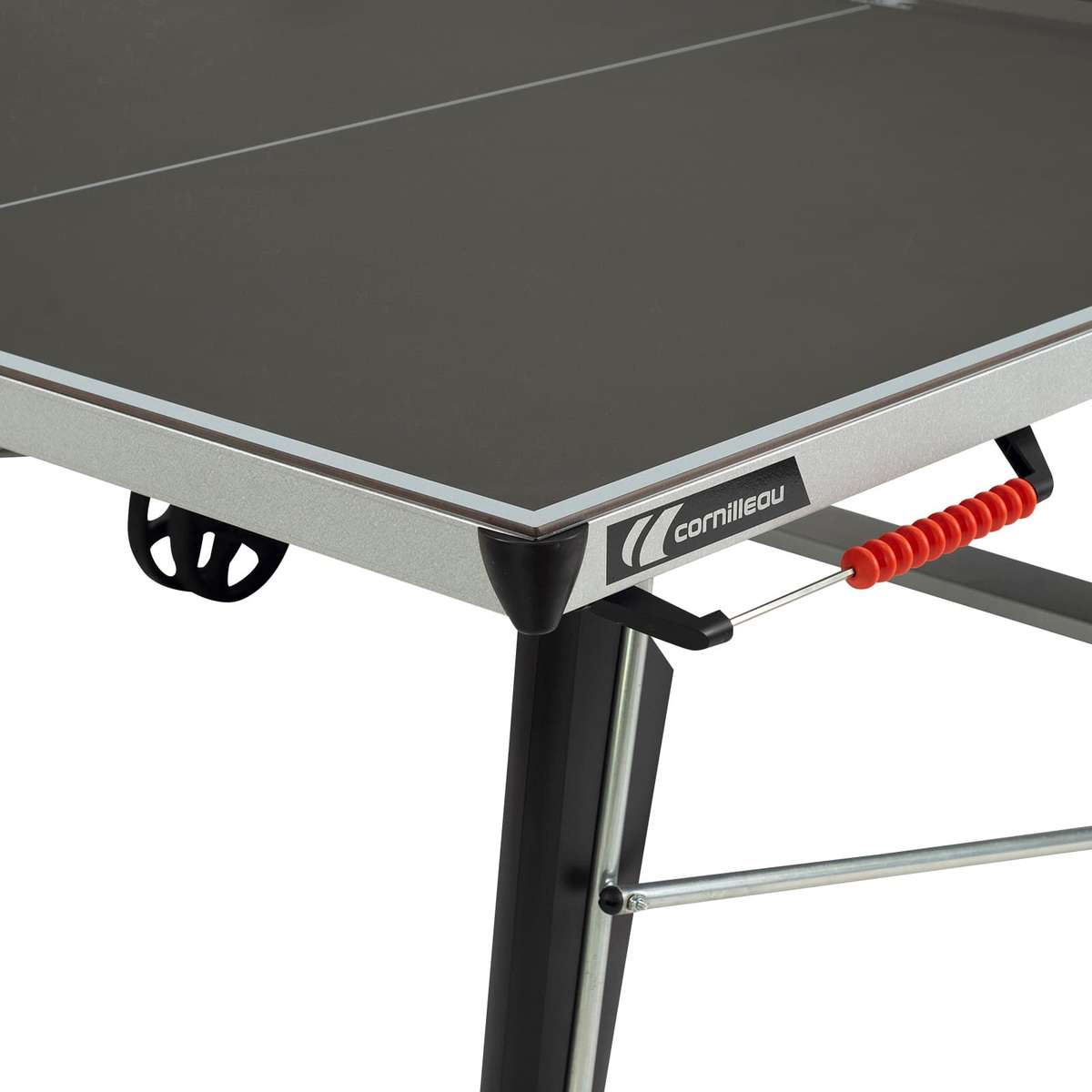 With a 6mm tabletop, the 500X does not have the thickest playing surface on the market. Far from it. But with outdoor tables, a thicker tabletop does not always lead to a better quality.
Many older tables use aluminum playing surfaces, which are thicker but far less resilient than the resin laminate used in this model. You should not overlook this quality since outdoor tables wear out faster than indoor tables.
This is why we are satisfied with the 6mm resin laminate top of the 500X. It is incredibly dense and shock-resistant. As such, it will surely last for years to come. 
Another huge plus of the playing surface is the patented MATTOP finish. It reduces the sun's glare by up to 10x, which makes a world of difference. Speaking from experience, playing table tennis outdoors on a shiny table is practically blinding. I wish all tables came with this feature!
Safety Features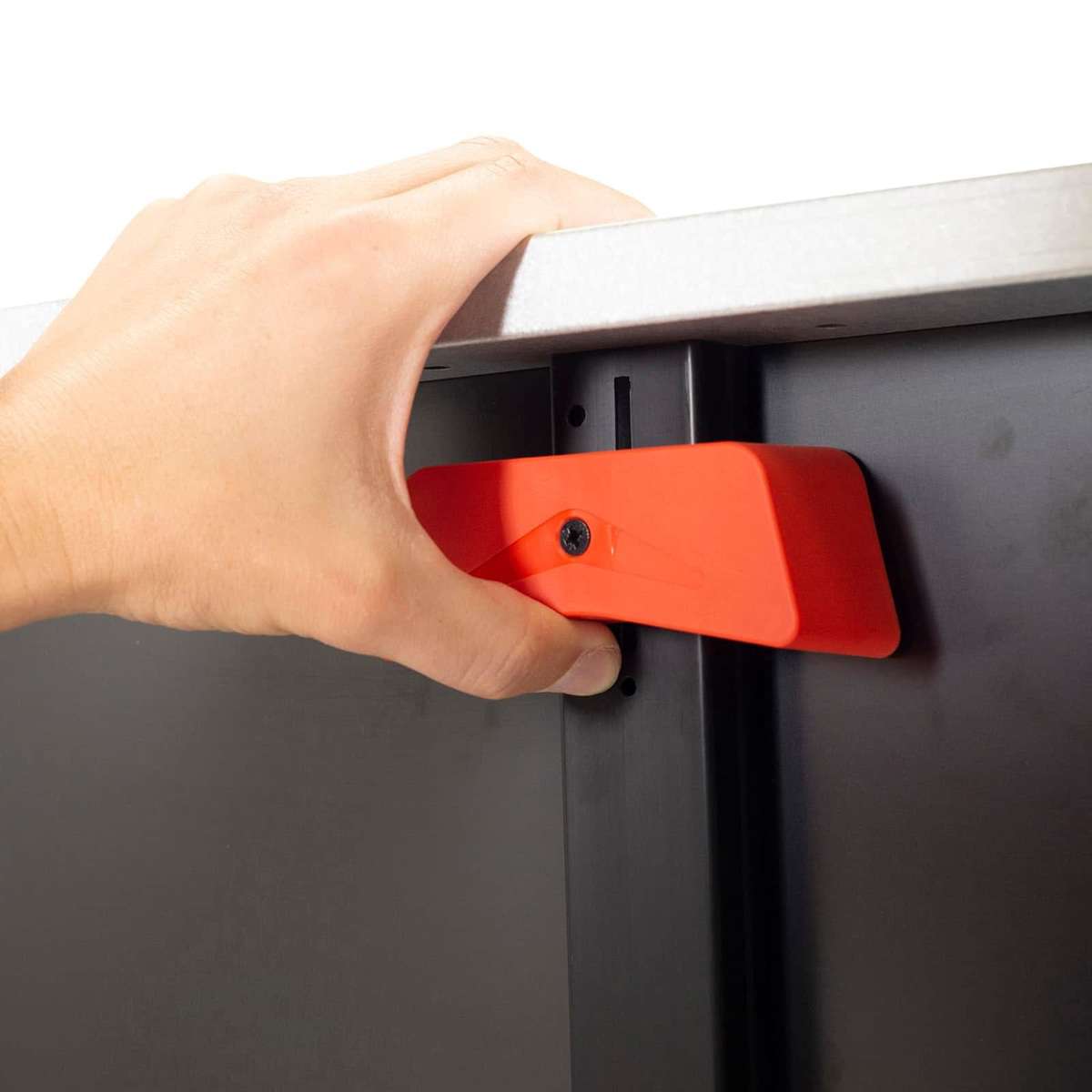 Undoubtedly, one of Cornilleau's top priorities is to make safe tables. We see many safety features on all of their tables, and one of their best is the DSI locking system. With 16 individual locking points, erecting the table couldn't be safer. There is virtually no risk of either side falling on you.
Each of the table's corners also has protection pads. This makes the 500X a top choice for families with children eager to play table tennis.
8″ Double-Wheel Casters & Swivel Feet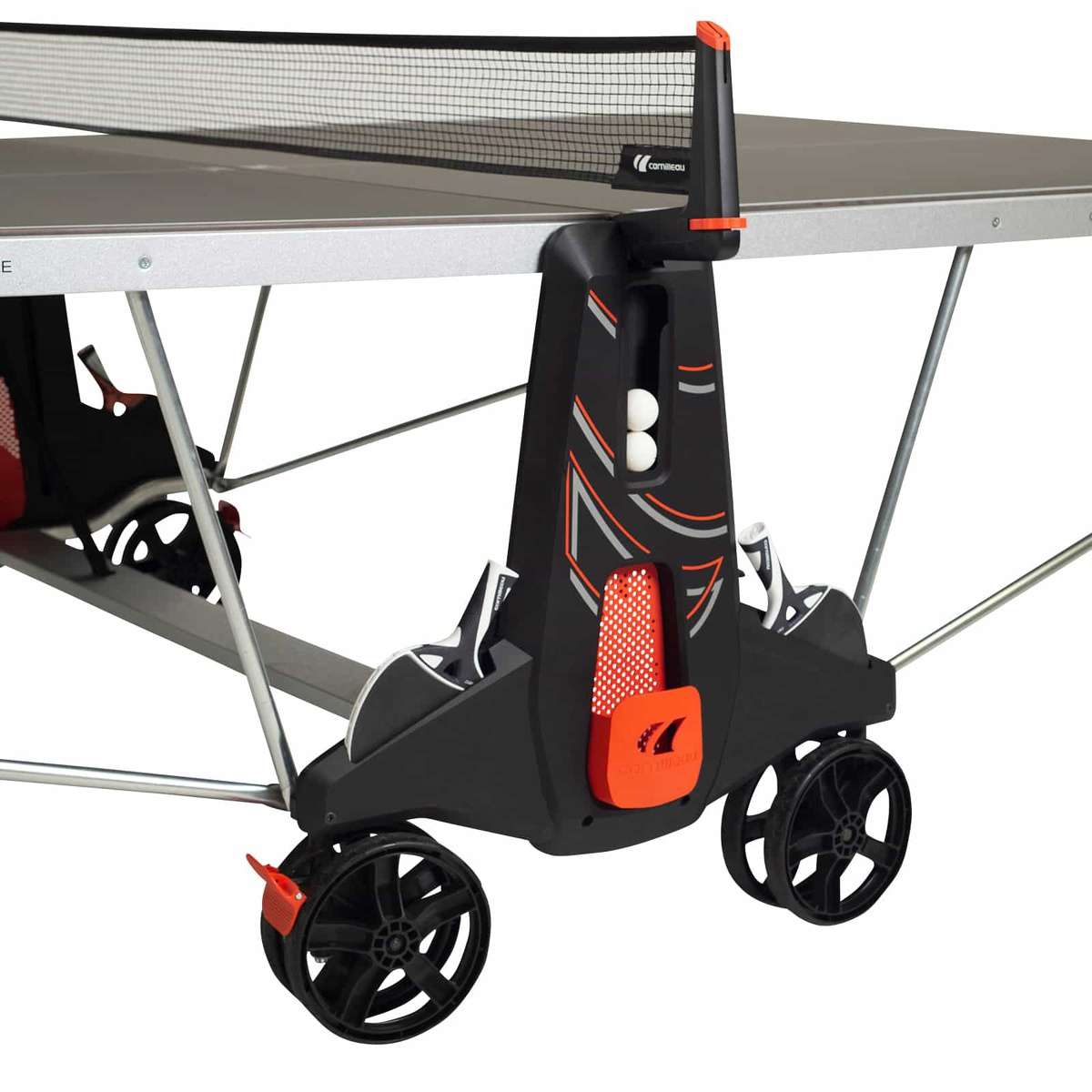 With outdoor tables, we are often forced to make do with small wheels. These make moving the table a pain but ultimately fall by the wayside in favor of more important features.
This is why we rejoice when we see big wheels! The 500X by Cornilleau uses double oversized wheels, which are almost 8" in diameter. These are pretty much the largest wheels you can get for a table. And given that the 500X is for use outdoors, these wheels come in handy. Many people store their tables a moderate distance from where they play, which means having a model that is easy to move is highly advantageous.
With small wheels, you'll feel every bump and dip in the ground, and they are more likely to get stuck. This increases the risk of the table falling over if you're not careful. The 500X's double oversized wheels simply eliminate this problem.
We also like that the legs are level and have swivel feet. This allows the legs to have a firmer grip on uneven ground. An issue many of you will likely face, given that a lot of backyards are never completely straight.
If you prefer an indoor table with sizeable wheels, check out the Cornilleau Competition 540 ITTF Indoor.
Assembly
Assembly will take some time but is manageable. The Cornilleau 500X outdoor table tennis table is quite heavy, so two people are needed to put it together. But other than that, it's a straightforward process.
There are quite a few parts, so expect to spend 90 minutes assembling this table. While that may appear relatively long, it is essential to do it right because you need to build the table correctly to prevent weather damage.
Cornilleau recognizes that assembling the table is a challenge. That's why they've provided step-by-step online instructions that walk you through the construction process.
10-Year Warranty
One of the most significant features of the Cornilleau Outdoor 500X is the outstanding warranty. You're covered for a lengthy 10-year spell when you purchase, which blows most other outdoor tables out of the water.
Cornilleau can offer this as they are outdoor table tennis table specialists.
If you've looked at outdoor ping pong tables before, chances are you've come across a Cornilleau table. The fact that they stand behind their tables so confidently should give you peace of mind if you are hesitant to purchase.
They even offer a 20-year guarantee to fix any broken parts, reinforcing their credibility as a top table manufacturer.    
Conclusion
The Cornilleau 500X Outdoor table tennis table is an excellent choice if you're looking for a durable outdoor table with a resilient playing surface.
It's got all the extra features that one would look for in a table. While the surface may not play like a professional, indoor competition table, you can't expect an outdoor table to play as well. If you are hoping for an even better surface, you should look at the more expensive outdoor tables, such as the Cornilleau 700X Outdoor.
Alternatively, if you want a cheaper model but similar great features, check out our guide on the Cornilleau 300X Outdoor. It is one of our favorite mid-range outdoor models.
But the safety features and oversized wheels make the Cornilleau 500X Outdoor a convenient table to use often, and the 10-year warranty makes it a mostly risk-free purchase.

Freelance writer. Table tennis enthusiast. Lover of all things online. When I'm not working on my loop game I'm probably binge-watching some fantasy show.