Butterfly Addoy 3000 Review (Expert Opinion)
The Butterfly Addoy 3000 is a pre-assembled bat targeted at beginners who want a competitive edge over their opponents. As it is produced by Butterfly, quality is a given as with all of their products. In this Butterfly Addoy 3000 review, we will explain why it is a great first bat for new players.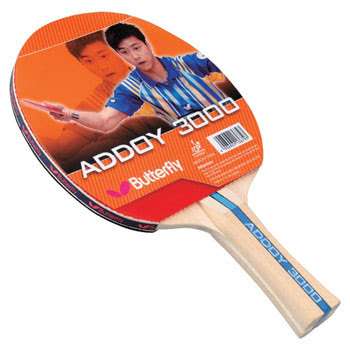 Specifications
Manufacturer performance ratings: Speed: 75, Spin: 50, Control: 100
Blade: 5-Ply Wood
Rubbers: Addoy rubbers
Sponge: 1.5mm
ITTF Approved: Yes
Price: $
Butterfly Addoy 3000: An Overview
The advantage of having a premade bat is that it takes out all of the guesswork of customizing the bat yourself. 
The Addoy 3000 uses a 5-ply blade paired with Addoy rubbers on both sides. Unlike most table tennis bats, the rubbers cannot be replaced on the Addoy. This is because Butterfly used permanent glue to stick the rubbers to the blade.
Ordinarily, manufacturers use specialized table tennis glue. This allows for the replacement of rubbers as many times as you see fit.
Flared handle
The 5-ply wood blade uses a flared handle. This means the base of the handle is wider than the top. It helps provide a little extra grip and minimizes the chances of it falling out of your hands. Flared handles are the most popular handle type.
You can also find anatomic (opposite to flared), and straight handles available.
Performance
The bat prioritizes speed over spin. This is advantageous when you are just starting out at table tennis as spin can be very confusing at first. Bats with less spin make it easier to get rallies going as the ball is less likely to unexpectedly kick off of the table. Once you become familiar with spin, you can then purchase a spinnier bat and develop your ability.
At 1.5mm this bat has a very thin sponge. So even though speed is higher than spin it is not a fast bat by any means. The stats supplied from the manufacturer are simply best ignored when comparing with custom table tennis equipment. This is because manufacturers are essentially using a different classification system only assigned for beginner/intermediate bats. 
Custom rubber thicknesses very rarely dip below 1.9mm. And when they do, these rubbers are considered slow or defensive. So with 1.5mm, expect a bat that is quite slow, but not as slow as unbranded bats that come as part of table tennis sets.
Yet this hard speed limit is what you need as a beginner. Control should always be your main objective. You'll be missing a lot when you first get started so the copious amount of control you get with the Butterfly Addoy 3000 will suit you nicely. Only when the bat becomes limiting should you look to upgrade. And make sure your next bat is still one you will be able to control.
The Butterfly 401 bat is a nice stepping stone from the Addoy 3000 once you become more confident. We have a review for that here.
Alternatively, check out our buying guide for more paddle options.
ITTF Approved
The Butterfly Addoy 3000 is eligible for tournament play as per the International Table Tennis Federation. This means that if you wanted to really put your skills to the test and have some fun you could enter a tournament using this bat.
Of course, it is a very limited paddle as it's designed for beginners. Hopefully, by the time you want to enter competitions, you will feel confident with a faster and spinnier setup. These kinds of bats open up more styles of play and allow you to develop your own unique style.  
About Butterfly
Butterfly is probably the most reputable table tennis brand today. Its motto as portrayed by the founder Hikosuke Tamasu is that "Players are flowers in table tennis world and they are the very enchantment of table tennis; we would like to be butterflies flying around the flowers providing them the essential needs in the table tennis world."
Butterfly has continued to develop with the times and has created many successful lines in rubbers and blades alike. Their various series of bats, such as Sriver, Bryce, and Tenergy, are a result of their technological innovations.
Conclusion
The Butterfly Addoy 3000 is the perfect bat for a player who is just getting to grips with table tennis. Packed with control, it makes learning the fundamental strokes as simple as possible. Margins of error are further extended by making its speed outweigh its spin.
Bats with higher levels of spin make performing strokes more difficult. This is because the elevated spin will alter the movement of the ball in a more impactful way as a beginner.
Try not to get tempted into spending hundreds on a custom bat initially. It will make the learning process more difficult and your money is best saved. Just grab a Butterfly Addoy 3000 and get training!

Freelance writer. Table tennis enthusiast. Lover of all things online. When I'm not working on my loop game I'm probably binge-watching some fantasy show.