The Butterfly 401 is a shakehand style paddle for beginner/intermediate players. It features a five ply blade with Yuki tacky rubbers that sit on top of a 2.1 millimeter sponge which is quite thick for any paddle. The thickness helps to create extra power while the tackiness of the rubber (stickiness) helps to generate great spin. Let's take a look at some of the other features that make this paddle a popular choice for those looking to upgrade their paddle.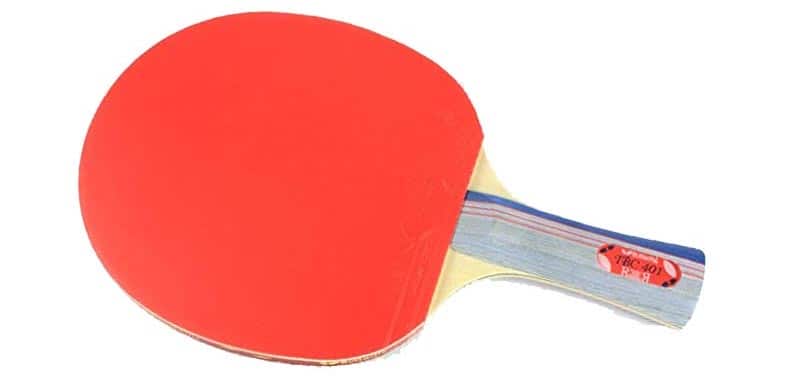 Specifications
Paddle ratings – Speed: 8.0, Spin: 8.0, Control: 8.5
Plies – 5 ply wood blade
Rubbers – Red and black Yuki 2.1 mm rubber
Sponge – 2.1mm sponge layer
Weight – 5.81oz (165 grams)
Grip – Shakehand flared paddle grip
ITTF Approved – Yes, you can use it in official tournaments
Price – $$ Check Price on Amazon – Check Price on Megaspin
Our rating – 9.2
Overview of the Butterfly 401
Features
5 Ply wood blade
The BTY 401 features a five ply wood blade which gives this paddle a good amount of power when you hit the ball. Its rating of 8.0/10 for speed isn't too high and so could be a good option as an upgrade to a beginner looking to get a higher rated paddle that won't be too overwhelming.
ITTF Approved Butterfly Yuki rubbers with 2.1mm sponge
On both sides of the 401 are Butterfly's Yuki rubbers. These are a tacky rubber which means that the ball will grip the paddle a lot more when you make contact. This allows you to generate more spin on the ball. The 401 has a spin rating of 8.0/10 as well which again isn't too high and might be a paddle to get used to before trying some of the very fast and tacky paddles. The rubbers on both sides have their pimples in which means it you'll get the same shot with the red and black sides of the paddle.
The rubber sheets sit on top of a 2.1mm sponge which causes the ball to spring off the bat and gain more power and spin. This is great if you're a more offensive player but negatively affects the control. Butterfly have given the 401 a control rating of 8.5/10 so if you're a brand new beginner to table tennis we wouldn't recommend this racket as you'll want to get something with a higher control rating and lower speed. We recommend purchasing a paddle with a sponge thickness of 1.5mm-1.8mm until you've built up your skill and have developed more control over the ball.
The Butterfly 401 meets all the standards that the ITTF require for players to use it in official tournaments too which is a good sign of its quality and design.
Grip and handle
The 401 is a shakehand style paddle (you're meant to hold it as if you're shaking hands with someone). It features a rounded flared handle which means that it gets wider towards the end to stop the bat from slipping out of your hand. The handle is a little shorter than some other paddles we've tried so it might not suit someone with large hands. We really liked the grey and blue design though.
Comes with a racket case
The rubbers on a ping pong paddle do wear out over time and will often lose their tackiness (stickiness that generates the spin) if you don't look after them properly. Dust is a big culprit when it comes to paddles wearing out quickly so we always recommend keeping your bat in a case when you're not using it. You can also clean it to keep it in the best shape possible. Thankfully the 401 comes with a case included in the price, it's not the best quality but will help massively in extending the life of the rubbers.
About the manufacturer: Butterfly
Butterfly are a Japanese table tennis brand that was founded in the 1950s to provide high-quality professional and recreational ping pong equipment. Their dedication to research and quality has led to them being one of the most popular table tennis brands in the world. Their tables, preassembled rackets and rubbers are hugely popular with professional and amateurs alike. They sponsor some of the top players in the world who love their products. You should have no hesitation when ordering one of their paddles or tables.
Pros of the 401
5 Ply blade – Get's reasonable power (but not too much)
ITTF Approved? – Yes, can be used in official tournaments
Tacky rubbers – The Butterfly Yuki rubber on both sides is good for generating spin
Thick sponge – 2.1 millimeter sponge layer provides springy feel with good power
Case included – Comes with a racket cover
Balanced ratings – Paddle that has good all round ratings
Cons of the 401
Hard to maintain – Very sticky rubbers that attract sweat and dust. Will smell at first and will lose spin unless cleaned
Short handle – Slightly shorter handle (might not be suitable for players with large hands)
Balanced ratings – Balanced ratings may be a downside depending on your skill level, it's not ideal for complete beginners but not good for serious intermediates or advanced players
Conclusion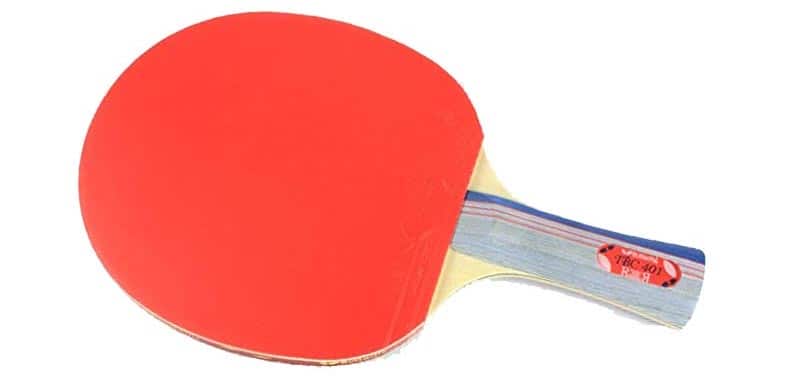 The Butterfly 401 gets really good reviews and we thought it held up well and is perfect for a beginner looking to up their game without going overboard on power and spin. But if you can afford slightly more budget you can for not very much more get a paddle with better ratings that delivers a lot more value. To see some of the other rackets we like, check out what we think are the best paddles in 2020.

Eugene (Gene) Sandoval has been one of those guys who spent too many hours around ping pong tables in high school. However, soon enough, Gene understood that there is more to ping pong than having fun. That is how he started a journey that made Eugene one of the experienced semi-professional ping pong players in the United States. As the founder of the PingPongRuler, Eugene spends most of his time surrounded by ping pong tables and research. He always has this knack for coming up with new ping pong strategies and telling the good and bad equipment apart.