The JOOLA Omega Speed is one of the three paddles that make up the JOOLA Omega line of bats. The Omega Speed is an inexpensive pre-assembled table tennis paddle aimed at beginners. Lightweight and fast, it sports many of the qualities that up-and-coming players seek.
Megaspin kindly sent this bat over to us for review. We seized this opportunity and tested out the Omega Speed's performance across the board to see where it excelled and where it fell short. Here's our honest review.
JOOLA Omega Speed Review
Specifications
·         Class – OFF
·         Plies – 5W
·         Rubber – Torrent 33
·         Sponge thickness – 2mm
·         Blade thickness – 5.7mm
·         Handle type – Flared
·         Weight – 179g
·         ITTF Approved? – Yes
·         Price – $
·         Our rating – 7.2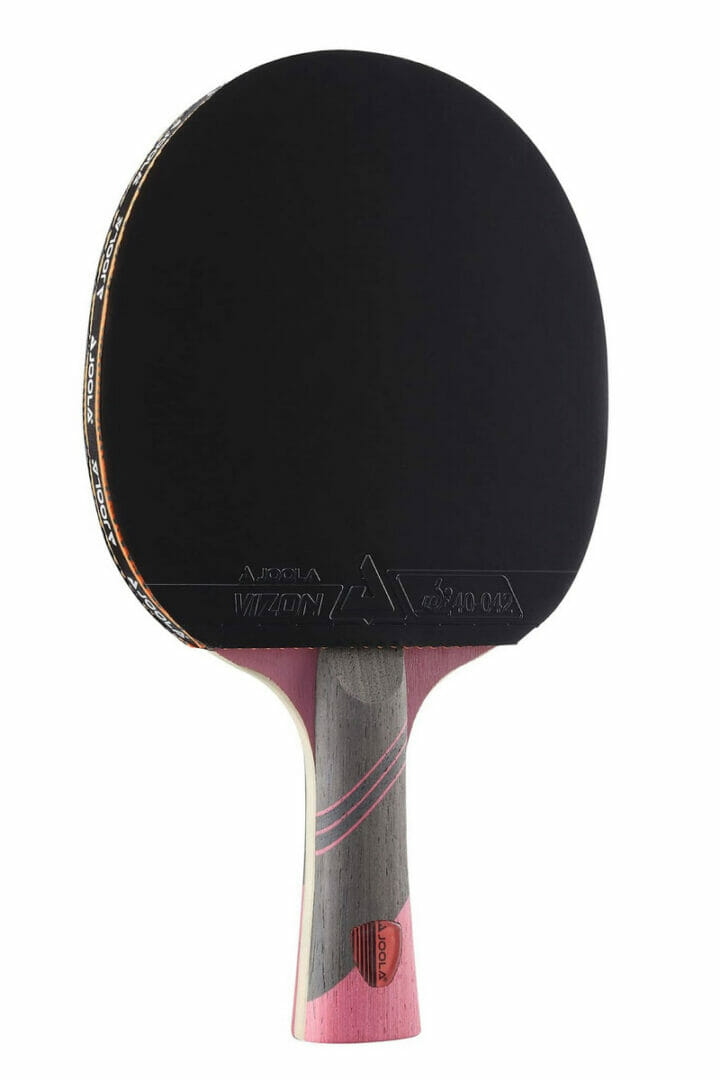 JOOLA Omega Speed Construction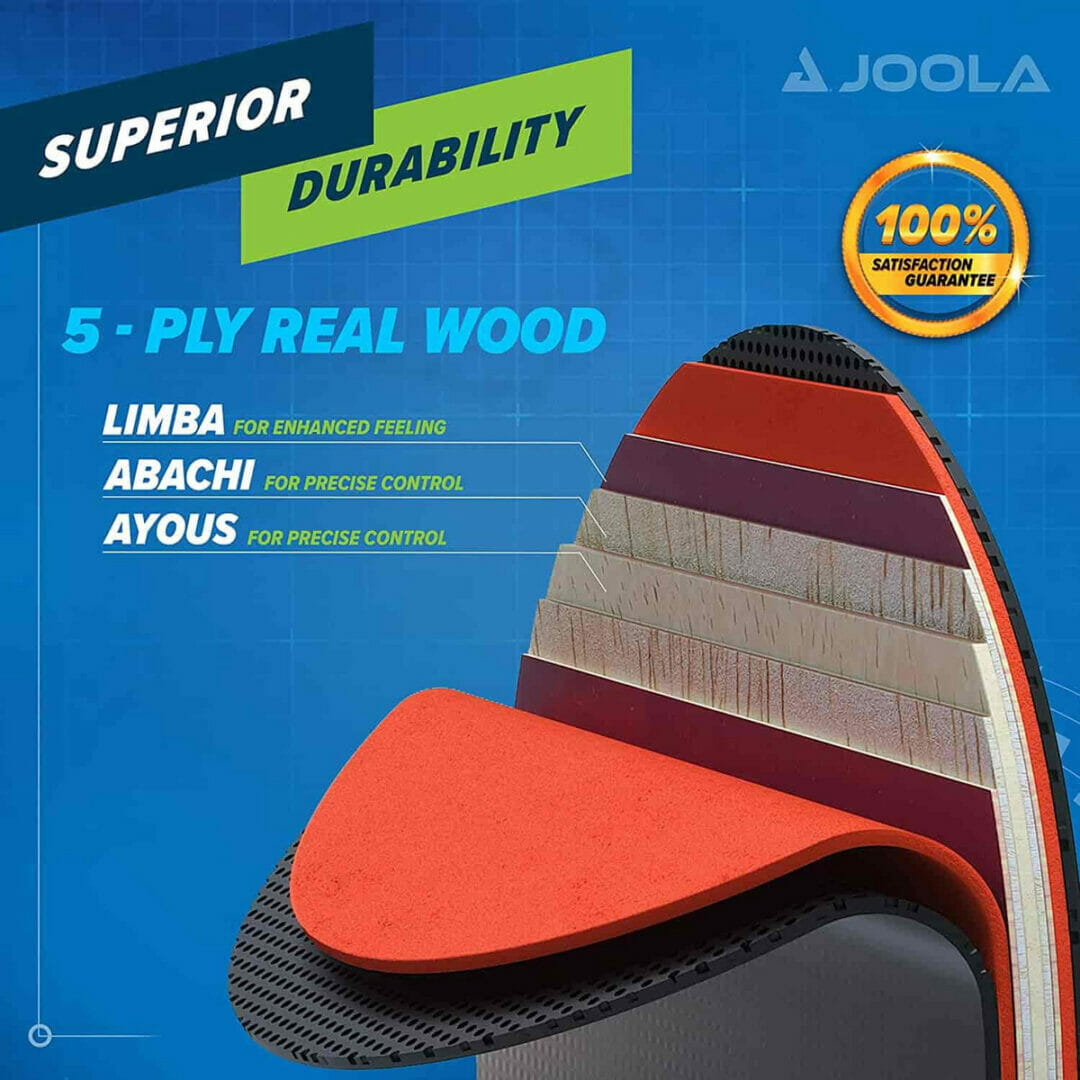 The Infinity Balance is a paddle from JOOLA's pre-assembled bat line. This means you are getting a complete bat with a specially selected blade and rubbers.
Blade
The JOOLA Omega Speed table tennis racket has a 5-ply all-wood blade. Unlike some cheap bats, which do not detail their composition, JOOLA has chosen to do so. We can see they have used quality woods commonly used among top blades. Abachi features as the core and has a layer of Ayous on either side of it, and Limba makes up the outermost plies.
Abachi: From the same species of wood as Ayous. Often an outer ply. Abachi is lightweight and flexible, great for quick counter-driving.
Limba: A veneer commonly found in the outermost plies. It is a soft, flexible wood that can feel hard depending on the rest of the blade make-up. It provides great feeling and is associated with the satisfying clicky sound of looping.
Ayous: A common core veneer. Lightweight and controllable but not quite as light as Balsa. Great for fast close-to-the-table style play.
Rubbers
The JOOLA Omega Speed paddle uses JOOLA Vizon rubbers. Formerly, the Omega Speed used Torrent 33 rubbers. Vizon is a traditional inverted rubber which means the pips are facing inwards, giving the top sheet a smooth surface.
The sponge thickness is 2mm. This is a standard thickness for the offensive style.
JOOLA Omega Speed Pros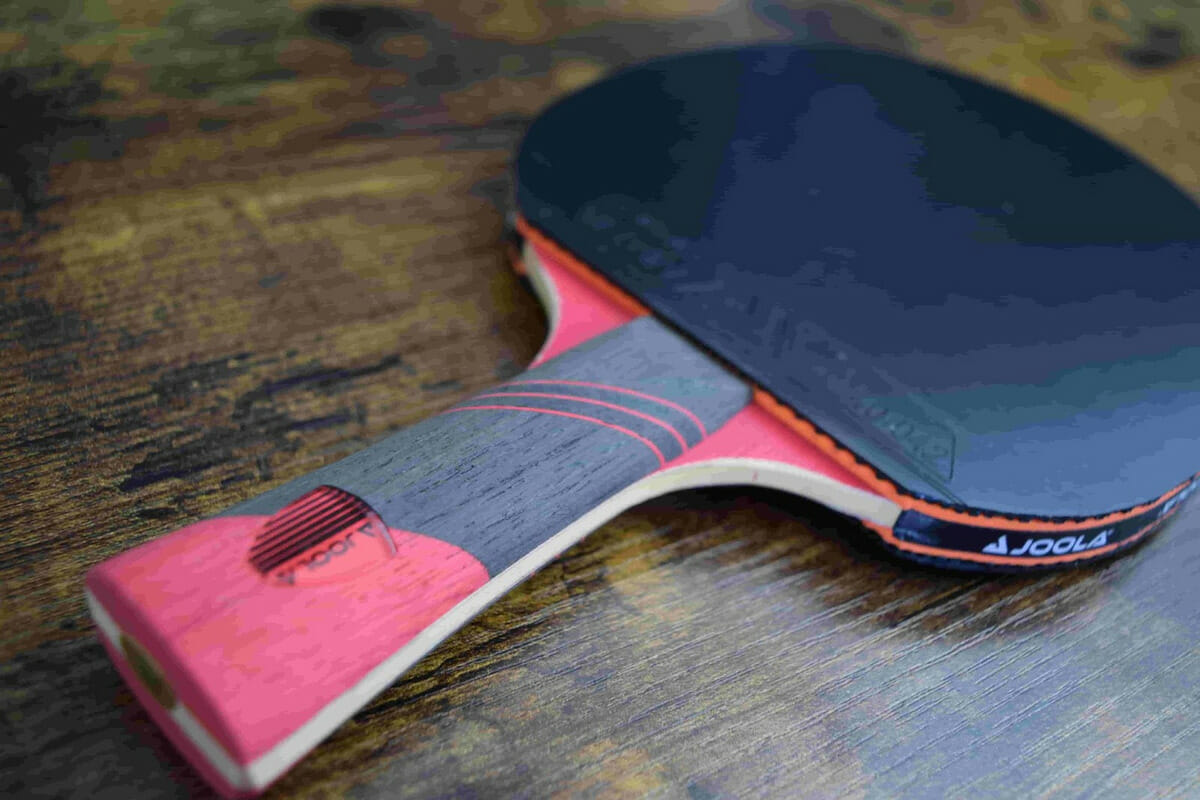 Pros
Inexpensive

Great value for money

Smashing

Spin insensitive in lower gears

Looping potential
While playtesting, I was very surprised by the quality of this bat. For the price, and considering its recreational audience, I imagined it would be very restrictive to use. However, while it is certainly muted compared to advanced equipment, I could perform rather well with it in my hands.
While the speed of the bat is its selling point, it's not crazy fast by any means. Rather, it's pretty quick for a beginner audience. I think the speed is just about right for this group of players. It's a linear paddle, so you don't get any amplified speed boost as you hit the ball harder. This makes your shot placement easier to predict and helps you remain consistent as you develop your attacking strokes.
Smashing was one of the areas I enjoyed the most about this paddle. It had a somewhat hard feeling during smashing, which I liked. I was able to generate more than enough pace to kill balls. I was also very surprised by the looping ability of the JOOLA Speed. Now, of course, those interested in this paddle are probably around a beginner level, and you won't be looping for some time. It's an advanced stroke that takes a lot of practice to get the hang of. But it's important to test the limits of this bat to hone in on what skill level it is most suitable to.
Now was the looping exceptional, no, not by any means. It required more effort than usual for me, and I wasn't getting my normal level of spin. However, I had a lot of control, and as such, I wasn't making many errors. So know that if you purchase this bat as a beginner, you can hang onto it for some time as it doesn't bottleneck you too much in terms of what shots you can perform.
JOOLA Omega Speed Cons
Cons
Blocking slower shots

Tough to keep serves and pushes low

Wrong rubbers listed

Double black rubber combination
Given the very cheap price tag, these cons are almost inconsequential. In fact, you can more or less disregard two of the three when you digest the info I'm about to impart.
The first drawback is that the JOOLA Omega Speed listing incorrectly cites Torrent 33 as the rubber for this bat which is no longer the case. It appears these rubbers use to feature before Vizon replaced them. And having used Vizon I can confirm they play rather well.
The second issue is regarding the Omega Speed paddles, which have two black rubbers instead of one red one black. As the rubbers are ITTF approved, a beginner could make the mistake of thinking this paddle is eligible for use in leagues and tournaments. However, rules state both rubbers must be of a different color, with at least one being black. I'm not sure what the logic behind selling a bat with two black rubbers is, but they are certainly best avoided.
My recommendation is to purchase the standard red and black rubber version. There are 5 to choose from in total, only the light blue handle has the different rubber sheets.
And finally, onto the actual con concerning gameplay. I found that most of my mistakes resulted from relying on my opponent's pace in passive rallies. However, the Omega Speed isn't quite fast enough to get the ball over the net every time if your opponent isn't hitting the ball fairly hard. So make sure to be conscious to apply a little force to each of your blocks to make sure the ball make it over the net.
About JOOLA
Founded in Germany, JOOLA is a globally successful table tennis brand that leads equipment innovation. In recent years they have undergone a few changes. Most notably, they were acquired by Sport Squad — an interactive gaming equipment company. Sport Squad also owns iPONG, a table tennis robot brand which we have reviewed in the past.
JOOLA recently re-designed its logo in a stylized "J" with three points to highlight their three key values. These are innovation, inclusion, and inspiration.
Alternative Options
We also reviewed the Omega Speed head-to-head in comparison with 4 more of Joola's paddles in this range, which you can check out here.
JOOLA Infinity Balance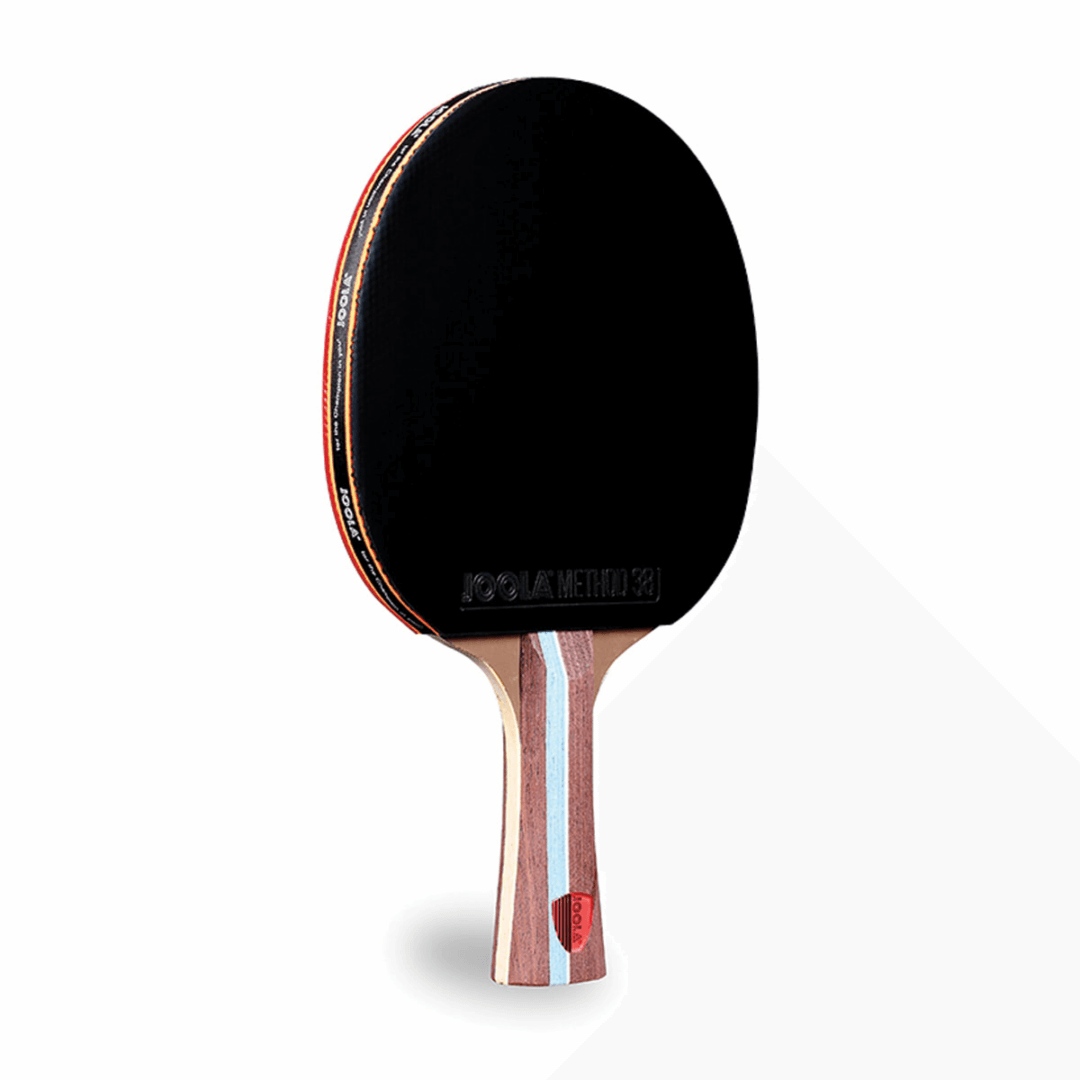 (For our full review, click here)
The Infinity Balance is a faster paddle that uses a 7-ply blade instead of the Omega Strata's 5-ply. Its increased speed is more noticeable the harder you strike the ball, so during slower gameplay, it's still pretty close to the Omega Speed, which gives it the benefit of more control when you need it. As a result, it's a great alternative as it has a higher skill ceiling. That being said, it could be too fast for players who are not yet able to alter the speed of their strokes precisely.
JOOLA Omega Strata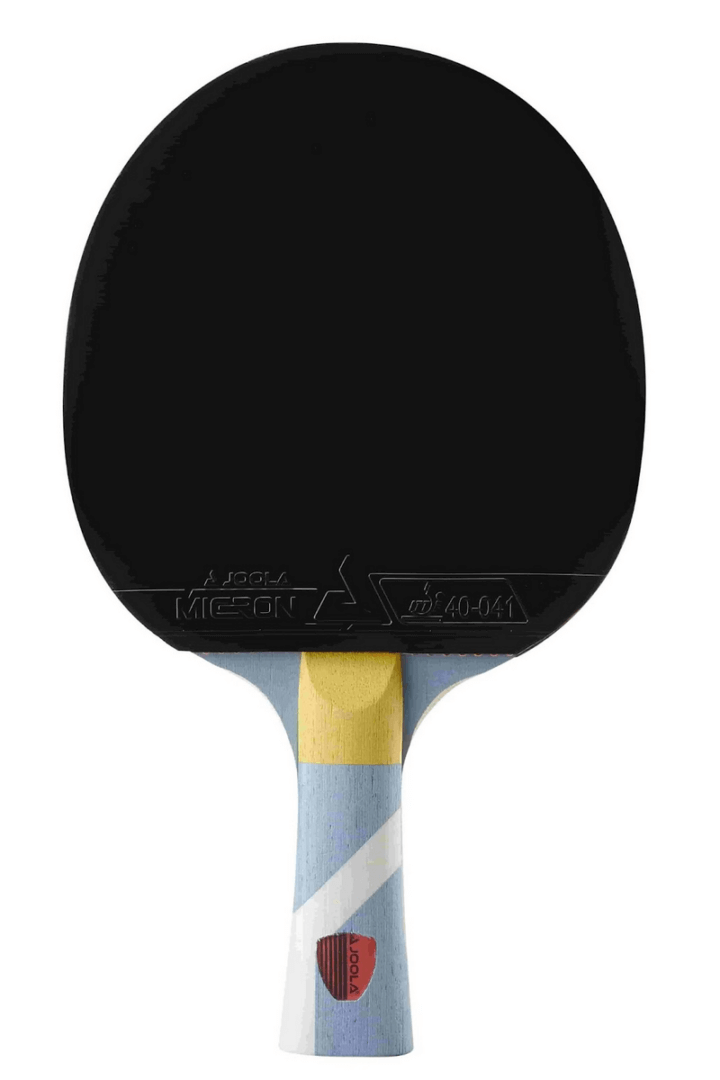 (For our full review, click here)
The Strata is a slower bat with more dwell time than the Omega Speed. It also provides far more feedback which is helpful to refine your technique. The Strata is more suitable for players that do not rely as heavily on speed, but more so, control and spin. It does use the same Vizon rubbers as the Omega Speed, but its reduced speed and increased dwell time make it easier to rotate the ball. It is a great choice for players developing spinny serves and seeking to outlast their opponents.
Conclusion
The JOOLA Omega Speed is a paddle for a beginner audience. While fast, it is relatively easy to control, and it also has plenty of spin for the full package. Its versatility surprised me, as it wasn't difficult to loop with. As such, the Omega Speed gives you room to grow as a beginner. You won't be looping any time soon, but know that you can with the Omega Speed when you develop the ability.
This paddle is a super buy for the price if you sport an attacking style. It far exceeds the beginner bats I started my table tennis journey with. Just remember that if you decide that this is bat is the one for you, select the light blue blade with red and black rubbers. This gives you the ability to compete more officially should you want to. And as a beginner, you should certainly seek this as it really helps you improve. If you feel this bat isn't the one for you, consider checking out our best ping pong paddle guide.
You might also be interested in our top table tennis bat cases.

Freelance writer. Table tennis enthusiast. Lover of all things online. When I'm not working on my loop game I'm probably binge-watching some fantasy show.