The JOOLA Carbon Pro is a professional level competition paddle. You will be pleased to find that it comes in one of the most exciting looking packagings that we have come across in this niche. It features some vibrant graphic colours to act as a preamble for what promises to be a stirring paddle in its own right. The first impressions tell us that this is probably designed for intermediate to more advanced players. Let us look at what it has to offer.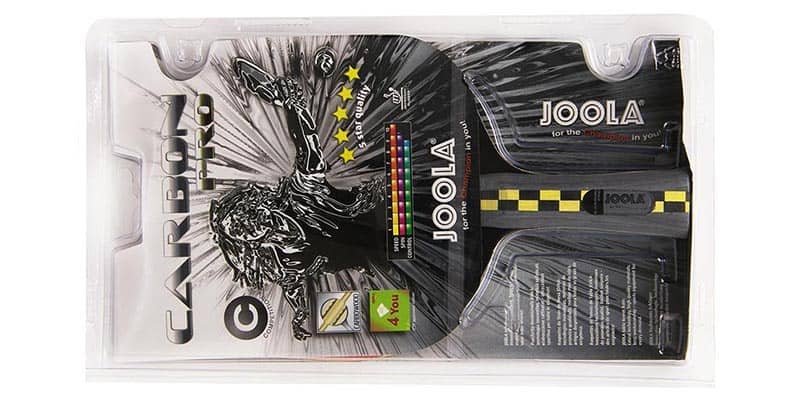 Overview of the JOOLA Carbon Pro
The handle has a contrastingly colored pattern that is eye-catching. Fortunately, this attraction is not limited to the visuals. It is a flared handle that has its functionality enhanced by the addition of veneers that are specifically glued on either side. It has twin carbon layers that provide speed and a better feel in the player's palm.
Joola has used this paddle to introduce their latest Carbowood technology. It is a carbon-based technology that is designed to minimise the amount of vibration generated on impact. This results in an overall improvement in the player's accuracy of stroke.
This paddle has a head dimension of 6.10 x 6.06 inches which complies with ITTF guidelines. It comes in at a reasonable weight of 170 grams. The Joola Carbon Pro is by no means the lightest paddle of its kind that you will find on the market. The sponge is 1.9mm thick, which provides sufficient cushioning to get that coveted ball control with each shot. It has a smooth surface finish. The rubber used is the JOOLA 4 You rubber which is unique to the brand, and ITTF approved. It is this rubber that delivers the right combination of speed and spin.
In line with industry standards, this paddle comes with a 7-ply blade. 5 of these layers are wood, and 2 are carbon. They have managed to keep the overall weight of the blade to a minimum. It is an evidently sturdily built blade that strikes the ball quite cleanly.
High Speed and Spin
As the ratings would have suggested this paddle delivers incredibly high rated spin and speed. Although control is not within the same range as the other two characteristics, it is equally impressive. With high speed and spin, a player has the opportunity to perform reasonably well at tournament level using this paddle. A lot of this would depend on control, which of course is relatively highly rated in this case.
Enhanced Feel and Speed
Oftentimes, enhanced speed comes at the expense of feel. This would mean that as you strike the ball faster, you don't quite get the same sort of feeling that you would usually get in your palm. This would mean that the player has a lower degree of control as they strike the ball. Fortunately, this is something Joola has as a managed to negate. You can get tremendous speed without doing away with the feel. This, of course, is a perfect combination for players of all levels.
Larger Sweet Spot
With the introduction of the Carbowood Technology comes an enlarged sweet spot. This is a feature that would be appreciated by players of all levels. A larger sweet spot means that this paddle is more forgiving. For the improving player, this would mean that they can concentrate more on improving their shot selection and execution without worrying about accuracy. That allows them the opportunity to improve their game steadily. More advanced players would derive the least benefit from this feature.
Lower Vibration
Carbowood Technology is also credited with the reduction of vibration as you strike the ball. Most players will appreciate how much of a factor vibration is in ping pong. By reducing vibration, this paddle allows you to play more accurate shots as there is less external influence. A player is better equipped to judge their shots when they are not influenced by vibration.
Workmanship
One mark of a good paddle is its workmanship. This is a way that you can tell whether it will be durable or not. Having inspected this one, we are pleased to tell you that it is well-made. There are clear signs of a well-finished product. The handle is evidently well planed. The blade and the rubber are combined in such a way that they complement each other. All parts seem to be connected fairly seamlessly in such a way that you may not even see where the glue has been placed.
About JOOLA
JOOLA has been around for close to 6 decades. It started in Germany and has since penetrated the market across the globe. Some of the key highlights in this company's illustrious history include providing the official table tennis tables for 3 Olympic games. They have been trading in North America since 2006. Since 2012, Joola has been in partnership with USATT.
Conclusion
Sale
JOOLA Carbon Pro Professional Ping Pong Paddle - Racket with Carbonwood Technology & Red/Black JOOLA...
JOOLA - AN OLYMPIC TABLE TENNIS BRAND TRUSTED FOR 60+ YEARS: Launched in the 1950s, JOOLA has been...
ITTF REGULATION SIZE: The JOOLA Carbon Pro ping pong racket comes with a carbon infused blade and...
PLAY LIKE A CHAMPION: This high performance racket utilizes optimal grip technology to allow for a...
SUPERIOR QUALITY AND DURABILITY: Transition from recreational to competitive with JOOLA Carbonwood...
PERFORMANCE RATINGS (SCALE 0-100) - Speed: 98, Spin: 92, Control: 86. Includes 1.9mm JOOLA 4 You...
There are various features that we love about the JOOLA Carbon Pro. According to the manufacturer, this is a paddle that is designed to facilitate the progression of a player from casual to competitive. The strength of this product is perhaps its weakness as well. Having a large sweet spot minimises how far you can go in the development of your game with this paddle.
It is ideal for an attacking player who is looking to add speed and spin into their game. Although a defensive player can use it, it is not as suitable for their playing style. Having considered these factors, we would recommend the Joola Carbon Pro for players of beginner to intermediate level.

Eugene (Gene) Sandoval has been one of those guys who spent too many hours around ping pong tables in high school. However, soon enough, Gene understood that there is more to ping pong than having fun. That is how he started a journey that made Eugene one of the experienced semi-professional ping pong players in the United States. As the founder of the PingPongRuler, Eugene spends most of his time surrounded by ping pong tables and research. He always has this knack for coming up with new ping pong strategies and telling the good and bad equipment apart.