The Head Summit table tennis table is an indoor table with an 18mm thick surface giving it a good and consistent bounce. Whilst it's not ITTF approved thickness it is more than enough for casual games and training at home. It gets lots of positive reviews on Amazon because of its sleek design and good bounce so we thought we'd take a look too. Let's get into it.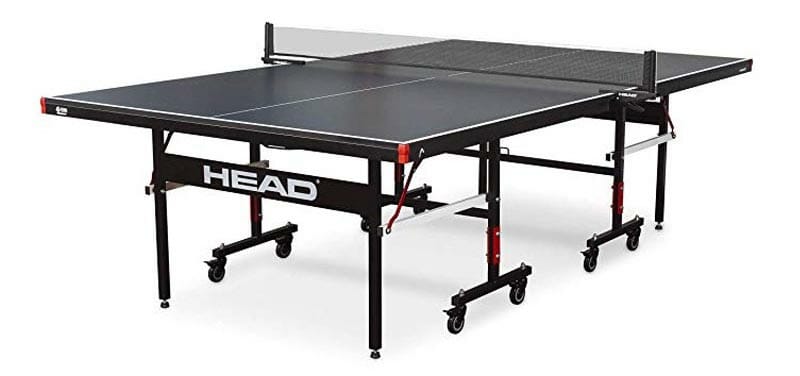 Specifications:
Dimensions – 9 x 5 feet USATT approved
Assembly time – 10 minutes (arrives 95% already assembled)
Surface thickness – 18mm (3/4″)
Price – $$ (Check the latest price on Amazon)
Our rating – 8.9/10
Overview of the Head Summit indoor table tennis table
A look at some of its features
18mm thick table surface
If you're looking at purchasing a new table tennis table it's important to know what features to look. Probably the most important thing to consider is the surface thickness of the tabletop. This is what affects how much the ball bounces. Indoor tables tend to range from 12mm to 25mm. The thicker the table the more the ball will bounce so we always recommend getting the thickest surface that you can afford. Read more about other things to consider in our guide to choosing a table here.
The Summit has an 18mm thick table which is pretty good and the minimum that we'd recommend for a good game. Less than 15mm is fine for casual and recreational players but the quality is a lot less so we always recommend going for a thicker one.
A strong frame that's easy to fold and the legs deploy automatically
The Summit splits into two separate table halves which makes it easy to move around. Each half of the table folds up to make it easy to store as the two halves nest together so it takes up a lot less room. When folding or unfolding it the legs deploy automatically which is a nice feature and makes it a lot safer.
You can also put it into the playback position so you can practice alone when you don't have a partner to play against. When folded up the table locks into position to prevent it from coming down unexpectedly, another key safety feature of any table.
Good mobility and leg height adjusters
Although it's a relatively heavy table, because it splits into two halves it makes it a lot easier to move around as and when you need to put it into storage. It also has eight caster wheels that lock into place to prevent it from moving around when in storage position or mid-game.
Each of the legs has height adjusters so you can ensure that playing surface is completely level. Just twist them to raise or lower to the height you want.
Comes with a net and posts
Included with the table is a deluxe competition grade net and post set. It's a clamp style post that's pretty easy to set up and take off. You can also adjust the tension of the net as you want.
95% Preassembled: Set up in 10 minutes
A key feature of a table tennis table for us is that it doesn't take too long to set up. We know that good things come to those who wait but these days so many brands are shipping their tables almost completely assembled that it shouldn't really take longer than 20 – 30 minutes.
The Summit thankfully comes 95% preassembled and all you need to do is attached the wheels to the ends of the legs and you're good to go. It shouldn't take longer than 10 minutes. Because of the thick table surface though this table is quite heavy so you will need at least two people to turn it over. The video below walks you through how to do everything if you wanted to take a look at what's required before purchasing. We don't recommend paying any extra for assembly as it's so easy.
About the brand: Head
HEAD are a very popular sports brand being known for producing lots of different products and clothing for a number of different sports. They focus mainly on racket sports like tennis and squash but also make lots of equipment and clothing for winter sports. Being founded in the US in the 1950s they originally produced Skis before branching out to tennis rackets and lots of other sports.
Positives
Easy to assemble – Only takes 10 minutes to set up as it comes 95% preassembled
Sleek design – We're big fans of the black design of the top
18mm thick surface – Gives a good consistent bounce with a good surface thickness
Locking caster wheels – It's very easy to move around with eight locking caster wheels
Height adjusters – The legs have height adjusters to ensure a completely level playing surface
Negatives
Heavy

– The table is very solid and so one downside is that it's quite heavy
Conclusion: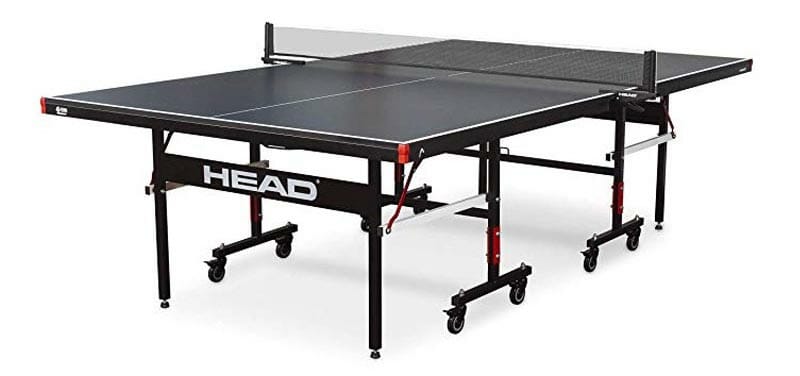 Overall we loved the Head Summit and thought for the price it was very competitive with some of the other really popular brands and models. The design of the table is something we really liked and it was refreshing to play on a table that wasn't the typical blues and greens that we're used to.
It felt very solid and the surface thickness gave a nice bounce over the whole of the table. We'd recommend it if you're looking for a reasonably priced table for a games room or training and want something different from the big brands.

Eugene (Gene) Sandoval has been one of those guys who spent too many hours around ping pong tables in high school. However, soon enough, Gene understood that there is more to ping pong than having fun. That is how he started a journey that made Eugene one of the experienced semi-professional ping pong players in the United States. As the founder of the PingPongRuler, Eugene spends most of his time surrounded by ping pong tables and research. He always has this knack for coming up with new ping pong strategies and telling the good and bad equipment apart.