The Cornilleau 250S Crossover (also known as Cornilleau Sport 250S Outdoor) is a great table tennis table built for the outdoors. It gets very positive reviews from customers and is ideal for beginners/intermediate players or people looking for a family table as an outdoor pastime.
Let's take a look at its features, pros, and cons you should consider before purchasing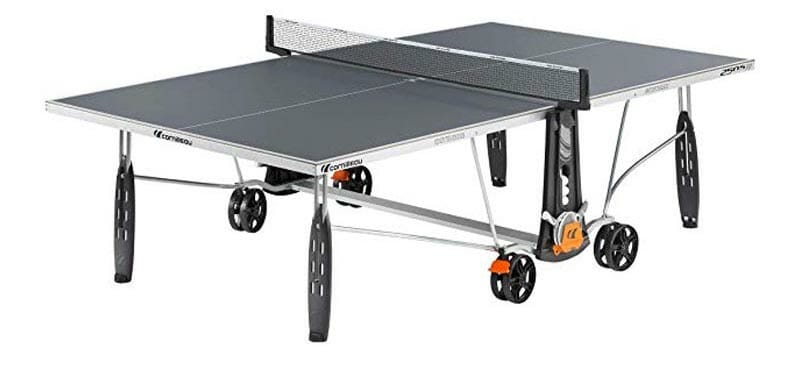 Specifications:
Dimensions – 9ft x 5 ft (Regulation size)
Assembly time – 2 – 3 hours
Surface thickness – 5mm
Weight – 141 lbs (64kg)
Price – $$$$ (Check the current price)
Our rating – 9.1
Overview of the Cornilleau 250S
Features
Playing Surface
Indoor table tennis tables typically have a 15mm – 25mm surface thickness and they are usually made of MDF (medium-density fiberboard) which is very susceptible to moisture and so shouldn't be used outside. Outdoor tables are usually made with weather-resistant materials which means they are thinner but give a comparable bounce. The 250s has a 5mm surface thickness which is pretty standard for an outdoor table tennis table.
Moreover, it's completely weatherproof and can be used come rain or shine. The S in "250S" stands for Softmat which provides an anti-glare surface.
The 5mm thick surface gives a reasonable bounce which is fine for casual players and families wanting a table just for fun, but if you are after a better bounce quality, you might be better off with a thicker top.
Frame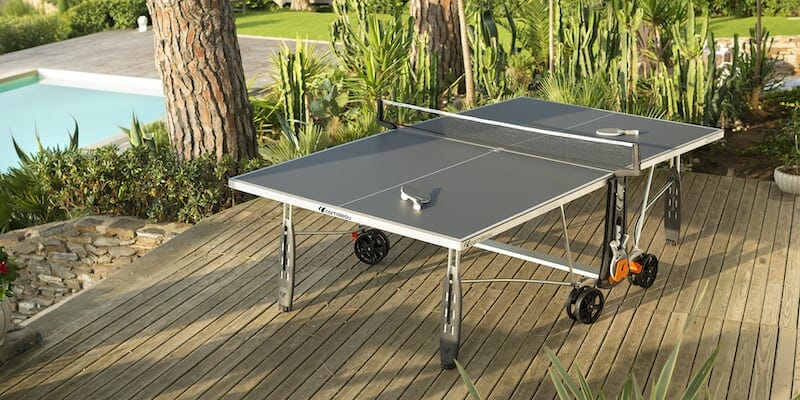 Another key feature of a good outdoor ping pong table is a strong and weatherproof frame. You need something that can handle wetness and won't fade in the sun (although we don't recommend leaving it outside without a table cover to keep it in the best condition).
The 250S Crossover's galvanized steel frame is designed with this in mind as it's made of strong aluminum and zinc alloy (called Aluzinc) that won't rust when exposed to moisture.
On the end of each of the legs are height adjusters so you can extend the legs to ensure that your playing surface is completely flat. Each can be increased up to 70mm (2.75″), which is handy, especially when the table is on uneven terrain.
Storage
The Crossover is super easy to fold away with 16 automatic locking points for extra safety. It also features a Cornilleau-patented Compact Technology system, which means it has a lower center of gravity for extra safety when it's being stored.
In storage, it packs down to very small dimensions: 155cm high x 167cm wide x 75cm deep. One half of the table is also foldable, so you can self-practice.
The weatherproof and adjustable net and posts set that comes with the table cleverly folds away when you fold up the table. You don't have to remove it!
Another nice feature is the paddle and ball storage on the frame of the table. If you're constantly losing your ping pong balls outside, the handy slot that keeps them will be very useful.
Mobility
One of our favorite features of the 250S is its massive wheels. It has four 200mm double wheels, two of which lock into place to prevent it from moving during games or even when it's stored. Thanks to those wheels, it's also very easy to move, which is a great feature for outdoor tables.
Assembly
As with most outdoor tables, the assembly can take hours. When we set this table up, there were two of us, and it took just under 3 hours from start to finish. You will certainly need two people to put this table together as it is pretty heavy. When considering the rating we gave this table, the long assembly definitely brought it down a few points.
The instructions we had were in French, which wasn't ideal. Don't worry, though, as the video below walks you through everything you have to do:
Positives
Solid weatherproof surface – High-quality 5mm resin laminate tabletop with their own patented mattop finish preventing corrosion.
Strong durable chassis – The undercarriage is made with a strong aluminum/zinc alloy (Aluzinc) providing durability.
Massive wheels – Some of the biggest wheels we've seen on a ping pong table (200mm), which gives it great mobility.
Safe folding mechanism – Easy to fold away and it has 16 automatic folding points for extra safety.
Height adjusters – 70mm height adjusters to ensure a level playing surface.
Bat and ball storage – The table has storage for up to four paddles and eight balls.
Folding net and posts set – Included net system is foldable.
Amazing warranty – Cornilleau offers a huge 10-year warranty (it doesn't cover things like the net and posts or the wheels).
Negatives
Long assembly – It takes a long time to put together.
Not great instructions – Not the best instruction manual (as it was in French) but there is a video above to walk you through the process.
Only 5mm tabletop surface – We like outdoor tables with a slightly thicker surface, but 5mm is more than enough for casual players.
Slightly more expensive than competitors – As the tables are manufactured in France they are a little more expensive in the US than some of its competitors. (You can see what we think is the best value outdoor table tennis table here.)
Conclusion: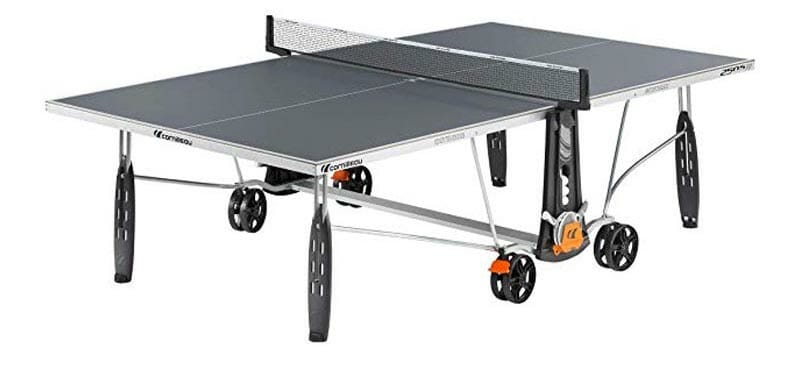 To sum up the Cornilleau 250S Crossover, we really liked it and it ticks all the boxes when it comes to choosing a good outdoor table tennis table. Its huge wheels, 16 automatic locking points, rustproof top, and steel frame make it a very good option when considering the best table for the outdoors. The main downside is that it takes too long to assemble.
In the end, we think the positives outweigh the downsides, and if you're looking for a durable table, it's definitely one that should be considered.
You might also check out other (more expensive) Cornilleau table tennis tables such as the bestseller 700M Crossover Outdoor and Cornilleau 500M Crossover.

Eugene (Gene) Sandoval has been one of those guys who spent too many hours around ping pong tables in high school. However, soon enough, Gene understood that there is more to ping pong than having fun. That is how he started a journey that made Eugene one of the experienced semi-professional ping pong players in the United States. As the founder of the PingPongRuler, Eugene spends most of his time surrounded by ping pong tables and research. He always has this knack for coming up with new ping pong strategies and telling the good and bad equipment apart.