The 9 Best Table Tennis Shoes
Do you really need to get a pair of specialist table tennis shoes? Can't you just use regular trainers instead? As a beginner and intermediate player, you should be fine in regular sports shoes. But as you level up your game, you'll find that upgrading to a pair of shoes designed with the movements of table tennis in mind can really you to improve. After making the switch I've never looked back.
In this post, we'll cover a few of the best table tennis shoes available and discuss some of the features that make ping pong footwear worth the money.
Featured Products
Why You Should Trust Us
While we are sports lovers at heart, we over here at Ping pong Ruler are table tennis specialists. This means whatever the topic, if it's about table tennis we have useful insight to provide. All thoughts are our own and we are not paid by companies to promote their products.
The Best Shoes for Table Tennis for 2023
The Best Table Tennis Shoe Reviews
Now that we've covered what features to look for we'll move on to individual shoes that we recommend!
1. Butterfly Lezoline Rifones — Best Overall 🥇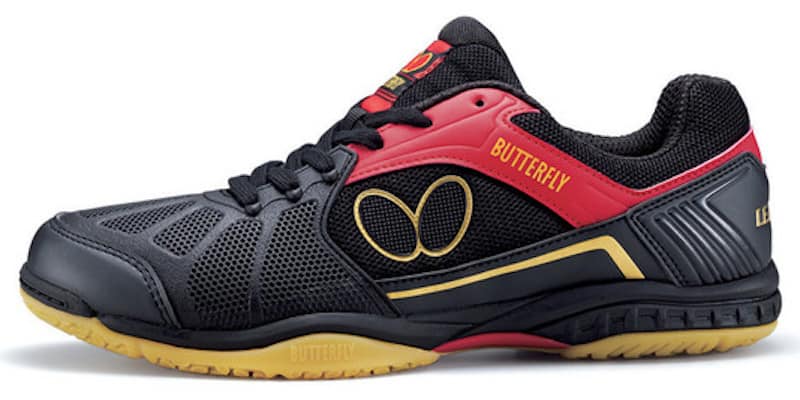 Specifications
Size: 4.5-12
Weight: 2.3 lbs
Color: Black, blue, lime green, and pink
Pros:
Super grip
Comfortable
Stylish
Breathable
Available in four colors
Cons:
Butterfly is one of the top brands in table tennis and the Lezoline Rifones demonstrate the quality they're capable of. Having tried a lot of shoes over the years, and taking into account the cost, we think these are the best choice.
Available in four colors, these shoes feature a thin sole and wingtip that offers excellent grip on soft floors, and they are extremely comfortable. They also feature a B-Absorber. This is a shock-absorbing sponge that is sandwiched between the outer and middle soles of the forefoot. It helps ensure your feet are properly cushioned and adds flexibility.
The STB Torsion protection technology helps prevent deformation of the shoe which can happen after repeated twisting as is typical of table tennis movement.
They're also super lightweight allowing you to move around the table easily. What's more, the Rifones are the shoe of choice of many professional players including Timo Boll!
Our rating: 9.9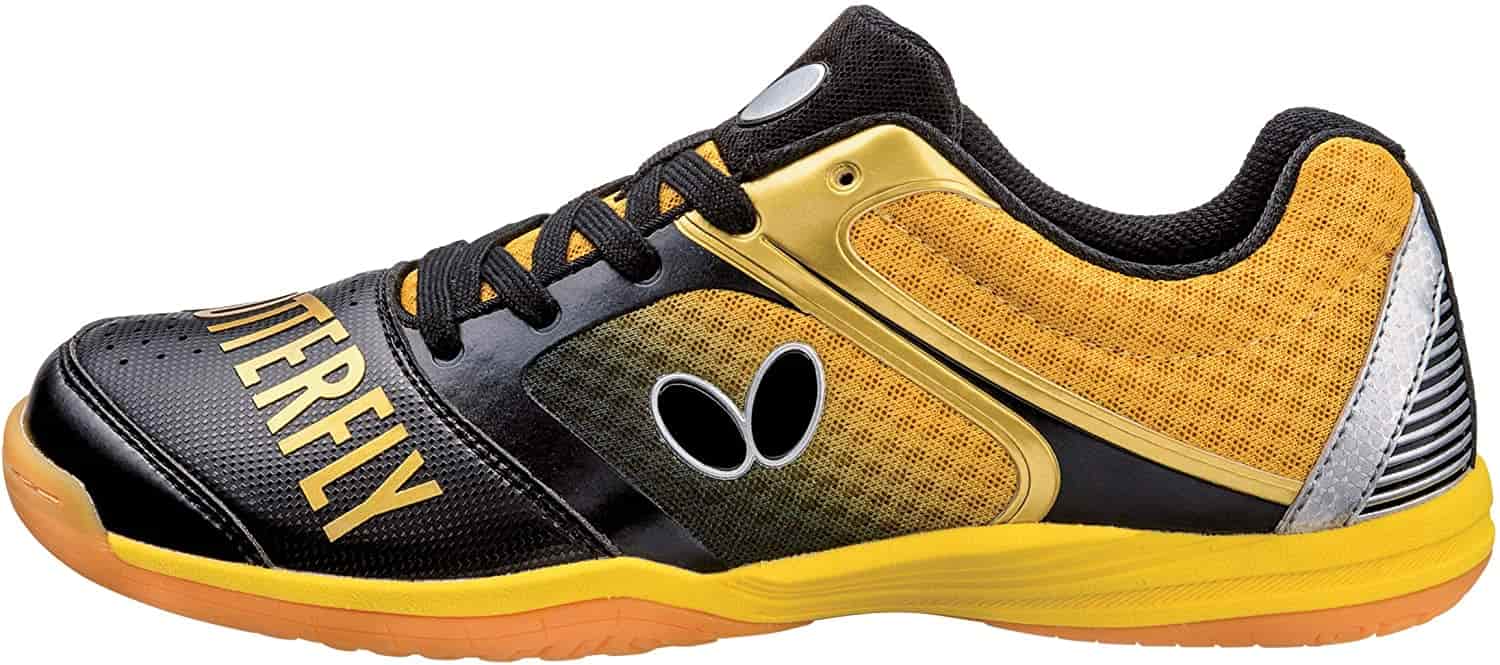 Specifications
Size: 4.5-11.5
Weight: 1.2 lbs
Color: Black/gold, blue, navy/pink, pink, white
Pros:
Grippy

Comfortable

Stylish

Lightweight

Durable

Available in five colors
Cons:
Our fourth choice of ping pong footwear are the Lezoline Groovy table tennis shoes from Butterfly. Like the Rifones, they have a very thin sole giving you an excellent feel and grip when moving around the table during a game. The soles have shock absorbers too which means they're very comfortable and they take some of the strain off your joints during more extreme movements. With this model, they have switched out the usual mesh located above the toes. This is often an area that is susceptible to damage so the switch helps enhance durability. We think they are some of the best table tennis shoes around when it comes to robustness.
Our rating: 9.5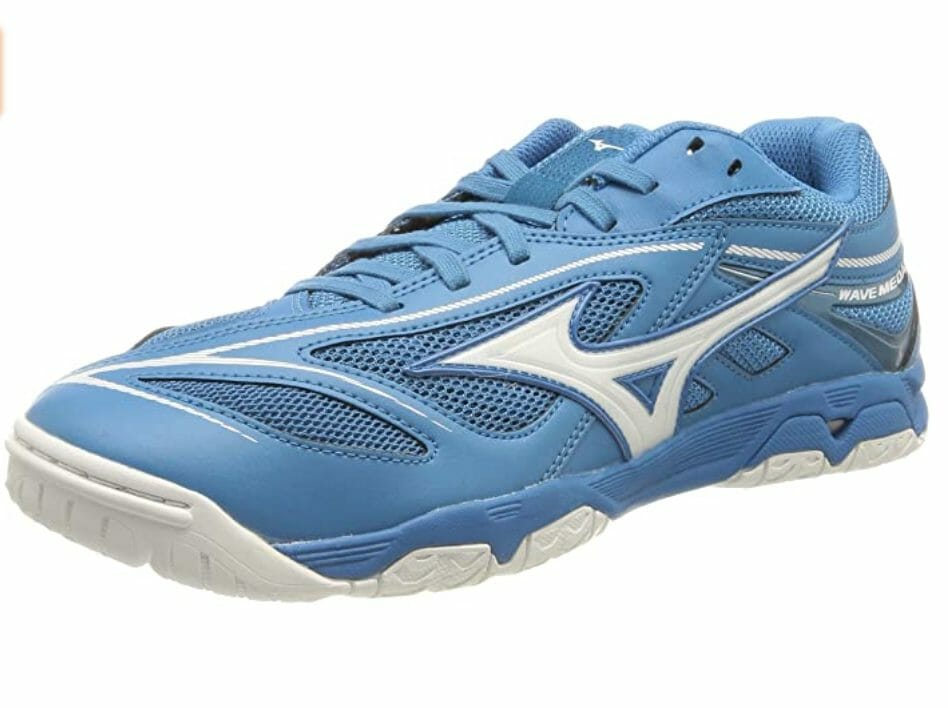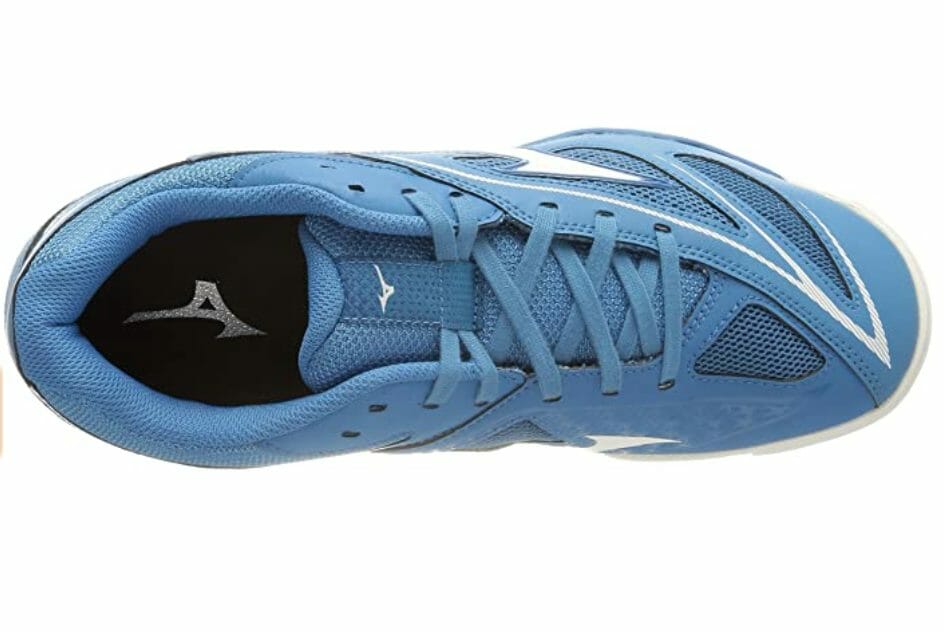 Specifications
Size: 10
Weight: 1.3 lbs
Color: Blue
Pros:
Popular with the pros

Super grip

Comfortable

Highly breathable
Cons:
Only one color available

Expensive
Another option for a great ping pong shoe is the Wave from Japanese brand Mizuno. It's a really popular choice that has seen use by loads of professionals including Ma Long and Zhang Jike. The Wave technology used ensures plentiful cushioning with superior grip and a non-marking outsole. They're made with AirMesh materials giving them excellent ventilation to stop your feet from overheating — excess sweat is wicked away while it stimulates cool air to flow. The overlay guards also help to prevent friction and chafing. This can be a big problem with other shoes during long intense training sessions. We feel that they're a very good option that won't disappoint.
Our rating: 9.5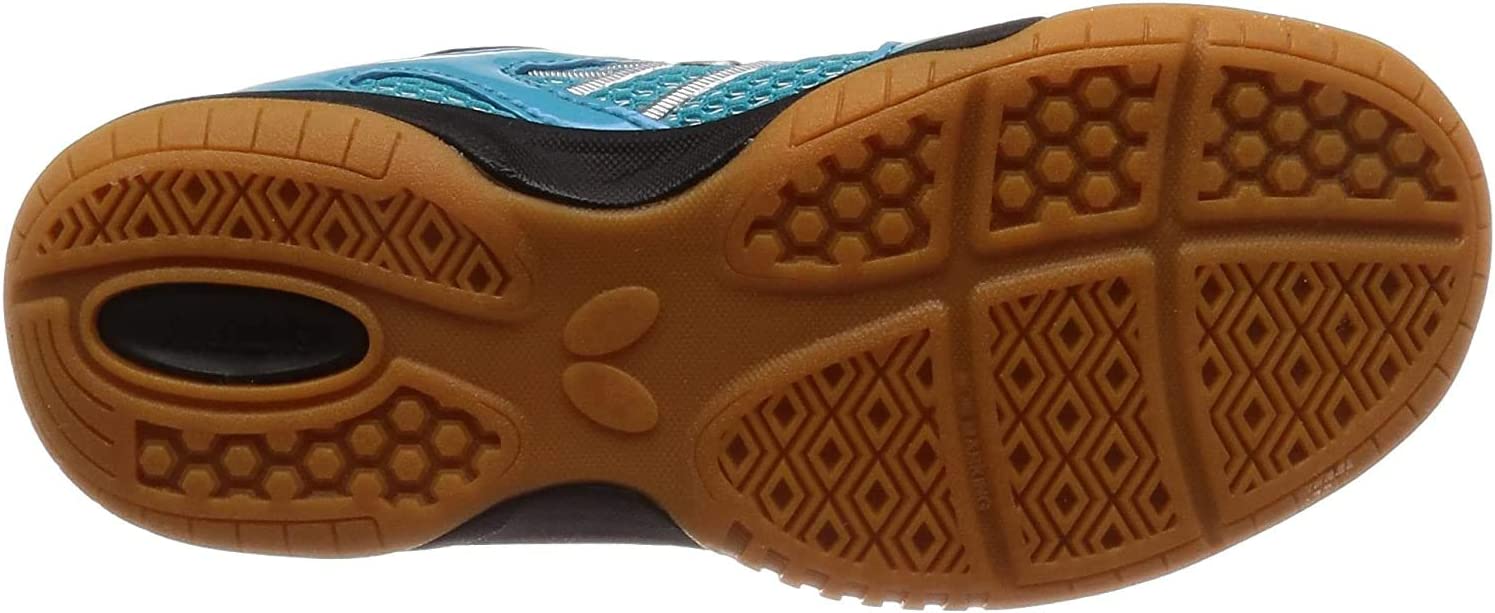 Specifications
Size: 4.5-10
Weight: 1.7 lbs
Color: Blue, lime green, gray, pink
Pros:
Super grip

Comfortable

Highly breathable

Available in four colors
Cons:
Not as light as some shoes
The Lezoline Sals are tournament-grade shoes aimed at delivering style and durability. Targeted towards improving table tennis players, they are exceptionally high-quality, providing super shock absorption needed for speedy gameplay. They are one of the more breathable pairs of shoes featured as you can find mesh throughout much of the shoe. They are also rather lightweight, but not as light as the Vilight or Groovy. Bold and trendy, these are quality shoes for table tennis that you can depend on, and look great while doing so.
Our rating: 9.2
Table Tennis Footwear: Buyer's Guide
To help you choose the best table tennis footwear, we've written a brief guide to table tennis shoes and what you need to look out for!
Features of the Best Table Tennis Shoes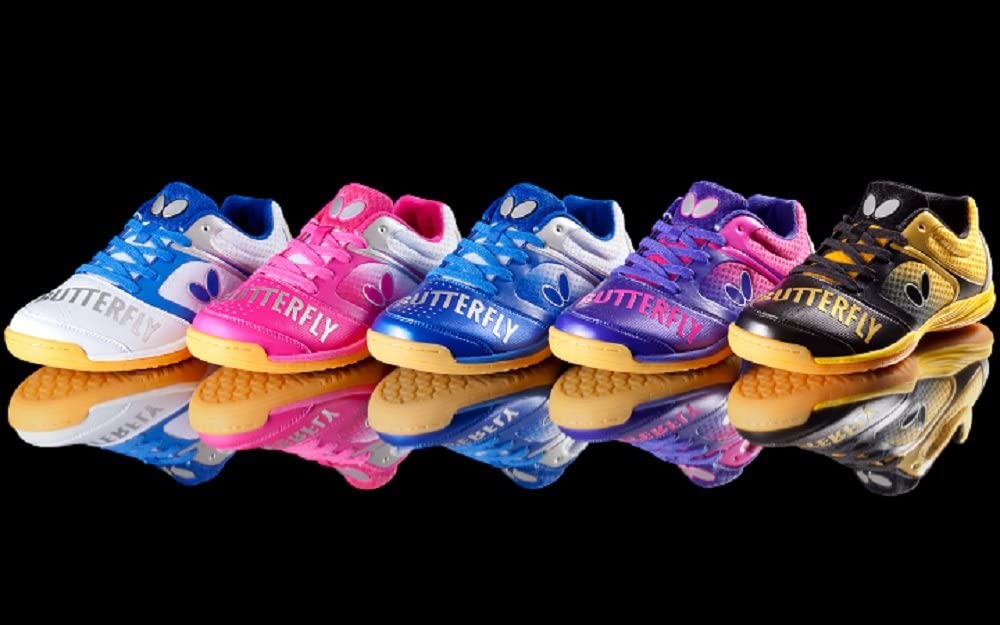 Lightweight
Being lightweight is one of the top features of a pair of ping pong shoes. Playing ping pong requires very quick movements around the table, so you want a pair of shoes that aren't too bulky and allow you to change direction fast and move around without any inhibitions.
Thin Soles
Another key feature of table tennis shoes are thin soles. Having your feet as close to the ground as possible will significantly reduce any chances of twisted ankles and other table tennis injuries resulting from agile side-to-side movements.
Support and Cushioning
Table tennis shoes don't offer too much support and cushioning because they can add to the shoe's weight and slow you down. That being said, they have adequate support and are made using lightweight materials to keep the bulkiness down.
High-Quality Durable Materials
Table tennis sneakers are often made out of high-quality synthetic leather and sometimes you'll find real leather. People tend to favor synthetic over real leather though as it's more breathable and durable.
Breathable Materials
Keeping your feet cool during the game is really handy, so table tennis shoes often feature breathable materials that have good ventilation. The mesh they're made with means that air circulates a lot better and stops you from sweating so much.
Other Things to Consider
Your Skill Level
As a beginner, any type of sports shoe should be fine. Your footwear isn't going to make much difference as you're more focused on mastering your strokes and basic table tennis skills. But, as you improve and start entering competitions, your footwork becomes more and more important, and therefore, so does having a good table tennis shoe.
The Playing Surface
As we covered earlier, a big feature of table tennis shoes are their thin soles that offer great grip. But it will only be effective if you are playing indoors or on a soft surface. You shouldn't wear them outside or on concrete and hardwood floors as that can damage the soles very quickly.
Price
Shoes made especially for table tennis can be quite expensive and so if you only play occasionally it might not be worth investing in a pair yet. But as you improve and begin to play more competitively, it might be worth investing in a pair to supercharge your game.
To find out your foot type, you can check your current shoes to see if there is excessive wear on any particular area. You can also do a footprint test by stepping on the ground with wet feet.

Freelance writer. Table tennis enthusiast. Lover of all things online. When I'm not working on my loop game I'm probably binge-watching some fantasy show.