The 6 Best Beer Pong Tables
Have you ever thought it would be cool to have your own beer pong table? Well, no need to dream. Plenty of cheap beer pong tables are available, and they fold for convenient storage.
So don't ruin your perfect ping pong table — the thought of it makes me shudder. Instead, consider picking up a separate table for beer pong.
Which beer pong table best suits your needs?
Read on to learn everything you need to know.
Featured Products:
Features to Consider
Appearance
While you are predominantly purchasing a beer pong table for its functionality, it doesn't hurt for it to look good. Beer pong tables come with various designs, many with a minimal look, but there are a lot of very bold pong tables with outlandish designs.
Price
Many of you are probably trying to find an inexpensive table, but keep your expectations realistic. You'll struggle to find cheap beer pong tables under $50. Cheap beer pong tables are usually around the $75 mark, and it may well be worth spending more if you want specific features.
Size
Almost all beer pong tables are 8ft long, which is the standard size. However, select models are 6ft. These are ideal for players who are short of space.
Durability
Whenever alcohol is involved, people have a habit of getting heavy-handed, which means you need a table that can take a bit of punishment.
Avoid tables where buyers voice fragility concerns. We believe all the tables that made our list are adequately strong.
Foldable and Lightweight
Nearly all beer pong tables are made from aluminum and fold into a suitcase-like parcel for easy mobility. Therefore there is little to separate the best pong tables regarding foldability and weight — portable beer pong tables are the norm.
That being said, there are sometimes small variances. Select tables are made from other materials, are sometimes heavier, and may not fold as compactly.
Best Tables for Beer Pong
GoPong 8-Foot Beer Pong Table — Best Overall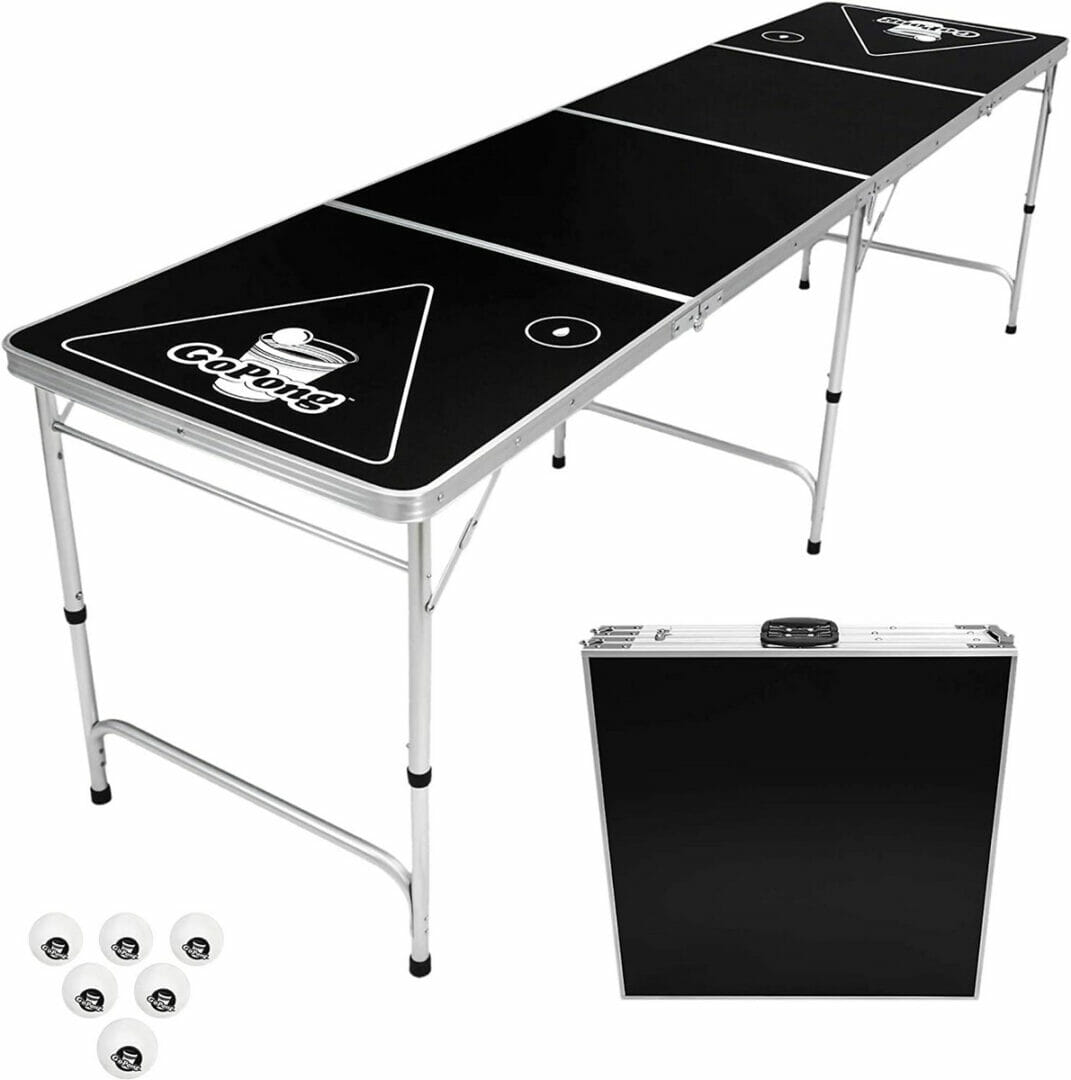 Specifications
Size: 8ft
Colour: Black, American flag, custom dry erase, football
Material: Melamine, wood & aluminum
Weight: 21lbs
Foldable: Yes
Our pick for the best beer pong table is the GoPong 8ft table. It is one of the market's most popular tables, and we share that sentiment.
The table measures 8ft long, the regulation size for beer pong, and it compactly folds down into a briefcase measuring 2' x 5.5" x 2'. With such a small folded size and only 21lbs of weight, it is very easy to carry.
The table is constructed from a mix of melamine wood and aluminum. Melamine is the same material used for outdoor ping pong tables. However, despite this fact, this table is not for the outdoors. On the other hand, it does mean you can easily wipe up spills, which is essential to keeping your table looking great.
Included with the 8ft GoPong table is a set of 6 GoPong branded ping pong balls. You can conveniently store these on the underside of the table in the foam tube holder.
GoPong Pro 8-Foot Premium Beer Pong Table — Premium Pick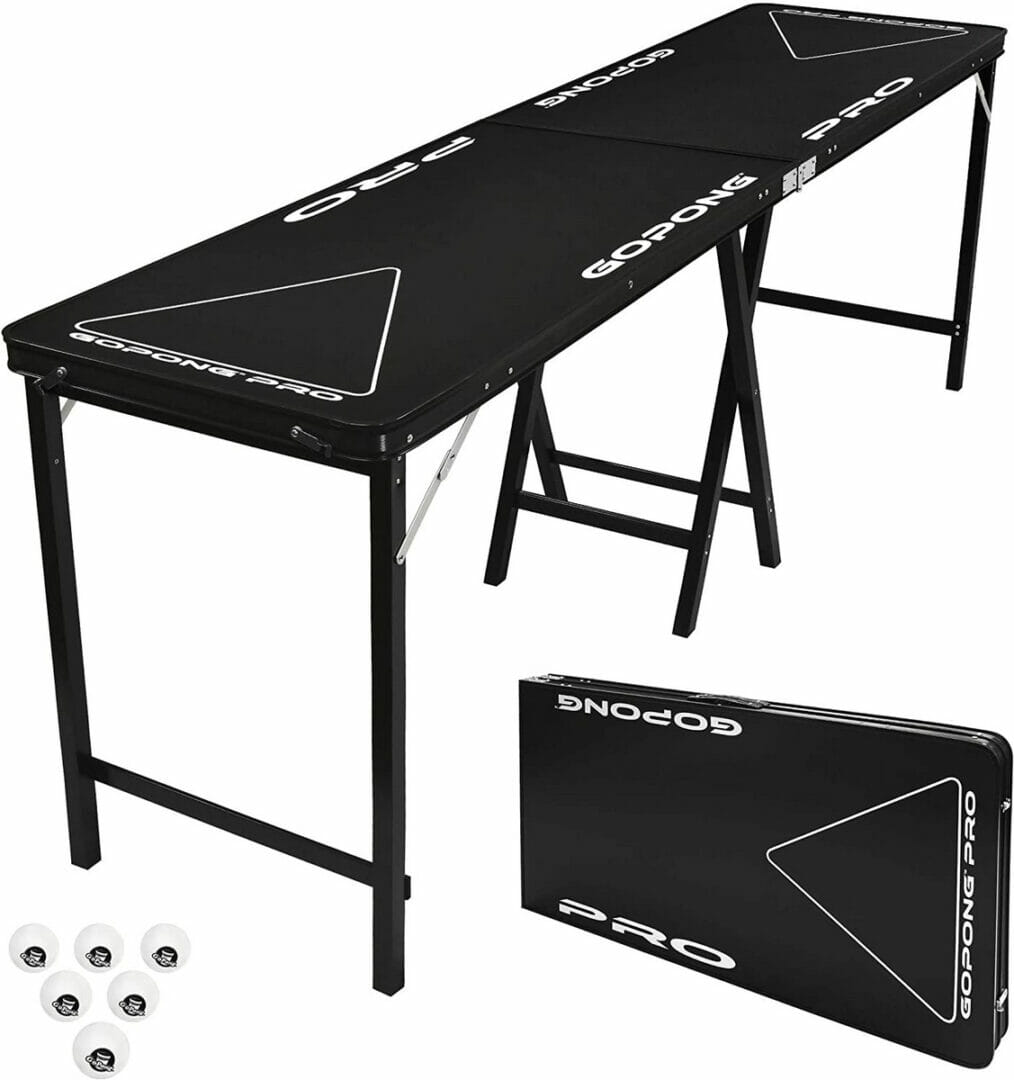 Specifications
Size: 8ft
Colour: Black
Material: Melamine, wood & aluminum
Weight: 26.5lbs
Foldable: Yes
The GoPong Po Premium table is the most expensive model on this list, but it's the ultimate beer pong table, so a great pick if you have a decent budget.
The main area it excels is its strength. Its aluminum frame is much thicker than other tables and has scissor center legs for even more support. If you want to buy a table that lasts for a long time, this is one of the best beer pong tables.
Despite the extra legs and increased thickness, it is still foldable, so you shouldn't have any trouble moving it around. The difference is that this table is a little heavier than most at 26.5lbs and folds in two pieces rather than three.
Another key quality to discuss is the raised height. Most tables measure 27.5" tall, but this can feel too low for beer pong — especially for taller players. This is why Go Pong raises the playing surface to 36" for a more natural feel.
I also love the appearance of this model. It is my personal favorite in terms of style on this list. The GoSports Premium table has an appealing white and black design that comes off as very professional. Others, by comparison, are sometimes a little tacky.
Dry-Erase Party Pong Tables 8-Foot Beer Pong Table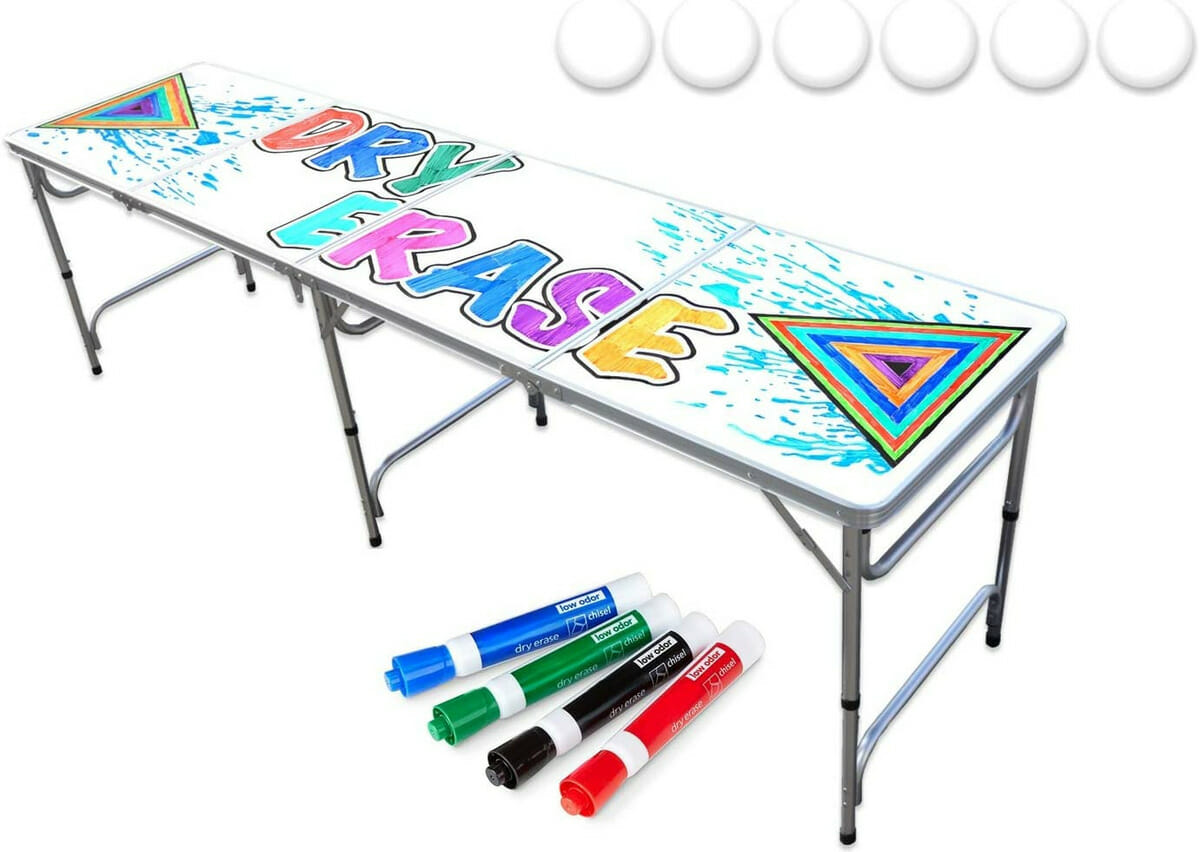 Specifications
Size: 8ft
Colour: White
Material: Aluminum
Weight: Unlisted
Foldable: Yes
Next up, we have an expert in the beer pong space. Party Pong has been creating beer pong tables since 2006, so they have a lot of experience. We chose to go with their dry-erase surface as we hadn't seen it before, and it looks really awesome! However, they have many other options to choose from, such as tables with cup holes and LEDs.
With the dry-erase model, you get 4 pens included. You can then go to town on your table to design it however you want. We think this could be great for coming up with fun team names and accompanying designs! Release your inner creativity with this cool beer pong table!
This model sports a foldable design briefcase. It measures 2ft x 2ft x 2ft. It has a foam tube ball holder, which stores up to 6 balls. These balls are included.
Red Cup Beer Pong Table

Specifications
Size: 8ft
Colour: Ice cold, standard, Sistine, sports, angels and demons, blank
Material: Stainless steel, aluminum
Weight: 22lbs
Foldable: Yes
The Red Cup beer pong table, like the GoPong Po table, is a real beauty. The Ice Cold variant has a beautiful geometric pattern with triangular zones for each team's cups.
It shares a similar design to most tables. It's full size at 8ft long, folds into a 2ft x 2ft suitcase for carrying, and weighs a fairly average 22lbs. Like many other tables on this list, the Red Cup table also has a 6-ball foam rack on its underside.
Its unique feature is its bottle opener located in the middle of the table on the side. It's the perfect add-on for a beer pong table and could be the deciding factor if you are stuck choosing between this table and another.
EastPoint Sports Ka-Pong Tailgate Beer Pong Table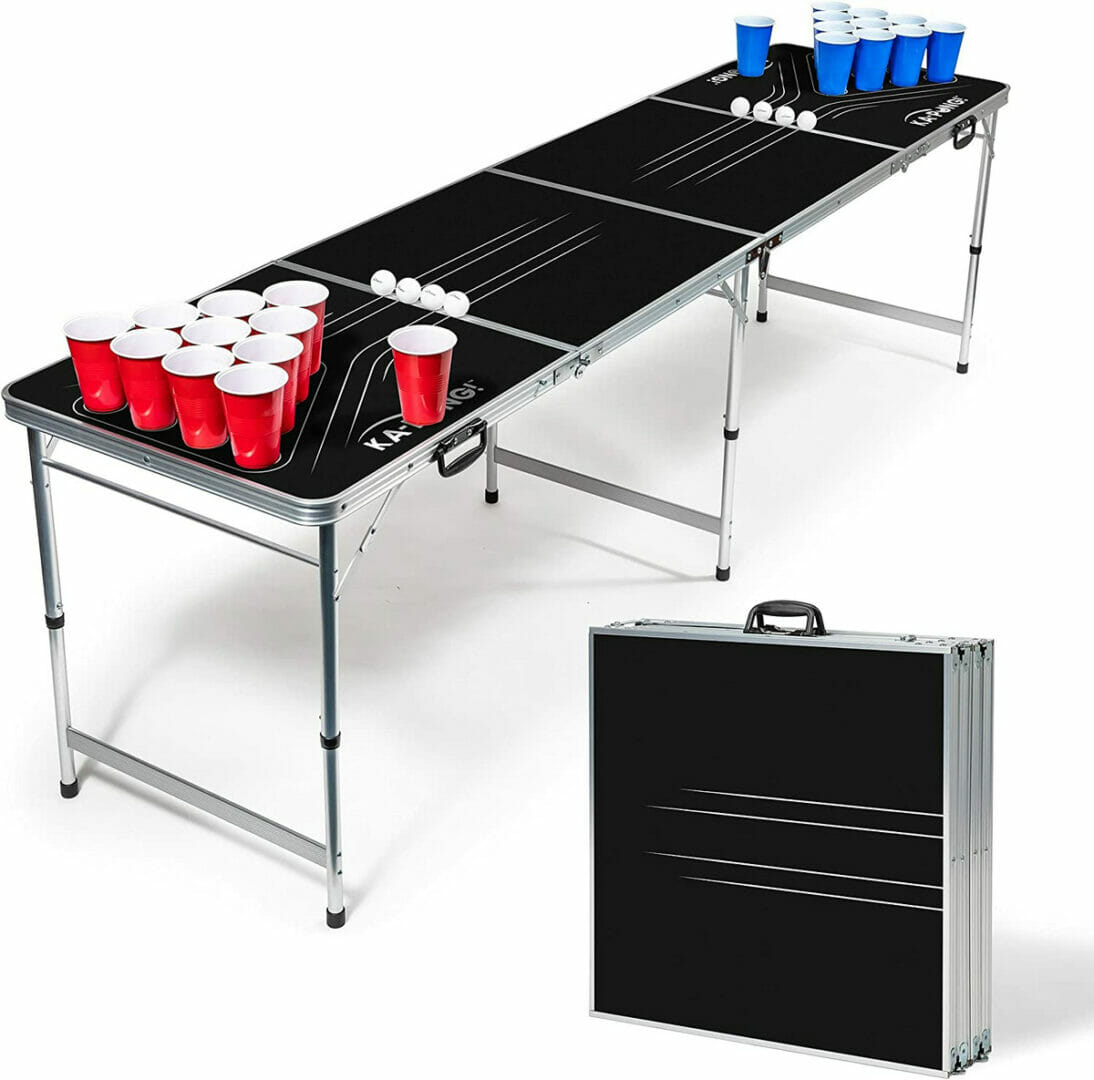 Specifications
Size: 8ft
Colour: Black
Material: Aluminum
Weight: <24lbs
Foldable: Yes
As sporting and game experts, it's no surprise to see EastPoint Sports enter the fray of beer pong tables.
Their offering is largely the same as most other models. The Ka-Pong table is full-size, made from lightweight aluminum, and folds into a compact suitcase measuring 2ft x 2ft.
Unfortunately, there is no color customization on offer with the Ka-Pong Tailgate. You do, however, get table adjustability which is a strong plus. Like the GoPong Pro table, you can adjust the legs to raise the playing surface for a more natural feel. The table has two different heights to choose from: 25" and 32". The GoPong Pro, by comparison, is locked at 36".
Another neat feature of this model is that you get 22 cups and 8 balls. This is more than most of the competition. The caveat here is that there is no ball holder under the table.
GoPong Original Pool Party Barge Beer Pong Table — Best Choice for the Pool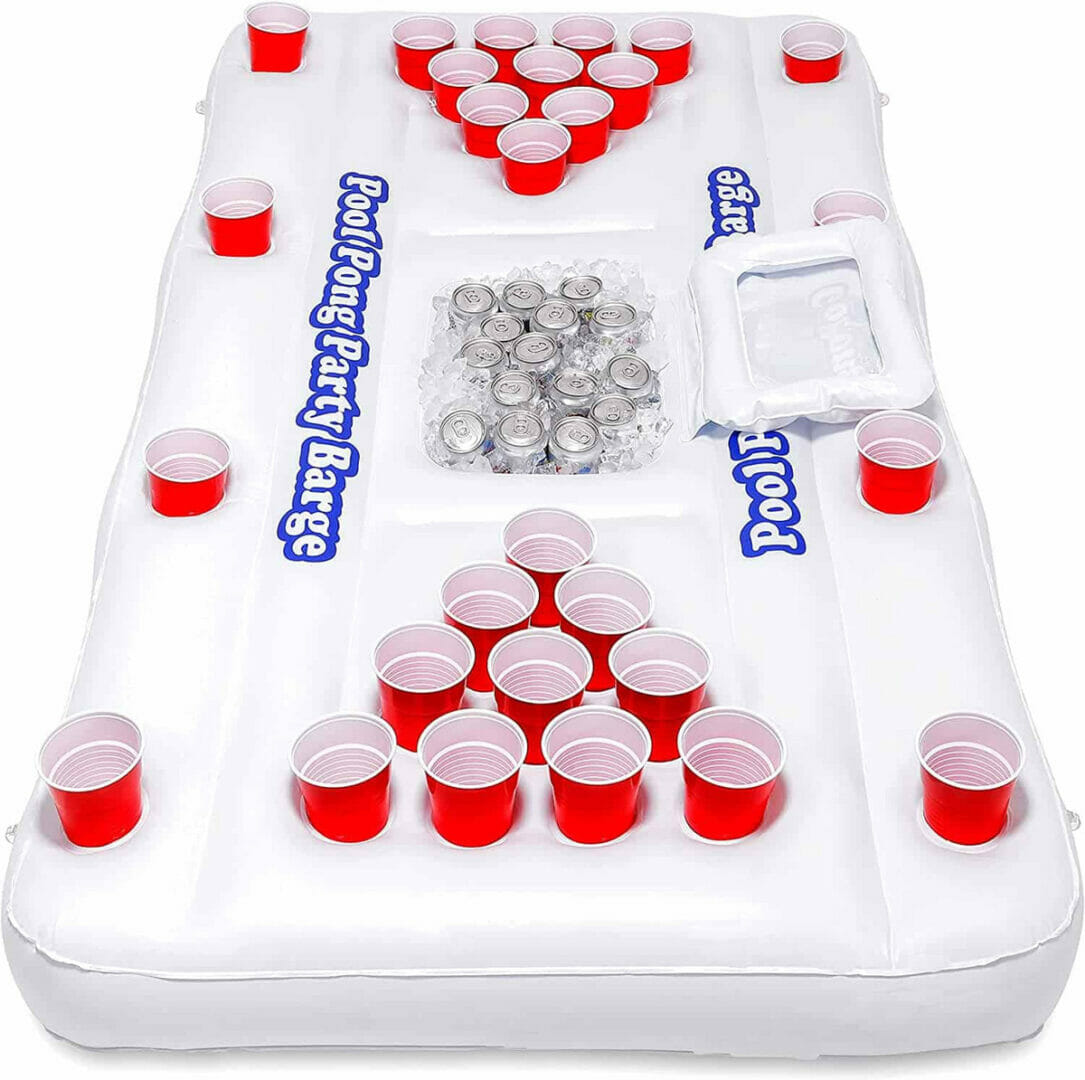 Specifications
Size: 6ft
Colour: White
Material: BPA-free plastic
Weight: 5lbs
Foldable: Yes
This is our top pick for those who want the best table for beer pong in the pool! The GoPong Pool Pong Party Barge measures 6ft x 3ft and uses industry-leading raft grade BPA-free plastic — not cheap plastic like other models. This helps ensure longevity.
Each side has 10 cup slots per team, plus 8 extra cups for other uses. These slots fit standard 16/18oz party cups.
An advantage to opting for a floating beer pong table compared to a regular one is that it's even easier to carry. It weighs just 5lbs, and you can deflate and fold the table when you are finished so that it hardly takes up any space.
I really love the central cooler in the middle of the barge and think it's a super idea. It stores up to 18 cans and means that you always have cool drinks ready to ensure the beer pong action never stops!
A Few Beer Pong Tips
Now that you've got some idea of what beer pong table you want to go for, your attention is probably turning to beer pong strategy. Seeing as you asked so nicely, I'll impart some divine wisdom. As a table tennis player and juggler, I know a thing or two about how to win at beer pong. Here are my top three tips:
1. Aim for the First Cup
Always aim for the first cup. You'll often hit the rim or overshoot. This still gives you a decent chance of the ball landing in another cup. Had you aimed for one of the back cups, this would not be the case.
2. Throw Your Opponent off Their Game
While beer pong is a battle of accuracy, it might surprise you how mental the game can be. A little trash talk goes a long way. I've watched countless decent players crumble after a little smack talk.
3. Use Bounce Shots Sparingly
Most of you know that successful bounce shots count for two and that your opponents can swat the ball away in mid-air if they are paying attention.
This means you have to be very selective about when you use them. You don't want to waste your turn effectively. Only use bounce shots when your opponents are drinking or not paying attention.
If you want more beer pong tips, give the following video a watch.

Conclusion
That wraps up our beer pong guide. Hopefully, you found it helpful. To recap, our best beer pong table is the GoPong 8-Foot beer pong table. Put simply, it is well-priced, comes in multiple color options, and we couldn't find any glaring issues with it.
If, on the other hand, you want a higher quality table, we recommend instead purchasing the GoPong Pro 8-Foot premium beer pong table. Its thicker and more robust frame is worth the extra investment, and there is no doubt that it is much more visually appealing.
FAQs
What Is Beer Pong?
Beer pong is a party game revolving around, you guessed it, drinking and throwing ping pong balls.
To play beer pong, you arrange 10 cups on either side of the table in a triangular shape. Each player then throws a ball into the opposing team's cups. When you make a successful shot, the enemy team drinks that cup. The first team to eliminate all of the enemy team's cups wins!
What Is the Official Beer Pong Table Size?
According to official rules, beer pong tables measure 8ft long, 2ft wide, and 27.5in tall.
Are Beer Pong Tables 6 or 8 feet?
Beer pong tables are predominantly available in lengths of 8ft as this is the official size. However, smaller sizes such as 6ft are available for players with limited space.
We recommend going full-size to have the true beer pong experience if you have the room.
How Far Away Do You Stand in Beer Pong?
This depends on the size of the beer pong table. You have to align the cups at the back edge of the table, and you are allowed to lean forward to make your throw provided both feet remain on the ground.
Can I Play Beer Pong on a Regular Table?
You can play beer pong on any table, provided it is flat, allows the balls to bounce, and is large enough to have at least a 6ft gap between you and the opposing team's cups.
How Many Cups Do You Need for Beer Pong?
You need 10 cups for each team in beer pong. Arrange these in a pyramid formation at both ends.

Freelance writer. Table tennis enthusiast. Lover of all things online. When I'm not working on my loop game I'm probably binge-watching some fantasy show.