Nittaku Fastarc G-1 Review
The Nittaku Fastarc G-1 ranks as the top-selling rubber at the moment, according to World Table Tennis. Its high-ball flight trajectory makes it versatile and it has killer spin potential.
Any advanced player looking for a rubber to overwhelm their opponents with spin and speed should certainly consider giving Fastarc G-1 a try.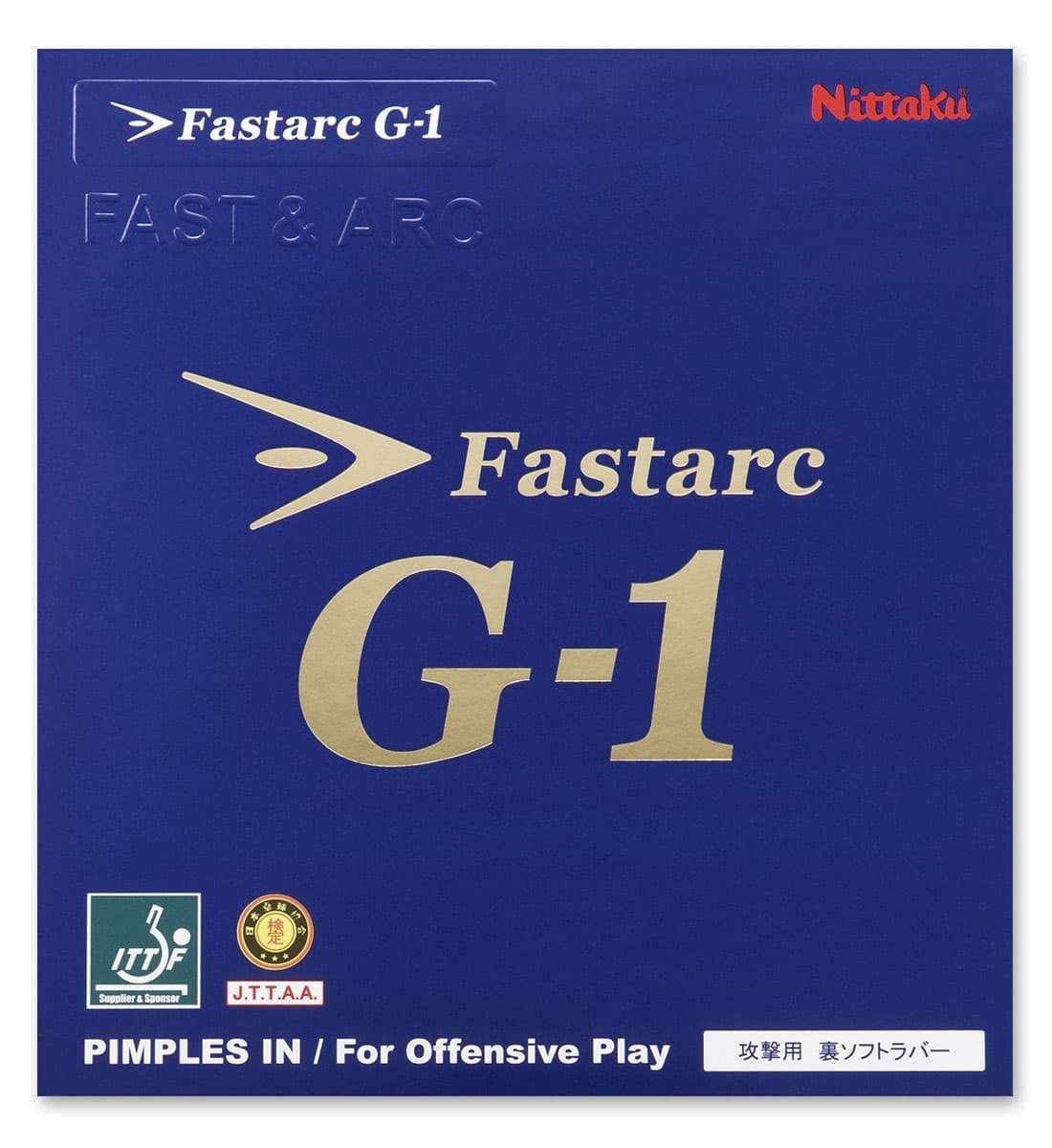 Specifications
Speed: 9
Spin: 9.4
Control: 9.1
Hardness: Medium-hard
ITTF Approved? Yes
Thickness (mm) : 1.8, 2, Max
Price: $$
Our rating: 9.4
Construction
Nittaku Fastarc G-1 is the hardest of the Fastarc line. G-1 seems to refer to grip. As such, it has a very grippy top sheet. Nittaku call it a "tension spin sheet"
It is available in 1.8mm, 2mm, and max. Max was a newly introduced thickness released on July 1st, 2021.
The Nittaku Fastarc G-1 weight is around average, and its underlying sponge is orange.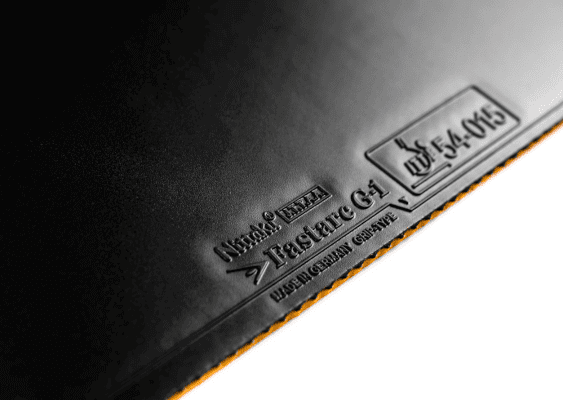 What Table Tennis Pros Use Nittaku Fastarc G-1?
Fastarc G-1 is fairly popular among table tennis professionals. The top player using the rubber is Mima Ito, a Japanese player ranked number 3 in the world. She uses it on her forehand, with the tricky short pips Moristo SP on her backhand, and the Acoustic Carbon as her blade.
The next highest player is Masataka Morizzono, also of Japan, ranked 49. He uses inverted rubbers on both sides. Morizzono favors the Nittaku Fastarc g-1 backhand and Tenergy 05 on his forehand. His blade of choice is the Hurricane King.
Another player using the Nittaku Fastarc G-1 is Lay Jian Fang of Australia. As an older player at 48 years of age, her ranking has dropped slightly to 146; but, she held rankings as high as 51 in her prime. Lay uses Fastarc G-1 on her backhand like Morizzono. The blade she uses is the Septear by Nittaku, and her forehand rubber is not listed.
The Positives
With the Nittaku Fastarc G-1, spin is at the core of its greatest qualities. It is the spinniest of the Fastarc series and ranks as one of the spinniest rubbers on the market!
The rubber has a medium-high throw angle and as the name suggests, it produces a pronounced arc when looping. This is reminiscent of rubbers like the Tenergy 05. Having such an arc gives you greater clearance over the net when looping and allows you to loop from a lower position.
A particular selling point of Fastarc G-1 is that it flourishes at all distances from the table. Most rubbers seem suited to a particular distance but this one does it all. Although it's not tacky, spin still engages at lower speeds. This not only produces potent loops close to the table but also enhances your services and flicks.   
To cap off the strong spin capabilities of this rubber, it is also rather spin-insensitive. This is a super quality to have as more often than not spin is a double-edged sword — you are easily able to produce it, but simultaneously, you are very vulnerable to it. With the G-1, an incoming spin should not give you as many issues as you would expect.
In terms of power, Fastarc G-1 is quite respectable, as it comfortably exhibits enough pace to overwhelm your opponents. It also offers a great deal of control over how much you want to output, since it has many gears and plays in a consistent fashion. Its many gears are due to the absence of a heavy catapult effect. In this regard, it is very different from the Tenergy 05, which has a strong catapult effect.
The Nittaku Fastarc G-1 durability is its final admirable quality. It is one of the longest-lasting rubbers that you can purchase. This means it won't need replacing as often as most rubbers, which will save you money.
The Negatives
As one of the top rubbers out there, Nittaku Fastarc G-1 doesn't really have any glaring issues.
The only problem I could find was among players who described having difficulty using the rubber in the top gears. At these speeds, they sometimes found it difficult to keep the ball on the table, as it often drifted long.
Because the rubber has a high control and linear nature, I expect this issue was mainly brought about by wild arm movements — a lack of control on the player's part. This is fairly normal; when you're using almost all of your arm power, it's only natural to lose a lot of control.
After switching to slower blades, these players were once again able to keep the ball on the table. If we can learn anything from this, it's to know your skill level. Fastarc G-1 is far from being the most difficult rubber to use, but it's certainly suited for advanced players.
Nittaku Fastarc G-1 vs Yasaka Rakza 7
These medium-hard rubbers exhibit very similar qualities. Both are fast but focus on spin over speed. They are also similarly high in control, giving you copious amounts of confidence when you attack.
In terms of throw angle, Rakza 7 is slightly lower, but not by much. Both classify as medium-high and you will notice that Fastarc G-1 has a higher trajectory for its loops.
If you're less experienced and want something a little more forgiving, I think Rakza 7 is the better option for you. On the contrary, if you have more of a killer instinct and great technique, Fastarc G-1 is probably the better choice.
To learn more about Rakza 7, check out our review.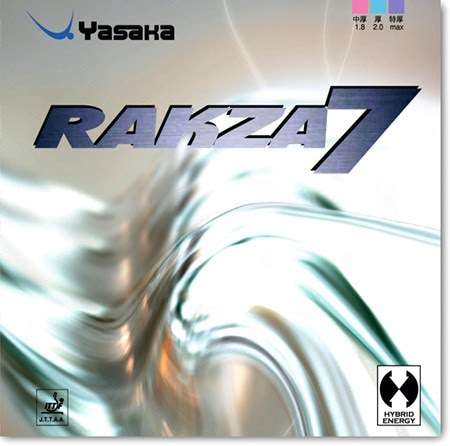 About Nittaku
Nittaku was formed in July 1947. They are well known for their premium, seamless table tennis balls. Theirs is the only ball manufactured by the International Table Tennis Federation in Japan. And, as such, the balls are subject to rigorous testing.
Nittaku's high-quality products extend well beyond table tennis balls. They produce all kinds of equipment, many of which are popular among table tennis athletes.
Nittaku Fastarc G-1 Alternatives
The immediate alternatives to G-1 are the rest of the Fastarc range. All have received overwhelmingly positive feedback. Looking at their website, P-1 seems to focus on power, S-1 on speed, and C-1 on countering.
I find that Nittaku Fastarc G-1 suits backhand just as well as forehand; but if you are after something a touch softer, C-1 may be a better choice. It is of medium hardness as opposed to the Nittaku Fastarc g-1 hardness of medium-hard.
Of course, if we are looking outside of the Fastarc range, the first rubber that comes to mind is Butterfly Tenergy 05. It clearly shares a high ball flight trajectory with G-1. Just be warned: it's pricey.
Another rubber you might consider is the XIOM Vega Pro. It boasts similar control, hardness, and throw angle, and also plays linearly. We have a review for Vega Pro that might help you choose!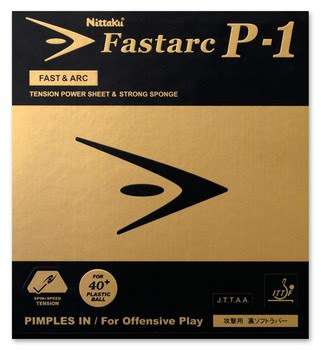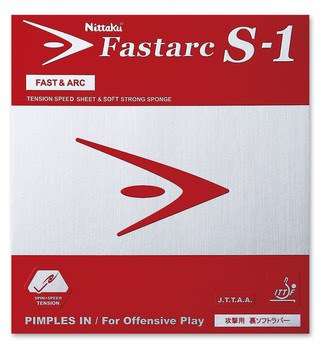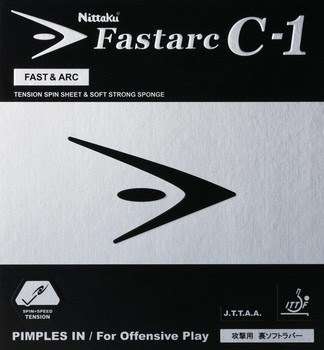 Pros (Simplified):
High Spin: Very spinny. Even exhibits good spin at lower speeds.
Heavy Arc: Loops have a high trajectory with sizeable net clearance
Linear: The absence of a catapult effect makes shot placement easy to predict
Spin Insensitive: Not as affected by incoming spin as some rubbers
Cons (Simplified):
Lack of control in higher gears: Some players had trouble keeping the ball on the table in the top gears
Conclusion
Nittaku Fastarc G-1 is a versatile rubber suited for the offensive looper. With its extreme levels of spin and high control, it is no wonder it is the best-selling rubber of this year.
Unlike many of its competitors, it doesn't have any obvious flaws and it is priced rather competitively. Given the similar high ball flight trajectory to Tenergy 05, I am confident some people will be weighing up the two. In my opinion, at its price tag, Fastarc G-1 is the better buy. It provides far more value for money and lasts longer.
In fact, I would also recommend looking into the other rubbers in the Fastarc series. It's rare for all rubbers in one series to receive such similarly outstanding reviews. Why not mix and match to see which specific variants suit your backhand and forehand?  

Freelance writer. Table tennis enthusiast. Lover of all things online. When I'm not working on my loop game I'm probably binge-watching some fantasy show.