If you're looking for high-quality and fashionable table tennis rackets, tables, rubbers, or even plastic balls, shakehands, or Chinese penholds, one of the first brands that offer good value for money is XIOM. They are a company based in South Korea and have quickly become one of the best-sellers both globally and domestically since their establishment in 1976.
Their table tennis rubbers such as XIOM Omega VII Pro or table tennis paddles such as XIOM Vega Pro are now the go-to equipment for professionals and amateurs alike. Most of their products are made in Japan, Korea, or China, whereas XIOM rubbers are produced in Germany.
The XIOM T5 Olympic Ping Pong Table is no different in quality, either. It has a 1″ thick HDPB surface, a harder, lighter material that is less immune to moisture. Its Tourna Surface complies with International Table Tennis Foundation (ITTF) Standards due to its high-grade coating method, provides a high reflection angle, and good spin reflex. This professional-grade table, with official approval by the ITTF, is a 2-piece unit and comes equipped with a competition-grade net set as well.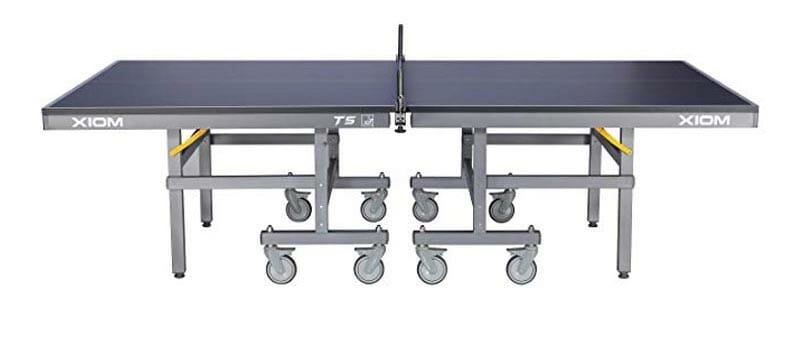 Specifications:
Surface: 1″ (25mm) HDPB playing surface
Surface Coating: Tough coat and anti-gloss
Legs: 50 x 50mm (1.4mm thickness), powder coat finish, adjustable height
Frame: H60mm
Structure: Separate rollaway, deep leg
Bound: ITTF standard, support angle – 1 per Top
Safety: Safety lock – 1 each side (2 total)
Locking: Manual wedge lock – 2 each side
Wheels: 5″ x 8 (4 brake wheels)
Weight: 123kg/271 lbs.
Assembly Time: Approximately 30 minutes
ITTF Approved- Yes
Size: W 2.7m x L 1.52m
The XIOM T5 has several features that help distinguish it from comparably priced Ping Pong tables on the market. To see some of the other tables we like, read more here on our guide to buying a table.
Patented Height Adjustment Mechanism
Players can adjust the height of the wheel by turning the wheel or lower round part. Height adjustment screws are pre-fitted on the front legs.
Increased Play Space
XIOM's new design pushes the legs inside further, eliminating interference of the legs with play. This Deep Leg Spacing, now at 43cm, was 23cm before.
Scratch Free Powder Coating
The table is scratch-resistant and shock-resistant as a result of the powder coating, which is electronically applied over the metal parts of the table, then baked in at high temperatures.
Precision Structure
In order to keep in accordance with ITTF specifications, standards, and bound requirements, outstanding quality control and superior engineering are required. XIOM T5 uses automated cutters/drillers and robotic welding to achieve precision and superior quality.
Pros:
Muscle Back makes one of the most durable and sturdy tables on the market
Easily movable with T-shaped wheel leg unit
One side can be flipped up to turn the table into Practice Mode
Tough Coat/Durability coating on table, manufactured with water and heat resistant laminating materials
Internationally patented lamination used on the playing surface, producing high-quality bounces
Quick, easy assembly
Cons:
At 271 lbs., it takes 2 people to move around and assemble
Expensive
Conclusion: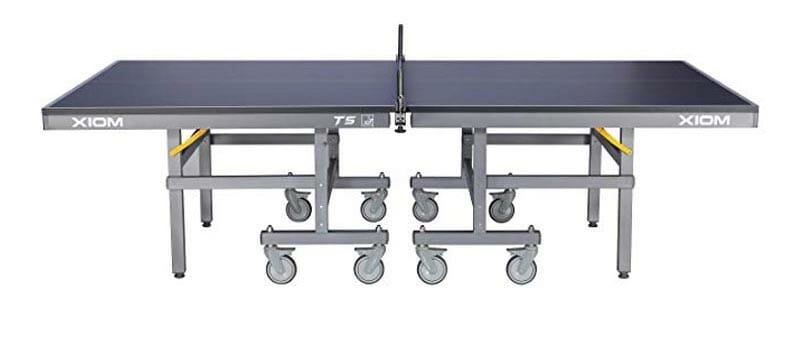 With advanced engineering, design, and a superior finish applied to even the smallest areas of the table, reviews for the XIOM T5 Olympic Ping Pong Table have been extremely positive. Experienced players who have played for years and can recognize the important aspects of a table overwhelmingly agree that this table is in every way equal, if not better, than its more expensive competitors.
Other XIOM Table Tennis Products You Should Check Out
XIOM Blades
XIOM Ice Cream AZX: With the composite of Arylate and Zephylium, it provides the player with incredible balance, power, and speed.
XIOM Ice Cream AZXi: A bit more expensive than its sibling up above, but worth its price due to its better grip.
XIOM Feel ZX 3: It has an excellent ball grab, so pulling spins with it is as easy as it gets.
XIOM 36.5 ALX: It has a thermo-stabilized wood control, which means no matter how much your hands sweat, it'll offer a good grip.
XIOM Allround S: In case you're looking for an affordable 5-ply blade, this is the one for you.
XIOM Rubbers
Almost all their rubbers have an excellent top sheet, providing players with extreme topspin capabilities. Moreover, they all feature XIOM's own black carbon sponge which increases the energy efficiency and durability of the rubber. While XIOM Vega Europe features the semi-soft version of this carbo sponge, models like XIOM Vega X and XIOM Vega Japan feature the semi-hard one.
XIOM Vega Elite: It doesn't matter if you're an experienced player or not, the Vega Elite will guarantee balance for your game.
Omega 7 Pro: If you're okay with a more expensive option than the ones above, the 7 Pro is as aggressive, firm, and solid a rubber as you can find in its price range.

Eugene (Gene) Sandoval has been one of those guys who spent too many hours around ping pong tables in high school. However, soon enough, Gene understood that there is more to ping pong than having fun. That is how he started a journey that made Eugene one of the experienced semi-professional ping pong players in the United States. As the founder of the PingPongRuler, Eugene spends most of his time surrounded by ping pong tables and research. He always has this knack for coming up with new ping pong strategies and telling the good and bad equipment apart.