The STIGA STS 385 table tennis table has a 3/4″ inch surface thickness and overall is a great table. It will take a bit of time to put together, but once you're all set up, you'll have a sturdy, well-built table that will last for a good amount of time.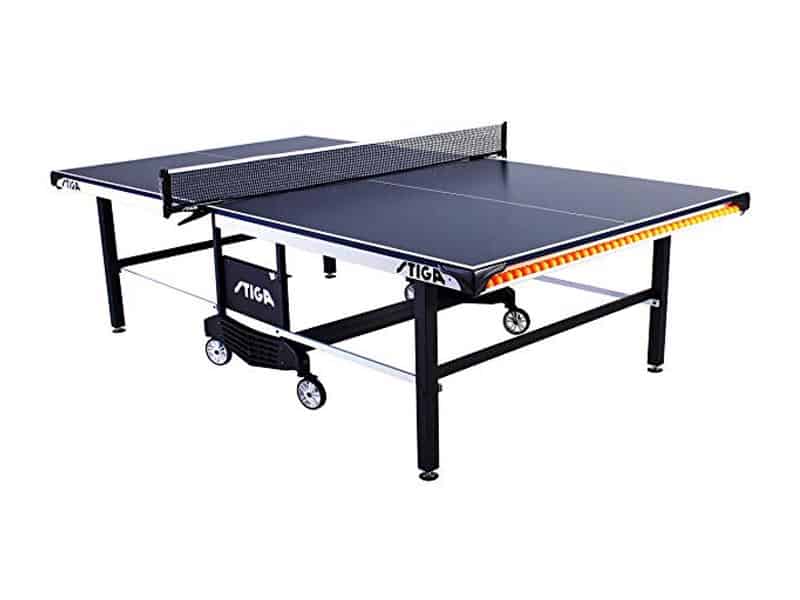 Specifications
Competition-Ready Table with Exceptional Playability and Durability
3/4″ Thick Table Top with Silk-Screened Striping
2″ Legs with Leg Levelers and 5″ Mag Wheels with Locks
2″ Powder-Coated Steel Apron with Patented Full-Length Ball Storage
72″ Premium Clipper Net and Post System Included
For Indoor Use Only
The STIGA STS 385 is a heavy duty Table Tennis table. This table comes with rock solid construction and some great safety features. To see some of the other table tennis tables that we like, read our guide to buying a new table over here.
Assembly
Setting up the table will take about two hours. You will want to make sure you have another person to help when the table gets delivered as it is very heavy in the box. You will also want to make sure that you have a hand drill or cordless drill to make set up as simple as possible – nothing is more frustrating than screwing things together when you want to be playing Table Tennis!
2" Power coated steel apron
This table isn't a professional level tournament table, but it's very close. The 2" steel apron and ¾ inch table top ensure a tournament-like bounce consistency. This table is perfect for an informal tourney or just a lot of fun in your family rec room..
Features of the table
The amount of thought that went into the construction of the table pales in comparison to the thought that went into adding the perks of this table.
Easy to fold up for moving or halfway for solo play
One of the hallmarks of a good table is the ease that you can move it and fold it up. This table folds up very easily ensuring a simple transition from full tabletop to solo play or fully put away. The large castors make it simple to roll into a corner if space is a concern.
Ball holders integrated into the apron
One of my favorite features of this table is the integrated ball holder (on both ends of the table!). When I was learning Table Tennis, I would constantly miss the ball and spend half my time chasing it around the room. With the integrated ball holder that is no longer a problem. An excellent feature to have on any Table Tennis table and it makes this one a joy to play on.
Review Conclusion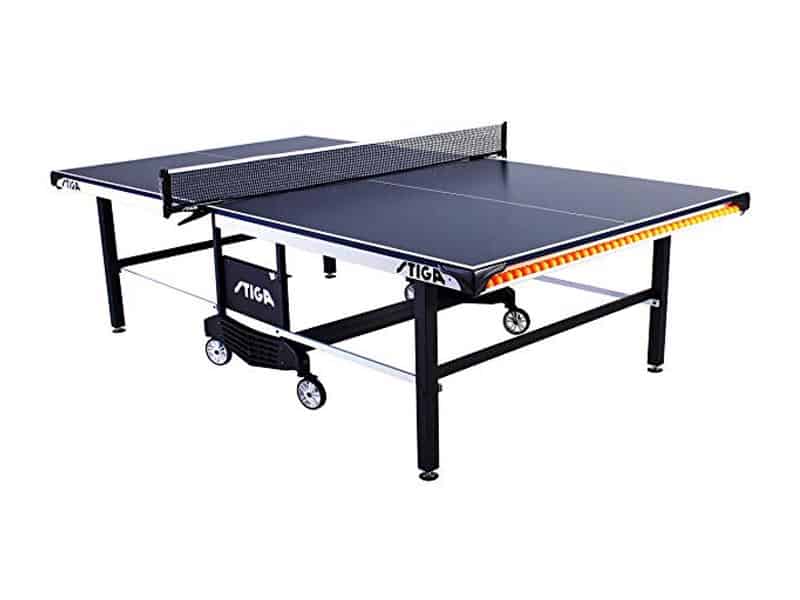 The STIGA STS 385 is a sturdy table that will provide years of fun for any family. The solid construction and extra perks make this table stand out. It is well worth the investment.

Eugene (Gene) Sandoval has been one of those guys who spent too many hours around ping pong tables in high school. However, soon enough, Gene understood that there is more to ping pong than having fun. That is how he started a journey that made Eugene one of the experienced semi-professional ping pong players in the United States. As the founder of the PingPongRuler, Eugene spends most of his time surrounded by ping pong tables and research. He always has this knack for coming up with new ping pong strategies and telling the good and bad equipment apart.