While the STIGA Coronado table tennis table is not a tournament level table, it is an excellent product designed to be played indoors or outdoors. We'll review some of this table's characteristics and what exactly makes it a great starter table for recreational players or families.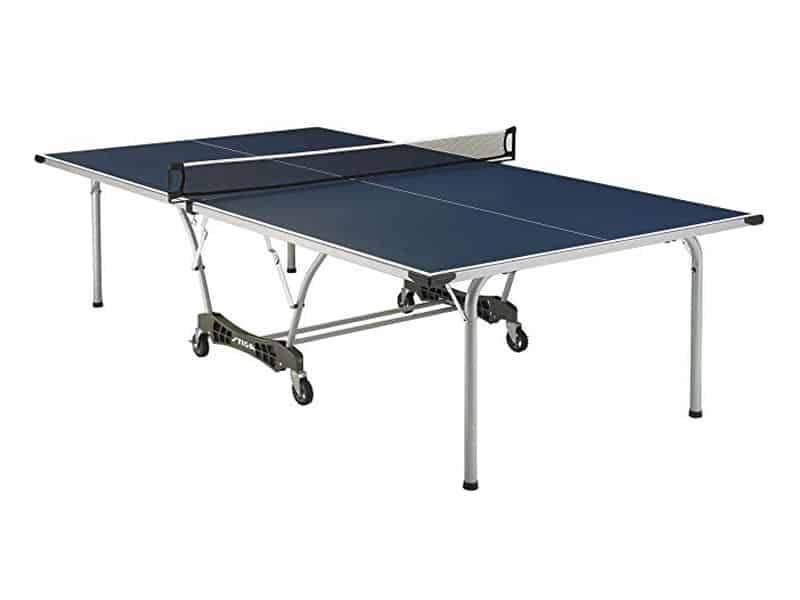 Specifications
Recreational Outdoor Table Tennis Table
Perfect For a Deck, Garage, or Covered Porch
Aluminum Composite Top Won't Warp or Rust
1.5″ Steel Legs with Rubber Caps
4″ All-Terrain Casters with Locks
Welded Steel Apron with Molded Corner Protectors
All-Weather STIGA Net and Post Set Included
Table Bounce
The bounce on the STIGA Coronado Outdoor Table Tennis table is not as good as some of the other, but will be just fine for a beginner table tennis player or a family that wants to try it out without spending too much on a "tournament" level table.
Moving and Folding the Table
The Coronado Outdoor Ping Pong table is designed to be moved in and out of a garage or onto a deck. Unfortunately, the design is such that the wheels are not large enough to compensate for an uneven ground surface. If you have a flat, even surface to move the STIGA Coronado, then you should be fine – but if you're considering moving it over cobblestones or a rough deck transition you may be better served with a different table. One with levellers. Check out our recommended ones by clicking this link.
That said the castor wheels make folding up the table to be moved to a corner of the deck or garage quick and easy to do. They also make it easy to transition to single play mode for the beginner who wants to take their game to the next level..
Assembly Time and Tools
This table will take between 2-2.5 hours to set up completely. You will need a powered screwdriver to make the assembly as simple as possible, but a regular screwdriver and some elbow grease will get the job done.
Indoor or Outdoor
This table is designed as an indoor or outdoor table tennis table. It is designed with an aluminum table top that will not be harmed if it gets wet. This makes having a game outside easy, and clean up even more simple – nothing to put away! You can just have a game and leave the table outside!
About the STIGA Brand
STIGA has consistently turned out high quality tournament level table tennis tables. They are well known for their quality and craftsmanship and continue to invent and improve their designs.
Review Conclusion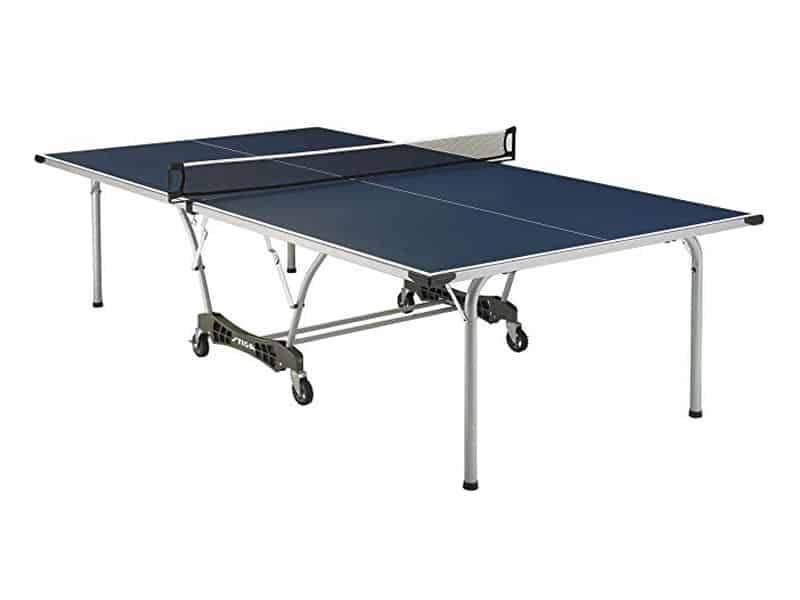 While not as high quality as some of STIGA's tournament level tables, the STIGA Coronado is a well-rounded product that makes it a perfect entry level table for anyone who's looking to get a table tennis table that will give them hours and hours of enjoyment.

Eugene (Gene) Sandoval has been one of those guys who spent too many hours around ping pong tables in high school. However, soon enough, Gene understood that there is more to ping pong than having fun. That is how he started a journey that made Eugene one of the experienced semi-professional ping pong players in the United States. As the founder of the PingPongRuler, Eugene spends most of his time surrounded by ping pong tables and research. He always has this knack for coming up with new ping pong strategies and telling the good and bad equipment apart.