The Killerspin JETSET 4 Table Tennis paddle set, with balls, is the ideal Table Tennis set to purchase if you are looking to buy an inexpensive set of mid-quality table tennis paddles. The set comes with 4 Killerspin Jet200 rackets, 3 white balls and 3 orange balls. By purchasing the set of 4 paddles and balls, you are saving around $60.00.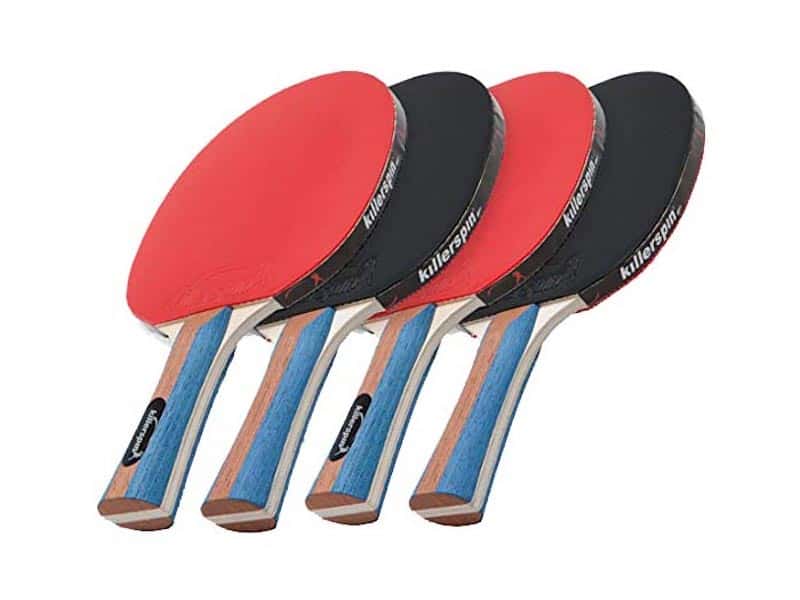 *While the package describes a set of 4 Killerspin Jet200 paddles, the description of the paddle's attributes such as sponge thickness is different from the product description for the single Killerspin Jet200. I have no idea why and will be contacting the company to figure this out.
Specification
Premium 4 paddle set with 6 balls
Inverted rubber surface, 1.5mm sponge
7/32in blade thickness, 5-ply wood blade with straight handle
Ratings: Power 6.0 Spin 7.0 Control 9.0
Comes with a 30-day warranty
You should purchase this set if you know you are going to be playing doubles and will need 4 rackets. When comparing the price of the set and what is included to the price of the single Killerspin Jet200, it's obvious that purchasing this set will save you money, time, and frustration.
Because the set consists of 4 Killerspin Jet200 rackets, please read the review for the Killerspin Jet200 to learn more. If you want a paddle with more speed and spin than this one read our reviews see them here.