JOOLA Atlanta Ping Pong Table Review
The JOOLA Atlanta Olympic table tennis table was designed for professionals or serious players in mind. The tabletop sports a 7/8" high-density wood composite for faster playing and large 5-inch casters with a unique transport system for easy transportation and storage.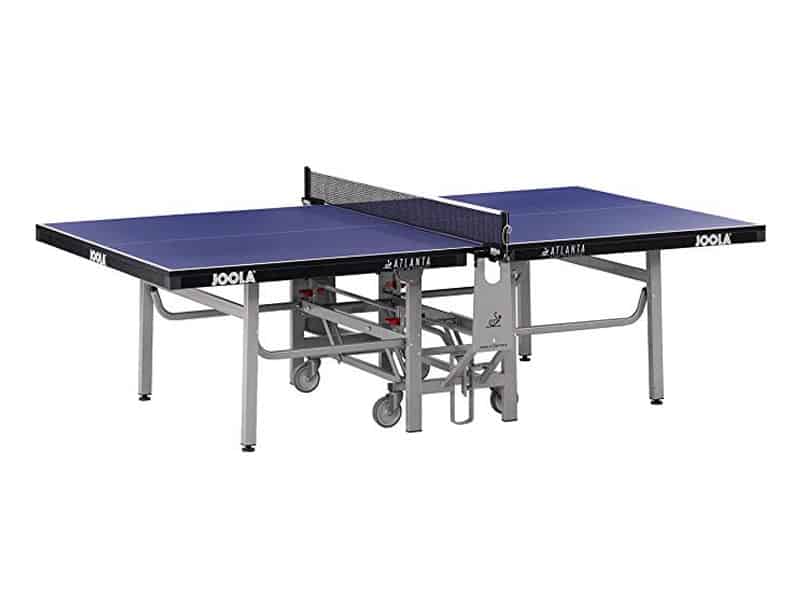 There's always one tell-tale sign of a quality table, and that's if it was chosen to be used at the highest level, which it was, twice. The Joola Atlanta was the official table for the 1996 and 2000 Olympic Games and is obviously ITTF approved.
It should be known that if you choose to purchase this table, you will receive a professional quality table, and you will love it.
Features
High quality tennis table that comes with a distinctive system for easy transport
Faster, high-density wood composite (22mm) surface for playing
The foot pedal helps to lift the entire table off the floor to facilitate easy rolling on its 5-inch casters
Tournament grade net comprising of height/tension system for adjustment purposes
It is ITTF approved and was used as the official table during the 1996 and 2000 Olympic Games.
What's Special About This Table?
The JOOLA Atlanta Olympic is considered ideal for professional or serious table tennis players. It comes with a faster, high-density wood composite (22mm) playing surface that offers a uniform bounce and consistency that you won't see in similar tables of the same price bracket..
Highly Quality Net & Metal Apron
You also get a tournament grade net with a height/tension system for easy adjustment. The table is designed with a 2-inch wide metal apron, plus eight legs which are rectangular in shape that altogether make this table very stable.
Easy Transport and Storage
It's also very easy to transport the Table with the distinctive transport system. A slight touch on the foot pedal lifts the table off the ground, making it easy for you to roll it on the 5 inch wheels. The majority of tables offer 3-inch wheels. Other important features include a DLS – dual-lock safety system that safeguards against opening the table while in the storage position, and it also flaunts a tournament colored blue playing surface and steel net posts.
Drawbacks
Everyone hates setting up things, and its daunting having to read a manual. While you should expect to take about an hour or two putting the table together, compared to other tables in the industry in the same price range, that's not bad at all.
The most important thing when purchasing a table tennis table is to know what you are looking for. What I mean is that you should have a good idea of the quality of table you expect to purchase, and then a realistic view of what you are willing to spend.
Conclusion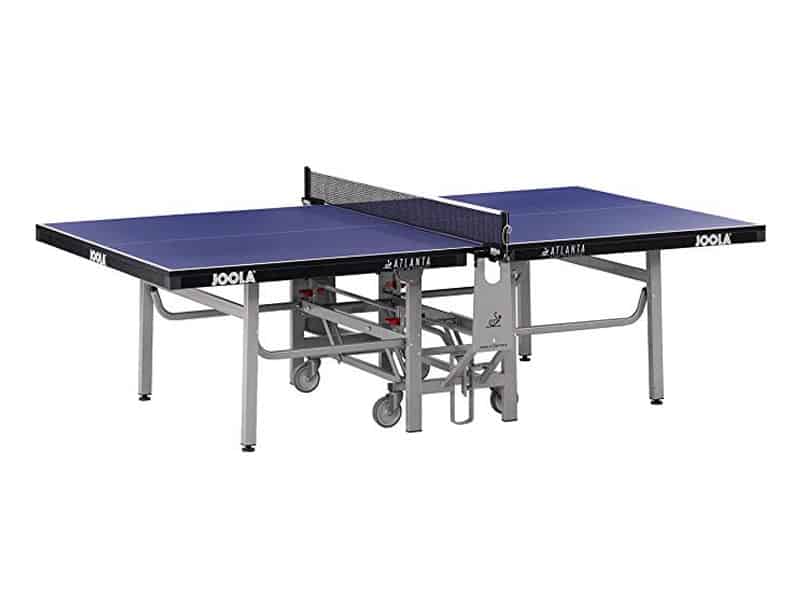 This table should be purchased if you want to play on a tournament level table but you don't want to pay for the newest absolute best table. Rest assured, this is a professional table designed for the highest level of play, and that is what you will receive if you buy the JOOLA Atlanta. But if you want to know what is the best ping pong table check out this post.
Read also: Best Joola Ping Pong Tables

Eugene (Gene) Sandoval has been one of those guys who spent too many hours around ping pong tables in high school. However, soon enough, Gene understood that there is more to ping pong than having fun. That is how he started a journey that made Eugene one of the experienced semi-professional ping pong players in the United States. As the founder of the PingPongRuler, Eugene spends most of his time surrounded by ping pong tables and research. He always has this knack for coming up with new ping pong strategies and telling the good and bad equipment apart.