DUNLOP Official Playback Review
The DUNLOP Official Playback table tennis table is an attractive looking table tennis table which has proved to be popular with beginners and intermediate players all over the world. With a 3/4" inch surface thickness and 1 7/9" inch thick chassis. It comes with 4" inch lockable casters (wheels) and is the ITTF tournament standard size.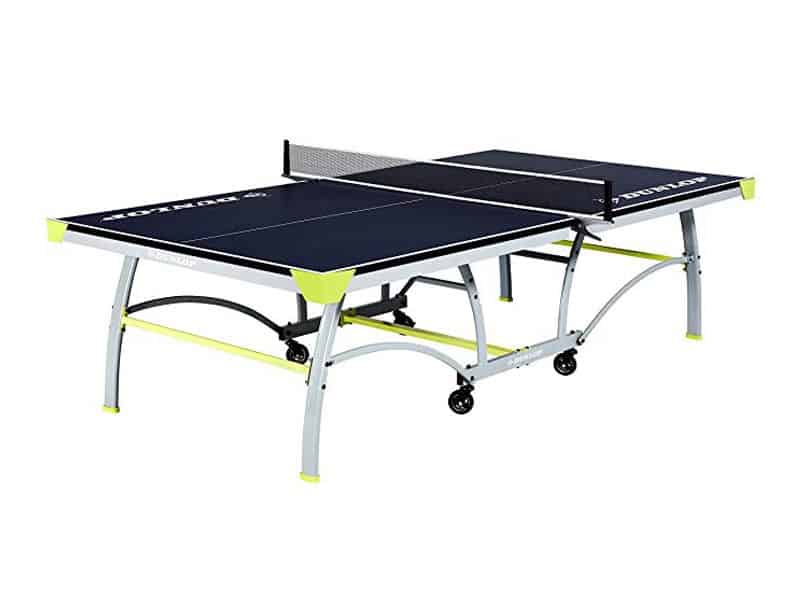 While the chassis is surprisingly thick, 3/4" is not the standard surface thickness one can expect from a table of this price, it's better. Generally, we won't see this thickness until the $750/$1000 dollars range where tables have a slightly thicker playing surface. That should impress you because you won't find a table with a thicker surface for this price. But that doesn't mean you shouldn't look at other tables on the market, because this table does have one major flaw, the assembly process.
Check out our guide to the best ping pong tables of 2020.
| Surface Thickness | Chassis Design | Wheel Size | Net | Assemble Time | Playback Feature | ITTF Approved Width/Height |
| --- | --- | --- | --- | --- | --- | --- |
| 3/4″ | 1&7/9″ Powder-Coated Steel | 4 Inches | Snap On | 3-4 hrs | Yes | Yes |
Table Specifications:
2 piece table – official Tournament sized table 9 ft. X 5 ft
Premium 3/4 inch playfield for the perfect ball bounce and 1 7/9 inch aprons for additional support
Fold-up design for easy storage and playback
Oversized 4 inch, lockable casters are ideal for storage and transportation
Accessories included: 2 net and post set
What Should I Know About This Table?
While the DUNLOP ping pong table looks amazing, it does have some flaws that should be addressed. It has some benefits too. Keep reading to find out.
Long and Difficult Assembly
Long are the days gone when we thought we would be sitting around assembling a table for 3 hours, thankfully most ping pong table manufacturers have moved past that implementing quick-assembly technology. But Not this table, expect to spend upwards of 3-4 hours putting this table together.
Customers have reported long assembly times due to difficult instructions and a long list of parts as well as poor threading for some of the screws. They reportedly give you odd tools that are required for assembly, but difficult to use.
Great Design
Most tables are the standard blue or green top, but the DUNLOP ping pong table went a step forward. The surface is lime green and grey with a navy top. The overall color scheme and the way the colors match up really bring the table's aesthetics to another level that make it a nice center piece as well as a tool for table tennis.
Large Wheels
Another plus one for this table is that is has large 4" wheels. While this is an indoor table, these large wheels will make it easy to roll out into the driveway on a sunny day. Wheel size generally isn't something that is of real importance in determining a table's quality, especially with an indoor table, but it is important to note any positive or negative aspects that could influence a buyer's decision.
Company Profile: DUNLOP
While some of the tables we review are manufactured from well-known companies like JOOLA, Stiga, and Cornilleau, there are smaller companies that can manufacture a decent ping pong table; DUNLOP is one of them.
Though DUNLOP is known for their tennis equipment, not their "table" tennis equipment, they do have a long history of creating sporting products.
The company entered the sporting goods market in 1910 when it began to manufacture rubber golf balls at its base in Birmingham. It then extended into tennis ball manufacturing in 1924. The company continued to manufacture tennis rackets as well as balls, growing in size by buying small companies until it merged with DUNLOP Slazenger in 1984, another sports good company that focused on the manufacture of rackets.
In December 2016, Sports Direct announced it had agreed to sell the DUNLOP brand to Sumitomo Rubber Industries for £112 million ($137.5 million).[18] Sumitomo already owned the rights to the sports as well as the rubber industries brand in most of the world. The sale was due to be completed by May 2017.
Licensed by MD Sports
And another company then took advantage of that long history of solid manufacturing by licensing the use of the DUNLOP name. MD Sports, a popular sports retail company, licensed the use of the DUNLOP name to create a series of table tennis tables.
While this shouldn't scare you from purchasing this table as many products are brought to market this way, it does mean you may have more difficulty with returns and damaged goods.
Why You Might Not Want This Table
If you're like us, you hate putting things together. You hate dealing with products that are hard to assemble not because the act of assembling the product is hard, but because the company preparing the product obviously didn't put any thought into the process at all. That could describe this table.
Conclusion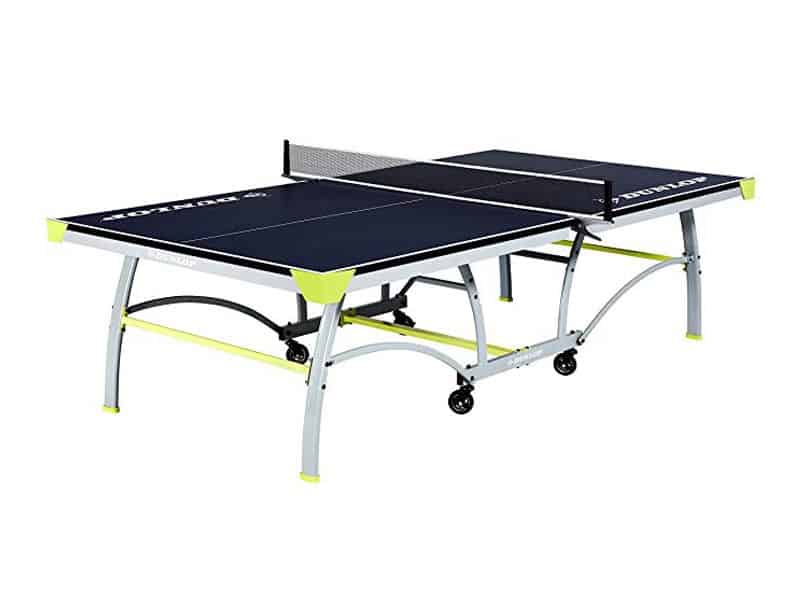 The main factor that will determine whether the DUNLOP Official Playback is for you is whether you want to deal with the pain of assembly. Amazon does offer an expert assembly for an additional fee which might be something to consider. This table does boast a better than the normal surface thickness and the design of the table is top-notch, it's simply assembling this table that can be a pain.
In our opinion, there are other tables on the market for a similar price that will provide just as good of playing experience as the Official Playback but without a long and annoying assembly time. But we do love how great this table looks so if visuals are important to you it might be one to consider.

Eugene (Gene) Sandoval has been one of those guys who spent too many hours around ping pong tables in high school. However, soon enough, Gene understood that there is more to ping pong than having fun. That is how he started a journey that made Eugene one of the experienced semi-professional ping pong players in the United States. As the founder of the PingPongRuler, Eugene spends most of his time surrounded by ping pong tables and research. He always has this knack for coming up with new ping pong strategies and telling the good and bad equipment apart.